China Robotics & AI Industry Review and Outlook
Though the global automation and robotics market saw strong growth in 2021, most of the world's top automation and robotics suppliers had to revise down guidance for their 2H21 results amid supply chain tightness. We believe supply chain resilience will continue to be a key issue to monitor in 1H22, while Chinese players that have better management of local supply chains are likely to further gain market share.
Robust Growth amid Supply Chain Tightness
The global automation and robotics market recorded one of the strongest years in 2021 as global capital spending accelerated since the pandemic broke out. New orders in developed markets such as Europe and the U.S. accelerated meaningfully.
The growth rate reached its peak in 2Q21 and moderated in 2H21 led by marginally slower growth in China which was hit by power shortage, weak property market and the resurgence of the pandemic. Growth of China's robotics sales in October and November 2021 slowed marginally to +11% yoy and +28% yoy, respectively.1
Despite the rapid growth globally, many top players revised down their guidance for 2H21 results as the supply chain tightness limited their capacities to cater to the pent-up demand globally. Shortages from chips to more general components have become a bottleneck and led to longer lead time for these components as well as end products.
Recovery from the pandemic has also resulted in higher raw material prices, which was a main concern during 3Q21. However, as some players managed to pass higher commodity cost to end customers by raising prices, and some others optimized their cost structures, it became less of a concern going into 4Q21.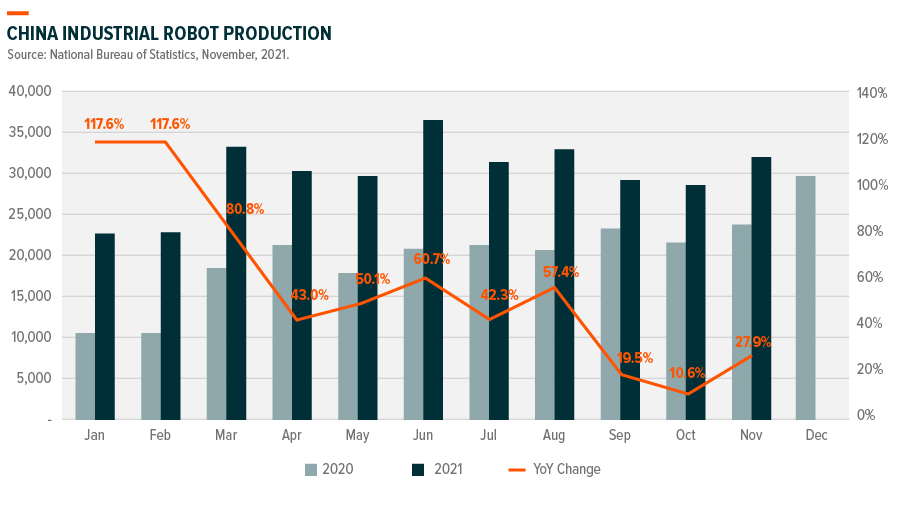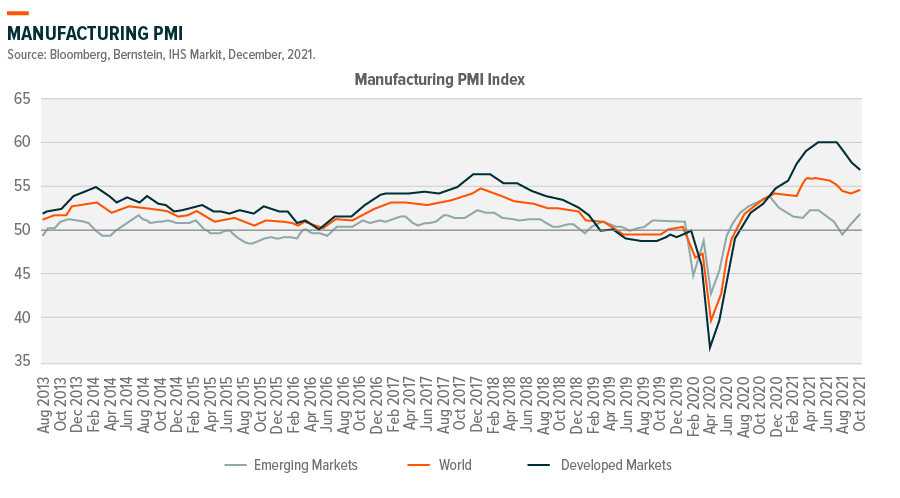 Chinese Players to Gain Market Share
The growth rate of the global automation and robotics market is likely to moderate in 1H22 due to a high base, following the trend seen in 2H21. Industrial automation is projected to deliver 6-10% yoy growth in 2022, with factory automation contributing 10%+ yoy growth driven by new energy sectors in particular, and process automation contributing 3-5% (mainly from digitalization and upgrade of installed base).2
Meanwhile, supply chain resilience remains a key issue this year and the order lead time extension is a key catalyst to monitor since it can reflect the latest demand supply dynamics and relative pricing power along the supply chain.
Chinese players usually have more agile production strategies and better control of local supply chains that can cater to fast growing end markets. As a result, longer-than-expected supply chain tightness will help them gain more customers and market share. In fact, the market share of Chinese robotics players has already seen an increase in recent quarters, e.g. 6-axis for Estun and Selective Compliance Assembly Robot Arm (SCARA) for Inovance.
Though the use life of products provided by domestic suppliers is generally shorter compared to global names, customers embrace them for cost competitiveness and better service. They are willing to scrap these products earlier and replace them with potentially more advanced set of machinery. Many companies are actively looking for localizing their own supply chain to achieve even better cost structures.