Short-form Video Changes Entertainment in China
This article will discuss a key trend emerging in China's online entertainment vertical, which is the increasing popularity of short-form videos.
Introduction
Short-form video (SFV) apps, which allow users to create videos in 15seconds to several minutes, started to gain traction emerged as a new online entertainment format from 2017. As of now, SFV has become the largest online entertainment vertical in terms of user time spent, and the 4th largest traffic source (in terms of total Daily Active Users) following social media (more specifically, WeChat), e-commerce (Taobao, PDD, and JD) and online videos.
According to iResearch (Nov 2020), China now has the world's largest user base of short-form videos, representing approximately 80% of users of short video platforms globally in 2019. The average daily time spent per DAU on SFV platforms is estimated to increase from 67.0 minutes in 2019 to 110.2 minutes in 2025E. Total revenue size of SFV will reach Rmb150.6bn/211.0bn in 2020/21E, +50%/40% YoY.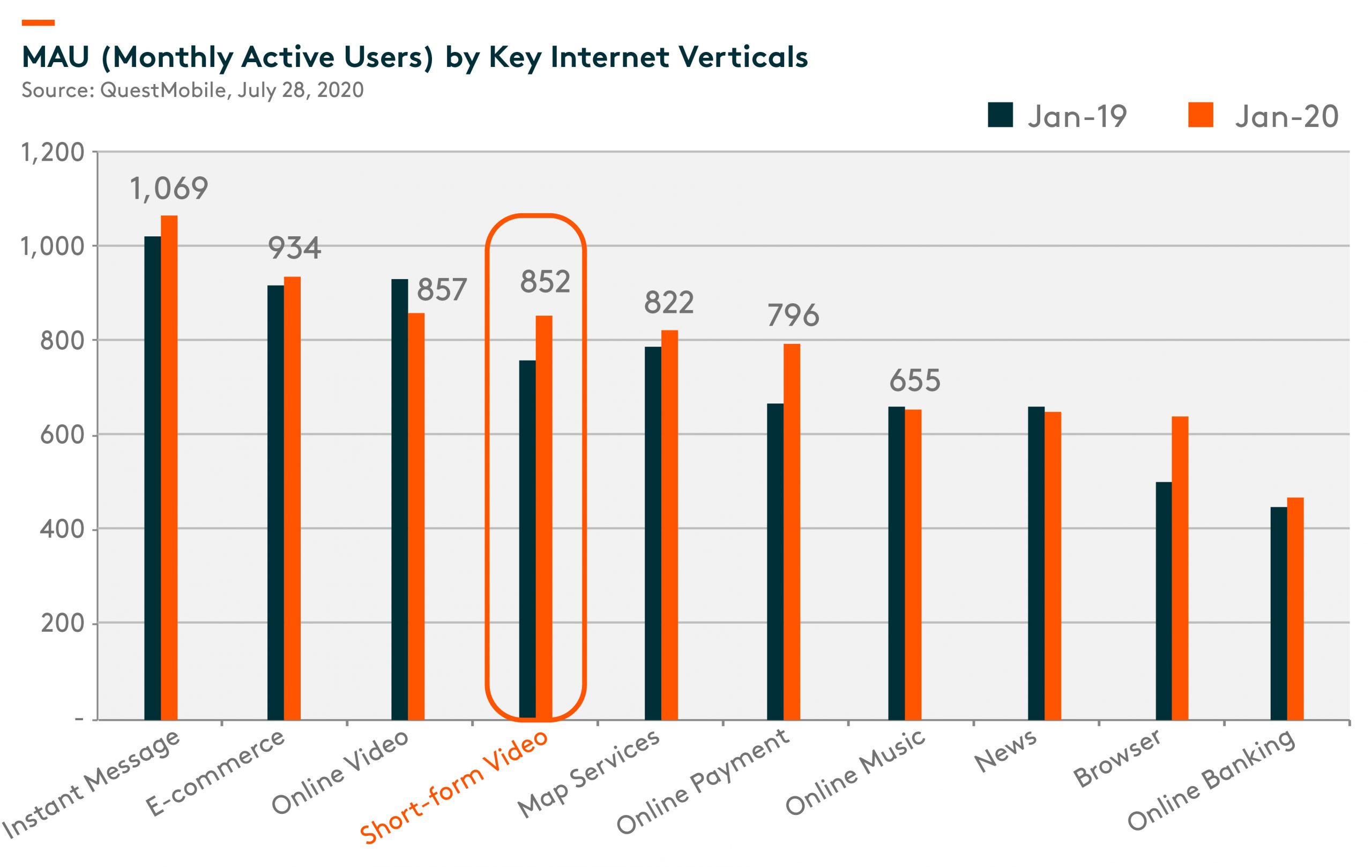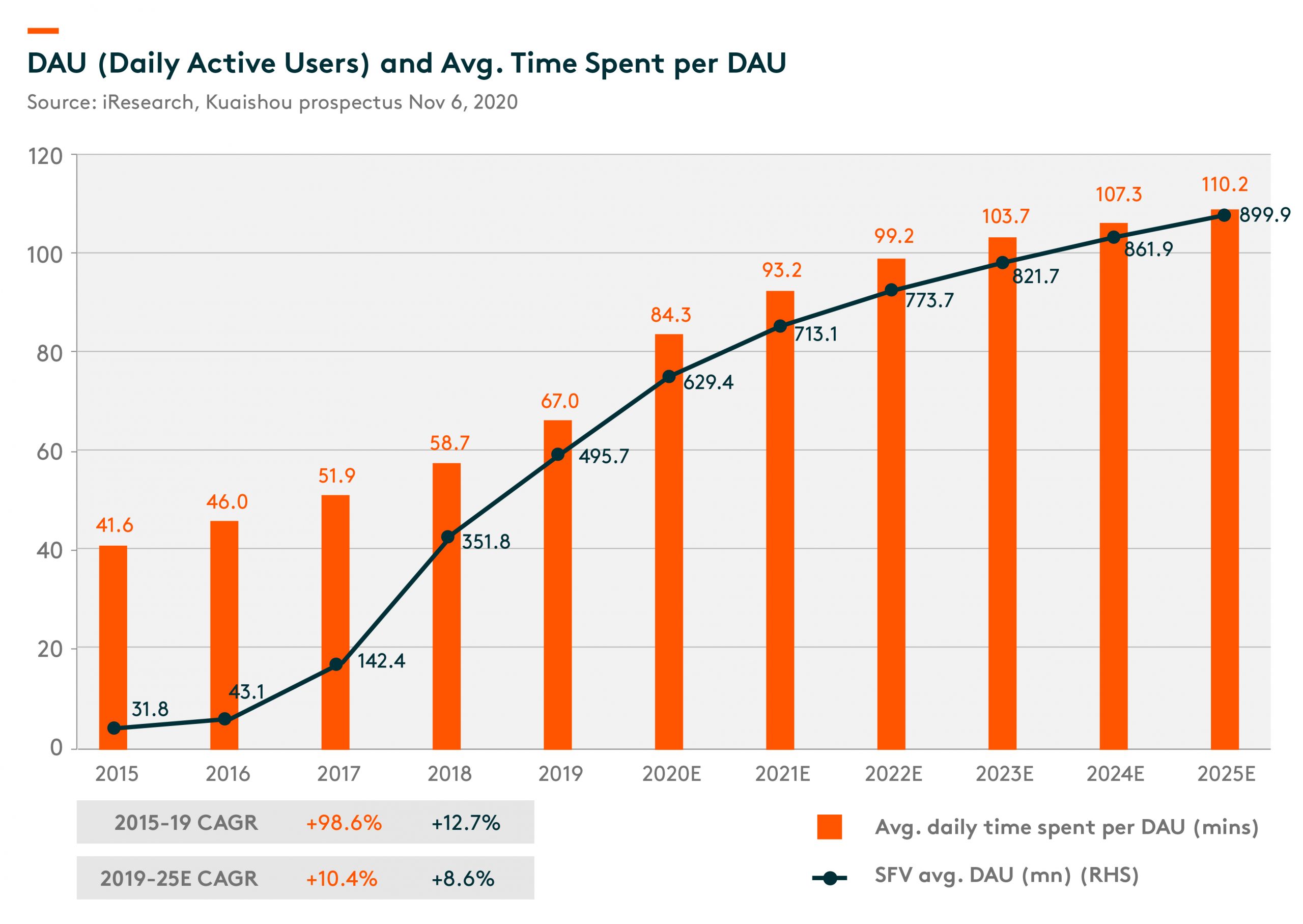 Main Business Models and Monetization
There are currently two major SFV players, namely ByteDance (Douyin, Watermelon and Volcano short-form video platforms) and Kuaishou.
Kuaishou: According to Kuaishou prospectus, the platform mainly monetizes traffic through live streaming, advertising, e-commerce and other services (such as online games, education, and paid content). In 1H20, Kuaishou has a MAU of 776mn (incl. apps and mini-programs) and records total revenue of Rmb25.3bn (+48% YoY), with live-streaming/online marketing services (advertising)/others accounting for 69%/28%/3%.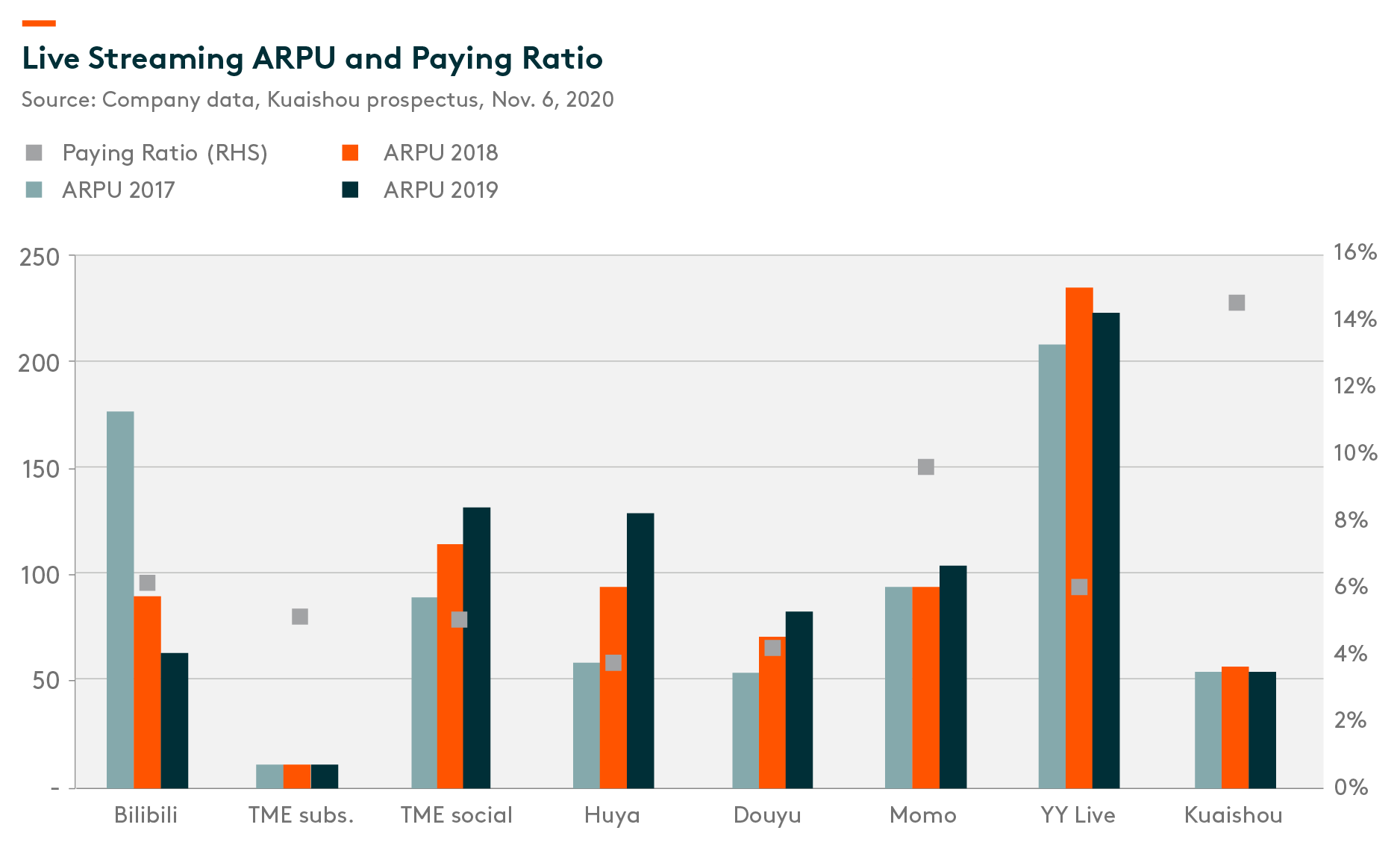 Douyin: It is the main short-form video app of ByteDance. The company also has other short-form video apps including Watermelon and Volcano. Douyin was initially popular amongst younger generation users in Tier 1 and 2 cities and is now expanding to lower-tier cities. Douyin's strong AI-based recommendation algorithm uses 100+ tags (categories) for user profiling and pushes the most relevant content to users. It tends to give more traffic weight to popular content, which enables massive traffic aggregation for top content creators and KOLs (key opinion leaders).
Douyin mainly monetizes traffic through advertising, e-commerce, and other services. Douyin's 1) huge advertising inventory leveraging its traffic base, 2) strong data analytics capabilities which can help advertisers to reach targeted users, and 3) diverse advertising formats, all help to drive a robust advertising revenue growth.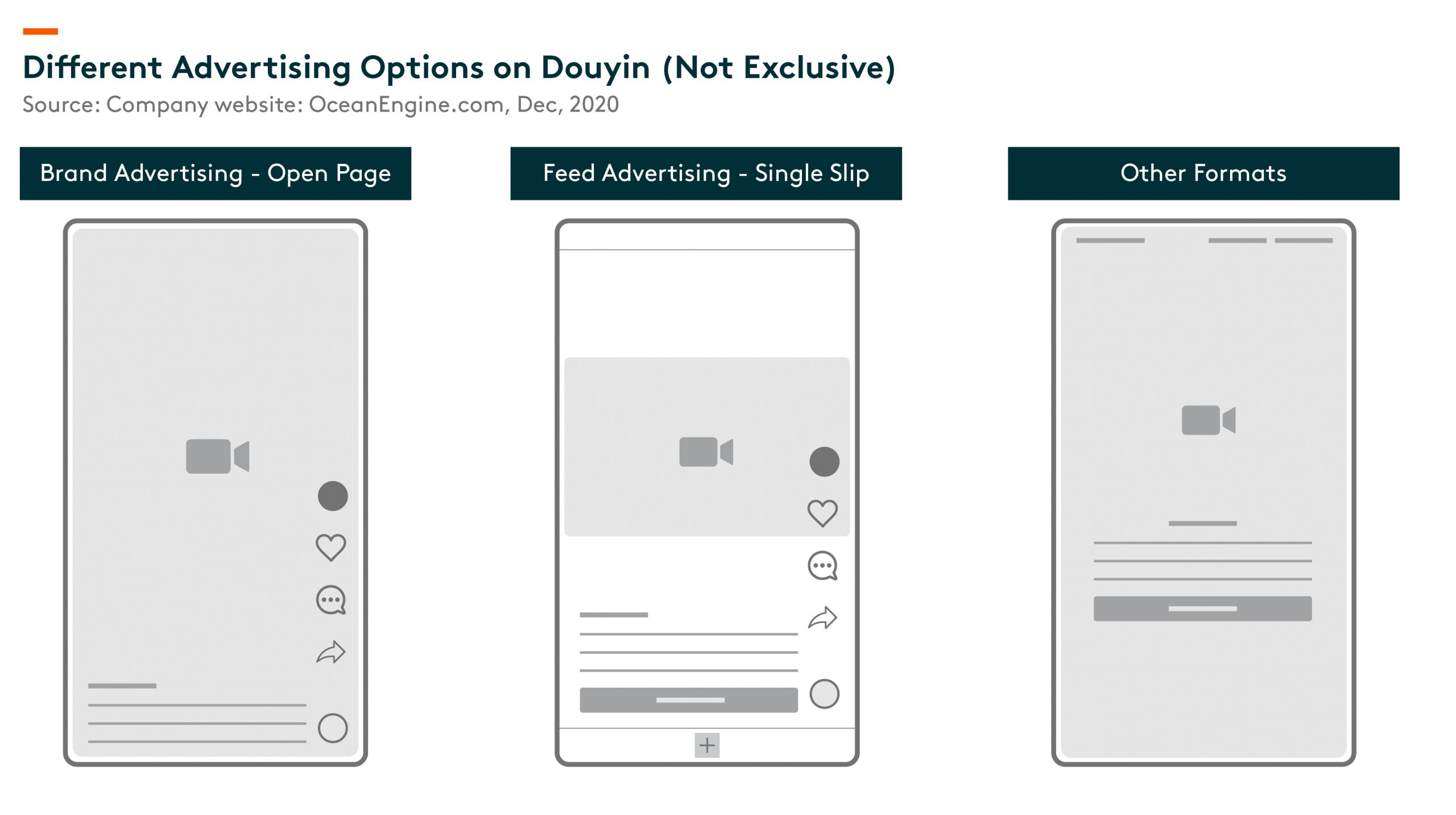 Overseas strategy: Success of TikTok
ByteDance has decided to expand to the overseas market, following Douyin's great success in the domestic market. In 2017, ByteDance rolled out an overseas equivalent of the Douyin video app TikTok and acquired Musical.ly (for ~$900mn), a social video app based in Shanghai with more than 200mn users worldwide, aiming to rebrand the two apps and combine ByteDance's strong AI and big data analytics capabilities with Musical.ly's product innovation and grasp of users' needs and tastes in the West.
TikTok quickly grew its user base to 1bn, faster than any other social media apps, as per Financial Times, thanks to its
localization strategy to cater to western users especially generation-Z through localized UGC (user-generated content) in each different overseas market,
the strong interactive feature that allows comments to be read in the bottom half of the screen while videos played and real-time interactions with content creators and users, as well
superior AI-based content distribution algorithm which enables the most relevant content to be distributed to each user.