The Race to Power Electric Vehicles with Lithium
Lithium is the New Oil
The world's reliance on electric vehicles (EVs) has kick-started a huge uptick in demand for EV batteries, most of which are made from lithium. As governments tackle climate change through clean energy mandates and subsidies for renewable energy technology, rapid progress in EV development is set to drive global lithium demand at a compound annual growth rate (CAGR) of 24% in 2020-2025E.1 
The majority of market commentators predict that EV batteries will overtake traditional internal combustion engines in future, creating a potential rush for lithium.  
Battery technology typically requires light-weight and electro-chemical properties. Manufacturing lithium-ion batteries will require trade-offs among five key factors: energy density, output, life span, safety and cost. 
A Budding Rock Star
Lithium is typically produced from either mineral ore deposits—mostly spodumene which contain lithium—or brine. The production of commercial lithium is largely confined to Australia, Argentina, Chile, China and the US. 
Yet not all lithium batteries are created equal. Rock lithium created from spodumene is becoming much more common than brine-produced lithium, due to the time and costs associated with the production process. 
Producing lithium from spodumene requires a number of steps: concentration and drying; conversion into a more reactive state; treatment with sulfuric acid and finally, roasting. It is treated with a combination of chemicals to produce either lithium carbonate or lithium hydroxide. Brine operations, on the other hand, pump brine to the surface to be distributed to evaporation ponds and processed into carbonate. Yet further processing into lithium hydroxide comes at an additional cost.
Overall, using spodumene offers more flexibility and faster processing times compared to the evaporation required from brine. And, with a more consistent and higher quality end product, spodumene-produced lithium is generally better suited for EV batteries as EV producers struggle to keep up with EV demand.

Lithium carbonate prices surpassed lithium hydroxide at the end of 2020 on the back of increased demand and became more widely used in low-end products that required low-end lithium carbonate batteries.2 While lithium hydroxide is typically only produced for products that require high-energy dense sources. As a result, lithium carbonate prices overtook lithium hydroxide prices at the end of the year, with lithium carbonate supplies expected to take an overall market share of 68% by 2025.3
EV Battery Market Snapshot
With no clear signs that lithium demand will slow down, supply tightness is unlikely to ease until the second half of the year in 2022.4 We've observed strong end demand and price hikes in spodumene, where the spot price for lithium carbonate and lithium hydroxide in China increased by over 150% year to date.5 That said, the production of downstream EVs is expected to maintain a strong momentum in the near term, while growth should remain well above 100%, or higher. 
In the first half of 2021, EV manufacturers were generally accepting of increased prices on raw materials as a result of improving lithium battery manufacturing processes. This will likely lead to an increase in demand for lithium along with an uptick in prices until the end of 1H2022, given that capacity expansion will take some time to take effect. 
As shown in in the chart below, leading lithium producers such as Albermarle, Ganfeng and SQM are set to increase capacity over the next five years. The global lithium supply is estimated to reach over 1,000kt of lithium carbon equivalent (LCE) by 2025, with a CAGR of 23% between 2020-2025E.6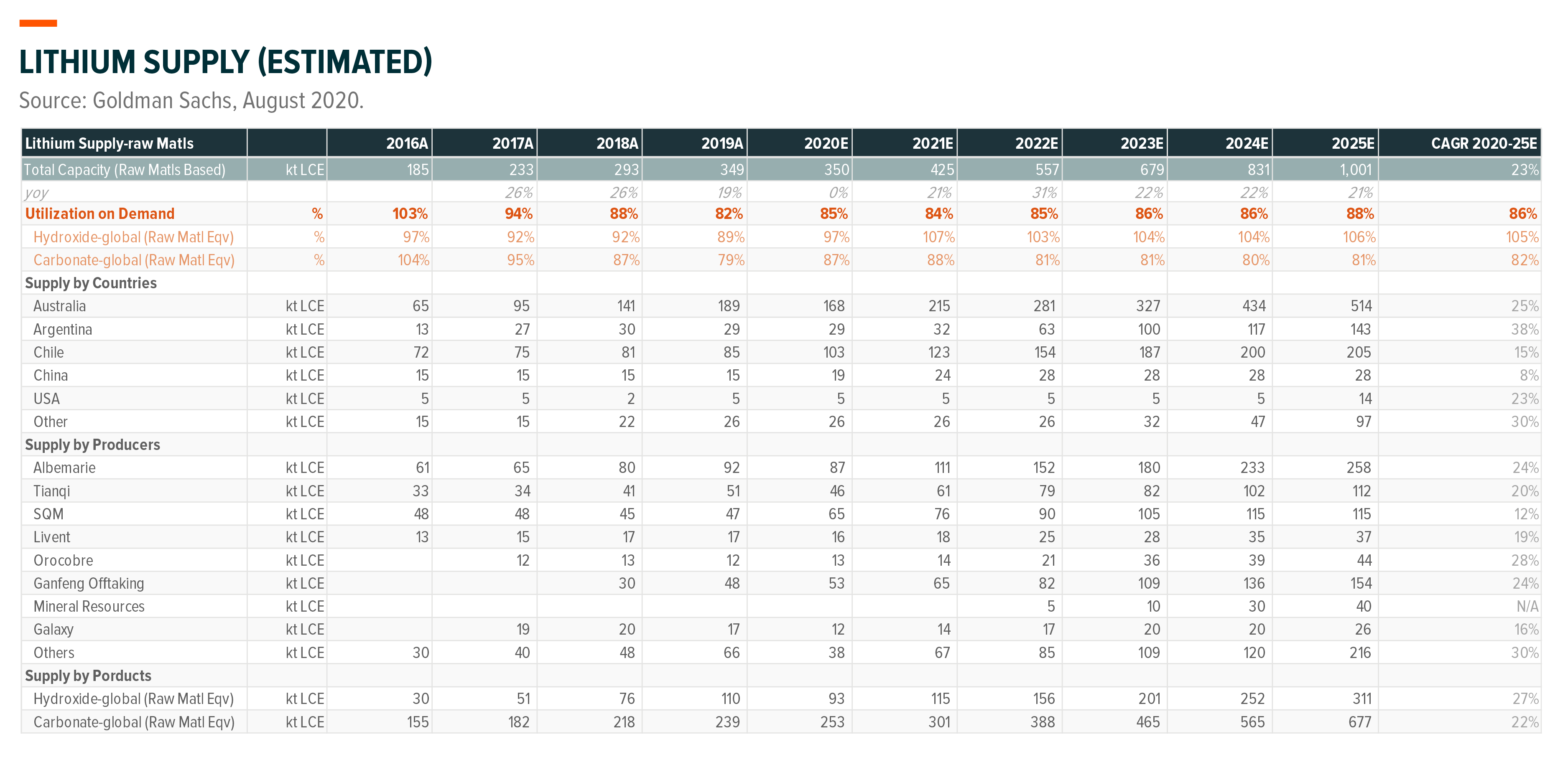 Conclusion
Overall, we believe this presents an opportunity for mining companies to expand capabilities to meet future demand for lithium, accelerated by EV adoption and a wider move towards clean and renewable energy. While EV battery manufacturers have not yet reached a tipping point, government policies and initiatives all point towards a clean future for energy.