Introduction to Hardware OEM
This article will provide a brief introduction of the original equipment manufacturer and discuss the current competitive landscape.
History of hardware OEM
Original Equipment Manufacturer (OEM) in the context of electronic manufacturing services is a company that produces parts and equipment for another company.  The product cycle of electronics shrank rapidly over the years; from 10-12 years in the 1950s to around 6-18 months today. It is difficult for hardware brands to manage all manufacturing in-house and by outsourcing the hardware manufacturing process, electronic terminal companies are able to focus on product development, sales and marketing, etc. The burden of capital expenditure is also shared by OEMs and other upstream component makers, providing more agility in capacity expansion.  Japan and Korea have developed strong electronic manufacturing capabilities after World War II, while Taiwan became a key personal computer (PC) OEM partner globally in the 90s.
Taiwanese OEM dominance
As personal computers and other consumer electronics took off in the 1990s, Taiwanese OEMs emerged as a key supplier due to their strengths in a few key areas. The first factor is speed. Companies like Hon Hai are able to speed up the development process with a global R&D network. Delivering molds and tools for a new production line within days compared to weeks of other global competitors at the time. Dedicated teams ensure products clear customs and ships as soon as possible. The speed has been crucial for brand customers to shorten their product cycle and improve inventory management. Second, a strict labor management system was implemented to maintain a cost advantage. Taiwanese OEMs were known for having military-style management, with strict discipline and clear task allocation results in a high efficiency environment. Third, strong execution and quality control at the production line.
New OEM players challenging the competitive landscape
Traditional OEM players usually focus on the final stages of assembly in the manufacturing process, with some in-house component supply. On the other hand, upstream component makers usually focus on R&D and manufacturing of specific parts as assembly businesses require a different set of capabilities.  Assembly business is labor-intensive and requires a strong capability to manage labor seasonality and component inventory.  The new group of OEM players has emerged in recent years not only copying the strengths of the Taiwanese OEM companies but with an even higher level of vertical integration, providing both assembly, component services and even system packaging.
New players are also willing to take on more risks and invest with brand partners. In the case of Apple Airpods, Inventec was the OEM which worked with Apple for multiple years launching the first-generation AirPods. However, at the time AirPods assembly margin was low for Inventec and management project volume was small for the product. Consequently, the company was not willing to invest in additional production lines while companies like Luxshare and Goertek were willing to take the risk with Apple to expand its capacity on aggressive shipment projections. They are also investing heavily in R&D to expand their capability in order to supply more components in AirPods.
This results in a higher margin profile, Return on Equity (ROE) and profitability compared to traditional OEMs, brand customers also see the benefit of vertical integration with better cost-saving and efficiency. As a result, companies like Luxshare, Goertek, BYDE are gaining market share from traditional OEM players like Foxconn, Compal, Inventec, Pegatron, etc.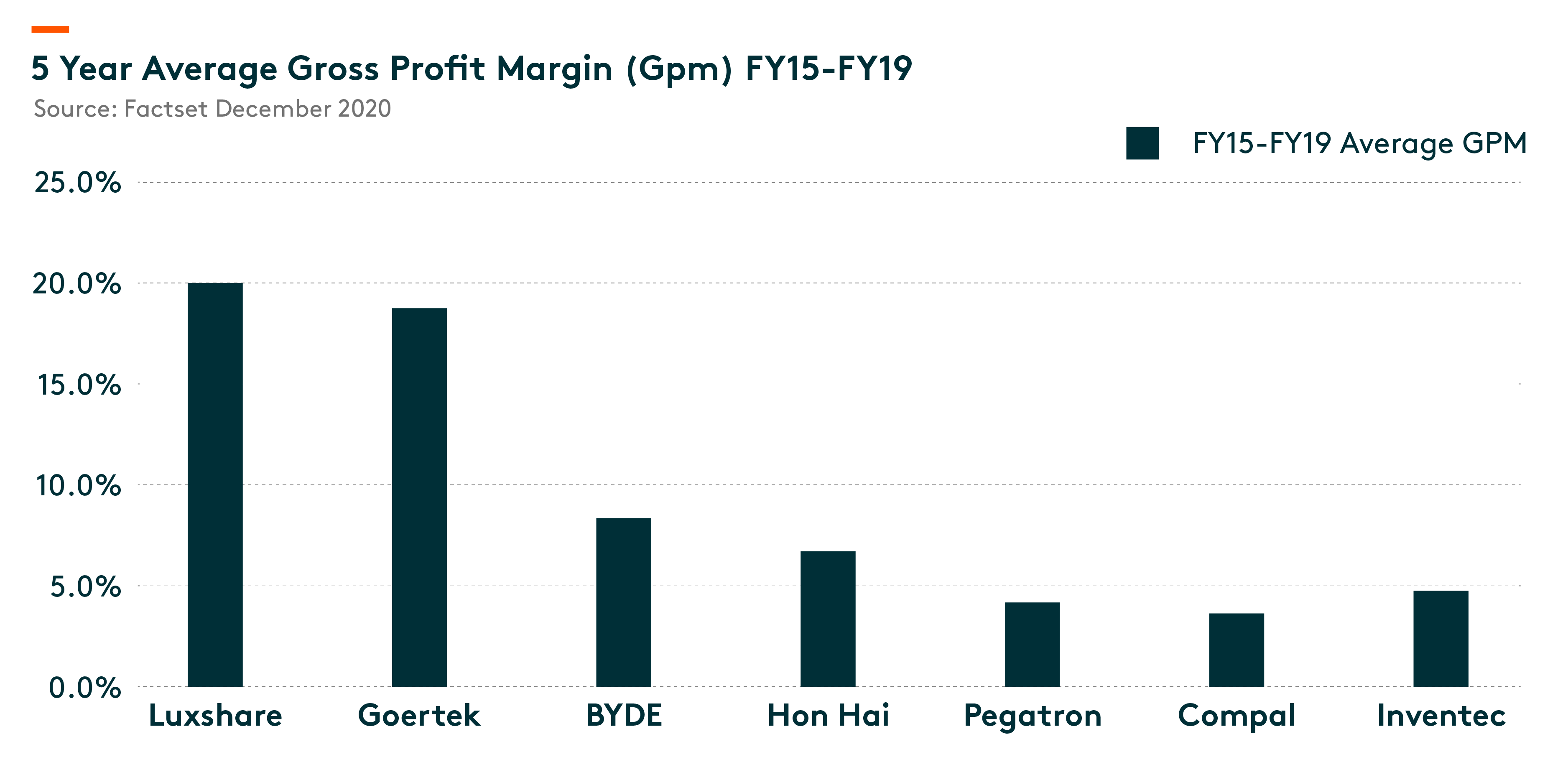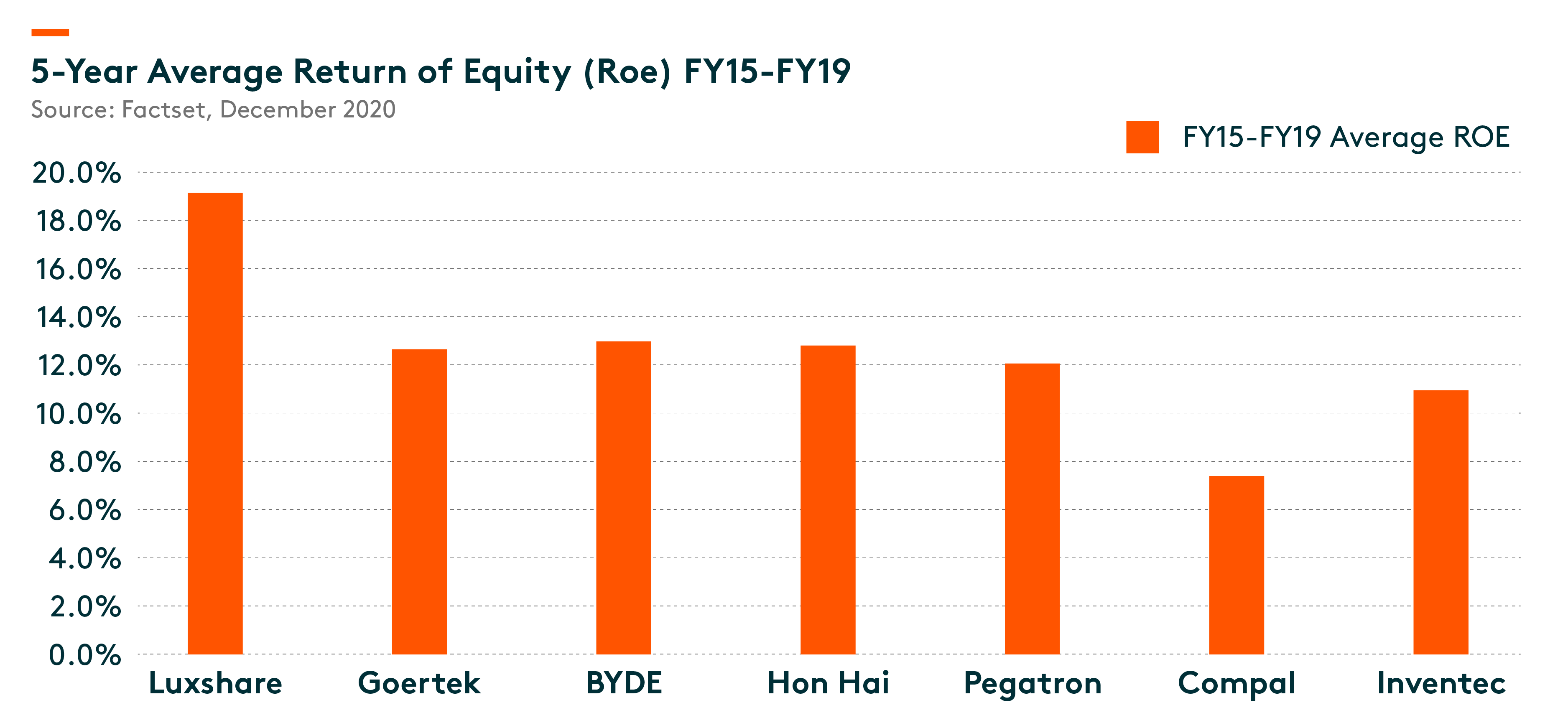 Competitive landscape change
Chinese OEMs are gaining order share in the assembly of various Apple products, as we see Apple allocating more assembly order share to vertically integrated OEMs in new product categories such as the Airpods. Chinese OEMs are also gaining momentum in existing product categories such as iPhones, iPads and Apple watches. We see a trend of consolidation in the industry as Chinese OEMs make a strategic move to further enhance their level of vertical integration. Key acquisitions this year include Lens tech acquisition of catcher's smartphone casing business, and Luxshare's acquisition of Wistron's China iPhone EMS factories. OEMs are evolving from the traditional, limited role of assembly into increasing vertical integration, product R&D, and labor management capabilities. The new generation of OEMs aims to provide more services at a more cost-efficient price.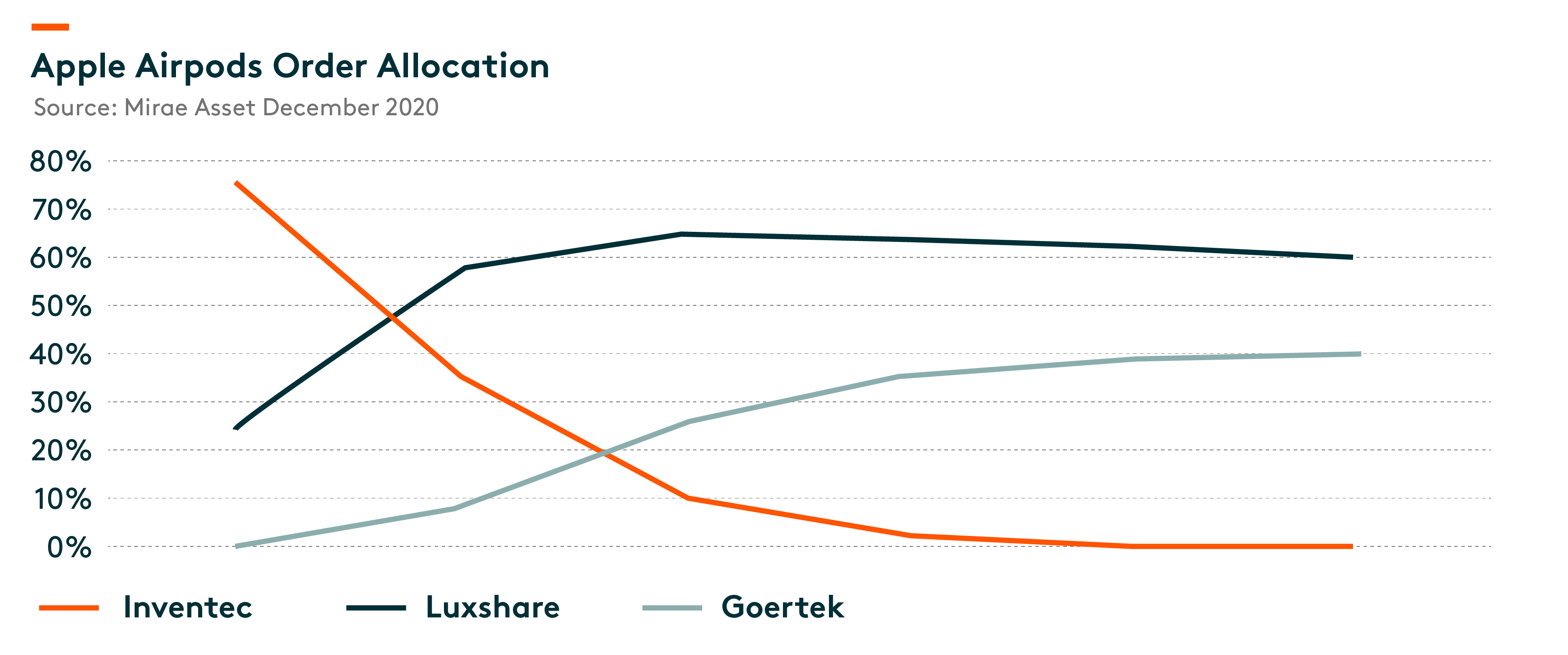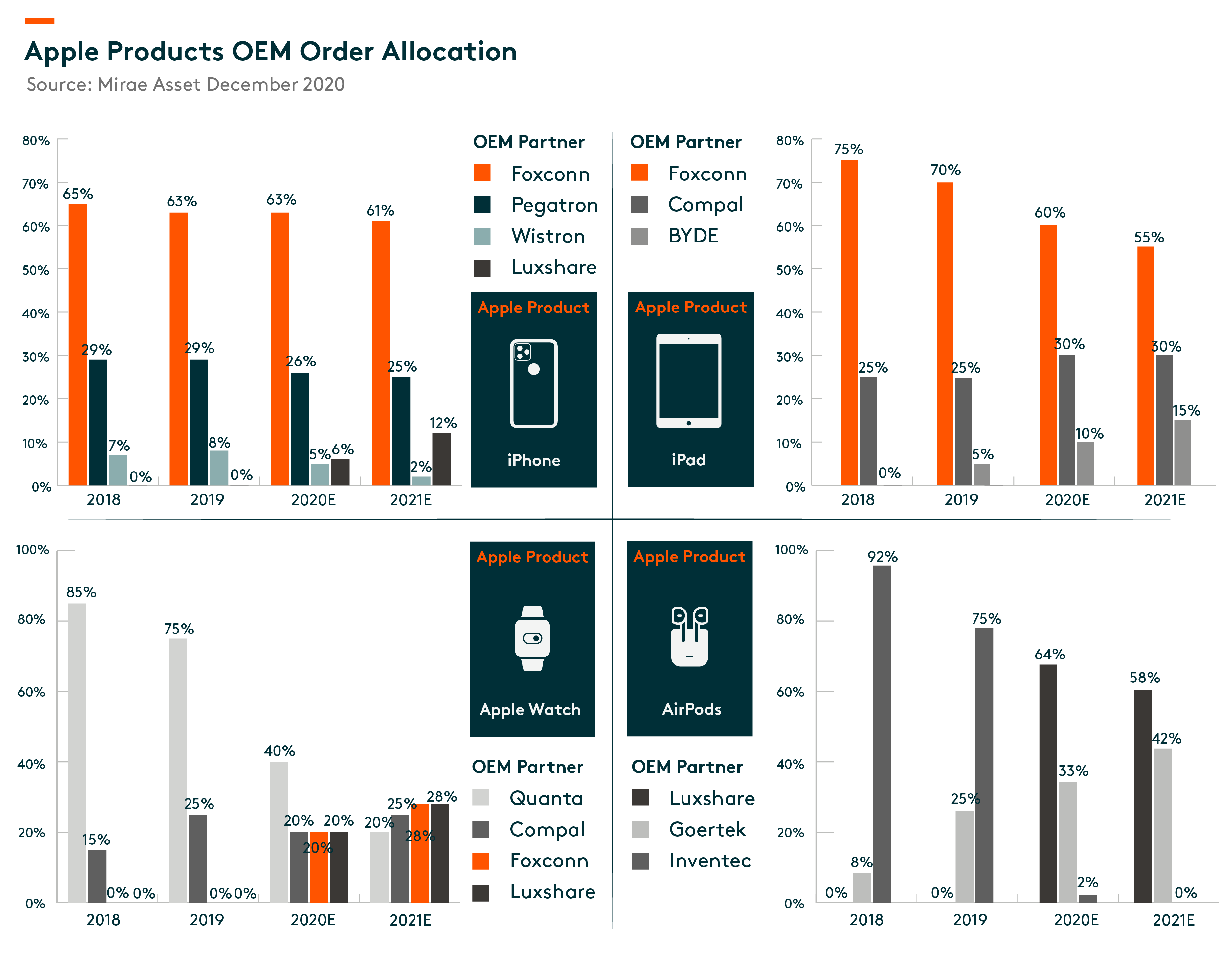 Related ETF
Global X China Semiconductor ETF enables investors to access high growth potential through companies critical to the development of semiconductors in China.
Other Key Features:  
Targeted Exposure:

 The fund delivers targeted exposure to an emerging theme and industry.

ETF Efficiency: In a single trade, the fund delivers access to dozens of companies with high exposure to the semiconductor theme in China.
Please click here for more information on the Global X China Semiconductor ETF.