Huawei: the Cradle of China Semiconductor Manufacturing, but not all
The US sanction on Huawei has revealed the rapid development of China's semiconductor chip design business. We will discuss the latest status of China's semiconductor chip industry in a series of reports.
Huawei Paving the Way
Huawei has played a vital role in leading the development of China's semiconductor industry. It is able to penetrate into the highest value-added segment of the semiconductor industry which is chip design and compete with the top fabless companies in the most advanced chips like the smartphone system on a chip (SoC).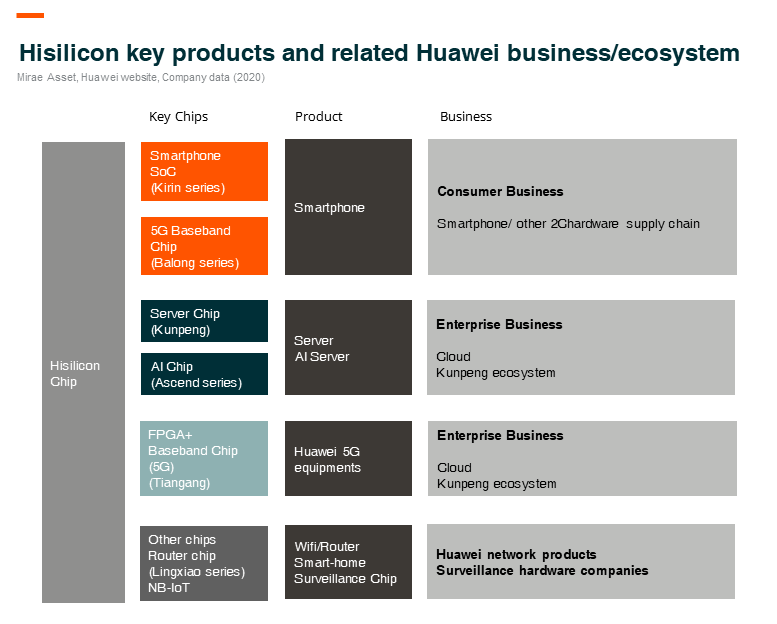 We see two key positive impacts Huawei has on China's semiconductor industry. First, the quick growth of Hisilicon creates jobs for chip design as the company hires and trains many IC design engineers which enlarge the talent pool in China. Hisilicon hires around 7,000 staff globally, the majority of whom are located in China and headquartered in Shenzhen1. Huawei also has a large research institution called the 2012 lab (more details below). Second, Huawei has strong bargaining power in the semiconductor supply chain, which puts it in a position to support domestic companies. There are two layers of this dominant position. Huawei is a top tier terminal maker in smartphone and telecom equipment, so this allows the company to use domestic IC solution when it is available.  In addition, Hisilicon has the industry's leading design which generates large orders. It had around 13% market share in smartphone SoC in FY192. Huawei can allocate orders to support the domestic semiconductor supply chain. Semiconductor Manufacturing International Corporation (SMIC), for example, had around 17% of sales from Huawei in FY193, producing various Hisilicon–designed chips.
Huawei Hisilicon is one of the earliest customers of Cambricon Technology, a leading Artificial Intelligence (AI) chip design startup in China. Hisilicon adopted the Network Processing Unit (NPU) design of Cambricon in their Kirin 970, 980 SoC, and this brought much-needed revenue to Cambricon. In FY17 and FY18, Huawei accounted for over 97% of Cambricon's full-year revenue4.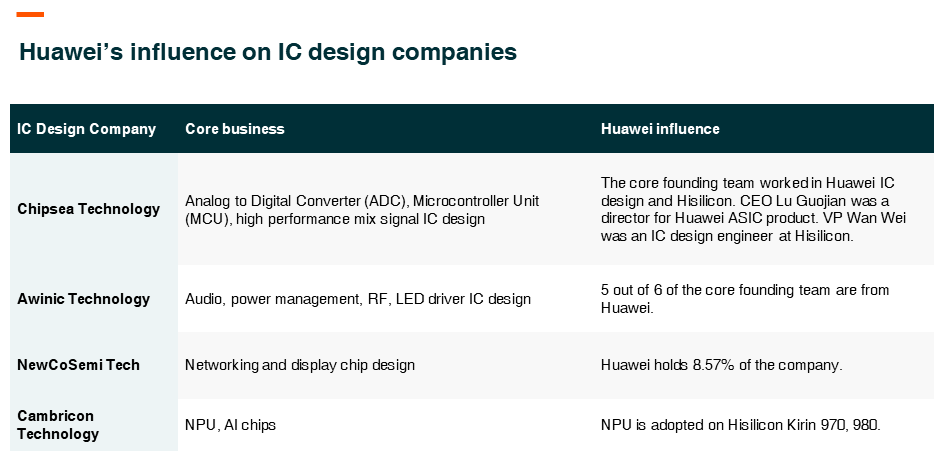 Huawei 2012 Lab
2012 lab is the research laboratory of Huawei which covers the majority of Huawei's business line. It has 16 institutions globally, eight in China, and eight overseas. Under the 2012 lab there are many other labs such as Noah's Ark Lab which focuses on AI research. The lab actively hires graduates in China which we think is important for talent training. The current Hisilicon president He Ting Bo joined Huawei in 1996. She is a home-grown talent who worked for and is now head of the 2012 lab.
Noah's Ark Lab
The Noah's Ark Lab is the AI research center for Huawei founded in 2012, located in Hong Kong, Shenzhen, Beijing, Shanghai, Xi'an, London, Paris, Toronto, Montreal, and Edmonton. Research areas of the lab mainly include computer vision, natural language processing, search & recommendation, decision and reasoning, and AI theories.
Research areas of Noah's Ark Lab are as below:-
Computer Vision. R&D in core vision algorithms and platform design. Applications include surveillance, smartphone camera, autonomous driving, etc.
Natural Language Processing (NLP). Development of NLP algorithms for voice recognition, translation, knowledge graph, and natural language dialogue.
Search & Recommendation. Developing recommendation systems and search engines.
Decision and Reasoning. Supporting Huawei business and improving supply chain management through research in anomaly prediction, and deep reinforcement learning. The application includes optimizing power management of the base station, etc.
Others. Research in fundamental learning algorithms and theories, exploring possible industrial applications.
Other Chinese Tech Giants Moving into the Chip Business
Besides Huawei, other domestic technology companies are also making a move into the semiconductor business through in-house team and investment. We are positive about the outlook of China's semiconductor industry, as we see a strong long-term commitment for domestic companies to develop and invest in this area. Tencent is a major investor in the AI chip startup Enflame, and established its IC design subsidiary this year. Baidu built an in-house IC design team and launched its Kunlun AI chips at the end of 2019. Oppo also established a team recently to develop in-house smartphone chips.
Alibaba – Pingtouge
Alibaba acquired Hangzhou  C-SKY Microsystems in 2018. The company was founded in 2001 as an integrated circuit design house dedicated to 32-bit high-performance low-power embedded CPU and chip architecture license based on RSIC-V architecture. Initial applications include industrial, network and communication, Internet of things (IoT), and auto.
In September 2018 Alibaba announced the formation of Pingtouge Semiconductor Limited Company, which is largely based on the acquired team from C-SKY Microsystem, combined with existing talents from DAMO Academy. Alibaba reportedly hired talents from Advanced Micro Devices (ADM), ARM Limited, Nvidia Corporation, and Intel for chip design at the DAMO Academy.
Pingtouge's products are as below:-
Hanguang 800 – AI Inference Chip: The company's first product, an AI inference chip which claims to have industry-leading performance. It is an Application-specific integrated circuit (ASIC) chip based on RISC-V architecture, likely to have used 7nm node at Taiwan Semiconductor Manufacturing (TSMC).
Xuantie CPU – IoT CPU: Xuantie CPU series are RISC-V architecture based CPU. The Xuantie series is designed for IoT and AI applications doing an on-device calculation. The chip is likely to use a 12nm node. It is worth mentioning that Huami also developed its own AI chip based on ARM architecture for its wearable products, and therefore we think the barrier in this area is not too high.
Global X China Semiconductor ETF (3191 HKD / 9191 USD)  is designed to offer investors to access high growth potential through companies critical to the development of semiconductors in China.
Other Key Features:  
Targeted Exposure:

 The fund delivers targeted exposure to an emerging theme and industry.

ETF Efficiency: In a single trade, the fund delivers access to dozens of companies with high exposure to the semiconductor theme in China.
Please click here for more information on the Global X China Semiconductor ETF.