China's Clinical Research Services Industry
The Pharmaceutical R&D Process
The process involves the discovery of drug candidates and the subsequent testing of drug candidates to demonstrate their safety and efficacy in order to obtain regulatory approval and enter the market. The process is generally costly, complex, risky and time-consuming. The entire process generally consists of four stages, namely (i) discovery, (ii) pre-clinical, (iii) clinical and registration including phases I to IV clinical trials and (iv) manufacturing.
R&D Outsourcing Services
The complex, risky, time-consuming and expensive nature of the pharmaceutical R&D process creates significant demand for pharmaceutical R&D outsourcing services. Such services are provided by two types of pharmaceutical R&D outsourcing service providers, namely CROs (Contract Research Organization) and CDMOs (Contract Development Manufacturing Organization). CROs support pharmaceutical companies with various R&D services covering the discovery, pre-clinical, as well as clinical and registration stages, while CDMOs mainly engage in CMC (Chemistry, Manufacturing and Controls) services in the manufacturing stage.
With the continuous development of the pharmaceutical industry, CROs are playing an increasingly important role in the capital-intensive, complicated, risky and time-consuming pharmaceutical R&D process. CROs provide comprehensive R&D solutions covering (i) discovery stage, (ii) pre-clinical stage and (iii) clinical stage including phase I to IV clinical trials.

Pharmaceutical companies rely on CROs with strong project management and scientific expertise, a specialized and experienced talent pool, innovative technologies and extensive regulatory experience to manage complex projects to reduce R&D risks and costs, and accelerate the development of safe and effective drugs.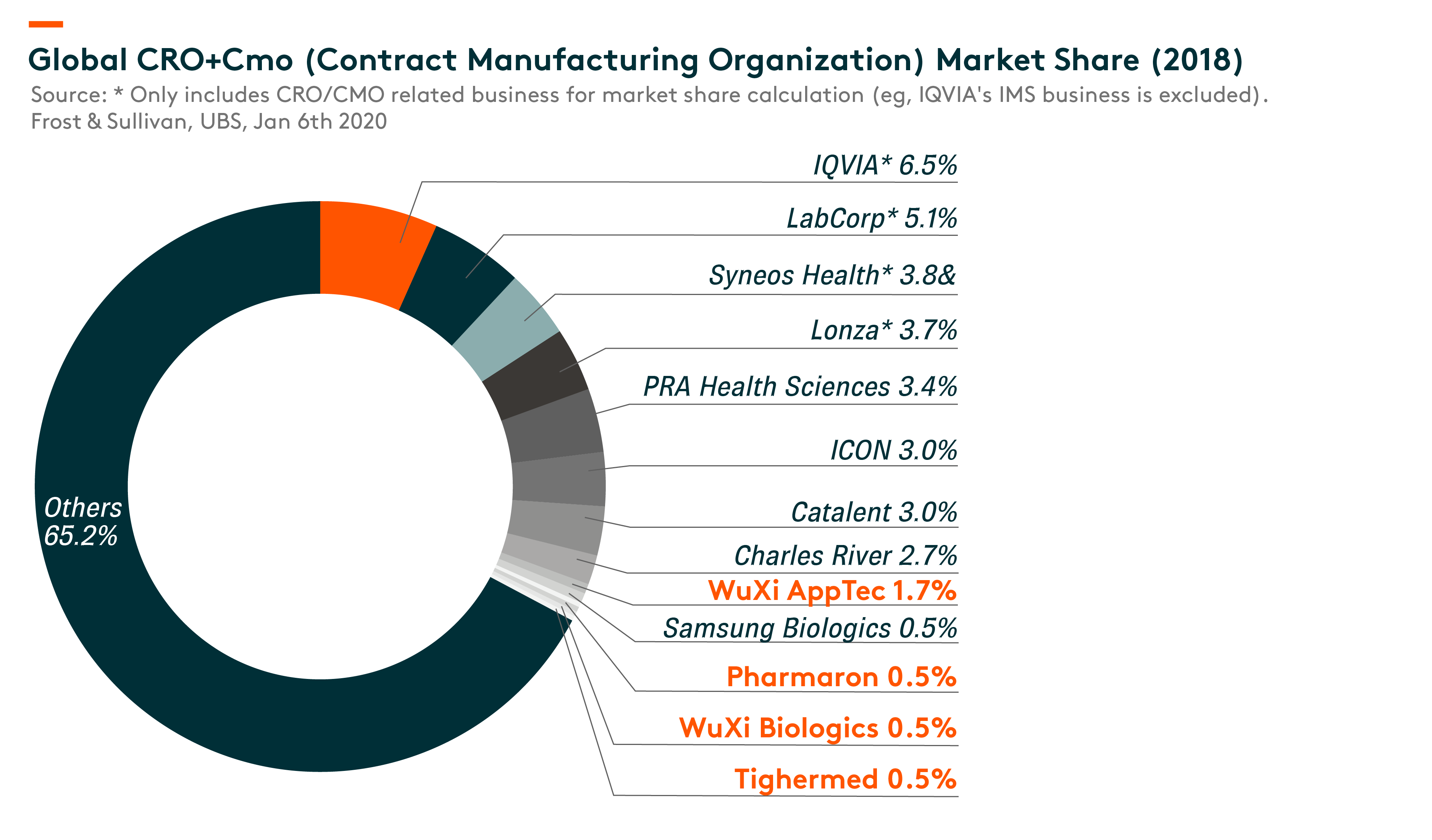 The key factors that are driving growth in global as well as China's pharmaceutical R&D services market include:
Rising R&D expenditure, driving the growth for CROs.
Increasing complexity of R&D process – this has led many pharmaceutical companies to outsource more R&D activities to experienced CROs with advanced technology.
Cost savings – Amid the increased competition for new drug development and lower R&D yield, CROs help them efficiently and expertly manage R&D activities while reducing costs and risks.
Emerging biotech companies – Numerous biotech companies have emerged, especially in China. Due to limited in-house resources and capabilities, many of these emerging biotech companies rely extensively on third-party service providers to navigate their complex R&D projects, generating additional demands for CRO services.
Favorable government policies in China – The Chinese government has undertaken a reform of its regulatory review and approval system that covers the entire value chain of China's pharmaceutical market, from clinical trials, regulatory submission, manufacturing to medical insurance coverage. The reform has led to more business opportunities for CROs specialized in innovative drug development. As part of the reform, China has issued a variety of favorable government policies to encourage the development of the pharmaceutical CRO market, such as the 13th Five-Year Plan for International Outsourcing Service Industry Development published in 2017.
Market Sizing by Geographies
The US is the largest clinical CRO market at US$20.9 bln in 2019, and it is expected to grow at 8% compound annual growth rate (CAGR) during 2019-24. While China's clinical CRO market is in relatively early stage, it is expected to grow rapidly from US$3.7 bln in 2019 to US$13.7 bln in 2024, a CAGR of 30%.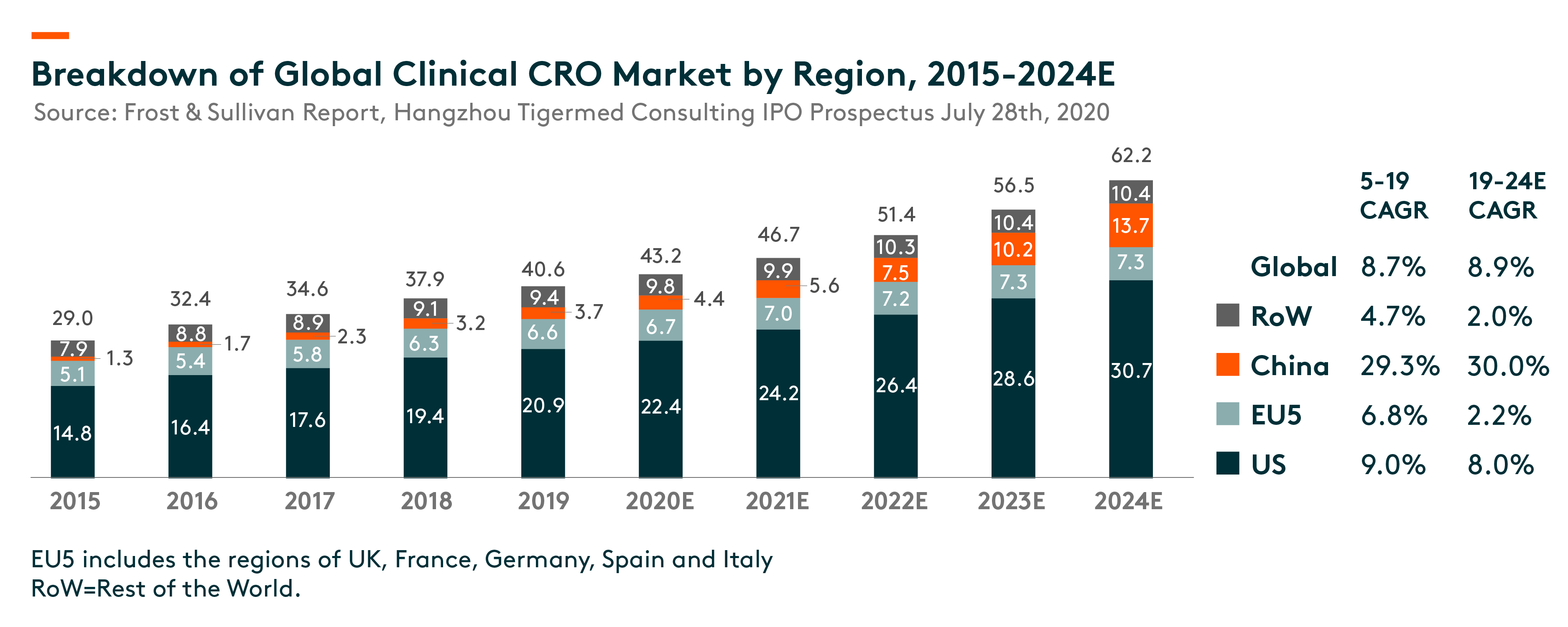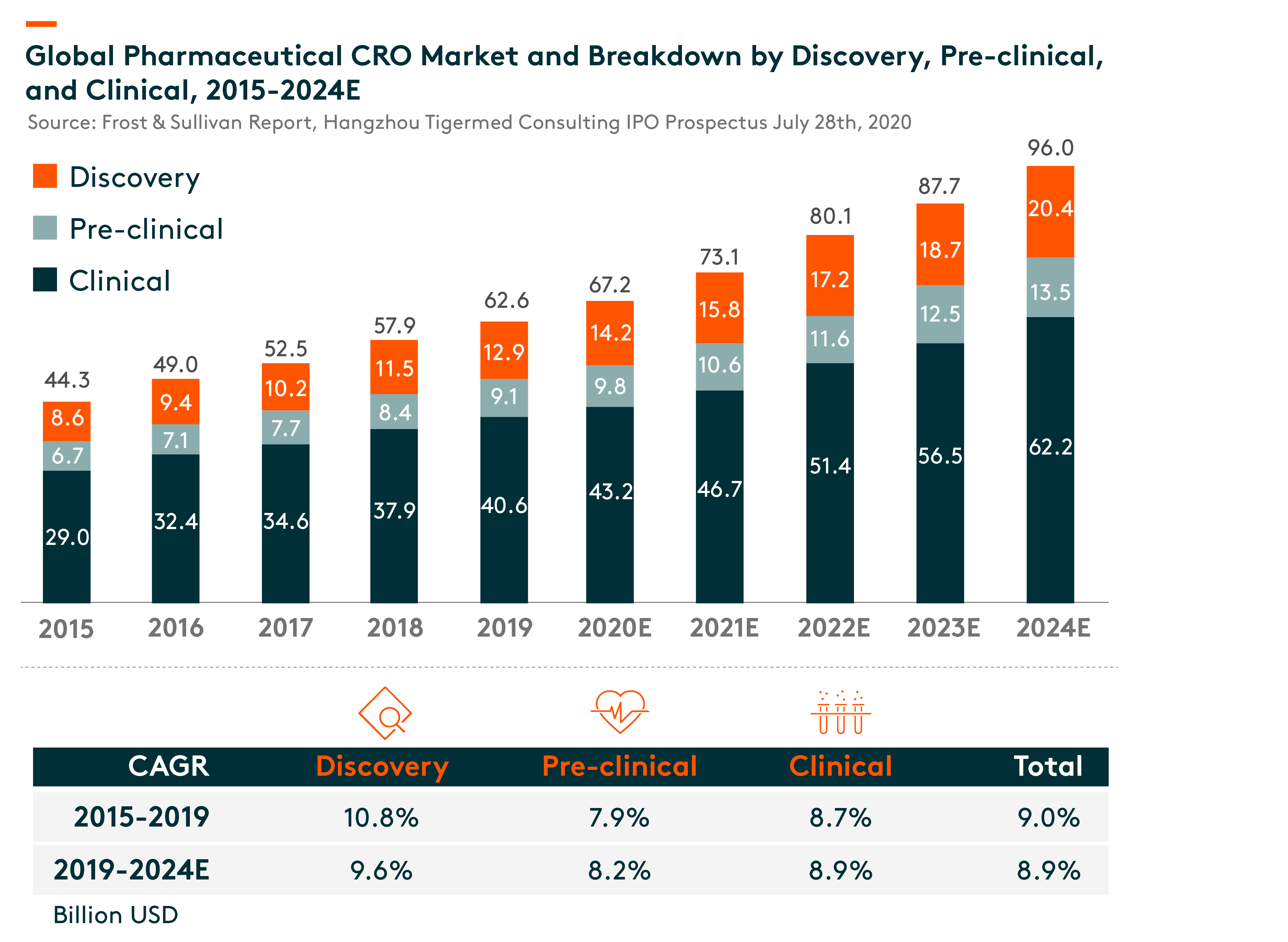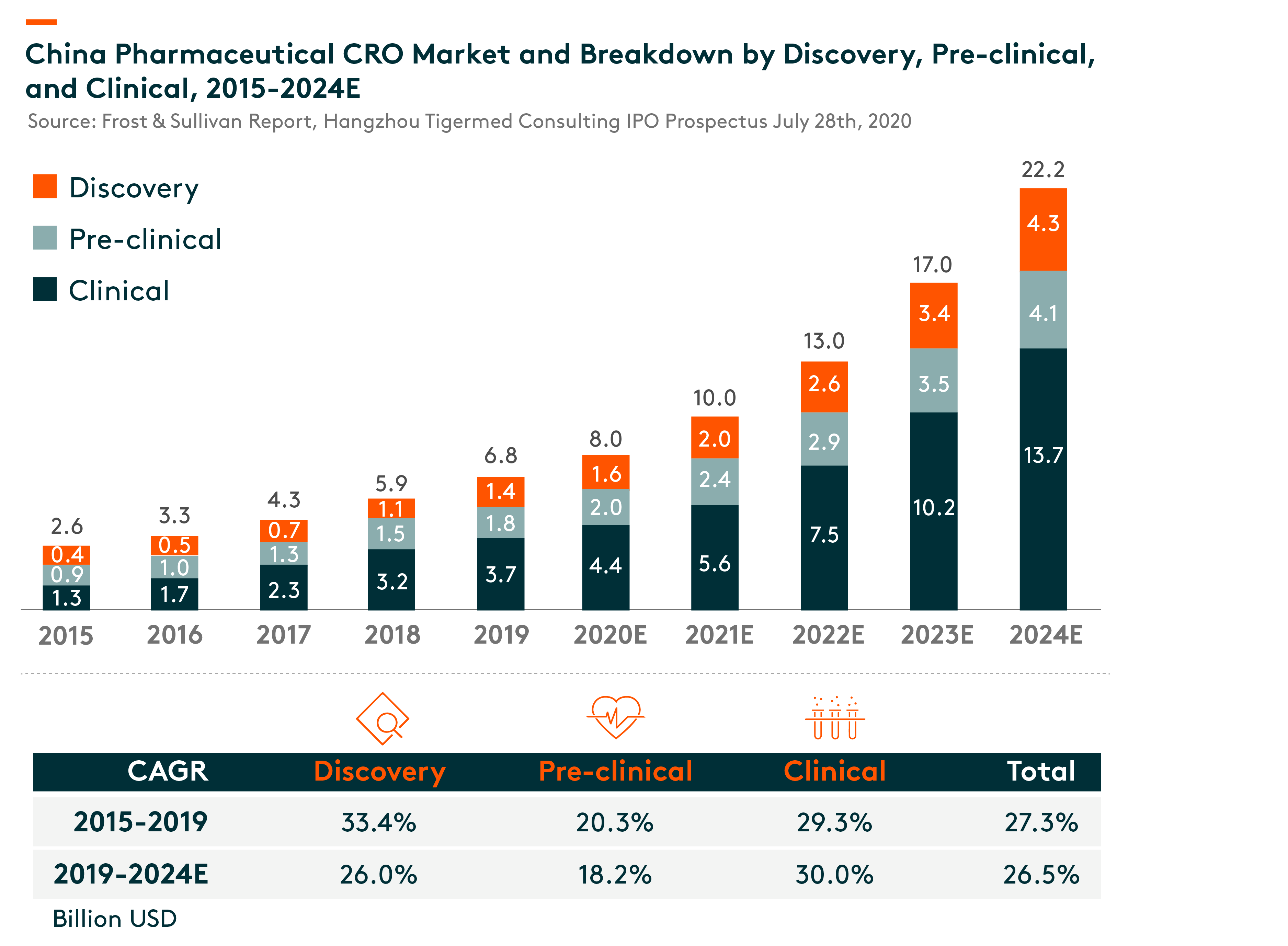 In China, the number of clinical trials increased from 339 in 2015 to 1,031 in 2019. As pharmaceutical R&D continues to globalize and China becomes an integral part of the global pharmaceutical R&D industry, the number of multi-regional clinical trials (MRCTs) conducted in China has also increased. Since China joined the ICH (International Conference on Harmonization of Technical Requirements for Registration of Pharmaceuticals for Human Use) in 2017, an organization that aims to unify technical and regulatory requirements of different countries for pharmaceuticals development and registration, China has been updating and conforming to its regulations governing the clinical development of pharmaceuticals to those of the developed markets. In particular, clinical data generated overseas can be used as supplementary data to support registration applications in China. On the other hand, there is a growing trend for multinational pharmaceutical companies to conduct MRCTs with clinical sites in China to support their registration application to NMPA (National Medical Products Administration, formerly known as China Food and Drug Administration).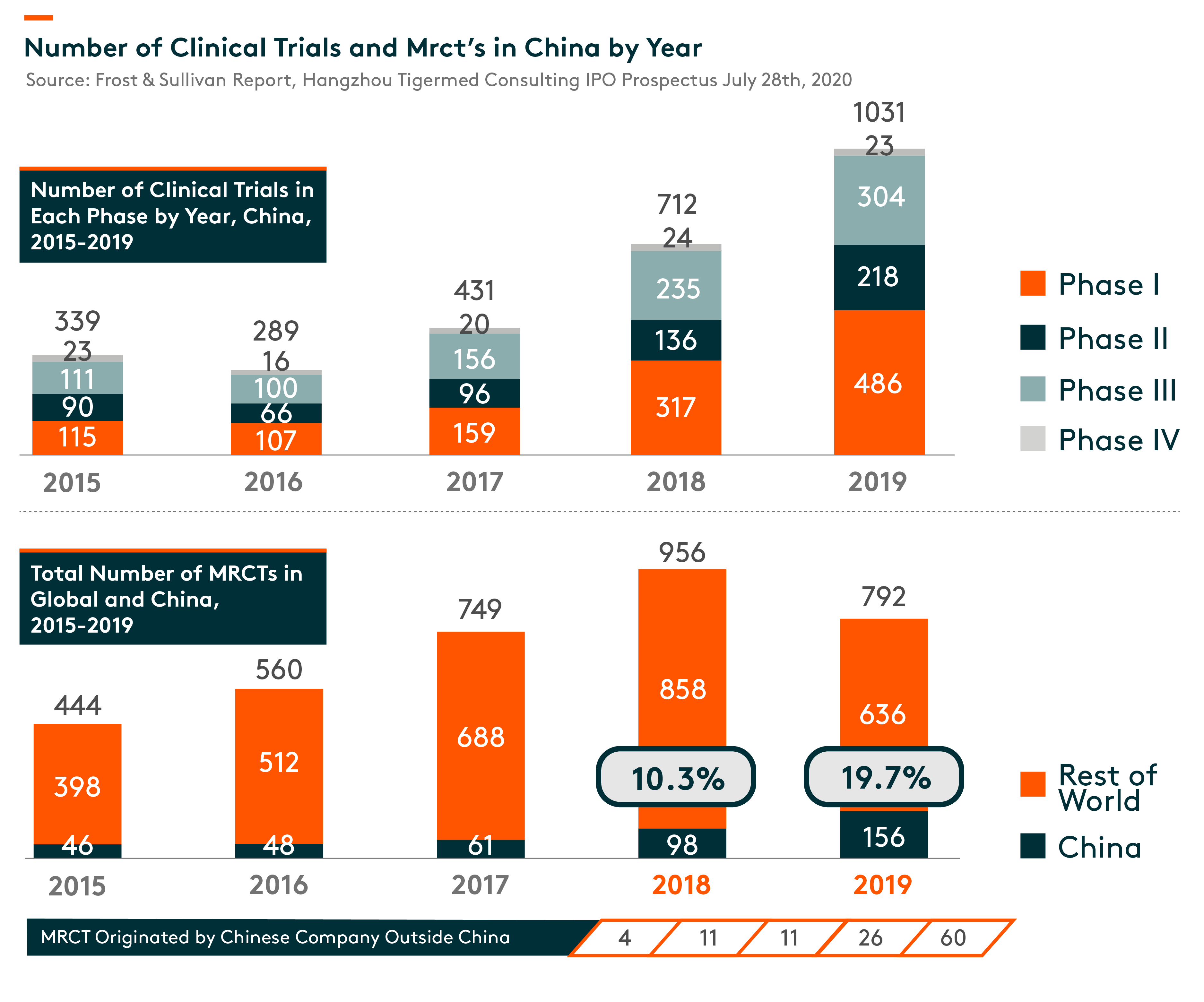 Related ETF
Global X China Biotech ETF seeks to provide investment results that closely correspond to the performance of the Solactive China Biotech Index NTR, offering an access high growth potential through companies critical to the development of biotechnology in China.
Other Features
Targeted Exposure: The fund delivers targeted exposure to an emerging theme and industry.
ETF Efficiency: In a single trade, the fund delivers access to dozens of companies with high exposure to the biotech theme in China.
Click here to learn more about our Global X China Biotech ETF.