The Meteoric Rise of Electric Vehicles
Electric vehicles (EVs) have been garnering increasing interest among global investors especially given the meteoric rise of Tesla. With China's focus on becoming carbon neutral by 2060 and growing its leadership in the EV space, it is no surprise that homegrown EV makers have emerged to become a disruptive force in the industry. Despite forcing global OEMs to enter the Chinese market via a 50-50 JV structure with local Chinese companies, China arguably still lags behind the foreign players in terms of internal combustion engine (ICE) technology. That is becoming less relevant as we transition into the EV era. It has become imperative for the Chinese leadership that China takes the opportunity to reset and dominate this key sector/technology for years to come, especially with EVs being able to achieve the twin goals of reducing carbon emissions and creating new national champions. In this article, we aim to explore the progress made by Chinese EV brands, their advantage versus global players and a quick comparison of some EV dedicated platforms.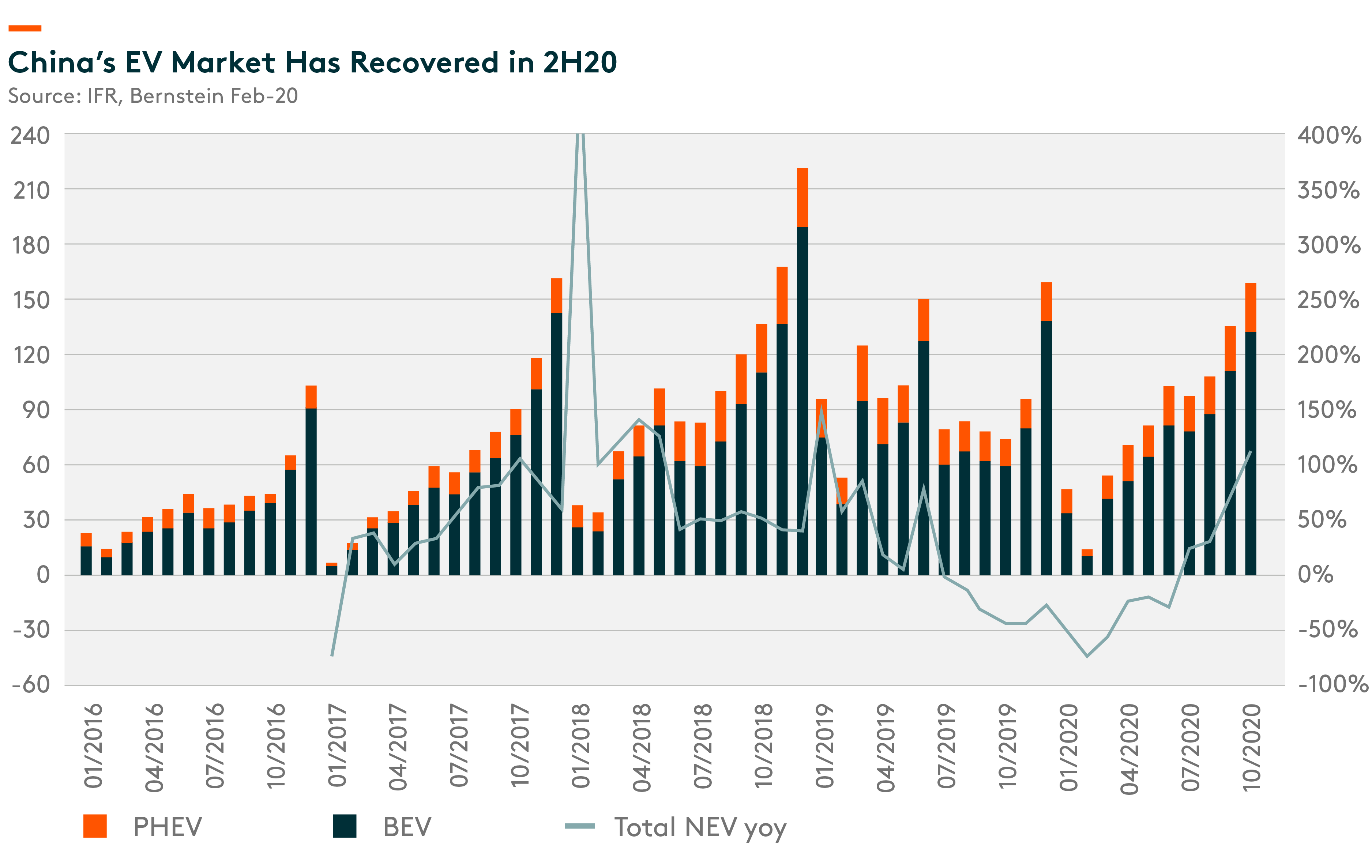 The Chinese EV market is already the largest globally due to a combination of government support, early investment in space, license plate restrictions on internal combustion engine (ICE) cars and more stringent environmental regulations. The Chinese auto market comprises of existing joint ventures (JVs) between global original equipment manufacturers (OEMs) and Chinese companies, such as Brilliance Auto (BMW) and Guangzhou Auto (Toyota), global EV players like Tesla (which started ramping up production from its Shanghai plant), domestic champions like BYD and Geely, and also Chinese EV start-ups including Nio, Xpeng and Li Auto, with all three successfully listed in the US market.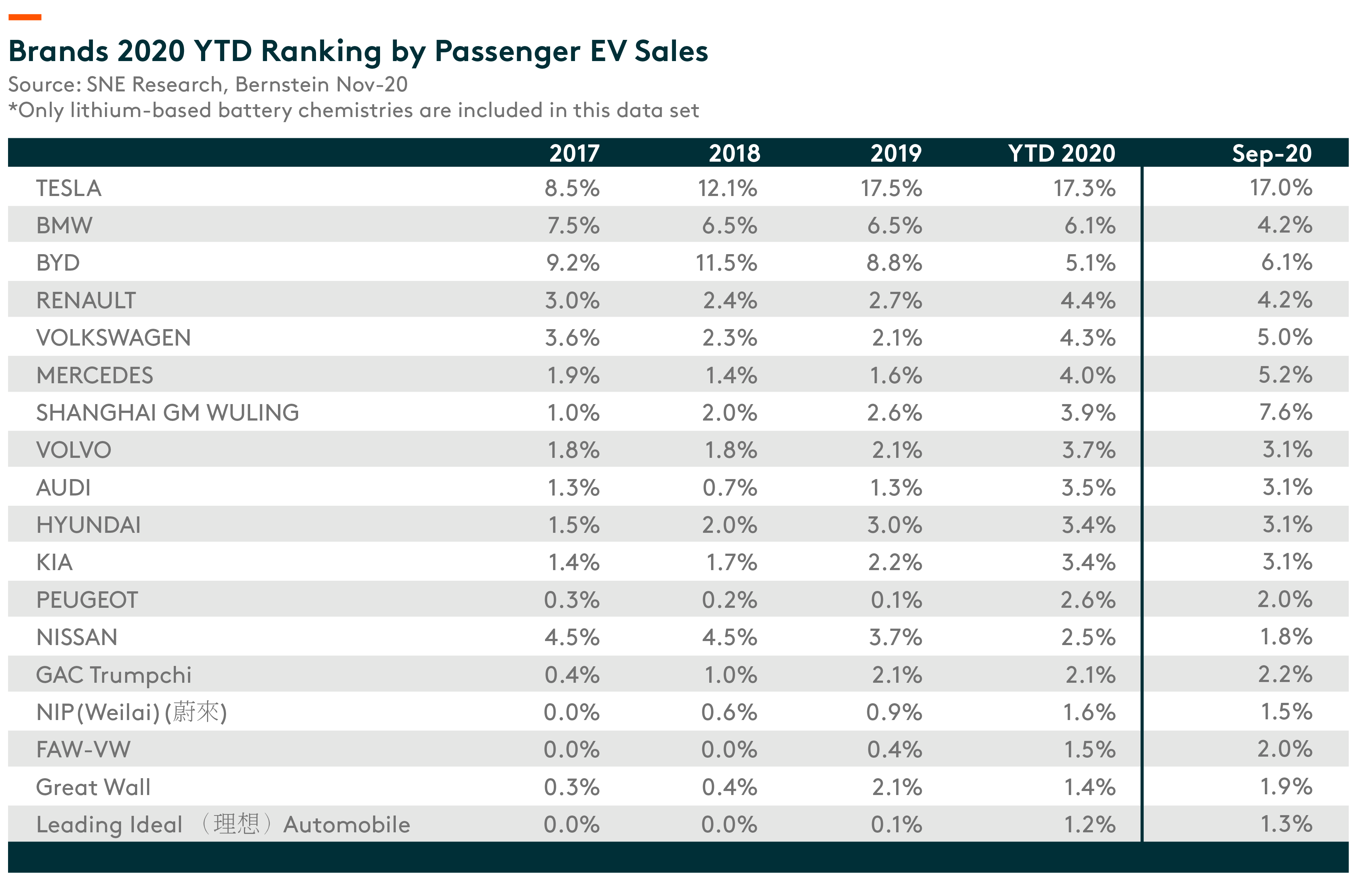 Chinese EV makers benefit from a comprehensive and developed value chain domestically. China's strength in key components such as batteries (including important battery raw materials) and other auto parts like electric motors even convinced Tesla to start production in China in order to enjoy these advantages. Chinese EV makers are also able to capitalize on favorable government policy, consumer readiness to embrace EVs, and access to lower-cost parts by virtue of being in China. We examine a few of the manufacturing capabilities of key EV players in China below.
Tesla's growth of its battery capacity is a core component of its long-term growth pillars, including vehicle sales, stationary storage and supplying to third parties. In the longer term, the company targets 2TWh of battery capacity and 20m units annually, twice the size of Toyota (the largest global automaker). Tesla's Shanghai factory is the company's first car manufacturing site outside the USA and key to Elon Musk's ambition of boosting sales in the world's largest auto market while avoiding high import tariffs on US-made cars. The new factory (Gigafactory 3) is also the first fully foreign-owned auto manufacturing plant in China. Tesla will mainly produce the Model 3 (sedan) and Model Y (compact SUV) for the Chinese market. Tesla's Model 3 was the top-selling plug-in car in 2019 with close to 14% market share, according to Insideevs.com. The aim is to ramp up production to as many as 500k vehicles per year in two to three years' time. As around 70% of Tesla's components for production in China are still sourced from overseas, it makes sense to localize production in order to improve margins or lower average selling price (ASP), depending on the strategy Tesla chooses in China.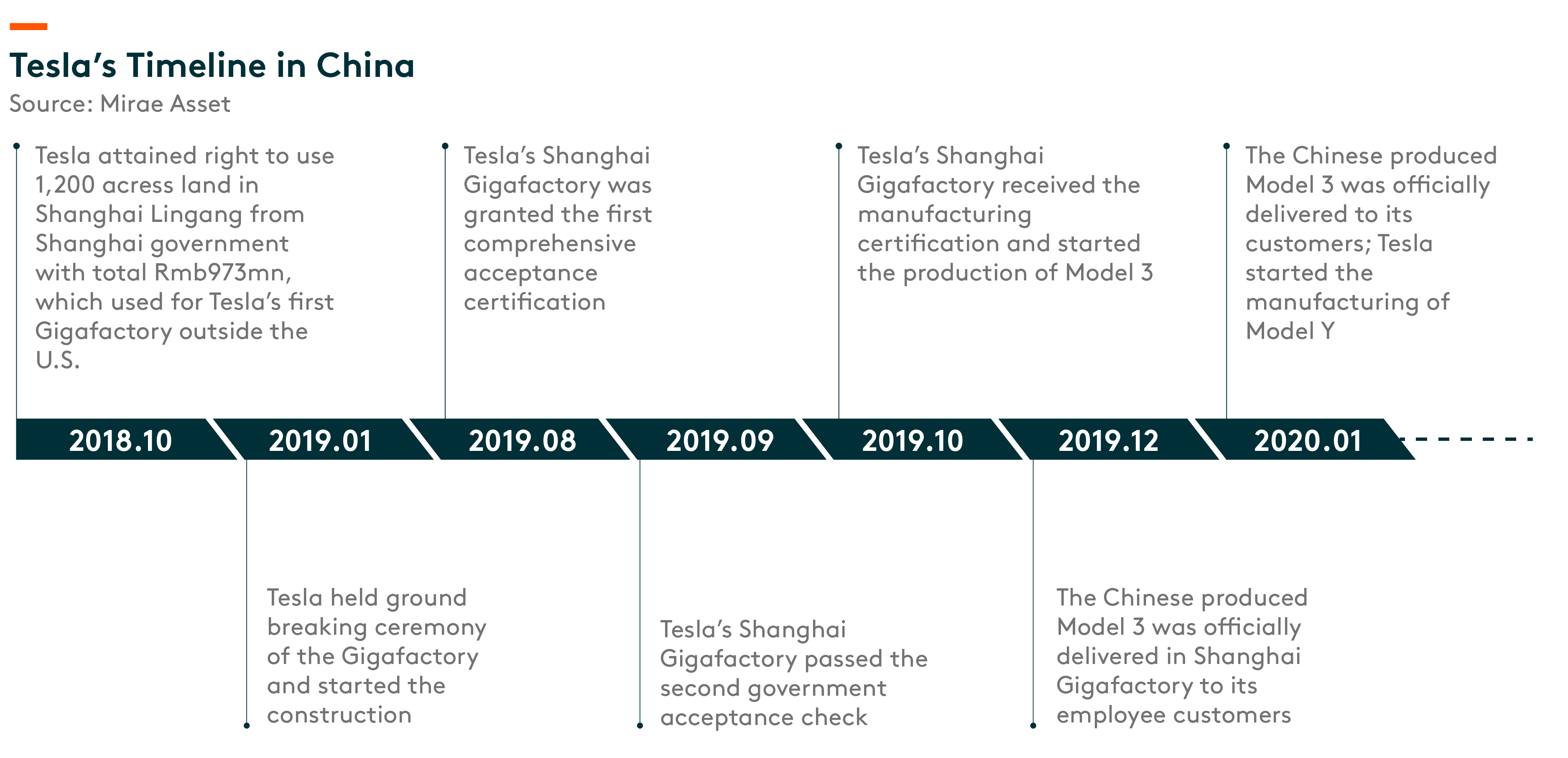 BYD is principally engaged in automobile business, which includes ICE and NEV, handset components and assembly services, as well as a rechargeable battery and photovoltaic business. The company also actively develops its urban rail transportation business segment. BYD has been in the battery business for 24 years with self-owned technology and a leading edge in lithium iron phosphate (LFP) batteries. It introduced a super li-ion battery with lower cost and higher intensity known as the blade battery in March 20. The advantages include better safety, longevity and extended travel range. The battery pack cost could be 30% lower than comparable nickel cobalt manganese oxide (NCM) batteries, according to the company. It aims to shift all existing battery electrical vehicle (BEV) models to blade battery by 1Q21 and launch new low-cost plug-in hybrid electrical vehicle (PHEV) models in 1Q21. BYD is also the only automaker with in-house insulated gate bipolar transistor (IGBT) technology, which is the ideal switching transistor for high voltage applications in NEVs, especially with the industry focusing on energy saving and cost saving modes. The popularity of BYD's Han model indicates that its IGBT4.0 technology is well accepted by the market.
Nio's vehicles are manufactured in partnership with Jianghuai Automobile Group (JAC) at its Hefei manufacturing plant. JAC is a major state-owned automobile manufacturer in China which also has a JV partnership with Volkswagen for manufacturing EVs. Nio pays JAC for each vehicle produced. It also collaborates with Tencent, Baidu, Mobileye (ADAS) and CATL (batteries). Nio has established Advanced Manufacturing Technology Centers (AMTECs) in Nanjing for pilot production and motors, Kunshan for inverters and Changshu for energy storage systems. Nio also launched a unique Battery-as-a-Service (BaaS) subscription model and set up a Battery Asset Company together with CATL, Hubei Science Technology Investment Group and a subsidiary of Guotai Junan. The Battery Asset Company will be dedicated to purchase and own battery assets, as well as lease batteries to users who subscribe to the BaaS model. This allows users to purchase EVs and subscribe to the usage of battery packs separately (Rmb980/month with free swaps at their 143 battery swapping stations in more than 60 cities in China vs one-off Rmb100k battery cost) in order to improve consumer affordability and expand its addressable market.

Li Auto is unique among its peers in that it uses EREV (extended-range electric vehicles) technology. Engineering wise, in addition to a 40.5kWh battery which offers 180km of NEDC (New European Driving Cycle) range, the Li One also carries a 1.2L three-cylinder combustion engine that charges the battery, and a 45-liter tank. These shares similarities with Nissan's e-Power hybrid system in that a gasoline engine drives a generator, which powers e-motors which in turn drives the wheels. However, in contrast with the Nissan setup, the Li Auto EREV powertrain also includes a much larger EV battery which allows for charging from a socket. This hybrid solution helps to eliminate consumers' range anxiety due to lack of charging infrastructure with its 800km driving range while users can also keep the car running by simply filling up at gas stations. Performance-wise, Li Auto's Li One is similar to an EV, offering instant torque and acceleration of 0-100km in 6.5 seconds. Due to the smaller battery, cost is 25% lower than a comparable BEV (according to the company's prospectus) which will enable Li Auto to have a clearer path towards breaking even. Li Auto Changzhou factory's current capacity is 100k units annually and can be expanded to 200k units per year.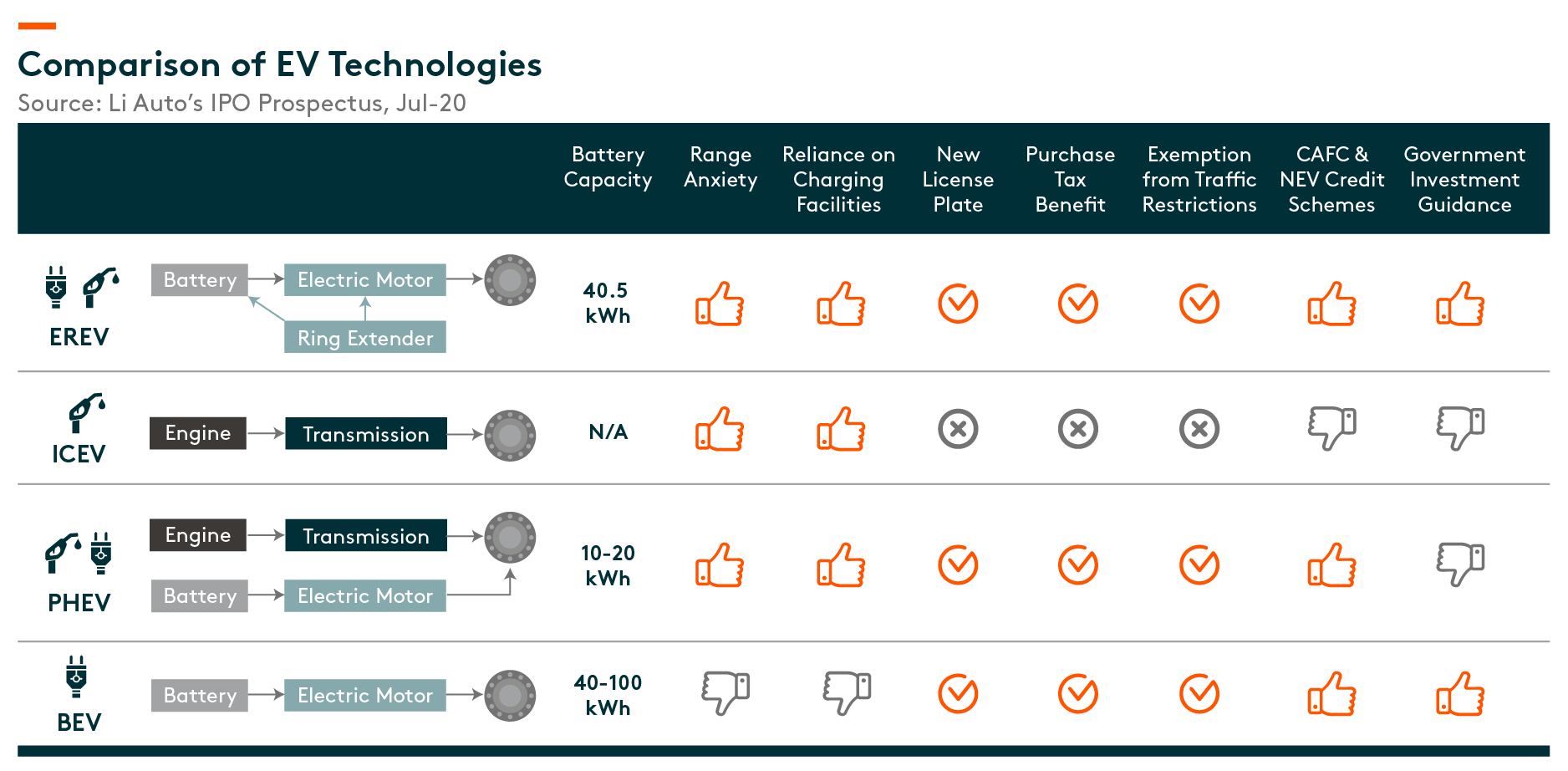 XPeng's vehicles target the mid-to-high end of the mass market and are characterized by a plentiful array of 'Smart EV' features, including voice recognition, large infotainment displays, enhanced connectivity, and various advanced driver assist systems (ADAS) such as radar-assisted adaptive cruise control, lane centering, and automated parking. The vehicles are noted for having the longest range in their respective price categories, with the P7 providing up to 706km of NEDC driving range (more than a more expensive Tesla Model 3). XPeng strategically established two Smart EV platforms (David and Edward) that are scalable for both SUVs and sedans with different wheelbases within a wide range, which allows them to develop new models in a timely and cost-efficient manner. Currently available capacity includes 150,000 units annually via its venture with Haima and another 100,000 units at the wholly-owned Zhaoqing facility. As at 30 Jun-20, Xpeng had 114 branded supercharging stations, of which 61 are self-operated. Xpeng also offers a charging network that is connected to over 200k third party charging stations consisting of large scale providers such as TELD.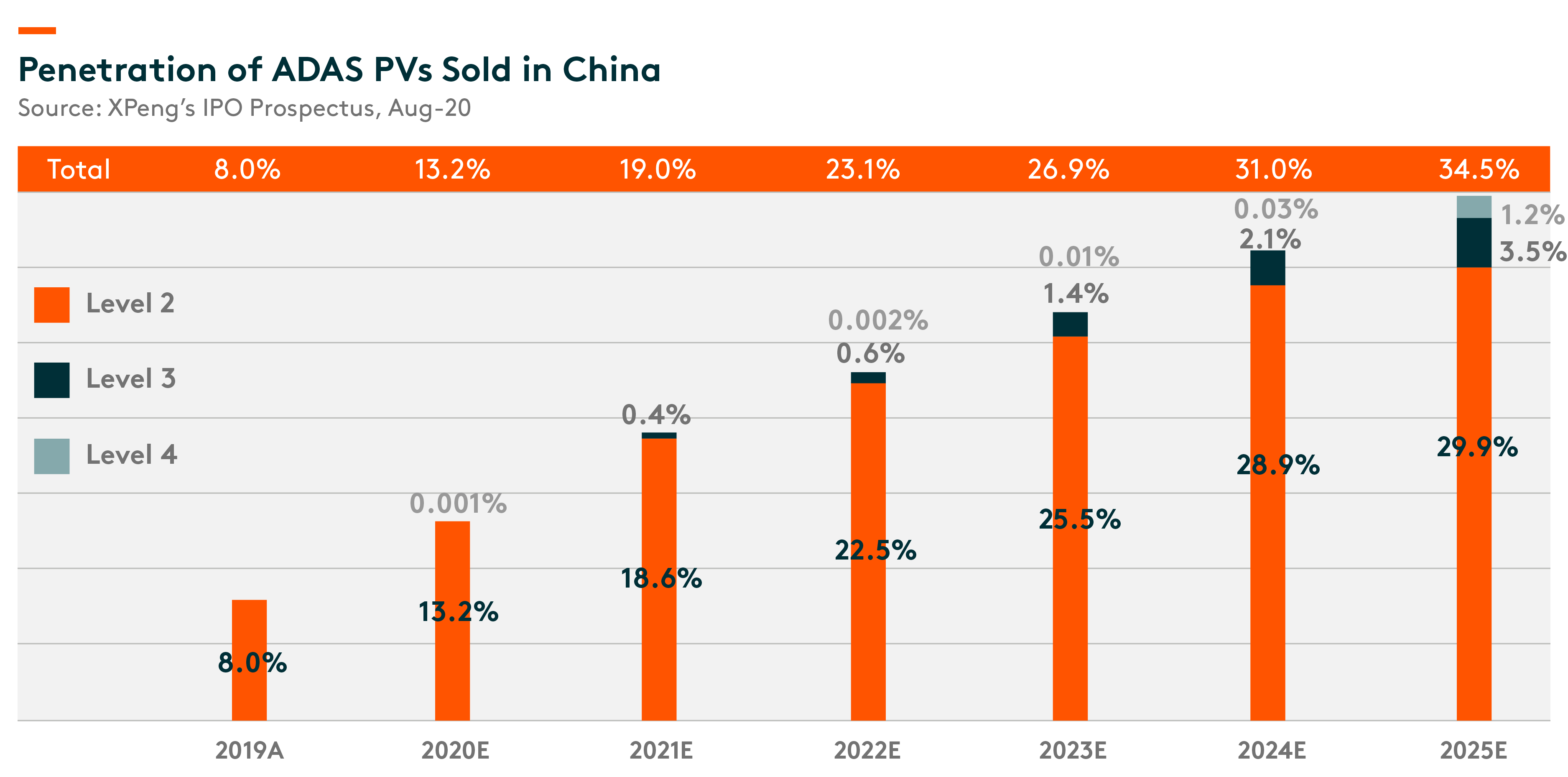 We believe that the future for China's EV industry is bright, especially with the government's unwavering support, strong supply chain, huge addressable market and first-mover advantage. Chinese EV start-ups have demonstrated their ability to hold their own against international competition and the product offering feels more competitive compared to the ICE era. Although challenges such as the lack of charge stations and affordability issues still exist, China has the greatest chance of success driven by cooperation of the state with private enterprises to roll out charging infrastructure and solving teething grid issues as long as EVs remain a key agenda for the party leadership. Moreover, falling battery costs through improving technology and China's access to battery raw materials ensure that the price of EVs will continue to become more economically viable for the masses.
Related ETF
Global X China Electric Vehicle ETF enables investors to access high growth potential through companies critical to the development of electric vehicles in China.
Other Key Features:
Unconstrained Approach: The fund's composition transcends classic sector and industry classifications by tracking an emerging theme.
ETF Efficiency: In a single trade, the fund delivers access to dozens of companies with high exposure to the electric vehicle theme in China.
Please click here for more information on the Global X China Electric Vehicle ETF.