The Race of China's Autonomous Vehicles
In this article, we will examine the advantages & weaknesses of the autonomous vehicle industry in China. We will also look at the strategy and progress of leading Chinese solution providers. It is important to note that behind every solution provider, there is an extensive list of software, semiconductor, hardware, and vehicle companies working together to support the autonomous driving solution. It is rare for companies to develop all technologies in-house in the autonomous driving industry.
Advantages of the Autonomous Vehicle Industry in China
Policy – The government provides strong policy support and a framework to facilitate the development of the autonomous vehicle industry in China. The National Development and Reform Commission published a report on smart vehicles development strategy in February 2020, targeting mass production of L3 autonomous vehicles by 2025. The Ministry of Industry and Information Technology (MIIT) published standards and technical requirements for different levels of autonomous driving in March 2020.
Infrastructure – China has the longest expressway network in the world, with 149,600km as of 2019, followed by the US with 95,932km. (Ministry of Transport of the PRC 2020, US Department of Transportation 2020) We believe in the initial stage, autonomous driving will be limited to specific areas and the extensive highway network in China provides a stable environment to roll out autonomous driving.
China is expected to have 5G network coverage in major cities by the end of 2020, with over 600,000 5G base stations. (Ministry of Industry and Information Technology of the PRC, 2020) 5G has low latency and high bandwidth, which is crucial for building the internet of vehicles network to improve the safety of autonomous driving. The government has also set a target to build infrastructure for vehicle communication in key highways by 2025.
Funding – The venture capital/private equity market can provide strong support to leading companies in autonomous driving. According to (Qingke Research 2020), total private equity investment in autonomous driving was RMB 594Bn in 2019. Only nine companies got investments in autonomous driving in China in 2014, and that compared to 35 autonomous driving companies in 2018. We believe China has passed the bubble stage of investment in autonomous driving, and investors are now able to focus on the top quality companies.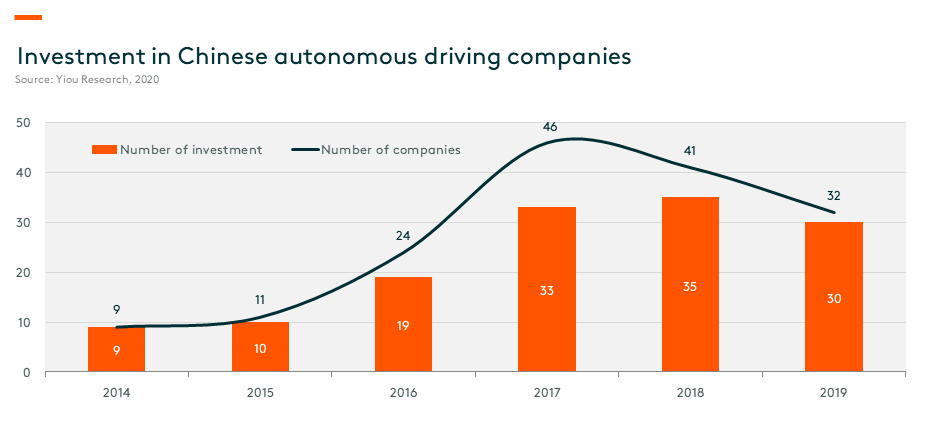 Weaknesses of the Autonomous Vehicle Industry in China
China still relies on oversea suppliers for core semiconductor components in autonomous driving. Companies like Nvidia not only provide hardware like the Graphics Processing Unit (GPU) and in-vehicle AI computer, it also develops the training platforms and software development kits around it. The barrier is high in this area, and it takes a long time to develop reliable hardware and a mature development framework.
Key Autonomous Driving Full Stack Solution Providers in China
Baidu – Apollo platform
There are two parts of Baidu's positioning in autonomous driving. First, the company aims to provide an open platform for autonomous driving companies, which include 1) Cloud service platform for training and housing data. 2) Software platform. 3) Hardware/vehicle platform.  Second, Baidu also develops its full-stack autonomous driving solutions to launch services like robotaxi.
AutoX – XCU, xFusion, xUrban, xMap, xCloud
AutoX uses an integrated approach to build full-stack technology for autonomous driving. The company also works with auto manufacturers to launch robotaxi and robotruck services.
Pony.ai
Pony AI develops autonomous vehicle platforms. Toyota invested US$400m in the company earlier this year to accelerate product development. (Bloomberg 2020).
Tusimple
Tusimple focuses on the development of autonomous trucks. The company partners with Navistar, a US truck company, targeting to launch L4 autonomous truck by 2024.
WeRide – WeRide Go
The company develops full autonomous driving solutions. WeRide test-launched its Roboaxi service (with safety driver) in Guangzhou in November 2019. WeRide Go has served 80,000 passengers with a total running distance of 2.6 million km.
Metrics to Gauge Progress of Autonomous Driving Development
The California Department of Motor Vehicles (DMV) publishes data on companies with permits to do autonomous driving testing in California. As most of the top Chinese autonomous vehicle companies also participate in this testing scheme, these data may offer some indication of the progress by different companies. A 'Disengagement' happens when the human safety driver interferes. In simple terms, companies with higher miles per disengagement and the higher total testing mileage should have a more reliable system. Baidu, AutoX, and Pony.ai are among the top five in terms of miles per disengagement. One thing to note is that Waymo which was ranked the second has over 13 times more testing mileage than Baidu, while AutoX also has limited testing mileage at 32,054 miles.
According to DMV, as of February 26, 2020, a total of 64 companies have the California autonomous driving test licenses, including full solution providers, component suppliers, technology companies, autonomous driving startups, etc. Among them, five companies are allowed to use autonomous vehicles to transport passengers, including Aurora, AutoX, Pony.ai, Waymo, and Zoox, two of which are Chinese companies. Waymo is the only company with a driverless road test license (no safety driver required).
36 companies conducted testing in 2019. The accumulated mileage of test vehicles of 36 companies that have achieved road testing in the automatic driving mode exceeded 2.88 million miles, an increase of 800,000 miles over the previous year. Six companies tested less than 100 miles in 2019, namely Valeo, Box Bot, Telenav, BMW, Tesla, and Ridecell. Two companies have their autopilot road test licenses revoked for failing to submit a "disengagement" report on time. These two companies are Roadstar.ai and Xmotors.ai of Xpeng Motors North America.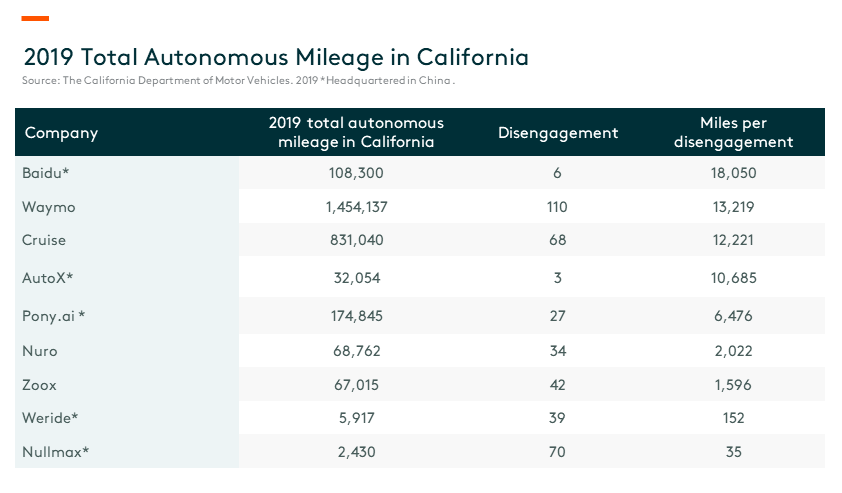 Global X China Robotics and AI Brand ETF (2807 HKD / 9807 USD), seeks to deliver the performance of the FactSet China Robotics and artificial Intelligence Index, enabling investors to access to high growth potential through companies critical to the development of robotics and artificial intelligence in China.
Other Key Features of Global X China Robotics and AI ETF:  
Unconstrained Approach: The fund's composition transcends classic sector and industry classifications by tracking an emerging theme.
ETF Efficiency: In a single trade, the fund delivers access to dozens of companies with high exposure to the robotics and artificial intelligence theme in China.
Please click here for more information on the Global X China Robotics and AI ETF.