Metaverse Platforms and NFTs
The virtual world has become increasingly connected and immersive while at the same time enriching the real world with virtual experiences. Globally, technology and content companies are investing aggressively to build Metaverse platforms where users can socialize, create and consume content, and receive or pay incentives in tokenized assets.
The backbone or infrastructure of creating Metaverse platforms are connectivity capabilities and computing power, both of which are required on a greater scale than that of the mobile internet era. Hyper-scale cloud players like Amazon, Microsoft, and Google will provide increasing amounts of data storage and compute capacity, which is key to creating a seamless and immersive experience with exponentially more data and choices.
On top of the infrastructure needed, content and application development are also critical for Metaverse platforms to engage users and curate virtual communities. Metaverse platforms will allow users to share their expressions by providing a range of tools, and this organically generated user content will, in turn, help increase the interactions and connections between users.
Nowadays, social media platforms already boast billions of users that can be brought to the Metaverse. Moreover, many companies have publicly disclosed their ambitions for the Metaverse. For example, Facebook raised public attention after renaming itself Meta, declaring its commitment to developing a Metaverse ecosystem, and launching its virtual social platform 'Horizon Worlds' in December 2021.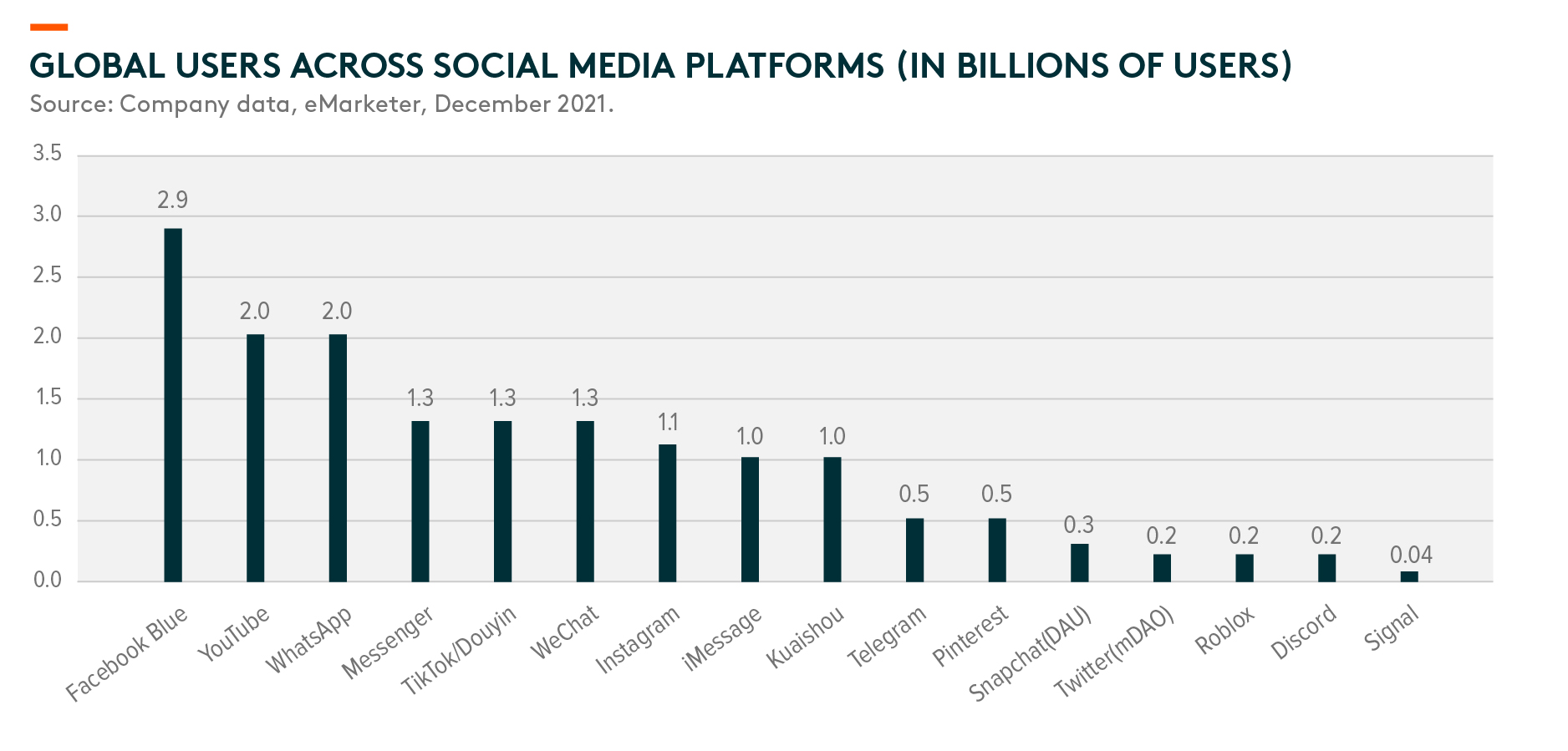 Besides social media platforms, games and entertainment platforms will also lead the way in providing users with more interactive and immersive virtual experiences. Gaming companies such as Roblox, Microsoft (owner of Minecraft), and Epic Games (creator of Fortnite) have all created multiplayer games that have rapidly developed rich social networks. With over 55 million daily active users (DAUs) as of February 20221, the rise of Roblox has redefined the social interactive game model, allowing users to build their own game assets and play games with other users. Roblox has evolved beyond just a gaming platform; it is now considered a virtual Metaverse community where concerts, luxury goods, fashion, and beauty products are also presented (e.g. Gucci's digital garden in Roblox).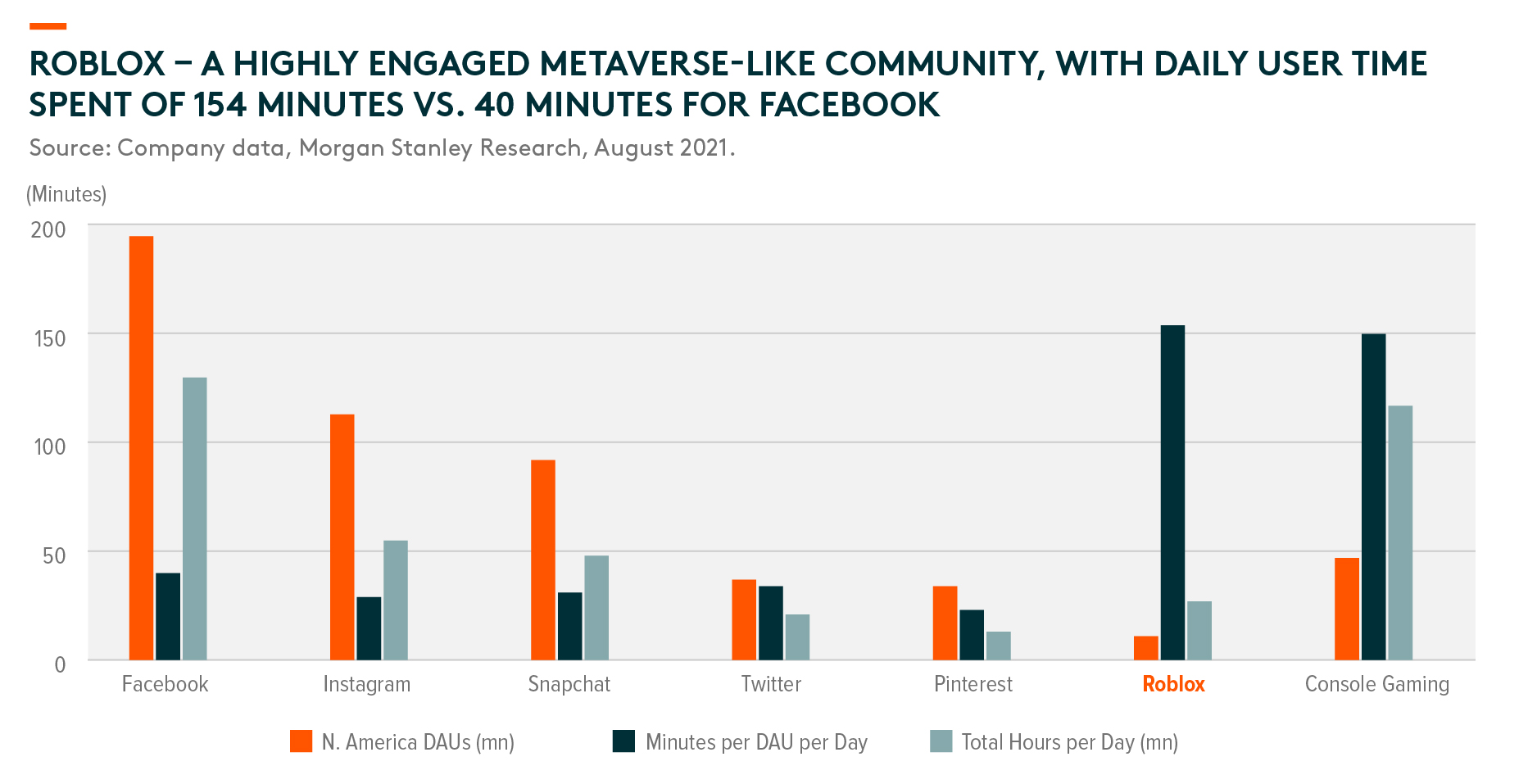 Beyond online gaming, entertainment, and social, Metaverse platforms will continue to expand to cover all aspects of human activities, including education, work, etc.
Continuous development of the Metaverse could give meaning to many digital assets. Non-fungible tokens (NFTs) are cryptographically unique tokens representing ownership over an underlying asset that cannot be interchanged (thus non-fungible). An NFT can represent any item that can be digitally consumed, such as art, music, domain names, trading cards, sports collectibles, events tickets, etc. Currently, the most popular NFTs are digital art used as profile pictures (such as Punks, Bored Apes, Pudgy Penguins, etc.) and in-game NFTs. Some believe that in the Metaverse era, people will spend more on digital goods that augment their avatars – this could be in the form of digital skins for the avatar or NFTs for the mantelpiece.
Not only can NFTs represent virtual identities and signal forms of belonging to communities with shared interests, but they're also a potentially useful innovation for empowering content creators. However, we could also argue that social media platforms nowadays also provide attractive incentives and economic value to content creators (via content sales, advertising, and e-commerce).
With growing popularity, people buy NFTs from secondary markets. OpenSea is the leading NFT marketplace which facilitates NFT trading and earns a fee for every trade. By the end of 2021, total monthly active users surpassed 300,000, while the monthly trading value peaked at USD$3.4 billion in August 2021 before stabilizing around USD$2.0 billion since then.2 OpenSea gained popularity as it worked with upcoming NFT projects to provide a liquid secondary market for new NFT launches. The success of OpenSea can be attributed to its nimble approach to new NFT projects. In addition, it has continued to work on improving its interface and user experience since its launch in 2017.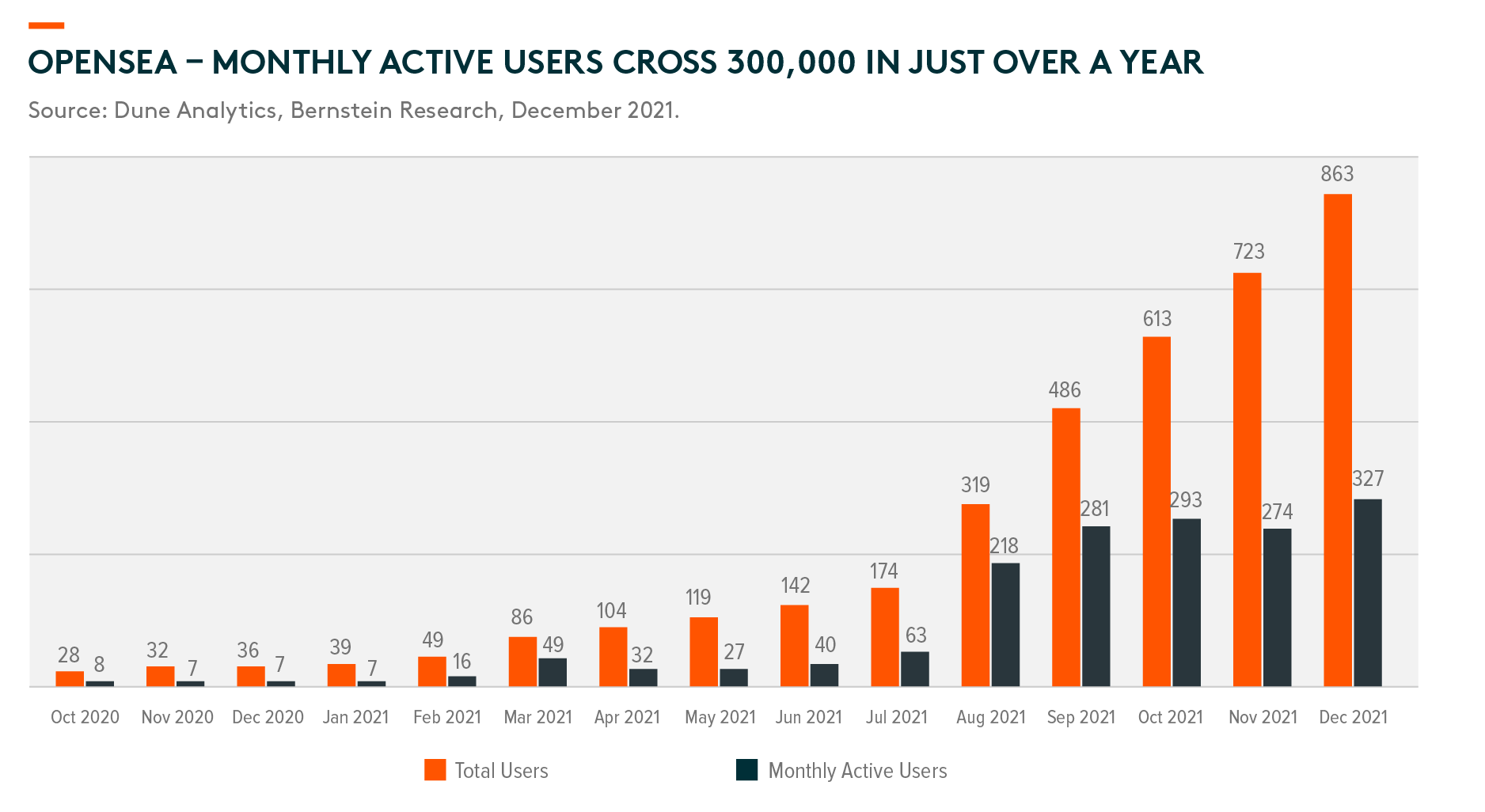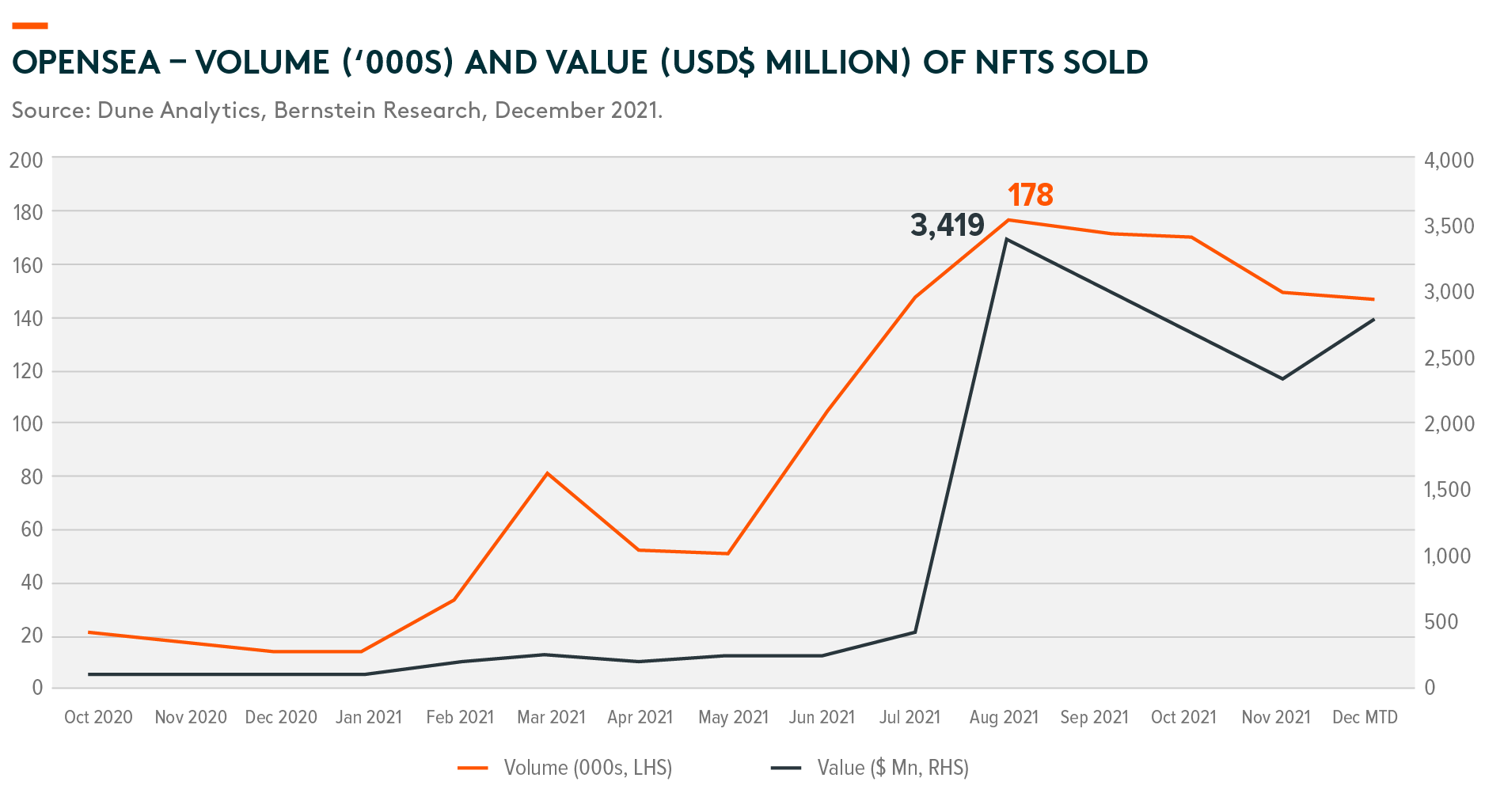 Finally, in-game assets are also tokenized in the form of NFTs. Game developers are now using NFTs to allow users to trade their in-game purchases. Gaming platforms often run an NFT marketplace where users can buy/sell gaming assets using the in-game currency token or other tokens. The NFT marketplace also attracts other investors and gamers that add to the market's liquidity.
NFT-based games have become popular over the last year. Part of the rise in popularity comes from players looking to use the 'play-to-earn' format of these games to offset incomes lost during the pandemic. The biggest play-to-earn game to date is Axie Infinity – a Pokémon-style monster-battling game launched in 2018. The game sees players collecting cartoon creatures called Axies which are represented by NFTs.