A Makeover for China's Cosmetic Industry
The cosmetic industry is consistently trying to adapt products against dynamic and fiercely competitive environments in the hope of capturing that extra edge in market share, similar to that of the fashion industry in the previous article ("Guochao" – The Rise of Homegrown Chinese Labels).
With the rise of e-commerce, there is a drastic improvement in production efficiency, shrinking the inception-to-sale lead time to as short as two weeks in 2019. The short lifespan was exhibited when a popular face mask took China by storm in 2019, and a competitor was able to launch a very similar product in as short as two weeks following the wave of demand for this hot product.
The advantage of an ultra-short product lifecycle strategy translates to a positive Return-on-Investment (ROI) endeavor for companies that are successful in execution. Aided by polished marketing operations, a handful of domestic beauty product companies found a profitable and fast-growing niche in the middle of the premium spectrum. Their products are gradually filling the previous void in supply between the high-end Multi-National Corporation (MNC) /foreign brands and the mass-market domestic brands. Thus, the apparent market share gain in POS sales value terms is the result of organic up-trading.
Premiumization: The Key to the Growth of Domestic Brands
Due to the lack of enduring domestic Chinese brands, the competition among local beauty product companies is much higher than those seen among MNCs. This is especially true in the premium segment, where brand equity grants the highest pricing power. In the premium segment, consumer awareness of brand equity is central to their product choice. Consumers that fall within the premium MNC market category have a stronger sense of brand loyalty, and regardless of whether a competitor delivers an identical product offering, the consumer would generally tend to stick to the original brand.
Premium MNC consumers have attached their consumption decision to the brand itself, and unless the quality of these products drops significantly, the switching cost between brands will remain high. The premium MNC market has high barriers to entry, making it difficult for competitors to close in on market share. The most notable example is Proya's Ocean Skincare line of products, which essentially mimics that of La Mer's products. Despite Proya's marketing and product advantage over its domestic peers, it barely created any material effect on La Mer's sales.
Domestic brands are agile in their approach in providing mass-market products, being able to replicate products of competitors effectively with speed to deliver demand-driven trends. These companies may find it difficult to penetrate the premium MNC market but remain competitive in the mid-tier space.
Domestic Segment Trend: Consolidation and Premiumization
According to Euromonitor, the beauty product market in China had RMB360bn in aggregate sales in 2017, of which 74% was sales in the mainstream segment. Tencent's 2019 domestic beauty products report found that domestic producers had 56% of the overall beauty product market share by value in 2018.
As of 2019, color cosmetics sales only account for a tiny proportion of annual sales of Proya and Marubi; this could be a potential growth driver in the future. Despite color cosmetics only comprising of a small portion of sales, Proya has delivered strong color cosmetics growth for 2019. Color cosmetics grew 482% YoY in 2019 and is now 5.3% of 2019 sales, up from 1.2% of sales in 2018. On the other hand, Marubi's 2019 color cosmetics sales declined 5.8% YoY, accounting for 1.4% of 2019 sales.
With the new era of internet shopping, there is an increasing number of consumers who are moving online to save time and money. From a pricing perspective, consumers are able to compare competitors and check reviews of products, allowing them to make informed decisions on their purchase. In terms of e-commerce as a percentage of the People's Republic of China (PRC) sales, we can see from Exhibit 1. that Proya, Shanghai Jahwa, and Marubi make up a significant portion of sales, comparable to its global competitors L'Oréal, Estee Lauder and Shiseido.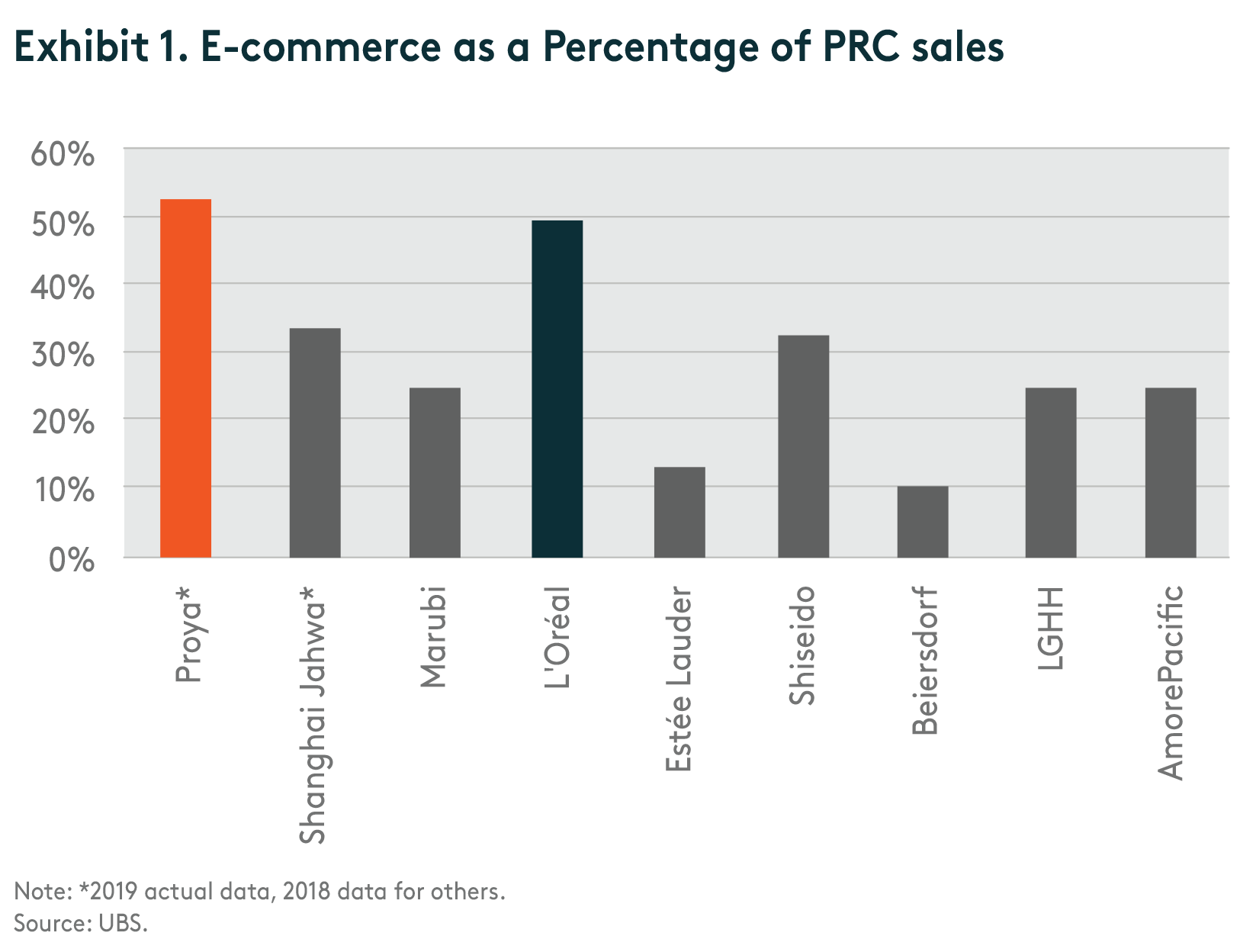 Domestic Penetration
Chinese domestic cosmetic brands have seen a makeover in the past decade. They have created a presence in the mid-tier range, even though the penetration into the premium MNC market is still relatively low. Companies are increasingly engaging with their consumers and are learning from industry leaders the meaning of value creation for customers. The journey for Chinese domestic players is still growing at a full-speed, whereas they follow leading players and are yet to lead the market to a premiumized MNC level. They are, however, adapting to changes in consumer behavior and successfully tapping into a mid-tier niche.
The question remains in sustainability. Maintaining traction against competitors and consistently innovating products to capture consumer interest will be the barriers most face. In the long-term, we believe if Chinese domestic cosmetic brands strive to reach the iconic success of multi-national cosmetic brands, they will need to be seen as an aspirational and trend-setting leader on a global scale.
C-Beauty in a Fast-growing Phase
China's beauty market is fast-evolving and has undergone a rapid expansion phase. There are multiple opportunities available for brands to expand and attain growth. To tap into the fast-growing Chinese cosmetics potential, Global X China Consumer Brand ETF (2806 HKD / 9806 USD), designed to offer access to high growth potential through companies that are positioned to benefit from consumption premiumization in China, may your optimal choice.
Other Key Features of Global X China Consumer Brand ETF:  
Unconstrained Approach: The fund's composition transcends the classic sector and industry classifications by tracking an emerging theme.
ETF Efficiency: In a single trade, the fund delivers access to dozens of companies with high exposure to the consumption premiumization theme in China.
Please click here for more information on the Global X China Consumer Brand ETF.