Introducing the Global X Metaverse Theme Active ETF
What Is the Metaverse and Why Invest Now?
There is no clear-cut definition for the Metaverse. The term "Metaverse" first appeared in Neal Stephenson's 1992 novel "Snow Crash". It is a shared virtual three-dimensional world, an evolution of the internet. We believe human connection and interaction with the digital world will evolve heavily from its current form to be deeper and, eventually, inextricably intertwined.
We see exciting investment opportunities in the development of the Metaverse:
The move to a new operating system and interface requires significant investment in software infrastructure and development
High-resolution graphics in a real-time interconnected virtual world will add to the structural demand for data centers
New hardware devices are required to enable a more immersive experience
Opportunity to monetize IP and contents in the Metaverse
Key Pillars to the Metaverse
Metaverse Technology
Game Engine and Other Software Tools
Software tools that enable developers and users to create content/digital assets within the Metaverse will be the key to growing and enriching the ecosystem. One of the challenges for the Metaverse is to create a digital environment that appears as close to the real world as possible. However, the use of 3D reconstruction can help create realistic and natural-looking spaces.
Technology companies, including Unity software, Epic Games (the developers of Unreal Engine), and Autodesk, provide software tools used for creating and operating interactive real-time 3D content, upon which the social and enterprise Metaverse will likely be built in the future. These companies already have a large subscriber base (including game developers, artists, automotive designers, and filmmakers) and should be well-positioned to benefit. Unity, for example, has benefited from and driven a shift toward third-party engines in the gaming industry; its technology is now used by >60% of all mobile games and >50% of all video games.1 Autodesk's products, Maya and 3ds MAX, enable 3D modelers, animators, lighting artists, and visual effects artists across the film, TV, and gaming industries to create premium designs with full artistic control.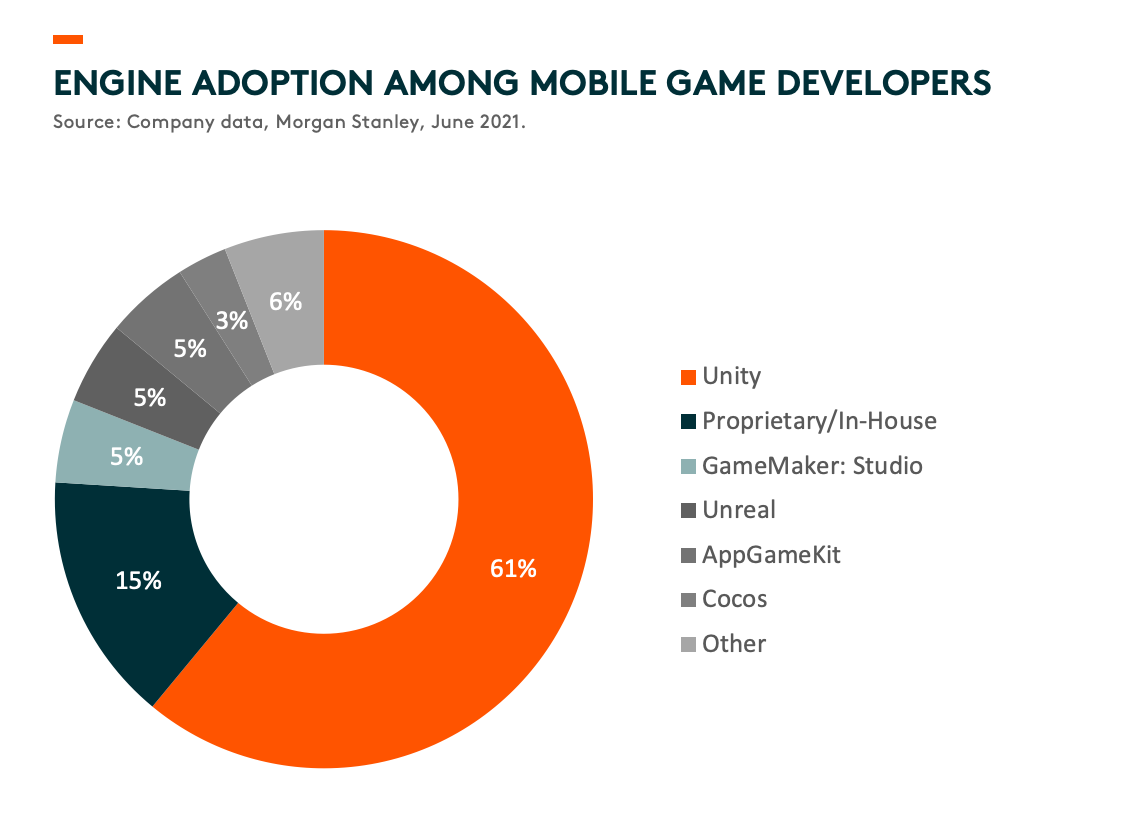 Blockchain and Decentralized Applications
Blockchain is a shared, immutable ledger used for many different applications, such as recording transactions and tracking assets (both tangible and intangible). The development of blockchain technology and its applications will open new possibilities and support the construction of the Metaverse.
Decentralized finance (DeFi) is one of the earliest applications of the blockchain. DeFi currently has the largest user base per decentralized application (DApp), as well as the highest volume traded across the industry.2 Other applications such as marketplaces, gaming, media and social platforms are also seeing high growth rates as the adoption of the technology accelerates.
Companies like Coinbase and Block are working on building and enabling services with blockchain technology. Block Spiral funds and builds free, open-source projects that advance the use of Bitcoin3 as a tool for economic empowerment. Block TBD54566975 is building an open developer platform to make it easier to access Bitcoin and other blockchain technologies without having to go through an institution. Coinbase facilitates retail and institutional trading of crypto assets. The company offers a suite of services and products around crypto, directly integrating with blockchain protocols.
Metaverse Platforms
Nowadays, online games have evolved to provide the most compelling functions associated with the Metaverse, with greater graphics, more complex social systems, and a significantly larger scale. Virtual gaming worlds like Fortnite and Roblox offer users a place for their avatars to meet, interact, and play. These online communities have become go-to places for millennials, attracting artists like Travis Scott, who hosted a virtual concert with an audience of 45.8 million attendees.4 Other applications include Niantic's Pokémon GO, which overlays virtual goods onto physical maps, creating a point of engagement with the virtual space in the real world. Companies like NAVER are also developing next-generation social media apps like Zepeto, where users can create their own avatars and interact with K-pop celebrities. According to NAVER, Zepeto has already gained global popularity with more than 300 million users.5

Facebook made headlines last October during the Facebook Connect conference, where Mark Zuckerberg shared the company's visions for the Metaverse and announced the new company name, Meta. The expansion into the Metaverse can be seen as Facebook's next priority. With several billion in spending expected each year, the company is building a Metaverse ecosystem enabled by its hardware, software, and content investments.6

The virtual reality (VR) platform, Horizon World, released by Facebook in early December 2021, lets users build custom environments to hang out and play games as legless avatars. Users can also claim their assets and interact with other users. The company also announced plans to launch a free-enterprise conference tool, Horizon Workrooms, as well as Horizon Home, a personal home design tool for users.
Facebook's Horizon World is already assembling what a Metaverse ecosystem looks like, where users interact in a highly immersive virtual world through virtual reality (VR) and augmented reality (AR) devices.
Social media platforms nowadays already boast billions of users that can be brought to the Metaverse. For example, Tencent's WeChat has ~1.3 billion monthly active users.7 Leveraging its experience in incubating social media supper apps as well as its strong game development capabilities, Tencent is well positioned to develop a social network that is gamified and supports much more programmable experiences. Tencent has also invested in multiple game development and software technology companies such as Epic Games. Through these collaborations, Tencent will be able to enhance its 3D graphic capabilities and provide the user-generated content (UGC) and professionally-generated content (PGC) tools to users.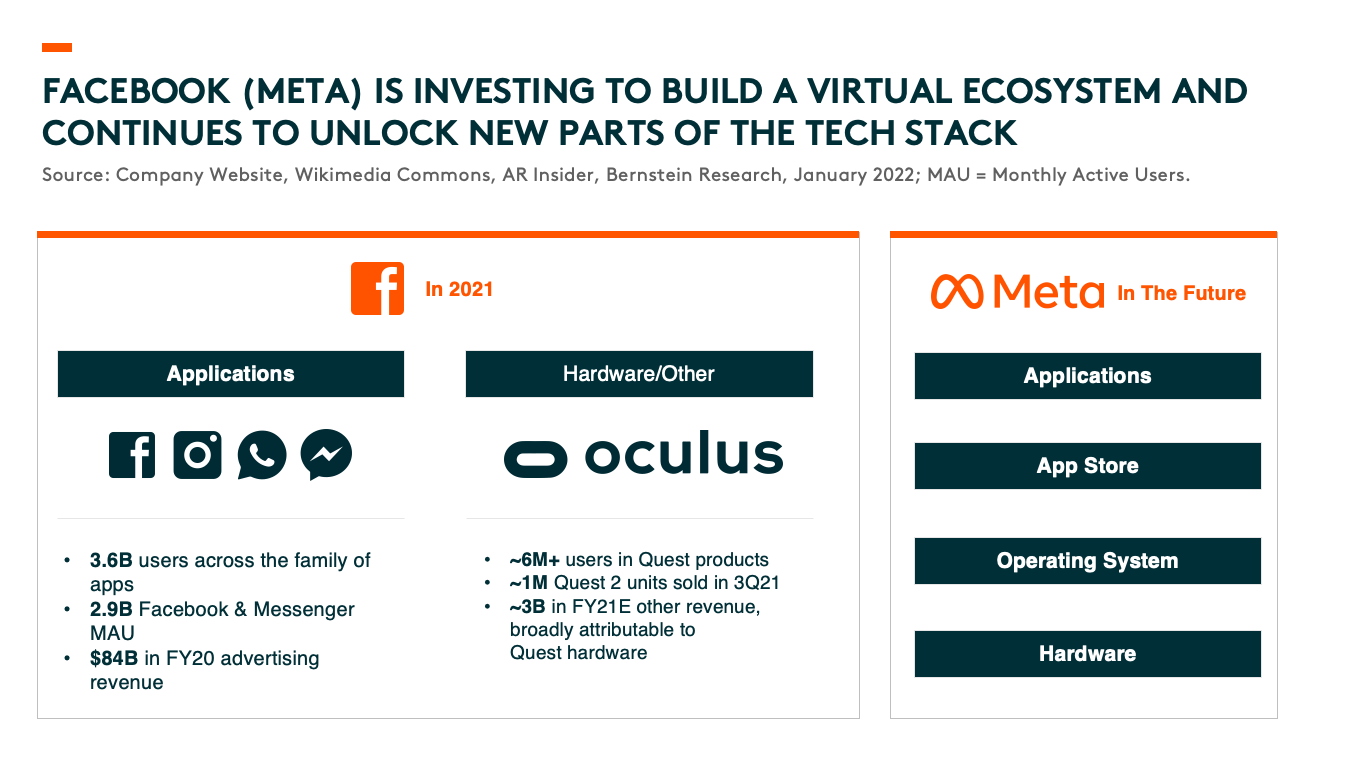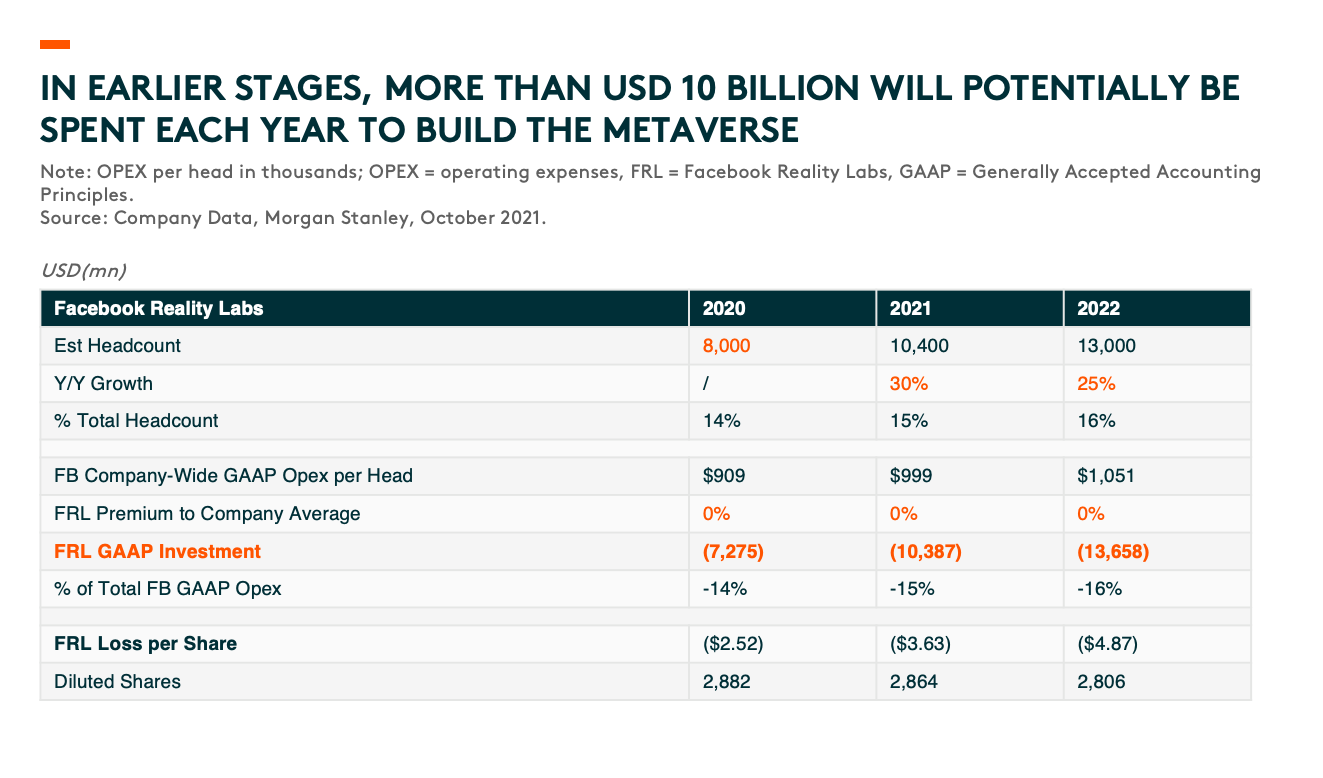 Metaverse Devices
Global AR/VR headset shipments are expected to reach 42 million units by 2025, or USD$12.6 billion market, representing 48% shipment CAGR and 36% revenue CAGR over 2020-25.8 Furthermore, we expect the adoption of AR/VR devices to increase, driven by improvement in hardware performance, development of software ecosystem and platforms, and new applications for AR/VR devices.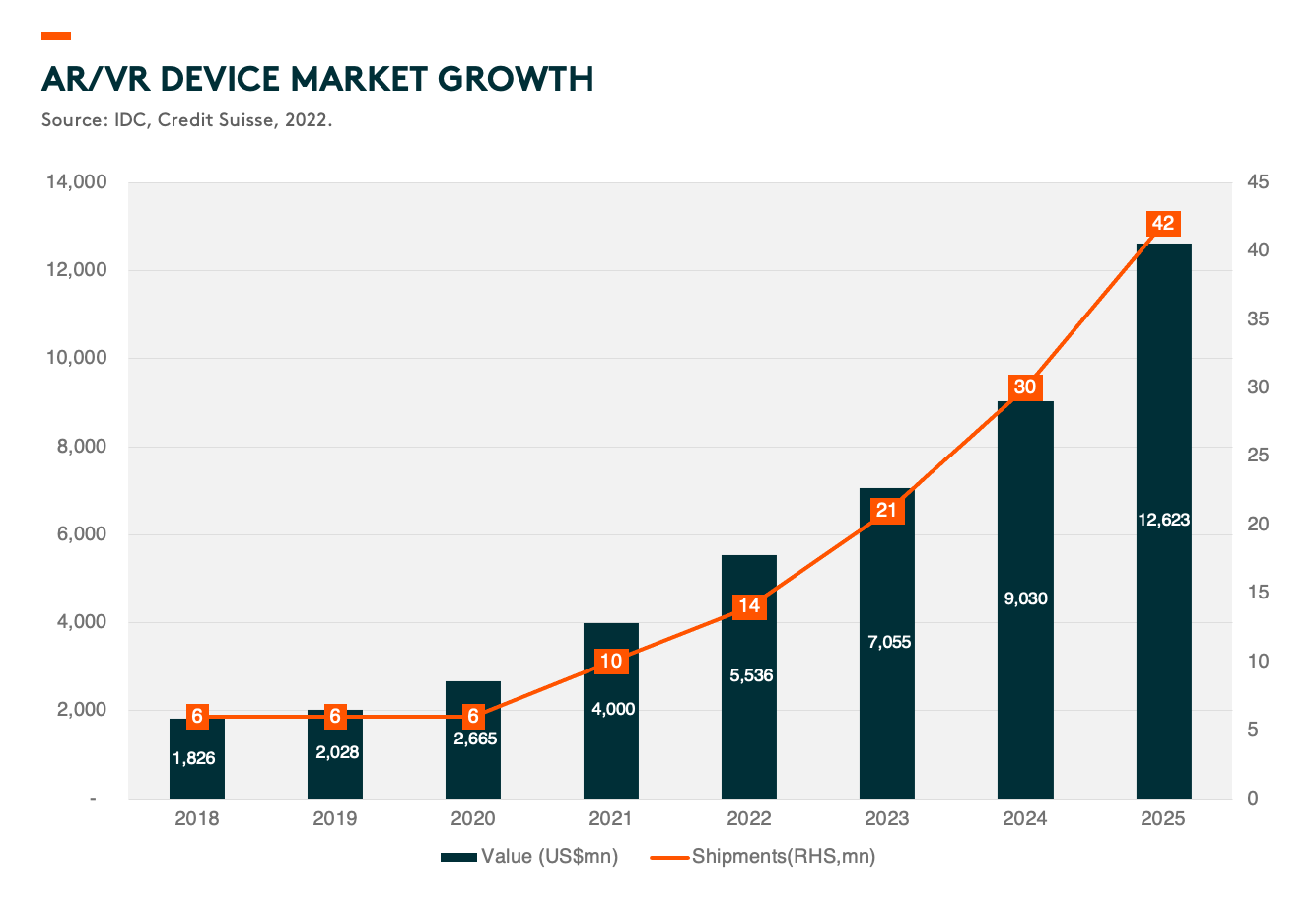 We see two main groups of players in the hardware space for metaverse devices. One group is large technology companies like Meta, Microsoft, Apple, and ByteDance. The other group is start-ups or smaller tech companies like Magic Leap, HTC, and RealWear.
Apple has the world's most valuable technology platform with 1.8 billion active devices.9 We believe the company has the right capabilities and assets to be successful in making an AR/VR device. We already see the build-up of a strong patent portfolio in AR/VR technologies. Apple has an industry-leading semiconductor and hardware design team, as well as a successful track record in building operating systems. The company is expected to launch its AR/VR headset in 2022/23.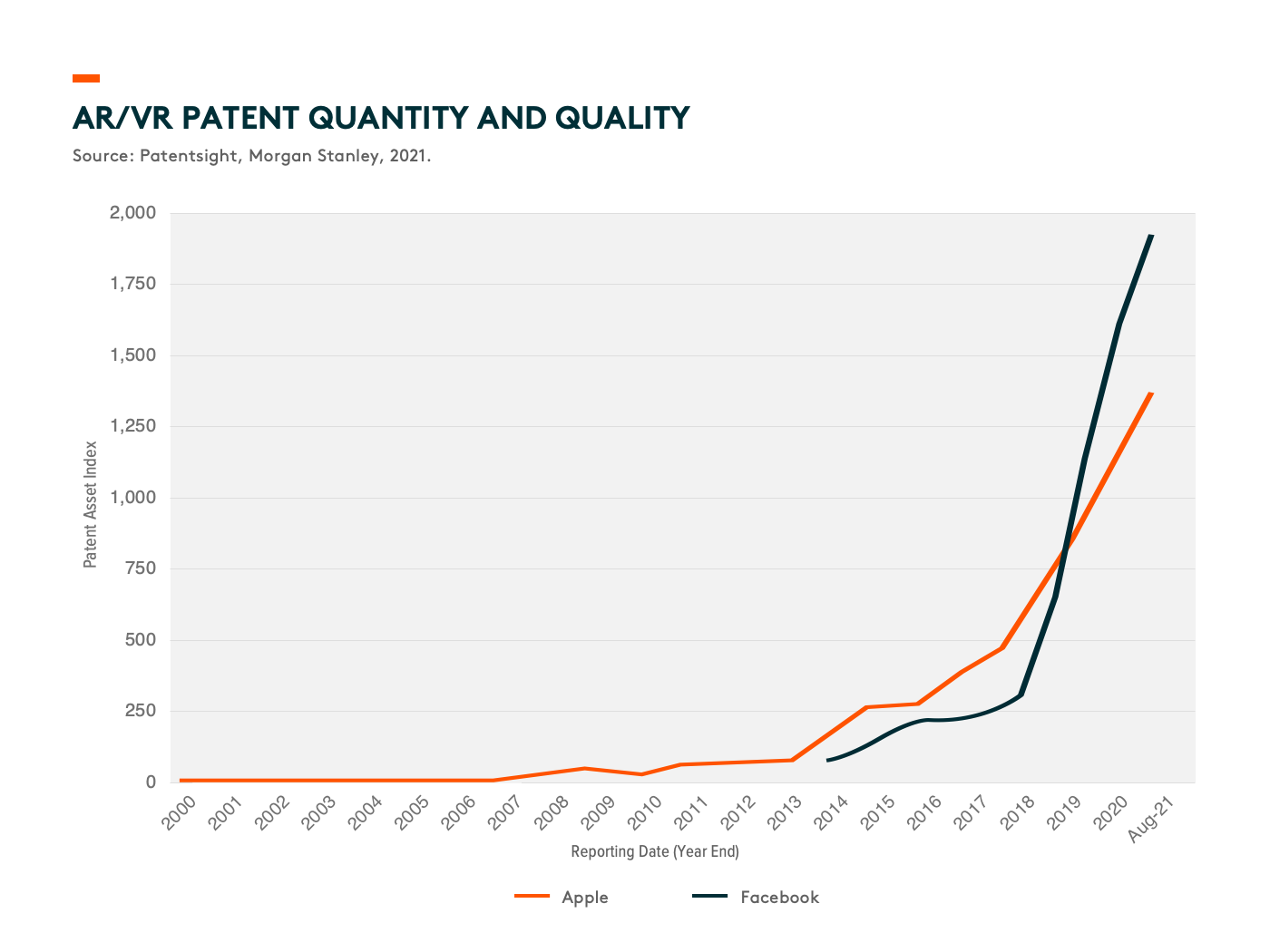 Data Processing
Cloud Computing Infrastructure
The Metaverse has enormous potential for further expansion, divert screen time (Americans average 10+ hours/day on media, including 3+ hours on TV) 10, and drive more bandwidth consumption. Internet traffic already comprises 80% video and has been growing at 30% CAGR.11 Building the Metaverse will require powerful graphics and cloud computing infrastructure to house complicated platforms and contents. Therefore, we expect to see structural demand for investments in building and upgrading data centers, which will benefit companies like Nvidia and AMD.
Improvement in Semiconductor Technology to Enable User Experience Breakthrough
Connectivity – WiFi 7: The industry is on track to deliver WiFi 7 products in 2023. High-speed WiFi 7 technology will provide 30 Gbps data transmission speed, which is 3x faster than the WiFi 6 (adopted by Oculus Quest 2).12 This will enable higher resolution and real-time experience on VR/AR devices. MediaTek and Broadcom are industry pioneers for WiFi 7.
Performance/power efficiency – foundry node migration: Migration in semiconductor technology will allow companies to design faster chips with lower power consumption and higher transistor density. This is crucial for high-performance graphics on portable devices. VR/AR workloads are challenging given they are compute-intensive, complex concurrencies, and real-time. TSMC is leading the foundry process node migration. The company is the key manufacturing partner for semiconductors used to drive the Metaverse. TSMC supports 1) VR system-on-chip (SoC) fabless companies like Qualcomm, and 2) data centre fabless companies like Nvidia and AMD.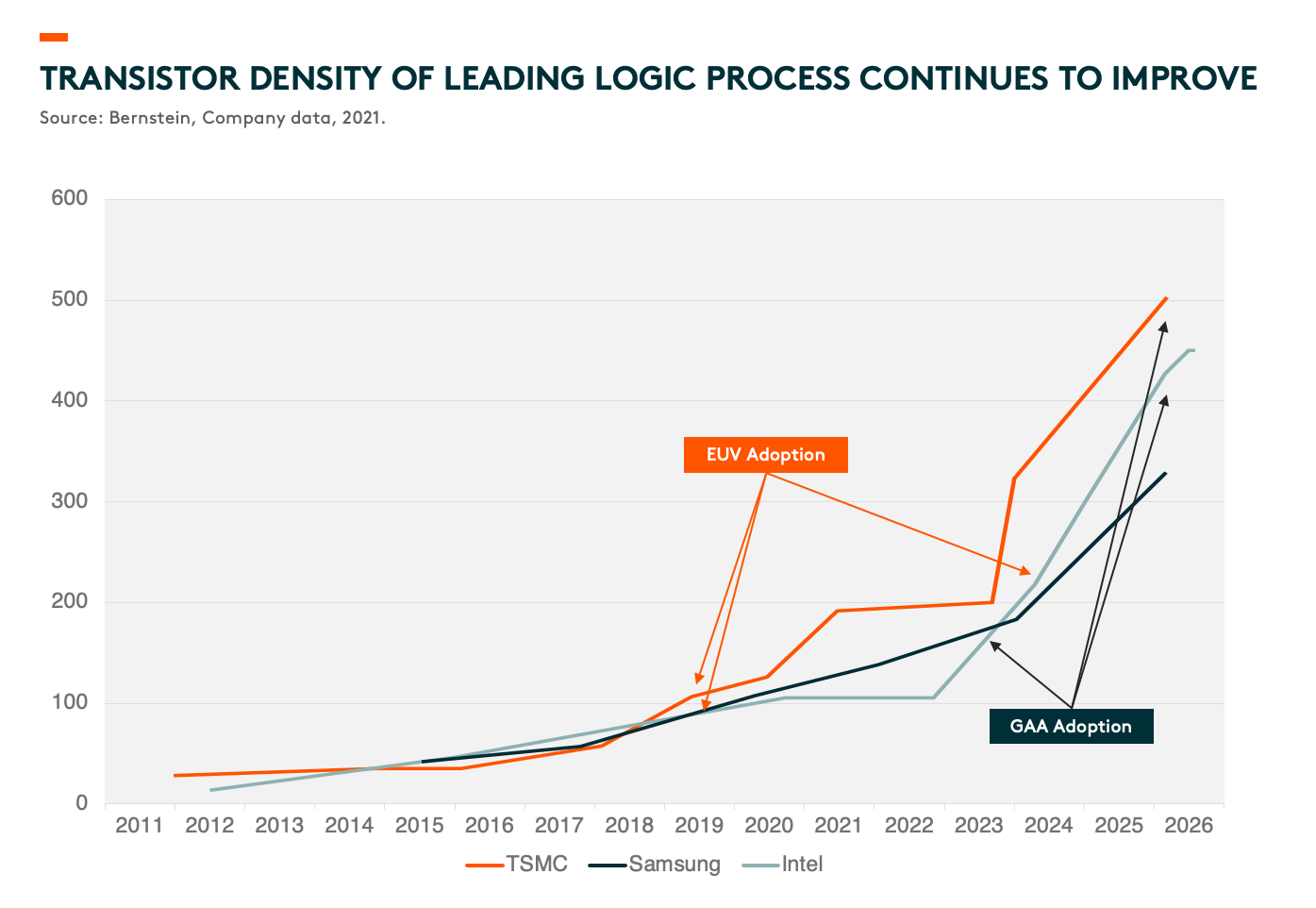 Qualcomm owns a broad portfolio of intellectual property (IP) around connectivity and mobile computing chips design which is important to VR/AR devices. The company has been the key semiconductor provider in the smartphone era, and is now building the first computing platform for VR/AR devices. The Qualcomm Snapdragon XR2 5G Platform is the core chip that currently powers the majority of the standalone VR/AR devices in the market, supporting 8K 360° video, 5G connectivity, and seven camera inputs. Integrated circuit (IC) design companies will continue to work with foundries to improve the performance of future platforms.
Learn more about the Global X Metaverse Theme Active ETF.