Implications of Intel's 7nm Delay
What happened?
Intel said in its 2Q20 results presentation the 7nm node launch date was further delayed by another six months from the originally planned launch at the end of 2021. It will be a full year behind the target for reaching its planned yield for 7nm chips. Management indicated the possibility to outsource production of some chip products to third-party manufacturers to alleviate the delays. In this article, we will examine the implication of Intel's latest development to the wider industry and the impact on Asia's semiconductor supply chain.
Foundry Node Migration Timeline
According to the current Intel timeline projection, its 7nm process will be at least four years behind TSMC and three years behind Samsung. The company has been lagging behind node migration after the 14nm and 10nm nodes were delayed for multiple times and finally launched in 2019.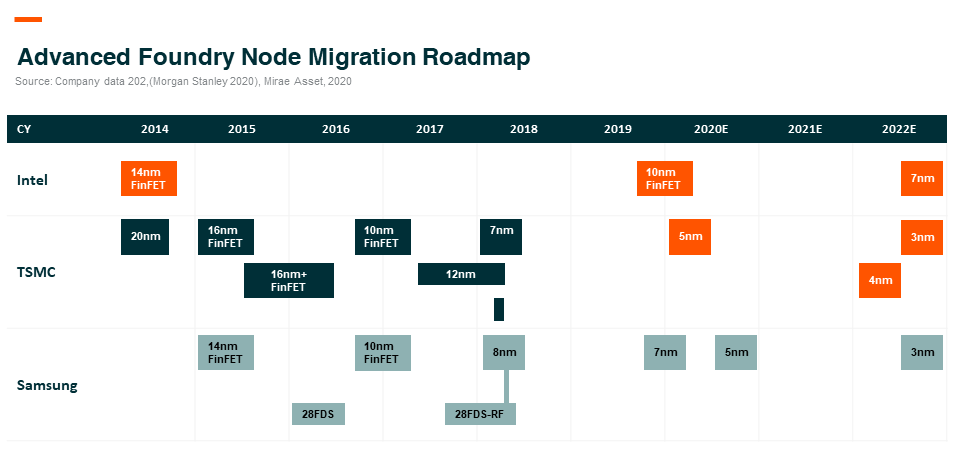 Integrated Device Manufacturer (IDM) vs. Foundry
TSMC is set to be a key beneficiary from the Intel node migration struggle. Behind this Intel headline is a battle in the industry that has been going on for decades. Before TSMC was founded in 1987, most integrated circuit companies operated an IDM model with in-house design and manufacturing. TSMC and other foundries have developed a new business model where chip design and manufacturing are done by separate companies. Across the semiconductor industry, IDM has been losing market share to foundries and fabless companies. Today the widening gap between IDM and foundries proves that Dr. Chang (TSMC founder)'s vision was right. Node migration requires significant capital investment and a high utilization rate to be profitable, fabless (design only) plus foundry is a more effective business model compared to IDM.
TSMC: Key Beneficiary from Intel Delay
Share gain by Advanced Micro Devices (AMD) (fabless) means more business for TSMC. Intel has been losing market share in both PC and server markets due to the challenges it faces in node migration. AMD's latest chips use TSMC 7nm and 5nm process while Intel is still using 14nm and 10nm. Advanced node has seen significant improvement in performance and power efficiency, which gives AMD an edge.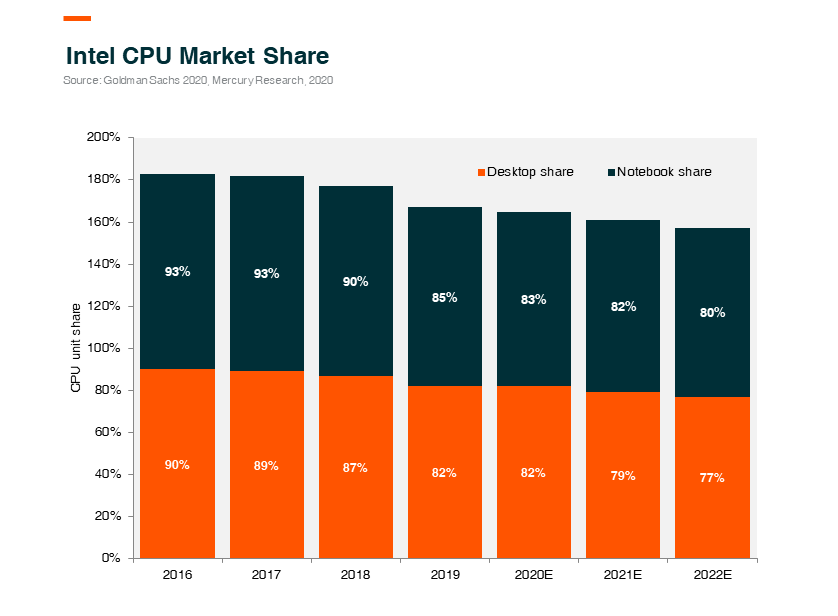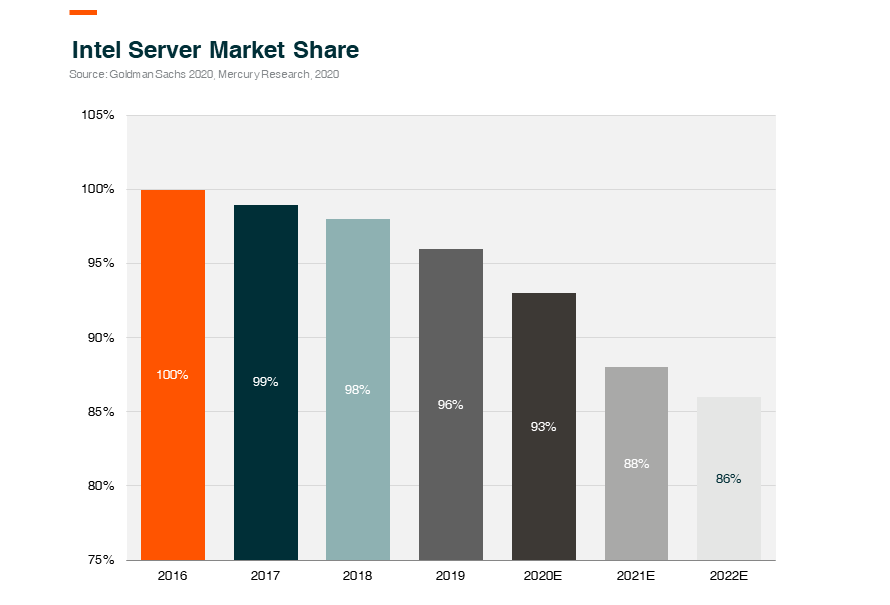 Potential for Intel to outsource production to TSMC. Intel CEO mentioned the potential to outsource chip production to third-party manufacturers as 'a contingency plan'. We believe Intel is running out of time and the probability for TSMC to get CPU orders from Intel is high for the next generation Intel platforms. Intel has already outsourced its 7nm GPU and VPU to TSMC.  We estimate Intel CPU Total Addressable Market (TAM) to be around US$15-25bn and it will expand as the wafer cost increases for advanced nodes.
Rise of ARM holdings (ARM) based chip in PC and server led by Apple Mac. ARM-based chips are gaining more traction in PC and server, and all the companies using ARM instruction set are fabless which uses an advanced process. Only TSMC and Samsung can provide foundry services to these customers. Apple officially announced in June 2020 that it will start a two-year transition of the Mac to ARM-based Apple silicon. The first Mac with Apple silicon is scheduled to ship at the end of 2020 with TSMC as the foundry partner. Microsoft has been making attempts to adopt ARM-based chips into its ecosystem in the past few years. Microsoft launched a version of Windows 10 that will run on ARM-based PC in 2017. In 2020, Microsoft introduced the Surface Pro X with the Microsoft SQ1 processor, based on the Qualcomm Snapdragon 8cx (System on Chip) (Soc). The adoption of ARM-based chips will provide a long-term growth driver for TSMC to tap into the CPU market long dominated by Intel X86.
The Implication of Intel Issues on Asia Hardware & Semiconductor
Competitors
Node migration delay in Intel will benefit chip design competitors in the long-run. We are witnessing strong activities and emerging startups in the chip design industry, especially in China. Large tech companies like Alibaba and Tsinghua Unigroup have aggressive plans to expand chip design capability. Star-ups like Cambricon and Horizon Robotics are growing rapidly in specialized silicon chip design. On the other hand, four of the global top five foundries are based in Asia. Currently, the only two companies capable of mass-producing 7nm node are TSMC and Samsung. We think TSMC is likely to gain Intel CPU orders, while Samsung could benefit from spill-over orders as there will likely be a capacity shortage of TSMC's advanced nodes.
Customers
Key Asia hardware manufacturers like Lenovo and Inspur can use alternative chips suppliers like AMD depending on customer preference and chip performance. Distributors like WPG partner with multiple chip makers. Therefore we think the impact on Intel customers in Asia is limited.
Suppliers
We see a limited downside impact on Asia Intel suppliers since the total market of semiconductor equipment and materials remains unchanged whether Intel exits IC manufacturing or not. Most companies supply materials to both IDM and foundries, and therefore change in IDM market share will have a limited impact on semiconductor equipment and material suppliers.
Intel's node delay reveals a deeper structural change in the semiconductor industry. In summary, we see a limited downside impact on the Asia semiconductor supply chain. On the other hand, there are ample opportunities for Asia fabless and foundries to capitalize.
Global X China Semiconductor ETF (3191 HKD / 9191 USD)  is designed to offer investors to access high growth potential through companies critical to the development of semiconductors in China.
Other Key Features:  
Targeted Exposure:

 The fund delivers targeted exposure to an emerging theme and industry.
ETF Efficiency: In a single trade, the fund delivers access to dozens of companies with high exposure to the semiconductor theme in China.
Please click here for more information on the Global X China Semiconductor ETF.