China Clean Energy: H1 2022 Review
Solar Industry: Profitability Rising on Strong Demand
Global solar demand turned out to be stronger than expected at the end of 2021, mainly supported by the European market following the Russia-Ukrainian war and subsequent energy crisis, as well as China which is on the way to carbon neutrality. The US government's recent U-turn on solar panels further boosts demand, announcing a two-year tariff suspension for solar panel imports from four Southeast Asian countries. This includes Cambodia, Malaysia, Thailand, and Vietnam – all of which Chinese companies hold manufacturing capacity. The change in stance ensures that the US will have access to a sufficient supply of solar modules to meet domestic electricity generation needs. As a result, solar installations for the whole year have lifted to 220-240GW (versus initially 200GW), of which 80-90GW will come from China (versus initially 75GW).1
Looking back at 2021, Chinese solar farm investors delayed most of their large-scale projects after module prices elevated. Many were waiting for an end to the polysilicon shortage, at which point module prices were expected to revert to historical lows of RMB 1.5-1.6/w, which eventually failed to take place. The projects restarted this year when investors realized there was little chance of module price declines, given Europe accelerated solar installations following Russia's invasion of Ukraine, coupled with decreasing domestic financing costs. Module prices are now considered acceptable at current levels around RMB 1.95-2/w in China's market, while polysilicon prices are continuously climbing to over RMB 260/kg.
Regarding the solar value chain, the dynamics of polysilicon in the upstream will largely remain tight until the end of the year, or maybe even next year if demand growth proves stronger than consensus. However, all the top five polysilicon producers have added a significant number of new capacities in 2021 or 2022.2 Consequently, leading polysilicon players have strong bargaining power against wafer makers who are severely oversupplied. The wafer end is rapidly heading to larger sizes in which M10 wafers show great competitiveness. Despite raw material bottlenecks, utilization remains at a relatively high level of over 80%. The profitability of solar cell and module products is improving in 2022, thanks to solid demand.3
What's worth mentioning is the imminent technological innovation and differentiation of more powerful solar cells. In 2022, N-type solar cells are showing a blowout trend, especially with the large-scale mass production of leading integrated module companies such as Jinko Solar, Longi, Trina, Dongfang Risheng, etc. Jinko Solar has 16GW N-type Topcon capacity ramping up in the first quarter of 2022 and plans to build up another 16GW manufacturing line in the second half of the year.4 Longi will invest in HPBC5 solar cells specifically for distributed generation projects with a more positive outlook and higher efficiency than traditional PERC6 products. An increasing number of solar manufacturers are accelerating their mass production of Topcon and HJT7 solar cells, for which the production cost has been greatly reduced through process improvements over the last five years. We expect to see N-type solar cells replacing PERC around the corner.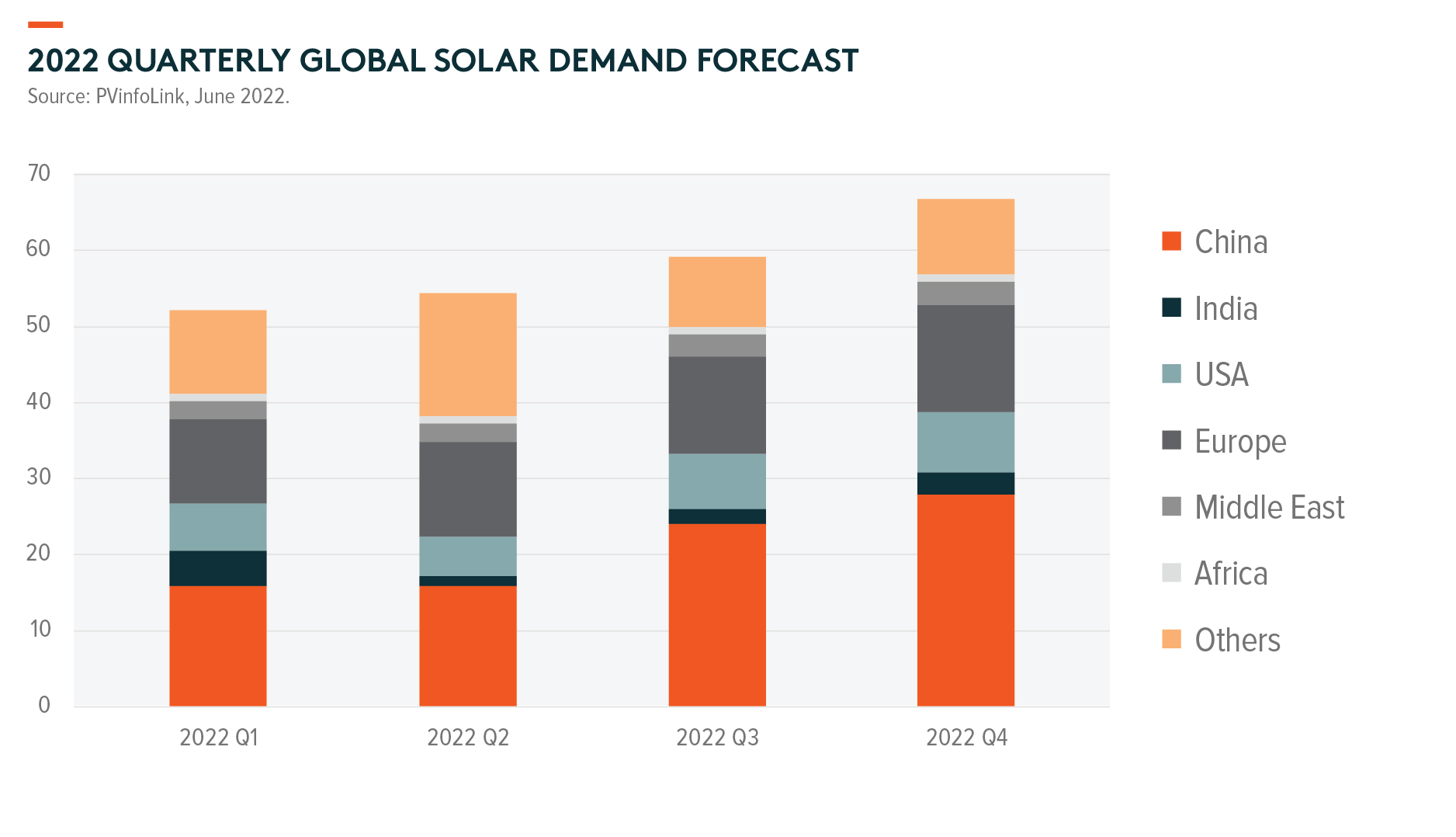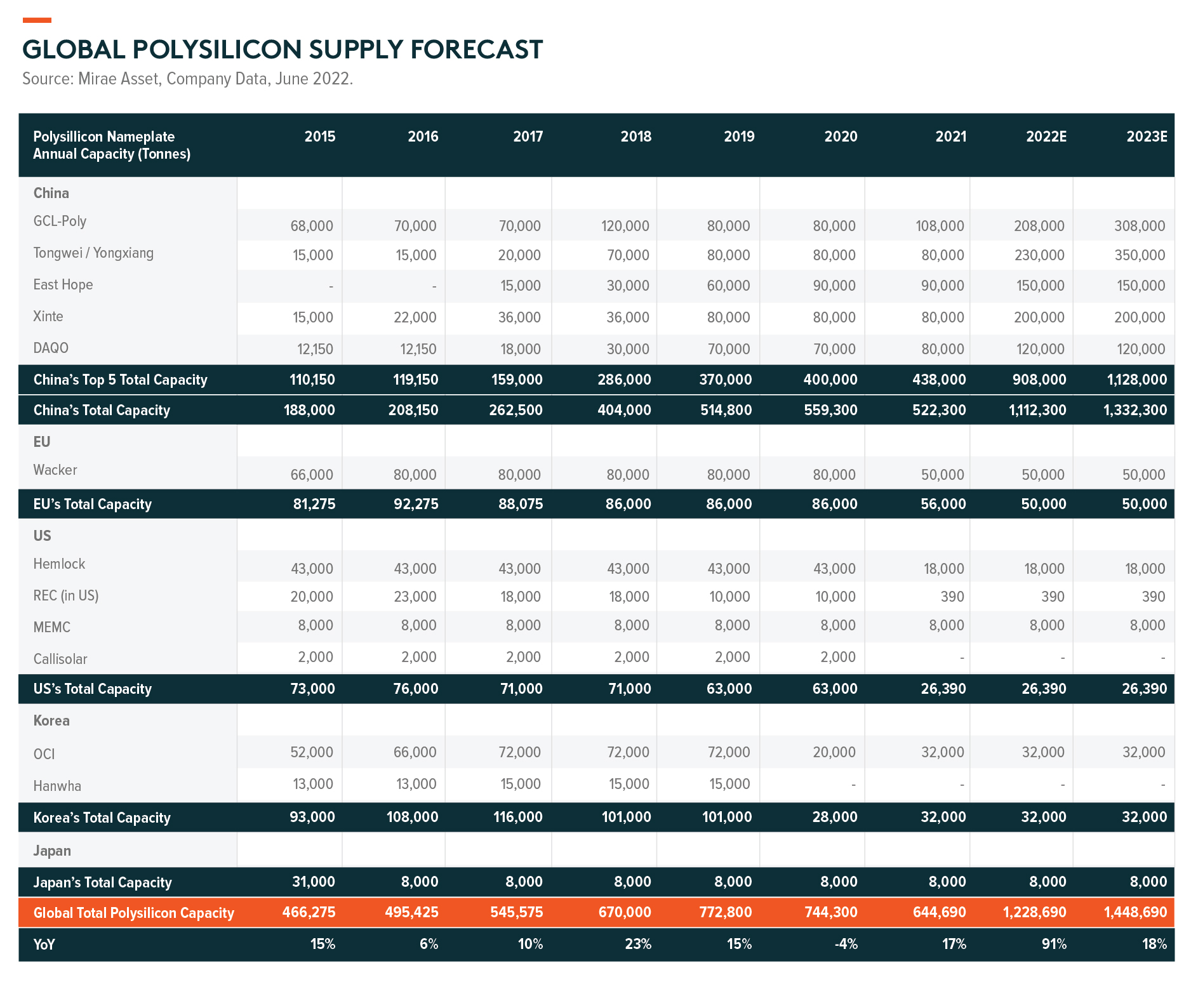 Wind Industry: Strong Wind New Tendering Amid Policy Tailwind and Strong Project Economics
China wind farm project owners should achieve a decent internal rate of return (IRR) through new projects tendered during H1 2022. The wind farm projects reached grid parity last year after the removal of government subsidies in China and intensified competition among wind turbine manufacturers. Tendering volume for wind projects reached 13.57GW in May, which is a record high and brings the tendering volume to ~39GW YTD.8 However, actual installations are yet to pick up, causing major disappointment in 1Q and 2Q, partly due to the lockdowns and also design changes. With record-high new orders growth, we expect July and August to be the key months for installation to accelerate.
On top of the improved project economics, we continue to see positive policy support. According to a notification jointly issued by the NDRC (National Development and Reform Commission) and NEA (National Energy Administration) on 30 May 2022, approval of new wind projects could be changed to a registration and recording process, meaning the approval process is likely to accelerate. This could be beneficial, especially for distributed wind in rural areas which tend to have a smaller scale. On 1 June, the NDRC officially issued the long-awaited 14th Five-Year Plan (FYP) for renewable energy. Key numerical targets are in line with earlier guidance and market expectations. The NDRC guided total wind and solar power output to double during the 14th FYP and accumulated wind and solar capacities to reach >1,200GW by 2030. Progress in the mega-size wind and solar power bases are on track. Several provinces are pushing hard on offshore wind installation plans, including Shandong, Fujian, Guangdong and Guangxi.
Competition along the value chain has marginally loosened in 2Q22. Solid wind project economies, year-to-date strong policy tailwinds, and new tendering volumes have led to marginally improving competition along the wind supply chain (component vs turbine vs operators). Competition among the key turbine makers are more rationalized. The moderating raw material inflation will also be positive for manufacturers' margin in H2 2022.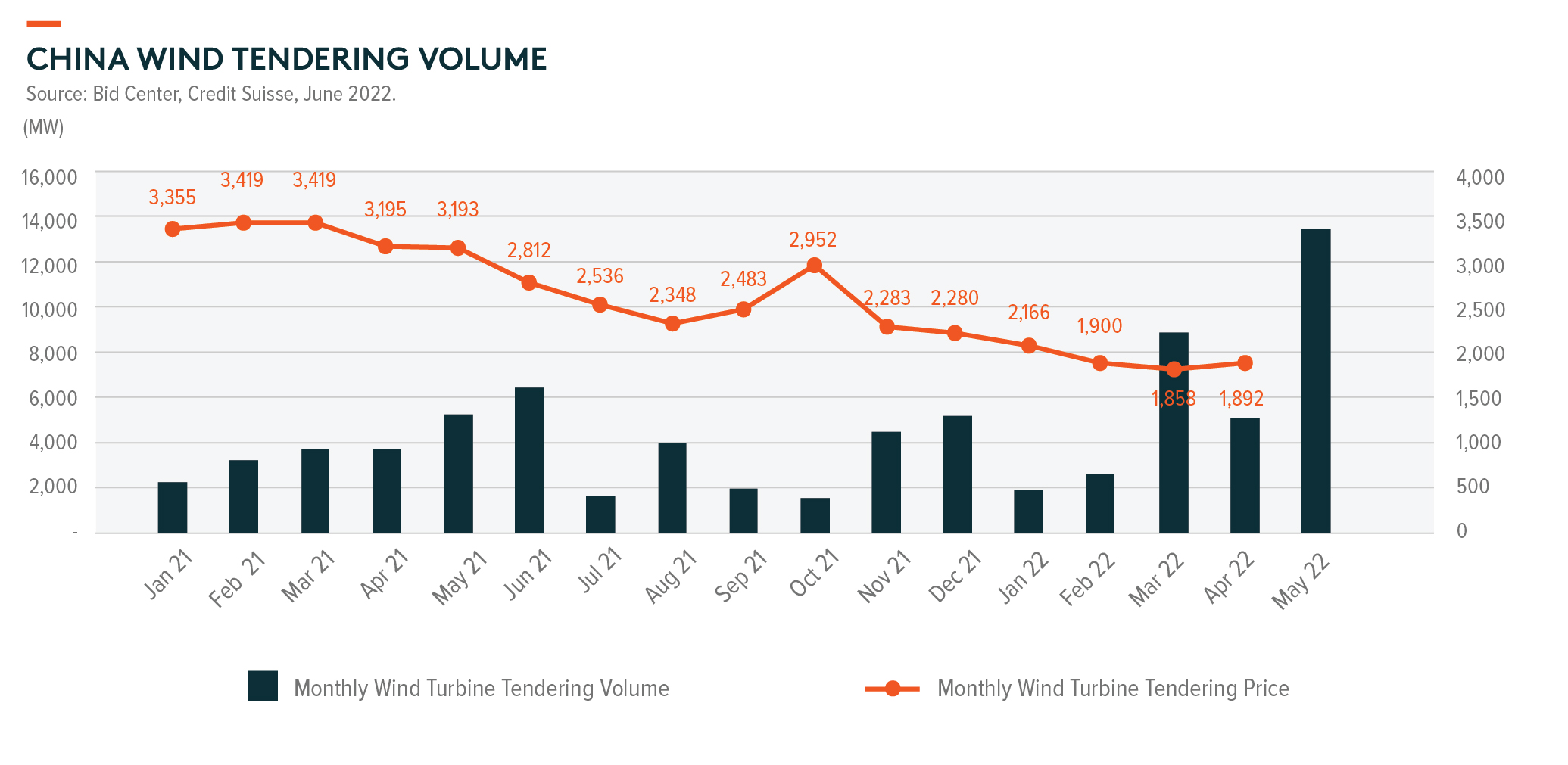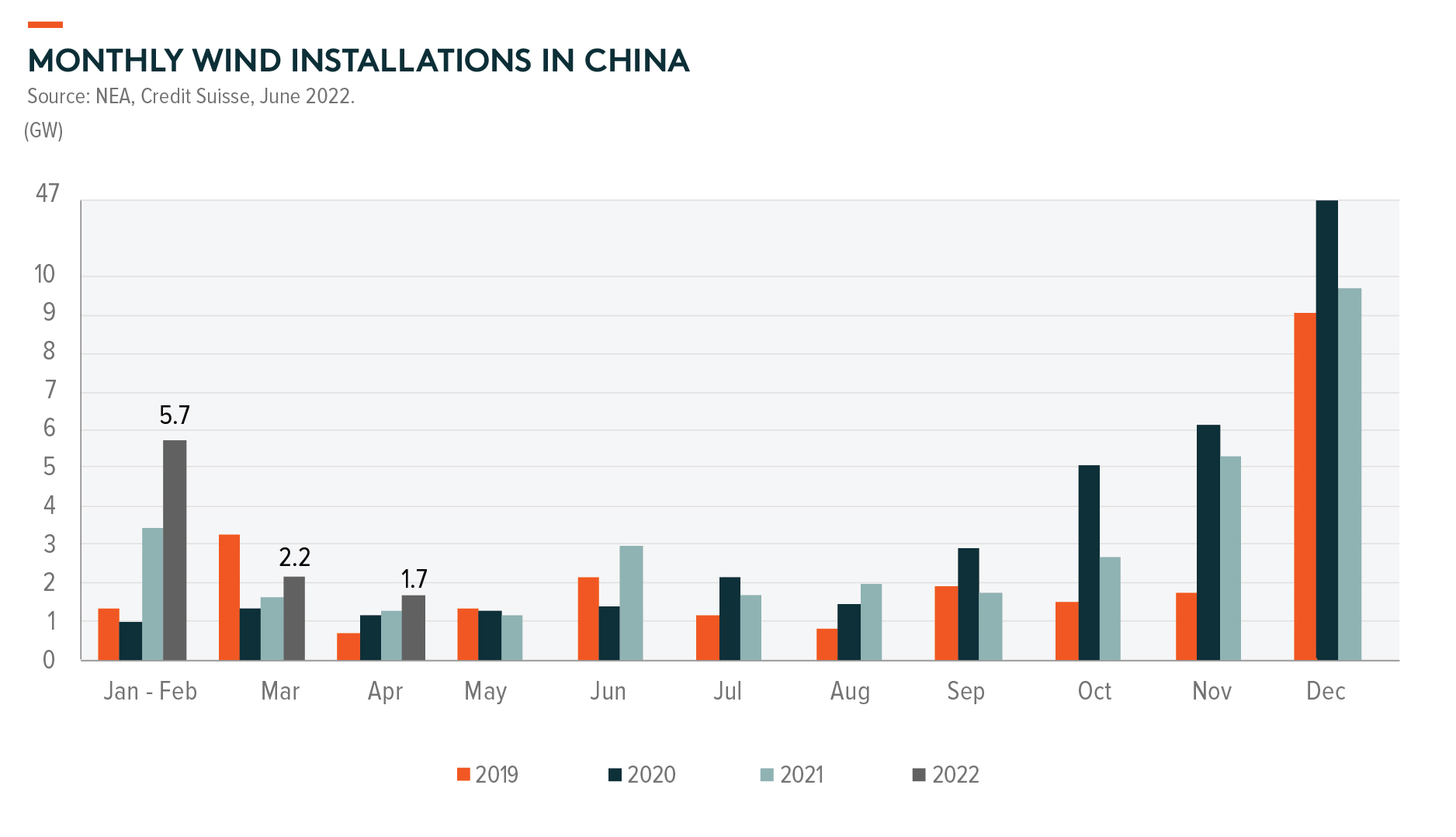 Utilities Industry: Legacy subsidy issues getting resolved
Resolving legacy subsidy issues is a positive step as this will improve the cash flow situation for wind and solar farm operators. As background, in the past, when renewable power had not reached grid-parity status, the Chinese government promoted the development of renewables by providing subsidies to renewable operators. However, the renewable development fund has been running on a deficit, resulting in a delay in subsidy payments.
The Ministry of Finance (MOF) released the "Report on the Implementation of the Central and Local Budgets in 2021 and the Draft Central and Local Budgets in 2022" on 13 March 2022, which was perceived to promote the solution to the funding shortfall in subsidies for renewable power generation. The report said that the budget expense of the central government fund in 2022 will be RMB 807 billion, +98.8% from the 2021 budget of RMB 406 billion and +101.6% from the actual spending of RMB 400 billion last year. Additionally, the NDRC, NEA, and MOF jointly released a notice on 29 March 2022 requesting all power grids and power generation companies to conduct self-review on their projects with grid connection to be eligible for tariff subsidy. Then on 11 May 2022, the State Council further announced that an extra RMB 50 billion would be paid by the People's Republic of China (PRC) government to central government-owned power companies for renewable energy subsidies, on top of the amount previously allocated.
We view the above measures very positively for renewable energy generation companies as it will motivate further renewable power generation capacity CAPEX.
We expect solar generation capacity in China to increase 46% YoY to 80GW in 2022. Over the first four months of 2022, solar generation capacity was up 138% YoY and new installations were 16.9GW due to a push back from 2021 installations to 2022.