The Acceleration of Cloud Computing Adoption in China
Since 2020, China witnessed a significantly accelerating pace of business digitalization due to Covid-19, leading to a rise in adoption of cloud. With government's support in new infrastructure development (7 key areas including 5G, industrial internet, data centers, etc.), enterprises' continuous cloud migration, China's unique cloud market will continue to advance with high prospects.
IaaS (Infrastructure-as-a-Service) currently accounts for a larger part of the public cloud services industry. We expect it to grow at a Compound Annual Growth Rate (CAGR) of 34% from Rmb45.3billion in 2019 to Rmb148.0billion in 2023E. AliCloud, Alibaba's cloud business, has the lion's share of growth with >44% market share (according to Canalys, as of first quarter 2020), more than the next top ranking three players combined. Huawei also emerges as a rising competitor and ranks No.2. We expect increasing multi-cloud penetration to benefit both major cloud providers (AliCloud, Huawei, Tencent and Baidu Cloud) and independent players such as Kingsoft Cloud.
In this article, we will discuss in detail, China's Cloud IaaS industry and the current competitive landscape.
Industry size
China's cloud market is growing rapidly, with a CAGR of 31% from Rmb96.3billion in 2018 to Rmb375.4billion in 2023E (according to China Academy of Information and Communications Technology (CAICT), the White Paper of Cloud Computing, published in July 2020). Compared to traditional on premise deployment, cloud infrastructure is more affordable (less Capex requirements upfront for physical servers and other data center related procurement), and improves agility as well as scalability. Since 2020, Chinese enterprises' pace of digitalization has significantly accelerated due to Covid-19, leading to a continuous rise in adoption of cloud.
The total size of public cloud surpassed that of private cloud in 2019, mainly attributable to increasing demand from internet companies, private large enterprises and SMEs (small to medium-sized enterprises). Due to security concerns, governments and large SOEs (stated-owned enterprises) were inclined to deploy core functionalities on private cloud, but started to move general operations onto public cloud. As a result, hybrid cloud became a popular solution for these customers.
IaaS is an instant computing infrastructure, provisioned and managed over the internet. Each resource is offered as a separate service component (quoted from "Microsoft Azure" website), which can be purchased by end-customers when needed. Key product offerings of IaaS include virtualized servers, storage, networking in an on-demand model, etc.
Currently, IaaS is the major constitute of China's public cloud market, as it is usually the first layer for customers' cloud deployment. According to CAICT, the IaaS market size will grow by 4 times in five years starting from 2018, to Rmb148.0billion in 2023E.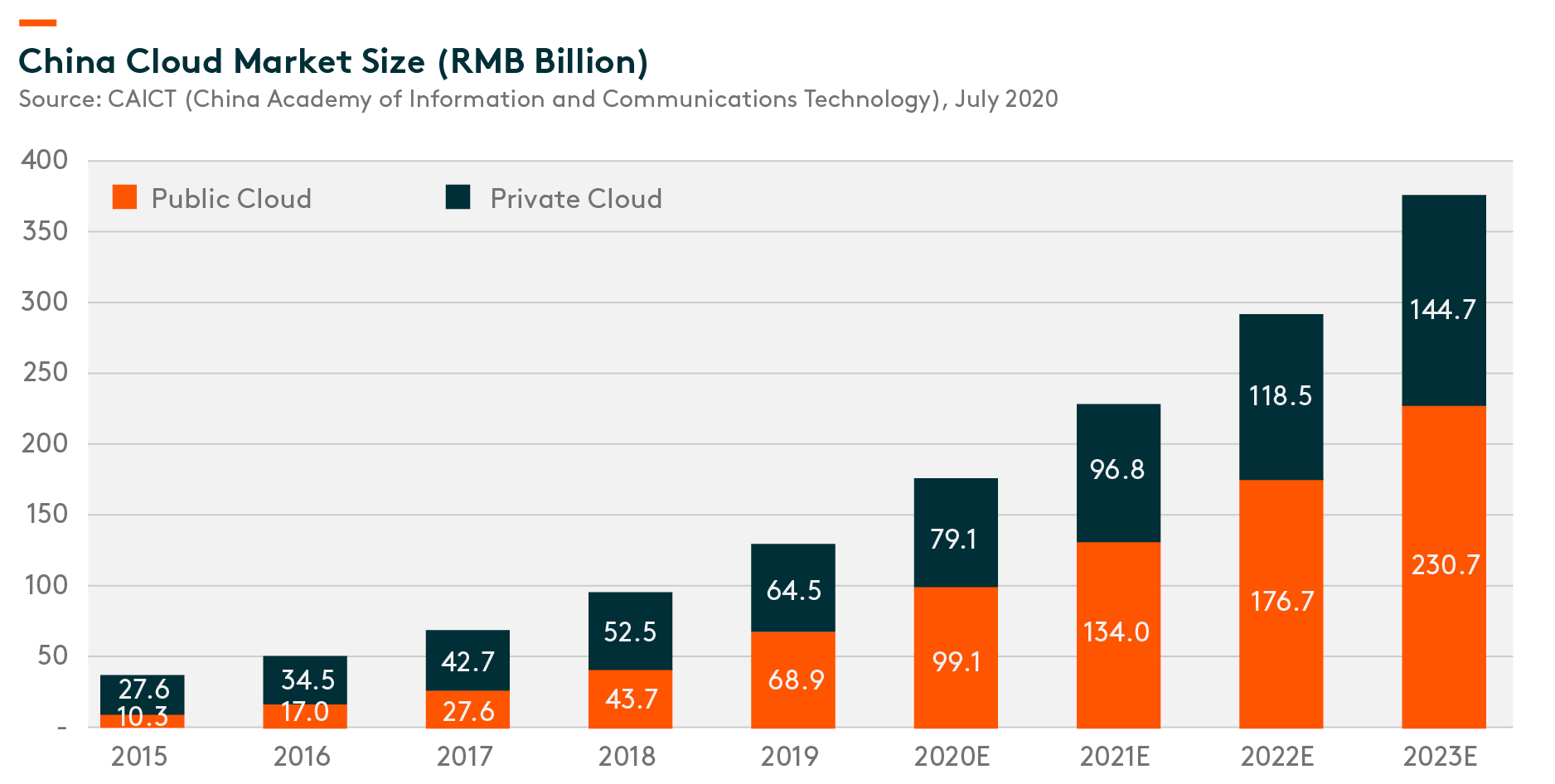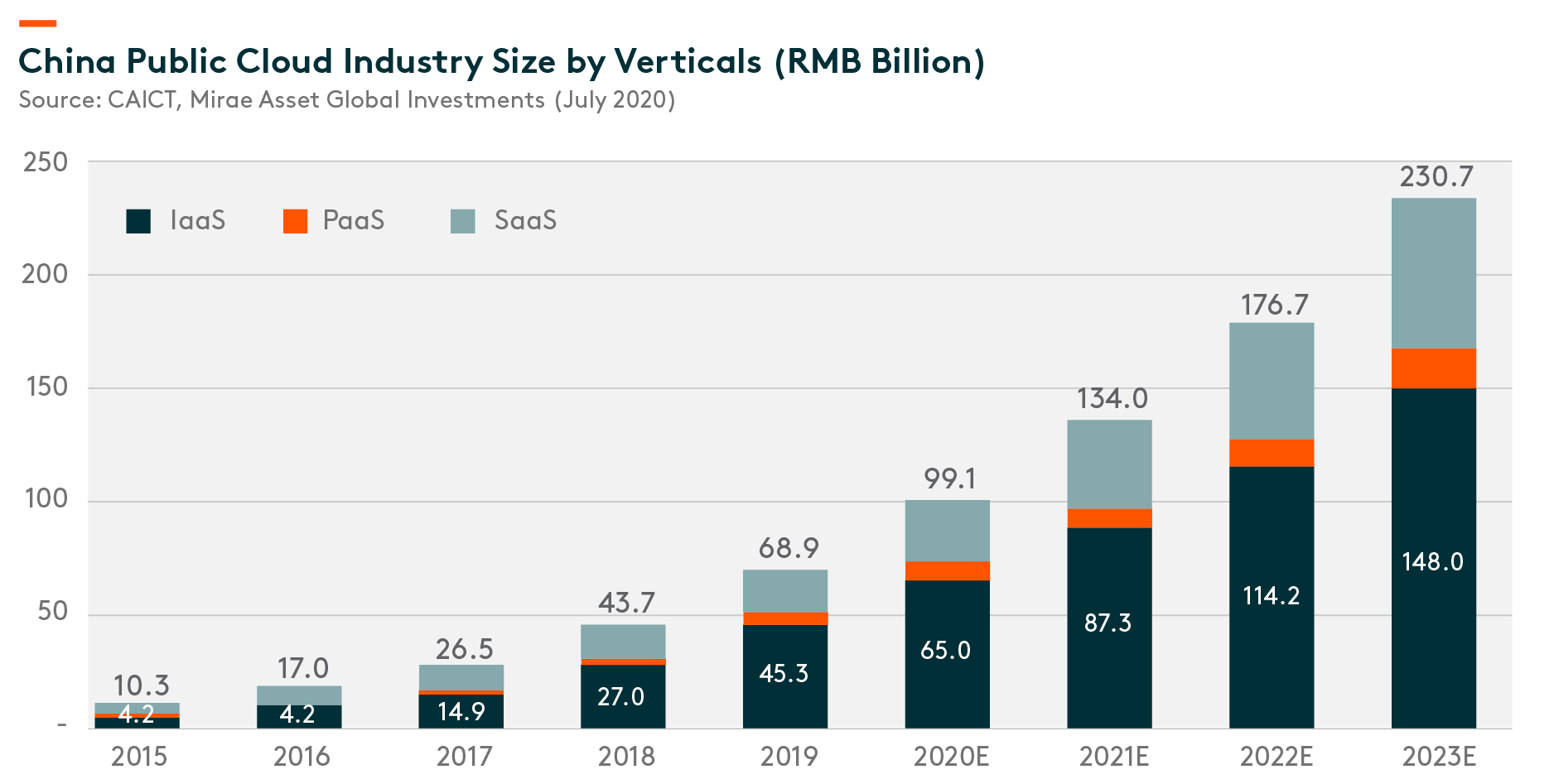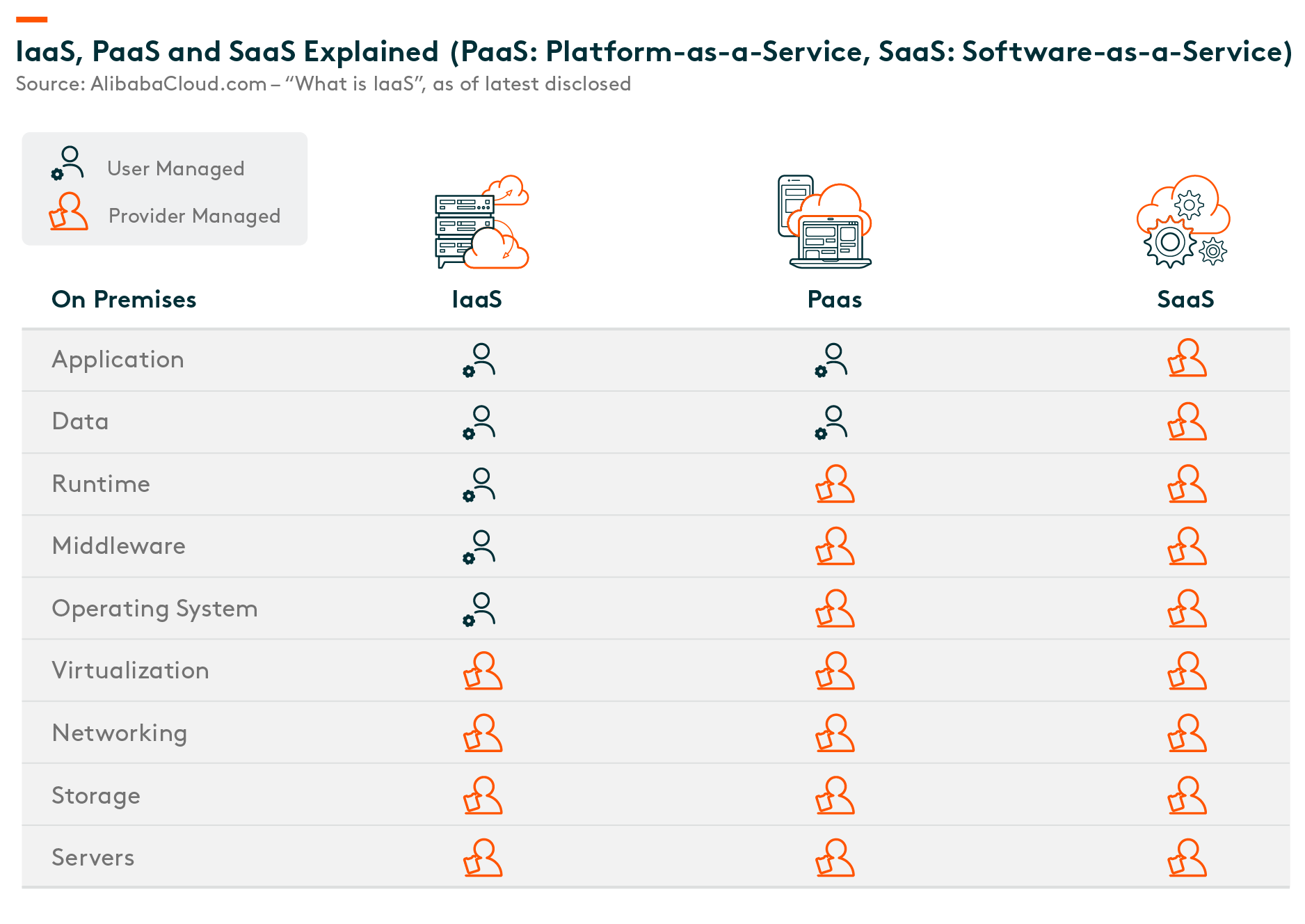 Competition Landscape and Major Players
Today, Alibaba Cloud is among the world's top three IaaS providers and China's largest provider of public cloud, with more than a million paying customers stretching across 67 availability zones and 200+ countries/regions. (AliCloud website, as of Feb. 2021) According to Canalys, AliCloud has a market share of 44%+ (as of 2020 first quarter, in terms of cloud infrastructure service spend), larger than the next top 3 players (Huawei, Tencent and China Telecom) combined.
We attribute AliCloud's market leadership to the following three reasons:
Its early mover advantage.


Alibaba was the first internet company to establish a cloud business. Back in 2009, AliCloud was founded with the aim to enhance the company's internal computing architecture, particularly for shopping festivals. With 10 years of development, Alibaba's proprietary database POLARDB was able to process 87million orders/second at peak levels, and its computing system processed 970PB data/day during 2019's Double 11 Shopping Festival.(

Alibaba Investor Day 2020, Oct. 2020

)

Strong Research & Development (R&D) capability and extensive investment commitments.


Alibaba's massive investment in cloud infrastructure development, strong synergies with core business such as e-commerce and Online To Offline (O2O), should help to fuel the rapid expansion of its cloud business. In addition,

Alibaba DAMO Academy, a research department founded in 2017 as part of Alibaba's US$15billion R&D plan (2017-2020, as per company), has become the main driving force of Alibaba's cloud technology advancements.


In May 2020, AliCloud announced it would invest Rmb200billion (US$28billion) in the next three years to support the construction of data centers, operation systems, servers and other digital research initiatives.

Comprehensive product portfolio, ranging from networking, cloud computing and big data to AI, middleware and cloud security.
Huawei remains dominant in the private cloud space, but has been rapidly catching up in public cloud product development. The company ranks No.2 in public cloud IaaS from a mere 5th place in first half 2019 (according to IDC International Data Corporation, Nov. 2019). Its large customer base in government/SOEs, strong cross-selling capabilities and comprehensive products/services that span across the entire technology chain has helped its acceleration.
More specially, as industries such as public services, government departments, traditional manufacturing industries started to transition their business onto cloud, Huawei was able to capture the demands, leveraging an already established relationship with these customers and cross-selling with other services including hybrid cloud deployment, telecommunication equipment and hardware.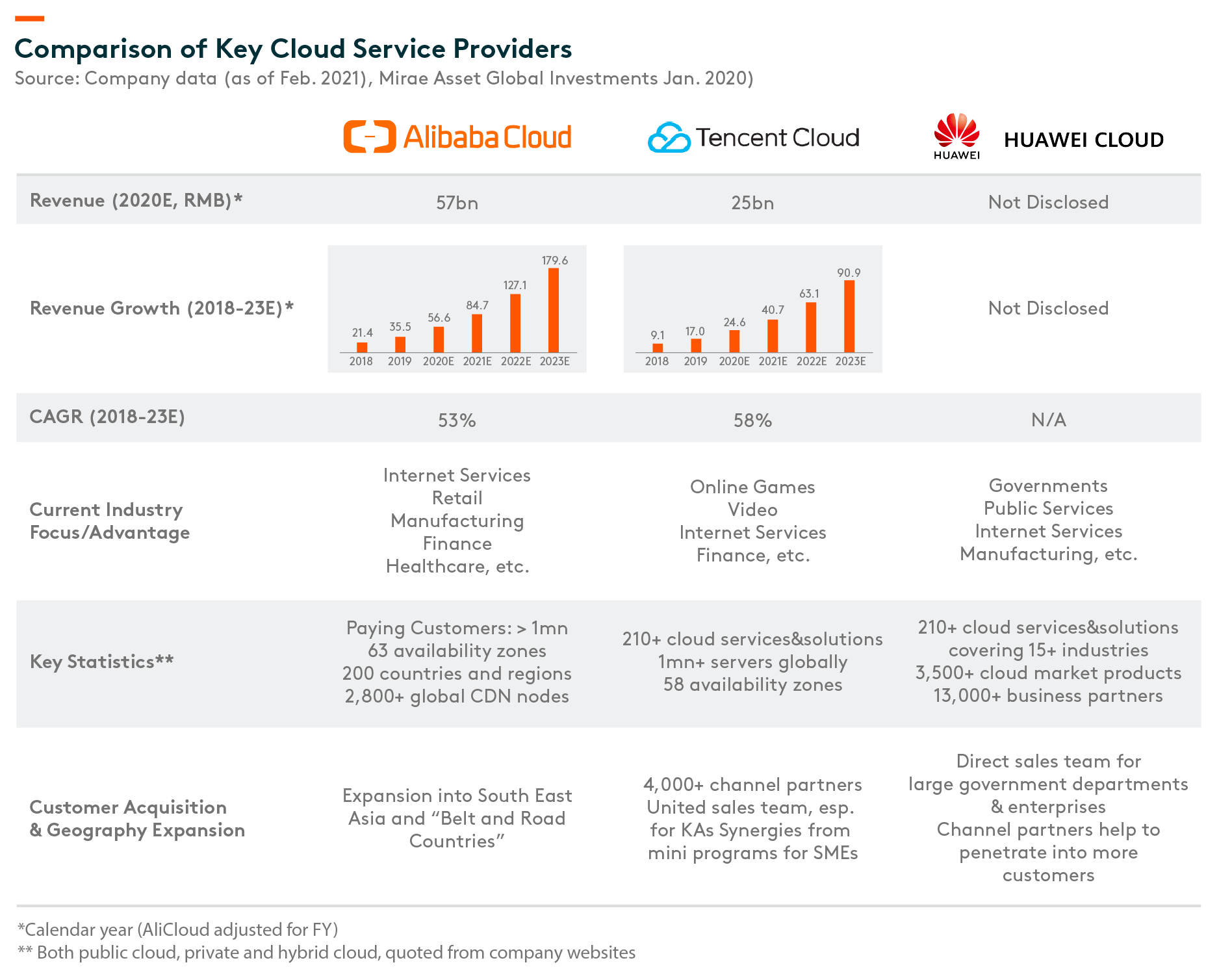 Rising Trends: Multi-Cloud Strategy
As businesses continue to migrate to cloud, they increasingly adopt multi-cloud strategies to reduce vendor lock-in risks, especially with vendors from large ecosystems who may be in direct business with competitors. We anticipate a higher multiple in cloud adoption rate 26% (according to Frost & Sullivan Mar. 2020) to drive incremental demands for not only leading cloud service providers but also independent players like Kingsoft Cloud.
Global X China Cloud Computing ETF (2826 HKD / 9826 USD), seeks to deliver the performance of the Solactive China Cloud Computing Index NTR, enabling investors to access high growth potential through companies that are positioned to benefit from the increased adoption of cloud computing technology in China.
Other Key Features of Global X China Cloud Computing ETF:  
Unconstrained Approach: The fund's composition transcends classic sector and industry classifications by tracking an emerging theme.
ETF Efficiency: In a single trade, the fund delivers access to dozens of companies with high exposure to the cloud computing theme in China.
Please click here for more information on the Global X China Cloud Computing ETF.