China's wind turbine manufacturing ecosystem and its potential
China is the world's leader in wind power generation, with the largest installed capacity of any nation and continued rapid growth in new wind facilities. With its large landmass and long coastline, China has exceptional wind power resources: it is estimated China has about 2500GW of exploitable capacity on land and 200GW at sea. China is forecast to have 250GW of wind capacity by 2020 as part of the government's pledge to produce 15 percent of all electricity from renewable resources by that year.  The Chinese government has set out a road map for wind power up to 2050. Wind power capacity goals are to reach 400GW by 2030 and 1,000GW by 2050, respectively.
According to Wood Mackenzie1, global wind power capacity additions are expected to maintain at 77GW annually from 2020-2029, representing 112% growth in global installed capacity over the next ten years. Although the coronavirus is expected to impact the capacity additions for 2020 and 2021, the need to comply with long-term energy and climate targets should result in makeup orders after the Covid-19 shock. The EU, Middle East, Africa, and Asia will continue to be key growth drivers, while the US remains uncertain, depending on political leadership.
The value chain of wind turbine original equipment manufacturer (OEM) consists of the wind turbine (nacelle, rotor, tower), cables (array and export cables), structural components such as tower foundations, and electrical components (onshore substation, batteries, offshore substation).
Wind turbines are mostly manufactured by global specialist capital goods companies. The top-three turbine manufacturers by installed capacity are Vestas, Goldwind, and GE. The market for turbine manufacturing is consolidated with the top three players, accounting for nearly 50% of global installed capacity. However, the rest of the market is highly fragmented, with several smaller players such as Siemens Gamesa, Envision, Enercon, Ming Yang, Nordexand other Chinese players competing for a piece of the pie.
A key component of the turbine is the blades, which are often manufactured by specialist manufacturers but can also be produced in-house by turbine OEMs. Globally, the blade market is highly fragmented, with several Chinese players jostling for a small share of the market, such as Sinomatech Wind Power Blade, Zhuzhou Times New Material Tech, etc. Turbine OEMs such as GE, Vestas, and Siemens Gamesa all source their blades internally.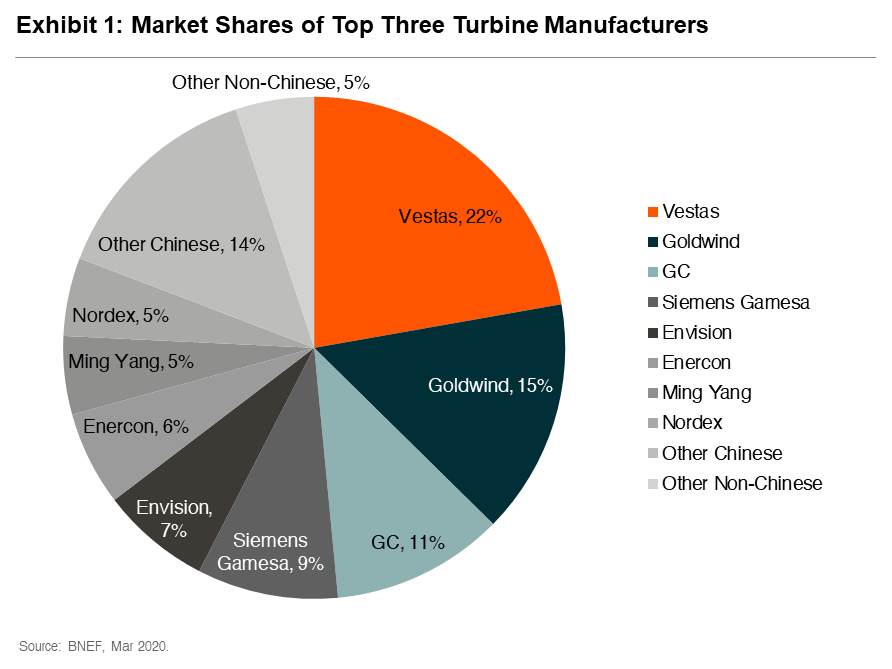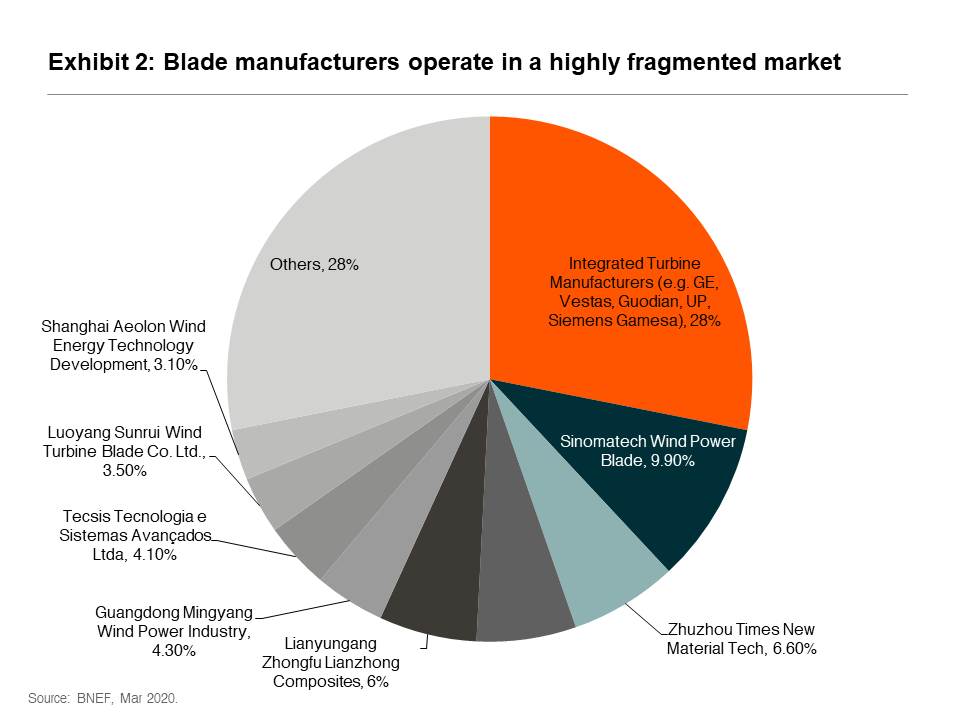 The nacelle, or engine, is another core part of the wind turbine. Nacelle manufacturers produce everything under the hood of a wind turbine, such as the generator, gearbox, drive train, and brake assembly. The nacelle manufacturing space is even more fragmented than blade manufacturing, but with a significant presence of Chinese companies. However, the majority of the market is still controlled by the integrated turbine manufacturers such as Vestas, Siemens Gamesa, GE, and other large players. Outside the leading international companies, Chinese firms such as Shanghai Electric, Guangdong Mingyang, China Creative Wind Energy, Sinovel Wind etc. are the next in terms of scale.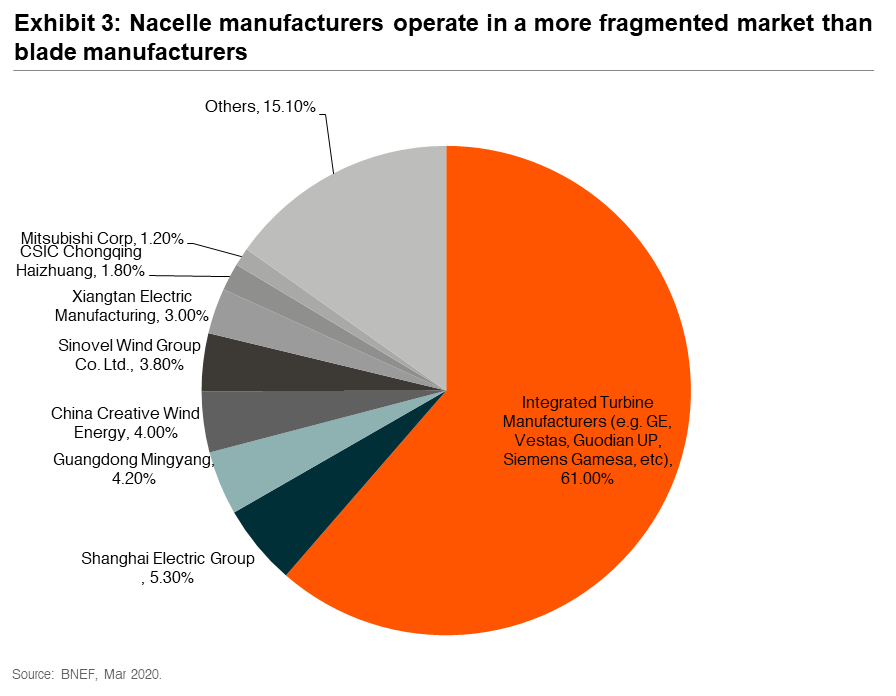 As we have shown, Chinese companies within the wind turbine manufacturing value chain have good opportunities to grow faster than the market by virtue of China's strong domestic demand and penetration into the supply chains of global OEMs. At the same time, countries are increasingly shifting towards wind power as a sustainable form of alternative energy. We believe the Chinese companies have a cost advantage over foreign competitors while their technology is continuously improving. For example, Chinese companies like Titan Wind and Weihai Guangwei have been gaining market share within Vesta's value chain. Titan Wind has positioned itself as a supplier of wind towers to global turbine manufacturers since its founding in 2005. It supplies more than 10% of Vestas' wind tower requirements while also increasing its market share at GE and Siemens. Guangwei is a leading carbon fiber producer in China and supplies Vestas with its production of wind turbine blades.
Global X China Clean Energy ETF (2809 HKD / 9809 USD)  enables investors to access high growth potential through companies critical to further advances and increased adoption of clean energy in China.
Other Key Features:  
Unconstrained Approach: The fund's composition transcends classic sector and industry classifications by tracking an emerging theme.
ETF Efficiency: In a single trade, the fund delivers access to dozens of companies with high exposure to the clean energy theme in China.
Please click here for more information on the Global X China Clean Energy ETF.