Tesla – All Eyes on China
Tesla is now the most valuable car company in the world by market capitalization, overtaking Toyota despite only being projected to sell less than 5% of the latter's volume for 2020 and accounting for less than 1% of global volume. Tesla is seen as a key disruptor in the auto space stemming from its focused all-BEV strategy without the need to protect the profitability of a legacy ICE business, as well as an innovator in battery technology and a pioneer in autonomous driving.
More importantly, Tesla has demonstrated a legitimate pathway to profitability for EV start-ups and has successfully overcome teething execution and ramp up issues. The market expects Tesla to continue gaining market share in the premium auto space and further penetrate into the Chinese market. As Tesla looks to extend its leadership in battery technology and further lower its cost base to remain competitive, we believe that setting up a factory in China will allow Tesla to be closer to its supply chain and fully tap onto the capabilities of China's burgeoning EV supply chain.
Tesla's Shanghai factory is the company's first car manufacturing site outside the USA and key to Elon Musk's ambition of boosting sales in the world's largest auto market while avoiding high import tariffs on US made cars. The new factory (Gigafactory 3) is also the first fully foreign owned auto manufacturing plant in China. Tesla will mainly produce the Model 3 (sedan) and Model Y (compact SUV) for the Chinese market. Tesla's Model 3 was the top selling plug-in car in 2019 with close to 14% market share according to Insideevs.com. The aim is to ramp up production to as many as 500k vehicles per year in two to three years' time. As around 70% of Tesla's components for production in China are still sourced from overseas, it makes sense to localize production in order to improve margins or lower ASP, depending on the strategy Tesla chooses in China.
Tesla's Timeline in China
Oct 2018 – Tesla attained the right to use 1,200 acres of land in Shanghai Lingang from Shanghai government with a total RMB973mn, which used for Tesla's first Gigafactory outside the U.S.
Jan 2019 – Tesla held the groundbreaking ceremony of the Gigafactory and started the construction.
Aug 2019 – Tesla's Shanghai Gigafactory was granted the first comprehensive acceptance certification.
Sep 2019 – Tesla's Shanghai Gigafactory passed the second government acceptance check.
Oct 2019 – Tesla's Shanghai Gigafactory received the manufacturing certification and started the production of Model 3.
Dec 2019 – The China-made Model 3 Sedans was officially delivered in Shanghai Gigafactory to its employee customers.
Jan 2020 – The China-made Model 3 Sedans was officially delivered to its customers; Tesla started the manufacturing of Model Y.
China further reduced subsidies for EVs by 10% in 2020 and made the lower subsidies only available to EVs that cost less than Rmb300k. This caused Tesla to cut the starting price of the base model of its China made Model 3 to below Rmb300k in order to qualify for the subsidies. The company also cut the price of its longer range variant to offset the subsidy removal soon because the car would still cost more than the Rmb300k threshold required to qualify. This increases Tesla's need to lower costs in order to maintain/improve margins.
According to Tesla's manufacturing director of its Shanghai plant Song Gang in an interview with Bloomberg News, Tesla plans to increase local sourcing to 100% in China by the end of the year from the current 30%. We believe this will benefit the domestic supply chain in China from the import substitution trend. That said, expectations should be tempered given Tesla's lower level of component outsourcing vs traditional ICE cars (with the majority of costs being allocated to battery makers) and Tesla's still small production volume as a percentage of China's total PV market (UBS forecasts Tesla's 2020 production volume to account for just 0.5% of China's PV volume and reach 2% based on Tesla's three-year plan to produce 500k units a year).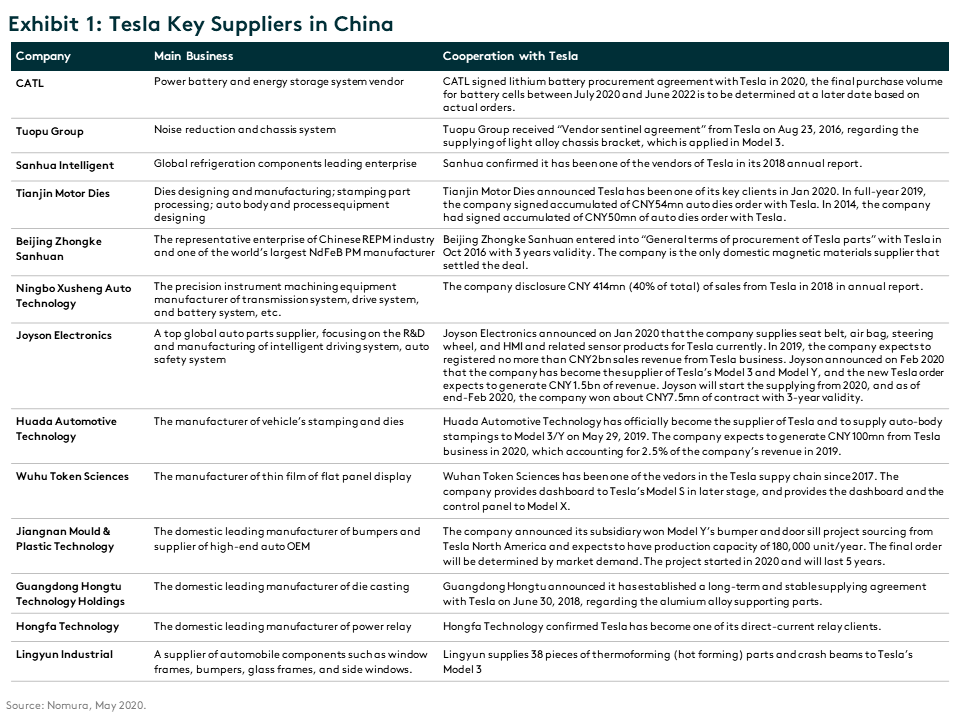 Some of the key suppliers to Tesla in China include CATL (EV battery and energy storage), Huayu (seats, large interior and exterior parts, clusters, central consoles, moldings etc), Joyson Electronics (seat belt, air bag, steering wheel, sensors), Huada Automotive (auto body stampings), Wuhu Token Sciences (dashboard), Sanhua Intelligent (HVAC), Hongfa Technology (direct-current relay), Guangdong Hongtu Technology (aluminum alloy support parts) etc.
If China's EV supply chain is able to meet Tesla's stringent requirements on quality and cost, we believe this will help to further boost the credibility of the Chinese companies and persuade more global OEMs to give these companies a shot. With more orders, Chinese companies in the EV value chain will be given opportunities to improve their technology with more funding and reduce costs through economies of scale. This will ultimately elevate the whole EV supply chain in China and is a win-win situation for the Chinese government, EV suppliers and OEMs.
Tesla has made meaningful progress by achieving the milestone of being the world's largest automaker1. The growing demand and manufacturers increasing production capacities will continue benefitting its key suppliers. Global X China Electric Vehicle ETF, offering exposure to companies critical to the development of electric vehicles in China, is your tool for accessing this growing opportunity.