Key Takeaways of COP27
The 27th United Nations Climate Change Conference of Parties (COP27) was held between the 6th and 18th of November in Egypt. World leaders, policymakers, and climate delegates from nearly 200 countries attended to review the progress made by countries since the Paris Agreement. COP27 was anticipated to be the "Adaptation" COP or the "Implementation" COP. Market sentiment is somewhat underwhelmed by the achievements of this COP. COP27's expectations and actual outcomes seem to suggest world leaders' priorities have shifted from climate mitigation to climate adaptation.
Highlights
COP27 was positioned as the "Implementation COP" whereby outcomes are primarily focused on workprograms to mitigate and adapt to climate change
COP27 made the landmark agreement to establish a loss and damage fund –a financing facility to finance developing countries most vulnerable to climate disasters
COP27 reaffirmed the global ambition to lower global warming to 1.5C and to phase down coal. The inclusion of "low emissions energy" text alongside renewables suggests openness towards natural gas or coal with carbon capture and storage
COP27 saw some Parties, such as the EU and Turkey, revise Nationally Determined Contributions (NDCs) to more ambitious emissions reduction targets
COP27 saw the establishment of more partnerships and alliances, for example:

The US, EU and others agreed on Indonesia's US$20bn Just Energy Transition Partnership to accelerate Indonesia's phase-out of coal use
China and US agreed to re-engage in climate cooperation after the G20 Leaders' Summit at Bali during the second week of COP27
Increased global and investor collaborations to address and halt deforestation
In this article, we discuss key takeaways from COP27 and potential investment implications that may arise from major outcomes of the conference.
Climate Adaptation – Milestone Fund on Loss and Damage
This COP was the first COP whereby loss and damage – compensation for low-income, low-emissions nations, and regions to cope with impacts of climate disasters – was officially put on the agenda.  The establishment of a Loss and Damage fund was a key milestone that came out of COP27. Details of the fund are yet to be determined but the intent is for the fund to be operational at COP28; two main things were decided:
"to establish a fund for responding to loss and damage whose mandate includes a focus on addressing loss and damage" and particularly for "assisting developing countries that are particularly vulnerable to the adverse effects of climate change"; and
"Establish a transitional committee on the operationalization of the new funding arrangements for responding to loss and damage and the fund".
Parties also decided on the operational structure of the Santiago Network – an organization established as part of COP25 – to provide technical assistance in averting, minimizing and addressing loss and damage in developing countries that are particularly vulnerable to the adverse effects of climate change. Funding for the Santiago Network was also agreed upon at COP27 but rules of procedures are to be developed by the advisory board by 2024 (COP29)1.
Climate Mitigation – Stagnant Ambitions for 1.5°C
The cover decision for this COP, also known as the Sharm el-Sheikh Implementation Plan, kept the same wording as COP26's Glasgow Pact regarding 1.5°C and the "phase down" of coal. Although several countries, including India and European countries, were pushing for the phase-down of all fossil fuels, the failure to move beyond COP26 language suggests the urgency for 1.5C was less apparent at this COP. The text within the Sharm el-Sheikh Implementation Plan also had increased mentions of "low-emission" energy alongside renewable energy; despite the term not being clearly defined, it could likely be referring to natural gas or fossil fuels burnt with carbon capture and storage2.
Nonetheless, we saw the ramp-up of some emissions reduction targets at COP27. For example, the EU raised its existing goal to cut emissions by 55% by 2030, compared to 1990 levels, to at least 57%3. In the lead-up to COP27, we also saw 5 of 11 major Asia Pacific economies set stronger 2030 carbon reduction targets in 2022.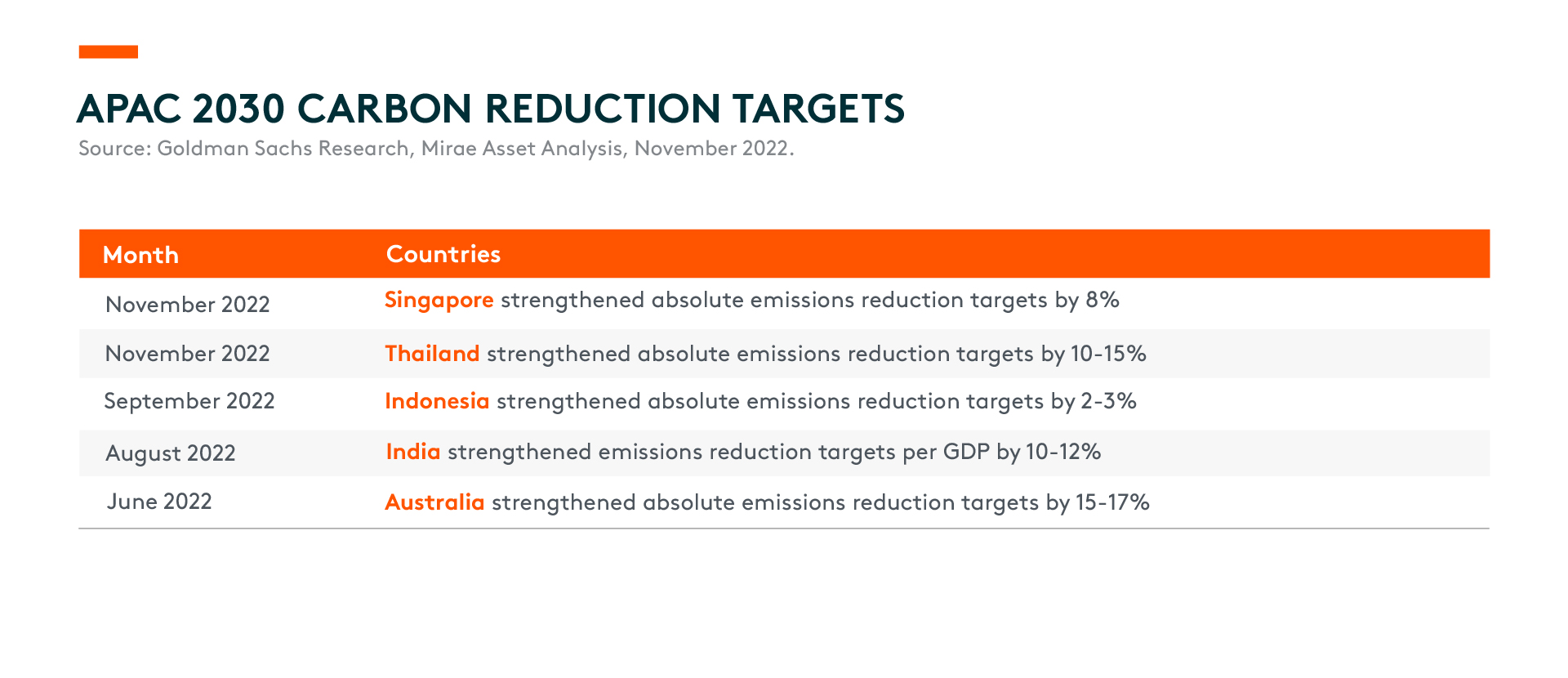 The Sharm el-Sheikh Implementation Plan highlights that a global transformation to a low-carbon economy is expected to require investments of at least USD 4-6 trillion a year4. During the first few days of COP27, a report from Carbon Brief shared that developed countries like the United States (US), the United Kingdom (UK), Canada and Australia have fallen short significantly of their "fair share" of climate finance for developing countries; the US alone has not delivered its "fair share" of USD 32bn, Australia and Canada only provided a third and the UK fell short by a quarter of their funding commitment5.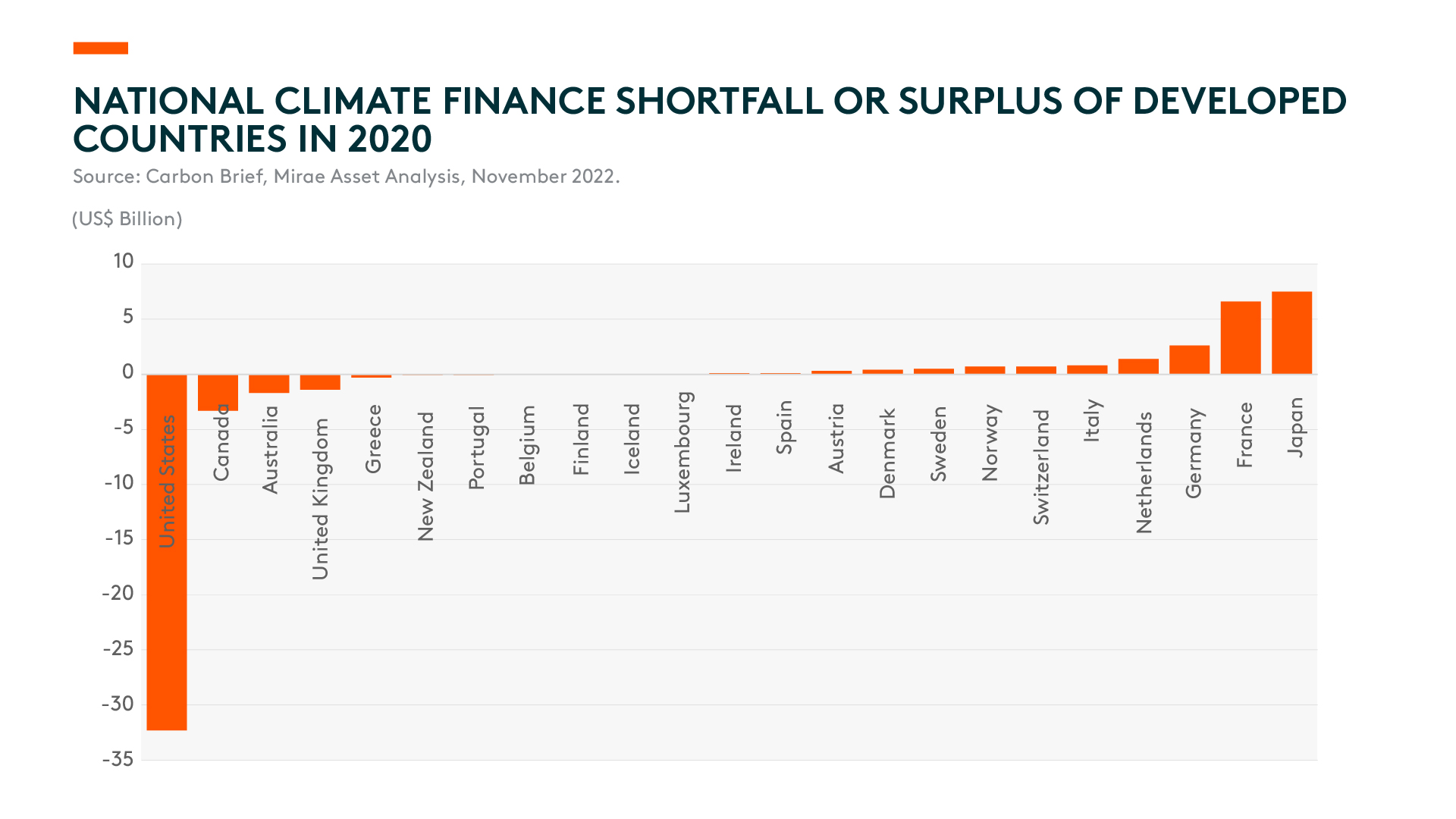 Beyond Climate Mitigation and Adaptation – Carbon Markets, Deforestation, Greenwashing
Other themes that were apparent during COP27 include more collaborative action around deforestation. 26 countries launched the Forest and Climate Leaders' Partnership (FCLP) which aims to deliver the commitment made at COP26 by over 140 countries to halt and reverse deforestation and land degradation by 2030. In addition, the Finance Sector Deforestation Action (FSDA) updated that the investor initiative now has 37 members, with asset managers from Africa, Chile, and Europe, who commit to using active ownership to eliminate forest-risk agricultural and commodity-drivendeforestation activities within investment portfolios and financing activities by 20256.
Regarding Article 6 of the Paris Agreement (the rulebook that acknowledges and allows countries to pursue voluntary cooperation, via market mechanisms like carbon trading, to achieve emissions reduction targets as set out in their Nationally Determined Contributions (NDCs)), some progress was made at COP27 primarily on technical grounds, whilst all other aspects were delayed to future COPs7. Nonetheless, during the first week of COP, the International Organization of Securities Commissions (IOSCO) launched a public consultation on recommendations for establishing Compliance Carbon Markets (for jurisdictions seeking to do so under Article 6) as well as recommendations to enhance the resilience and integrity of Voluntary Carbon Markets8.
Lastly, greenwashing was also a topic that was featured in COP27. The United Nations released a report stating that net zero pledges by companies, banks and cities often amount to little more than greenwashing. The report set out recommendations for net zero pledges, for example saying companies should not claim to be net zero if they invest in new fossil fuel supply or deforestation, and that target should cover all greenhouse gas emissions and all their scopes inclusive of the full value chain9.
Conclusion
The ultimate 1.5C target was reinforced in COP27 albeit the lack of more ambitious wording in the final text. COP28 will take place in UAE next year where the first global stocktake of countries' emissions will take place. As such, countries' achievements against emissions reduction commitments set will be put to the test next year.
The global pressure to decarbonize will remain and will likely only increase over time. Similarly, Asia's relevance to decarbonization will also only continue to increase given the region's dominance in the supply chain for low-carbon technologies as well as the delivery of the region's own decarbonization plans.