Evaluating the Implications of Forced Labor Legislations on the Solar Supply Chain
The European Commission recently made a proposal to ban the import of products made using forced labor. While no specific industries were mentioned, there have been debates that China's solar industry could be a potential target. In our view, the negative sentiments that may arise from these debates could deviate perceptions away from the industry's positive contributions or deter much-needed progress on the transition to clean energies.
First of all, we have not seen clear evidence of forced labor in the solar supply chain. Secondly, by nature of its operations, the solar supply chain is not labor intensive and, thus, forced or cheap labor is not a factor for economic advantage. On the contrary, the solar manufacturing process is extremely CAPEX intensive and requires skilled workers to run expensive machines. The reason many solar companies have production facilities in Xinjiang is not because of the availability of cheap labor, but because of globally-competitive electricity costs. Thirdly, many Chinese solar companies have a presence in non-Xinjiang regions, such as Yunnan and Inner Mongolia, which also have provisions for globally-competitive electricity costs and further is also free from geo-political allegations of forced labor.
Context
On September 14, 2022, the European Commission proposed a legislative ban on products made using forced labor. The proposal followed a European Parliament call for such a law in June 2022 that highlighted concerns over human rights in Xinjiang1. Similarly, at the end of 2021, US President Biden signed the Uyghur Forced Labor Bill into law which bans all imports from Xinjiang into the US unless companies can provide "clear and convincing evidence" that they were "not mined, produced, manufactured wholly or in part by forced labor"2.
The People's Republic of China government published an official report in November 2020 that documented the placement of 2.6 million ethnic minority citizens to jobs at farms and factories within Xinjiang and across the country through government-sponsored labor transfer programs3. The Chinese government responded to international allegations that such labor transfer programs are voluntary re-educational training programs for the purposes of alleviating poverty and combating terrorism.
The Solar Supply Chain
China accounts for more than 70% of the world's polysilicon production, the key raw material for most solar panels, of which approximately 45% is from Xinjiang4. Next step down the supply chain, China also produces more than 95% of the world's solar ingots and wafers and approximately 80% of solar cells5.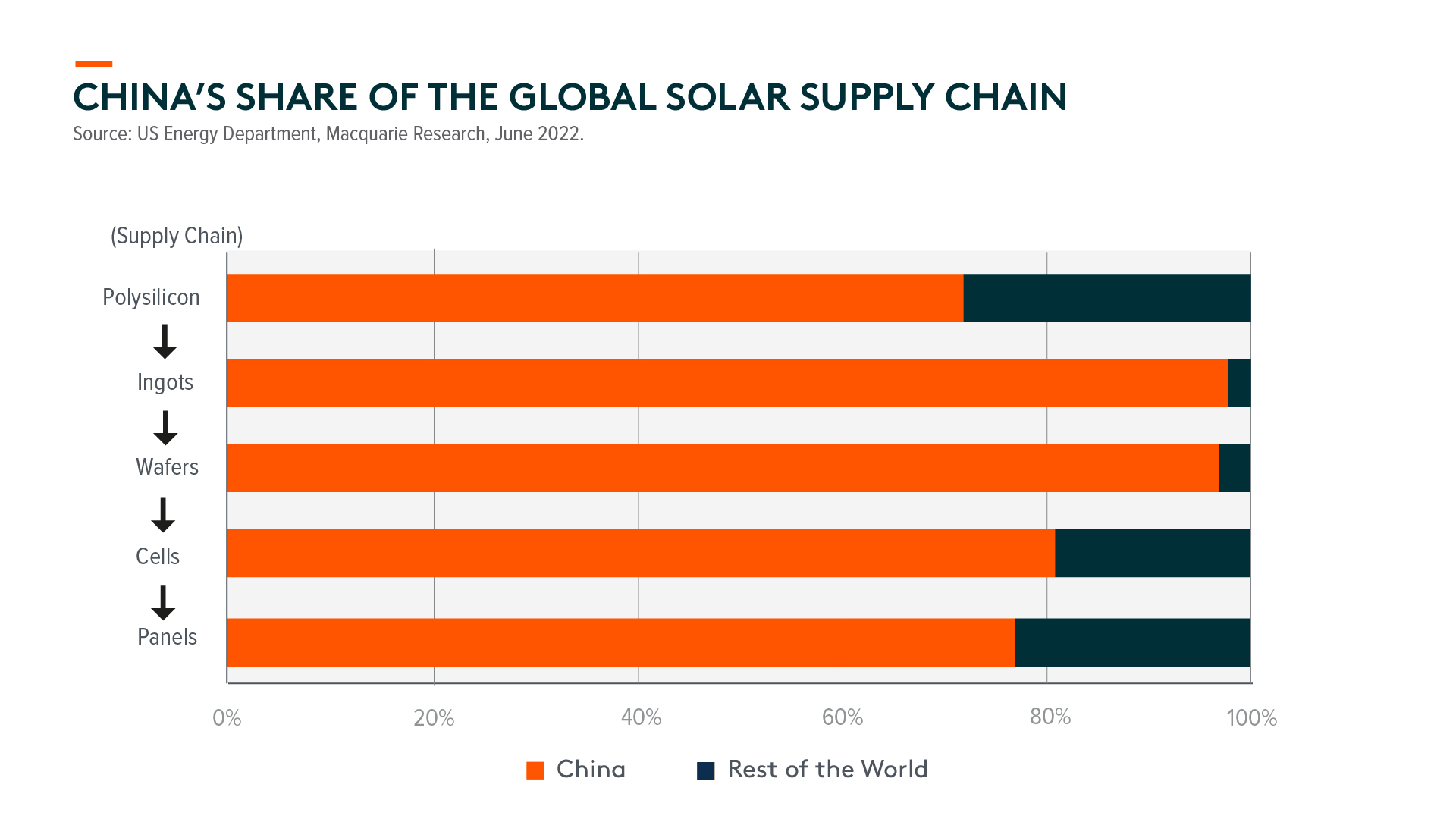 The solar supply chain is not labor-intensive by nature. The solar supply chain process is capital-intensive, requiring significant resources for energy consumption and machines for the manufacturing process. Energy consumption roughly accounts for one-third of the total production cost followed by raw materials and equipment depreciation, whilst labor only accounts for 5%. The labor intensity (labor costs as a percentage of total COGS) of solar wafer companies LONGi Green Energy Technology and GCL Technology are 7% and 11% respectively, compared to 35% and 42% for apparel companies like ANTA Sports Products and Shenzhou International Group Holdings respectively6.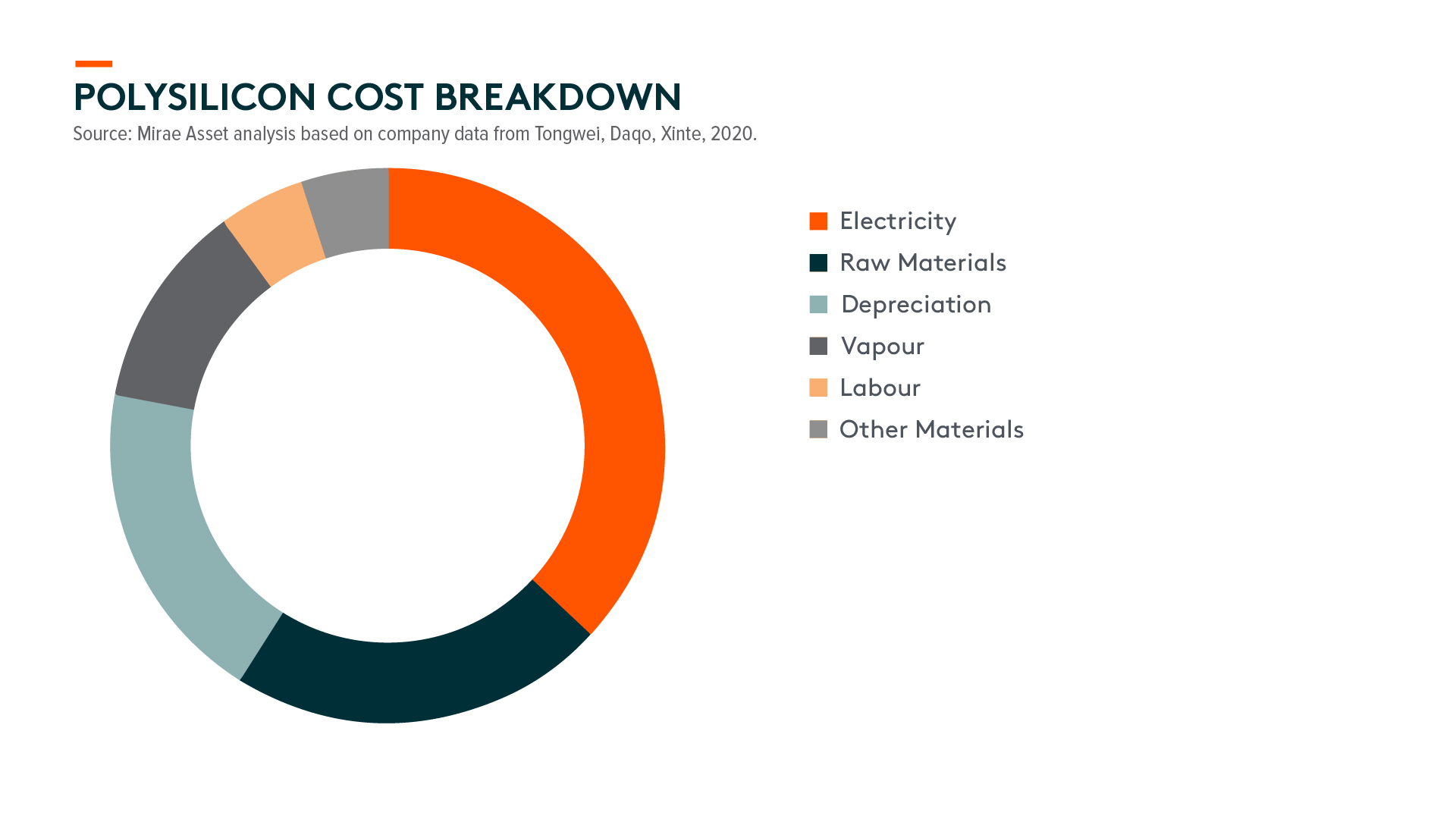 Electricity prices are significantly lower in Xinjiang; electricity prices can be as low as RMB 0.2/kWh in Xinjiang compared to vs RMB 0.26/kWh, RMB 0.4/kWh, and RMB 0.6/kWh in Yunnan, Inner Mongolia, and Xuzhou respectively7. Therefore, solar supply chains being primarily based in Xinjiang are likely driven by cheap electricity grounds and government incentives.
Implications to the Solar Supply Chain
Considering China's dominance of the global solar supply chain, there is sufficient capacity in China outside of Xinjiang to supply to international markets like the EU and the US. Domestic production in the US and the EU is also insufficient to meet demands and thus will still be dependent on solar panel imports. The burden will be on solar companies and suppliers to provide proof that their products are not produced in Xinjiang or have been exposed to forced labor.
Solar companies source polysilicon from multiple suppliers and polysilicon is often blended when producing ingots and wafers. The ingots and wafers are also often resold back to solar companies to manufacture solar cells (e.g. LONGi and Tongwei8). Such circular transactions within companies along the solar supply chain may pose challenges to the enforcement of such sanctions.
Origin tracing remains undeterminable for solar panels. Isotopic testing can be used on cotton in the apparel industry to trace its origin and check exposure (or lack thereof) to Xinjiang9. For solar panels, there is currently no such test to establish the origin of solar panels or the components within. Currently, solar companies whose products are detained at US Customs are required to provide traceback documents as evidence of the sourcing of raw materials.
Silicon metal, a crucial upstream input for polysilicon, can be sourced from Xinjiang but also from other areas of China as well as other parts of the world. Hoshine Silicon Industry which is one of the solar companies on the US's sanction list only accounts for 30-40% of total silicon metals globally10. In a highly fragmented competitive landscape for silicon metal, solar companies are able to easily shift suppliers. For instance, Tongwei has no exposure to Xinjiang and does not have any supplies from Hoshine as it mainly purchases from silicon metal suppliers in Yunnan and Inner Mongolia11.
We also see a shift of polysilicon sourcing to other provinces (e.g. Inner Mongolia, Jiangsu, Sichuan, and Qinghai). For example, JinkoSolar signed a contract with Tongwei to purchase 93,000 metric tons of polysilicon (not produced in Xinjiang) in November 202012. Chinese manufacturers particularly seem to be turning to Inner Mongolia for expansion, e.g. JA Solar and TBEA with plans to expand in Baotou, Inner Mongolia. LONGi has also indicated plans to build manufacturing plants overseas13.