FAQ on China Consumer Brand ETF
Q1: What is the long-term outlook for China's consumption?
China has become one of the largest consumer markets for many consumer goods. Yet, penetration still remains low thanks to its vast population and, more importantly, most of whom are affordable consumers. It is expected that nearly 340 million Chinese people are expected to enter the "consuming class1" between 2020 and 2030.2 In addition, newly emerging consumers in China are more local brand-friendly, which provides growth opportunities for strong local brands that lead new consumption trends in China.
China's household saving rate peaked at 39% in 2010 and has declined since then. Similarly, private consumption expenditure as % of GDP bottomed in 2010 and has since gradually increased. While the pandemic temporarily disrupted this trend in recent years, the structural trend has not changed. As reopening continues, we expect to see private consumption driving economic growth again this year. We believe China's land-fiscal model has reached an inflection point, making private consumption even more vital for future growth. Chinese authorities are pivoting towards higher quality growth driven by dual circulation and common prosperity to boost demand. Saving rates have also temporarily gone up amid zero-covid last year, which we think will get released back into consumption as China's consumer confidence restores.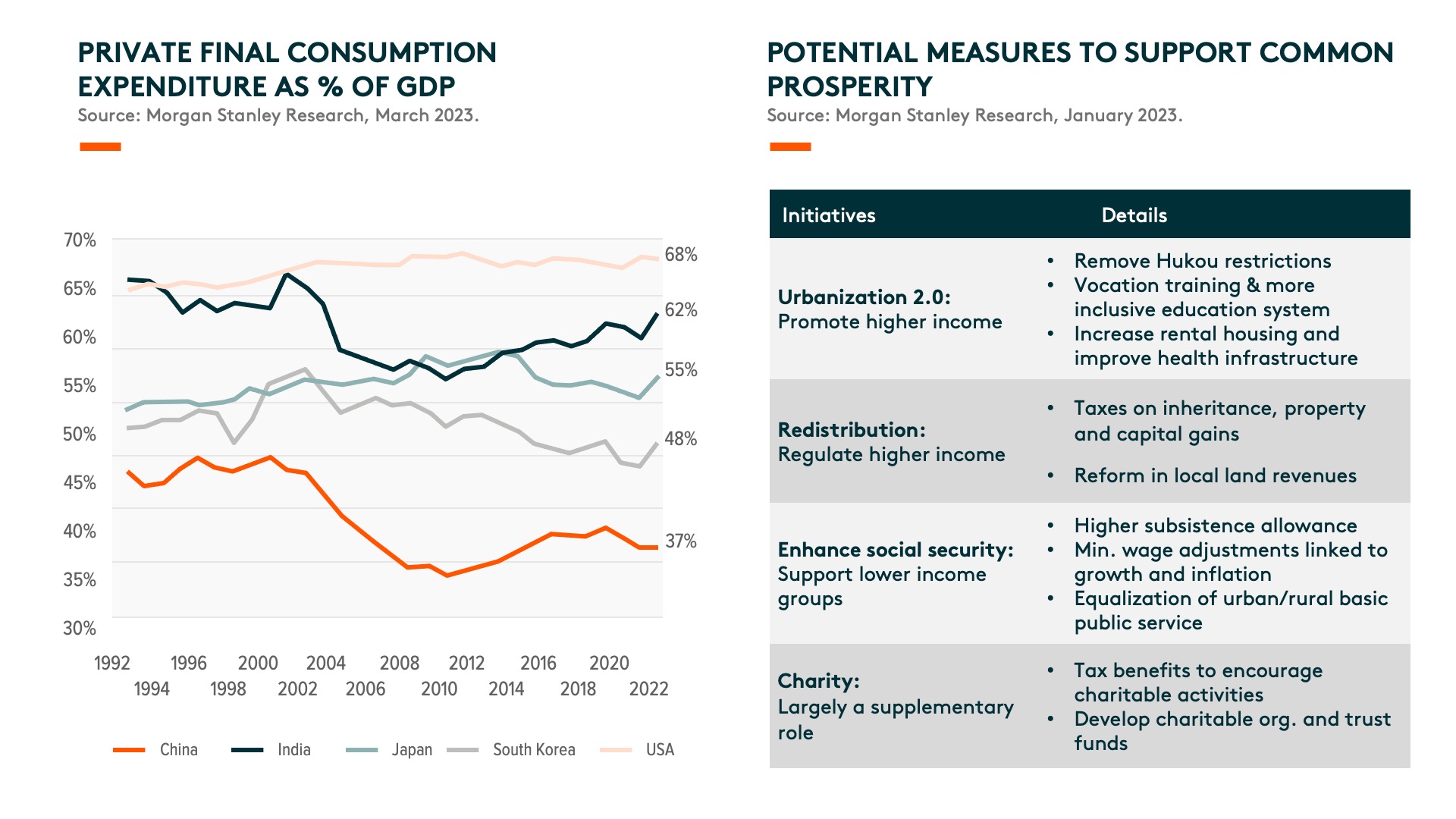 Q2: What is the near-term outlook for China's consumption?
China's consumption recovery has been slower than expected, while only luxury spending and service-oriented sectors, particularly travel with high pent-up demand, have shown resilient growth so far. That said, March retail sales growth at +10.6%yoy came in higher than the street's expectation of +7.5%yoy growth3. We expect to see strong growth in the next two months thanks to a low base considering last year's lockdown (Shenzhen in March and Shanghai in April-May). Then, we expect to see a meaningful consumption recovery trend along with improvement in the job market and wage growth, which will drive improvements in consumer confidence. While consumer confidence recovered in February to the mid-90s after reopening from last year's mid- to high-80s level amid Zero-Covid, it is still 15% below the pre-lockdown level in March 2022. Consumer confidence has been steadily improving, but this takes time as we need economic recovery to support labor market and income growth before consumer confidence can improve further to lead to meaningful consumption growth.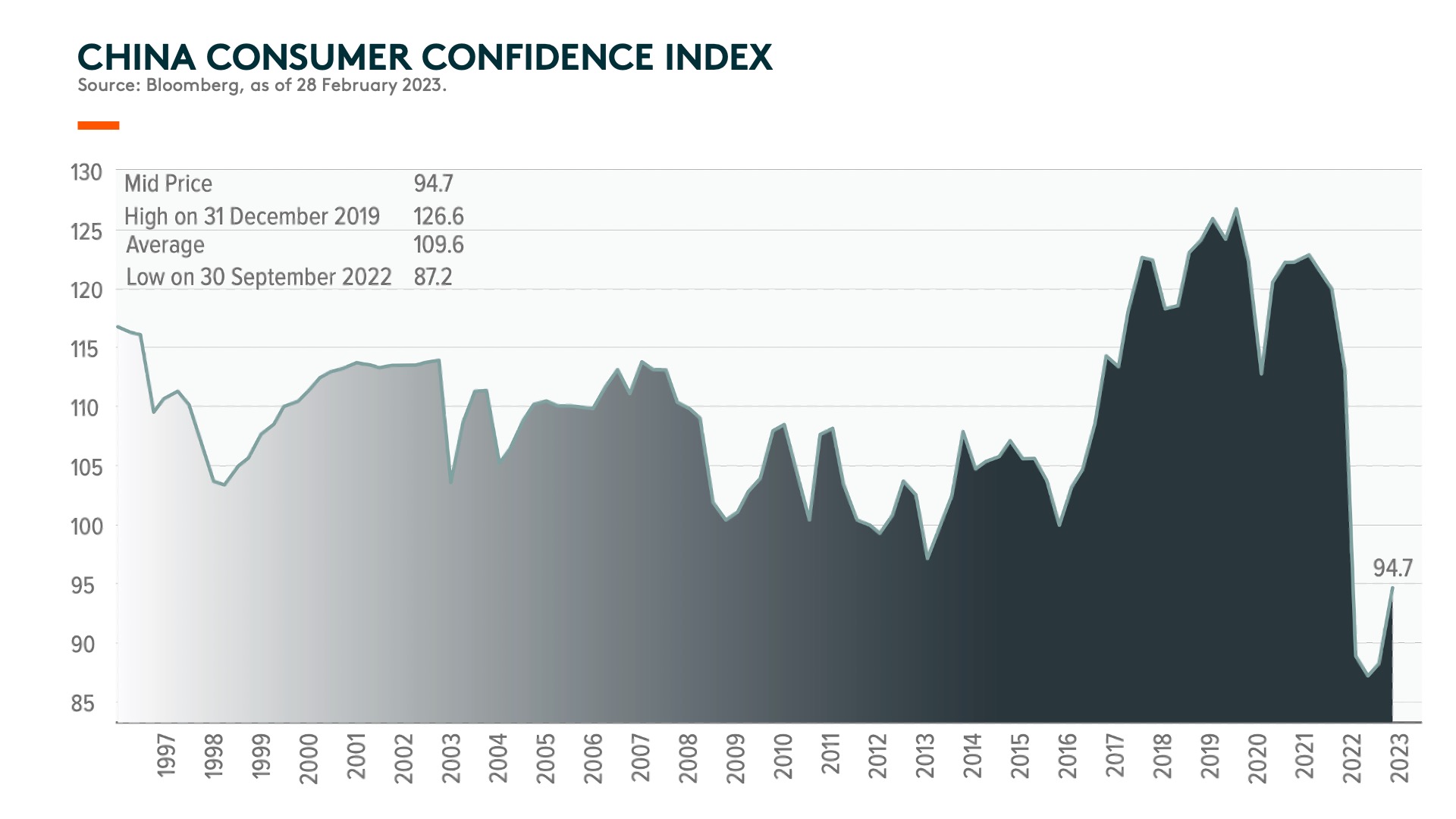 Q3: What's your view on baijiu and beverage brands?
Premium baijiu like Kweichow Moutai has seen earnings upgrades this year as premium baijiu is part of luxury spending. Wealthy consumers globally have shown strong spending even this year, and that's also been the case in China. Kweichow Moutai announced its 1Q23 preliminary results, with sales and net profit growing +18%yoy and +19%yoy, respectively, beating the market's expectation as well as its annual growth guidance of +15%yoy4.
We saw a slower pace of recovery for baijiu in March, similar to that of overall consumption. There might have been more competitive pressure on mid-end baijiu brands amid the low season in March. However, we expect baijiu to be one of the beneficiaries of reopening, considering baijiu is consumed largely during social gatherings and banquets in China, which was heavily impacted by zero-covid last year, especially in 4Q22. Thus, we believe baijiu companies will show stronger sales and earnings growth in the coming quarters along with China's overall consumption recovery trend.
Q4: What's your view on home appliance brands?
Compared to other consumption retail categories, home appliance sector were amongst the most impacted by Covid lock-downs and property sector weakness. Into 2023, we're positive on home appliance brands in 2023, driven by domestic pent-up demands along the "property value chain" supported by restored confidence and a property completion recovery. In particular, central airconditioners, kitchen appliances, customized/upholstered furniture will benefit more from such a recovery as they originate over half of their sales from the property market. For overseas,  we expected a relatively sluggish home durable goods demand compared to the domestic market against weak macro growth in 2023.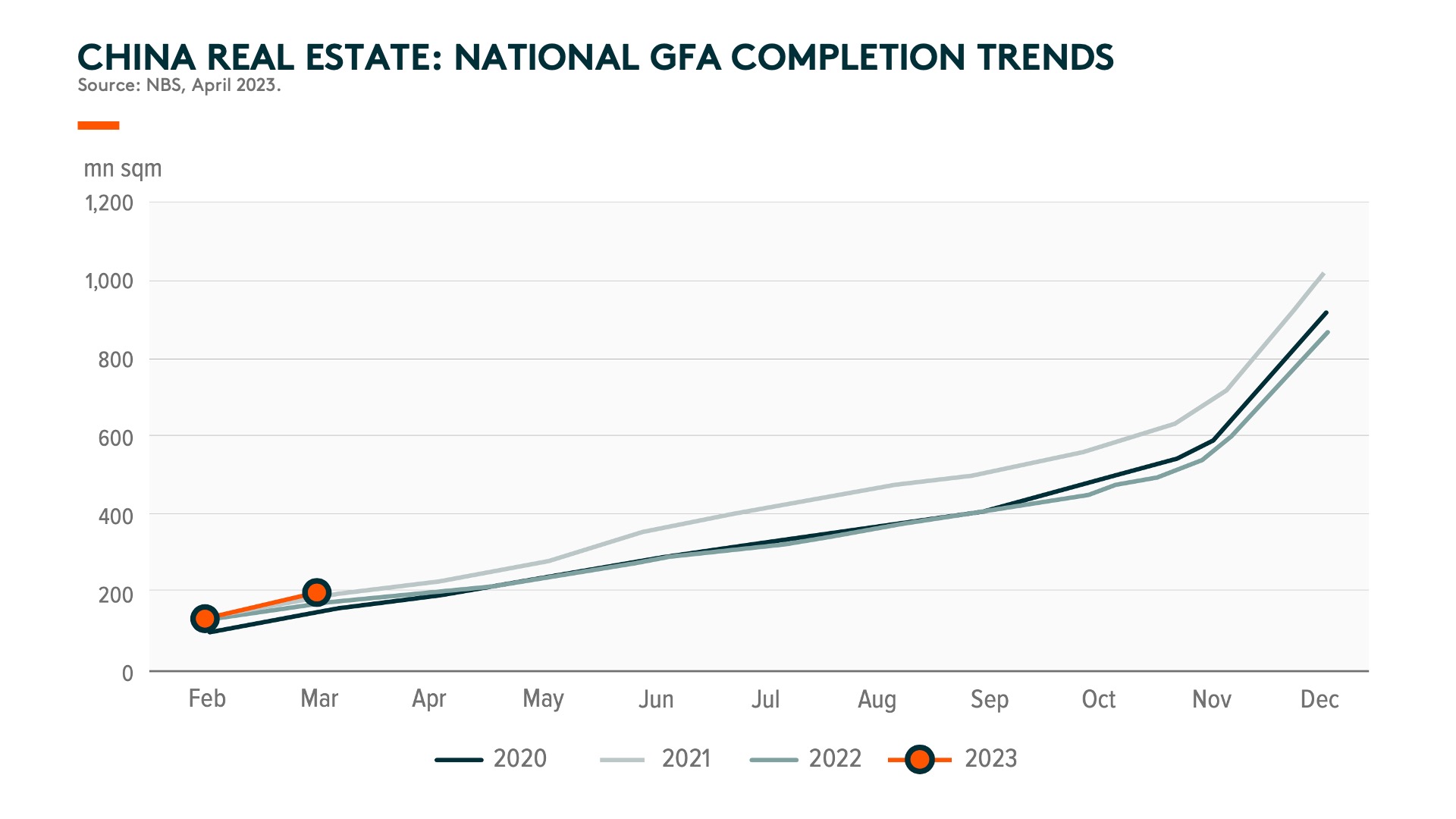 Q5: What's your view on sportswear brands?
Sportswear sector has seen continuous sales growth recovery in 2023, as commented by major sportswear brands like Li Ning and Anta. According to the two, March offline retail sales growth has significantly accelerated from Jan-Feb 2023, and retail sales growth further accelerated into April, driven by a recovery in offline foot traffic as well as consumer spending. Domestic brands gained meaningful market share since 2021 from international brands like Adidas. With their increased dedication on improving product quality and design innovations, we expect a continuously stronger brand recognition of domestic sportswear brands amongst local consumers.
Q6: What's your sense of valuations across consumer sub-categories?
Currently, 12 month forward P/E is approaching near five year low levels for most consumer categories5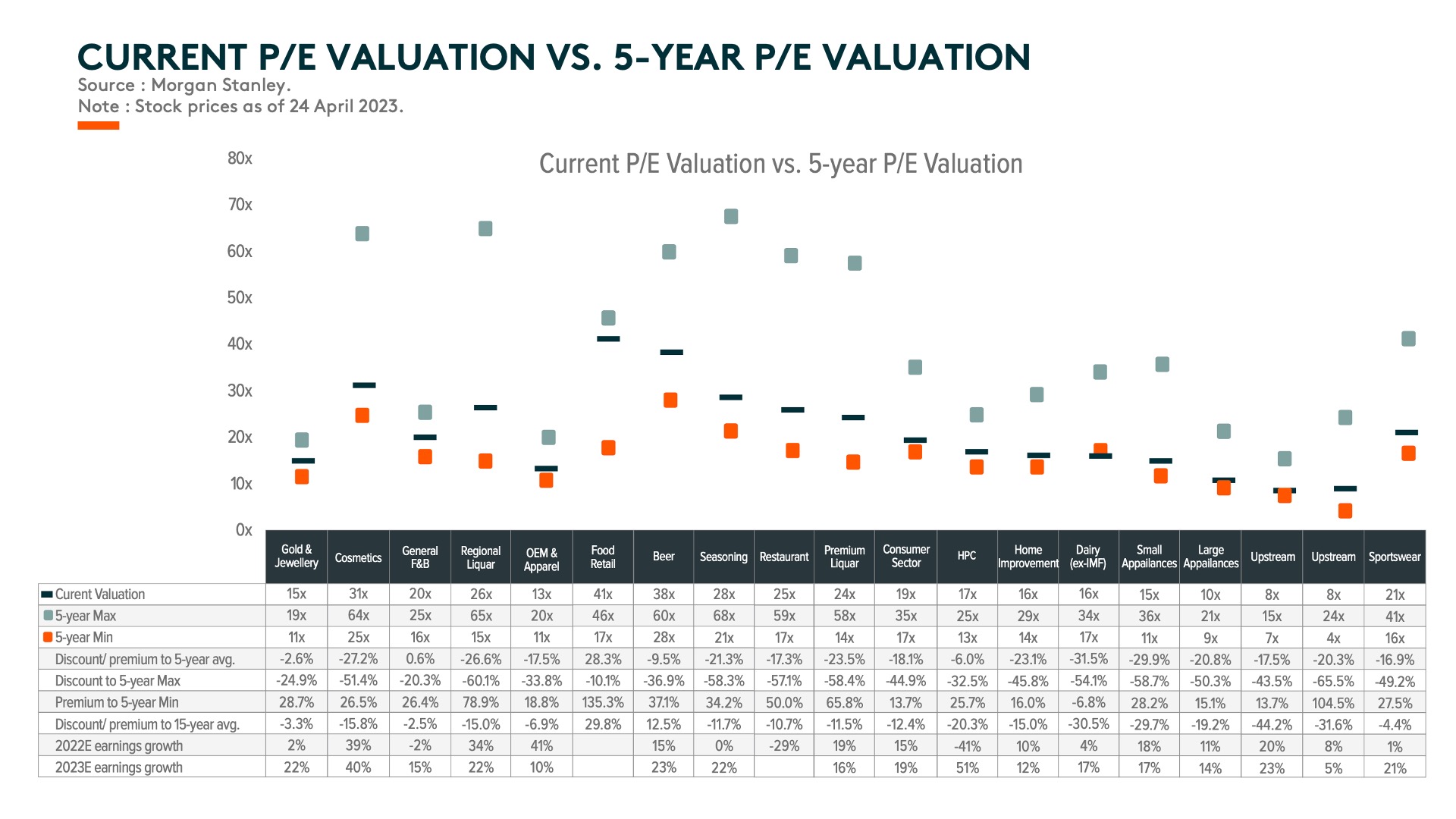 Q7: In most advanced economies, consumption is highly related to job market conditions. Is that the case in China? What is the most important indicator to forecast consumption trends in China?
Yes, similar to other advanced economies, consumption is highly related to the job market and income growth in China. This is why luxury spending and travel-related consumption have grown strongly this year, but the overall consumption recovery pace has been slower than anticipated. As mentioned above, we expect labor market and wage growth to recover in the coming months, improving consumer confidence and leading to overall consumption recovery in China.
Q8: Why do you focus on consumer brands vs retailers like e-commerce platforms?
China's e-commerce penetration has grown to over 35% of total retail growth in 2022E.6 E-commerce will continue to grow faster than overall retail growth, but the base has become big; thus industry growth rate is expected to be in the low-teens level in the next few years.
Consumer brands can have different growth paths for different categories and brands. Good consumer categories, such as sportswear, can grow faster than overall retail sales, and leading brands, such as Li Ning or Anta, can grow faster than overall sportswear growth. Thus, they deliver more attractive growth opportunities than retailers.
Local brands have been gaining market share across different industries, including sportswear, EV, cosmetics, etc. We expect this trend to continue for most consumer categories except for luxury goods. Thus, we believe investing in leading local brands can be a good way to ride on consumption growth in China.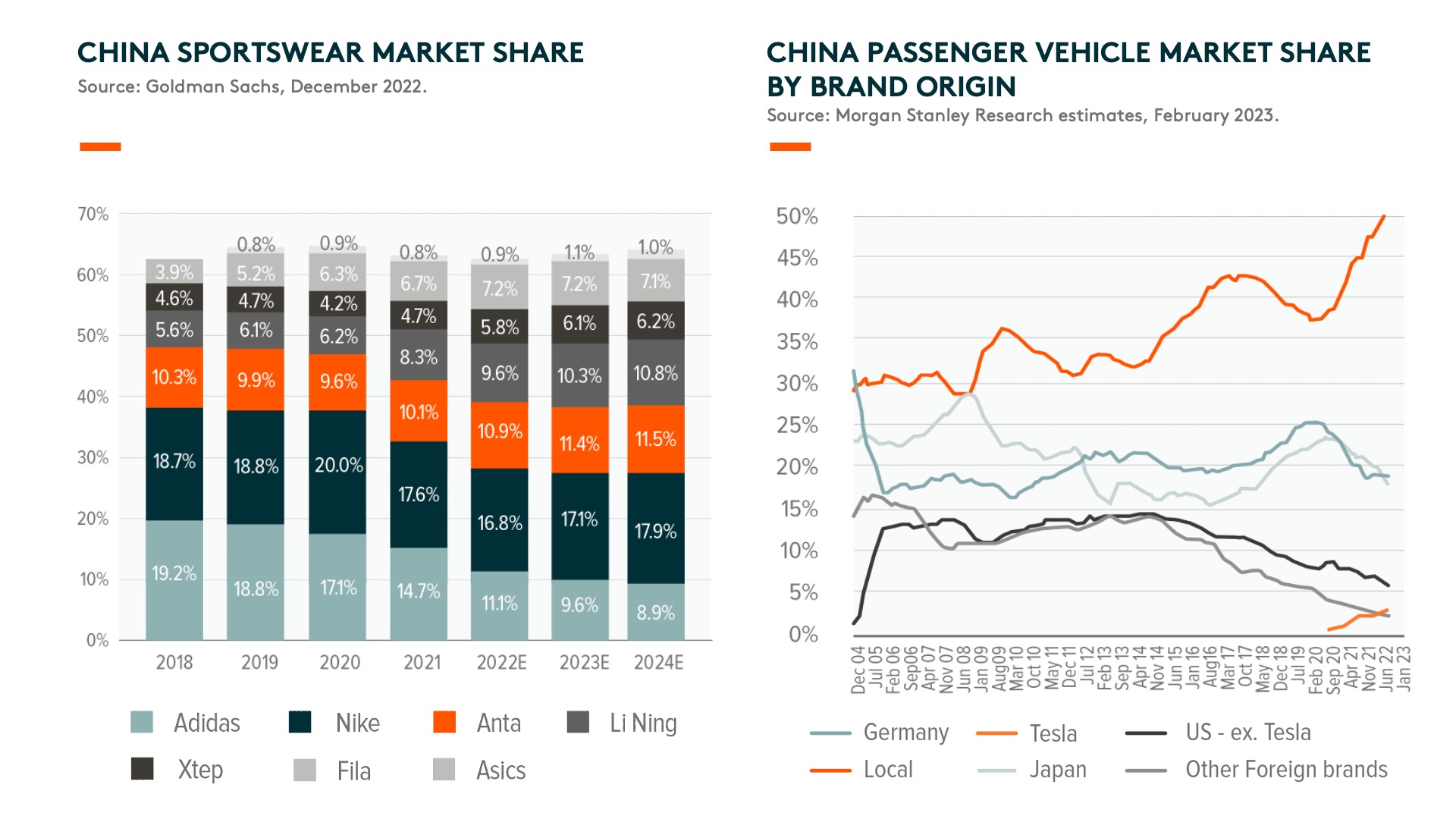 Q9: Thanks to well-established brand equity, consumer brands tend to have strong moats in mature economies. However, it might not be the case in China. What's your view on the competitive landscape for consumer brands in China?
Consumer brands also have strong moats in China, and these moats get stronger as the market gets consolidated. This is because it gets harder for new entrants to join the market and compete with companies with strong national brand. That said, it is true that China is still a more competitive market because the penetration level for many consumer categories is still low, and thus the growth rate for the industry is faster, so there are still new entrants entering the market to share the growth. Mass cosmetics is an example where locals have gained market share from foreign brands, and leading mass brands like Proya have delivered robust top-line and bottom-line growth but still have less than 2% of total cosmetics market shares in China. Thus, the company still has to maintain its competitiveness and cater to the fast-changing demand of young consumers while improving product quality to increase its share, build stronger moats, and make its brand more sustainable.
China's consumption is still at an early stage of long-term structural growth. Thus, winning brands may continue to change, but our concentrated China consumer brand ETF will try to capture the best local Chinese brands to ride on this consumption growth in China.