The Making of China's Sportswear Titans
As the 2020 Tokyo Olympics drew to a close, China announced a five-year plan to pump trillions into the sports industry. The timely move came on the back of mass regulatory clampdowns on big technology platforms, gaming, entertainment and gambling, that brought much uncertainty to markets.
However, the State Council's plan for the sports industry is no ordinary couch-to-5k fitness program—China intends to kick the sports sector into shape and transform the industry into a 5 trillion-yuan (US$774 billion) industry by 2025, by targeting better access and participation in sports, mass fitness events and stepping up the war against adolescent obesity.1
In particular, the government is paying particular attention to the young demographic, in a bid to pivot attention from after-school tutoring and online gaming—two industries that have come under recent regulatory pressure—and will require schools to implement a daily hour-long period of activity.
China is well-positioned to grow the sports industry, which is still quite underpenetrated compared to other countries, in our view. This suggests to us that an onslaught of increasingly sophisticated facilities and a demand for premium sports equipment and apparel could help boost sports participation from a top-down perspective.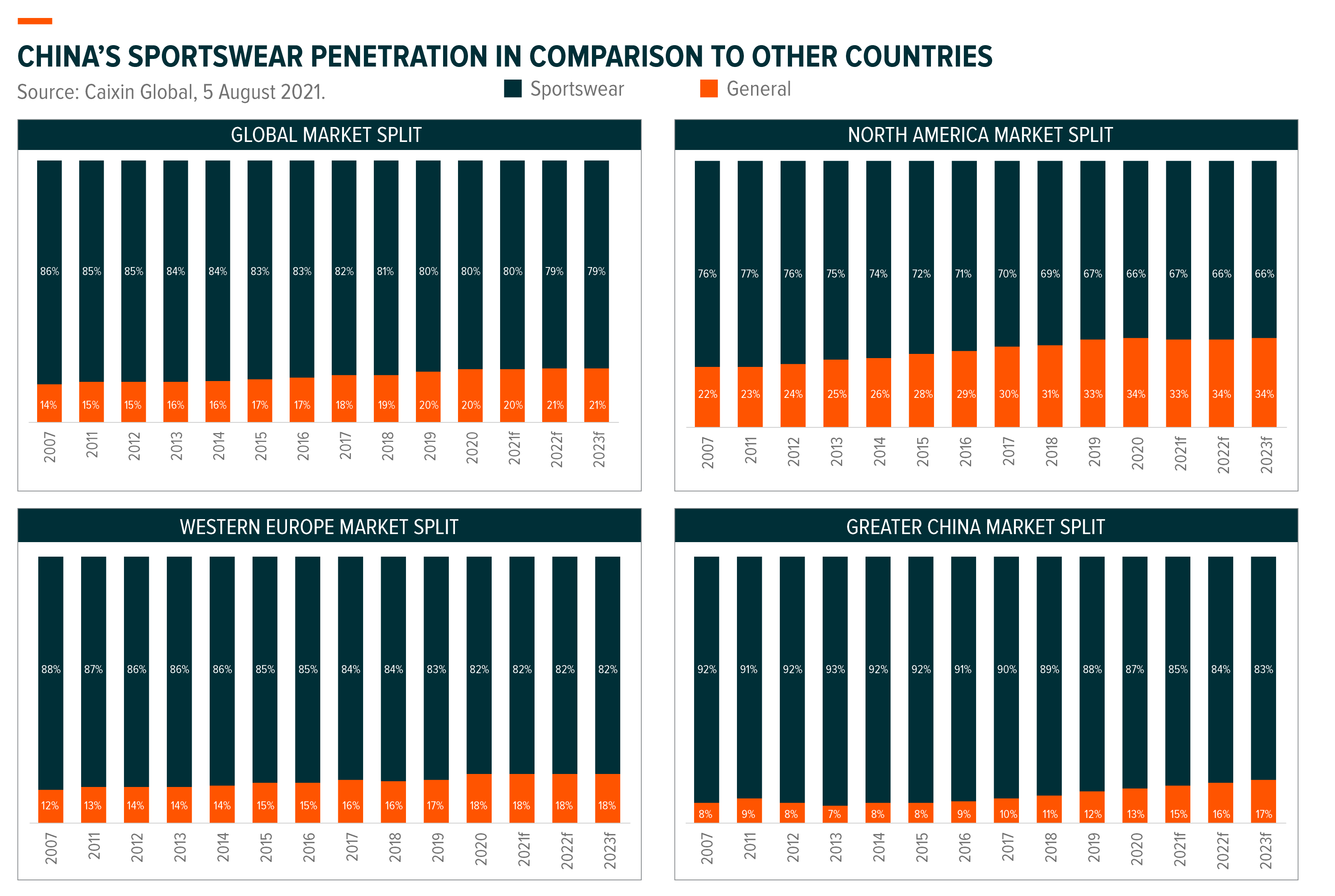 For example, Chinese citizens living in counties, towns and administrative villages and communities will be no more than 15 minutes away from a fitness facility. Mass participation events will also encourage people to hike and jog together, with a particular focus on "300 million participants on winter activities".2
China's Love for Winter Sports is Snow Joke
The winter sports market is at quite a different point in its lifecycle when compared to the mass market in the likes of Europe, which gives us reason to believe that there could be potential opportunities in this largely underpenetrated market. China's winter sports market has so much potential room for growth, on the back of the government's emphasis on an active lifestyle, a growing middle-class population and a boom in the athleisure trend.
Unlike other sports such as running, gym classes or yoga, skiing has a higher barrier of entry. Yet as disposable income rises in China, the costs associated with winter sports have become more manageable for the Chinese population. That said, the Chinese ski market remains relatively untouched. There are currently 13.2 million skiers in China that equates to just 1% of the population, or 1.5% of the urban population, far below the 9% or 8% of the population that ski in Japan and the US.3 As such, we believe the upcoming 2022 Beijing Winter Olympics is set to drive this burgeoning winter sports industry, and in turn boost demand for ski apparel.
Ski culture has not yet made its impact in China either. The activity is considered more of a form of entertainment, rather than an official sport. Of those that visit the slopes, they do not visit more than once per season, while 75% of those are one-time skiers.4 However, as more of the population become acquainted with the slopes, amateur skiers will gradually improve their skills, and may even buy their own equipment and drive demand for premium ski-related goods.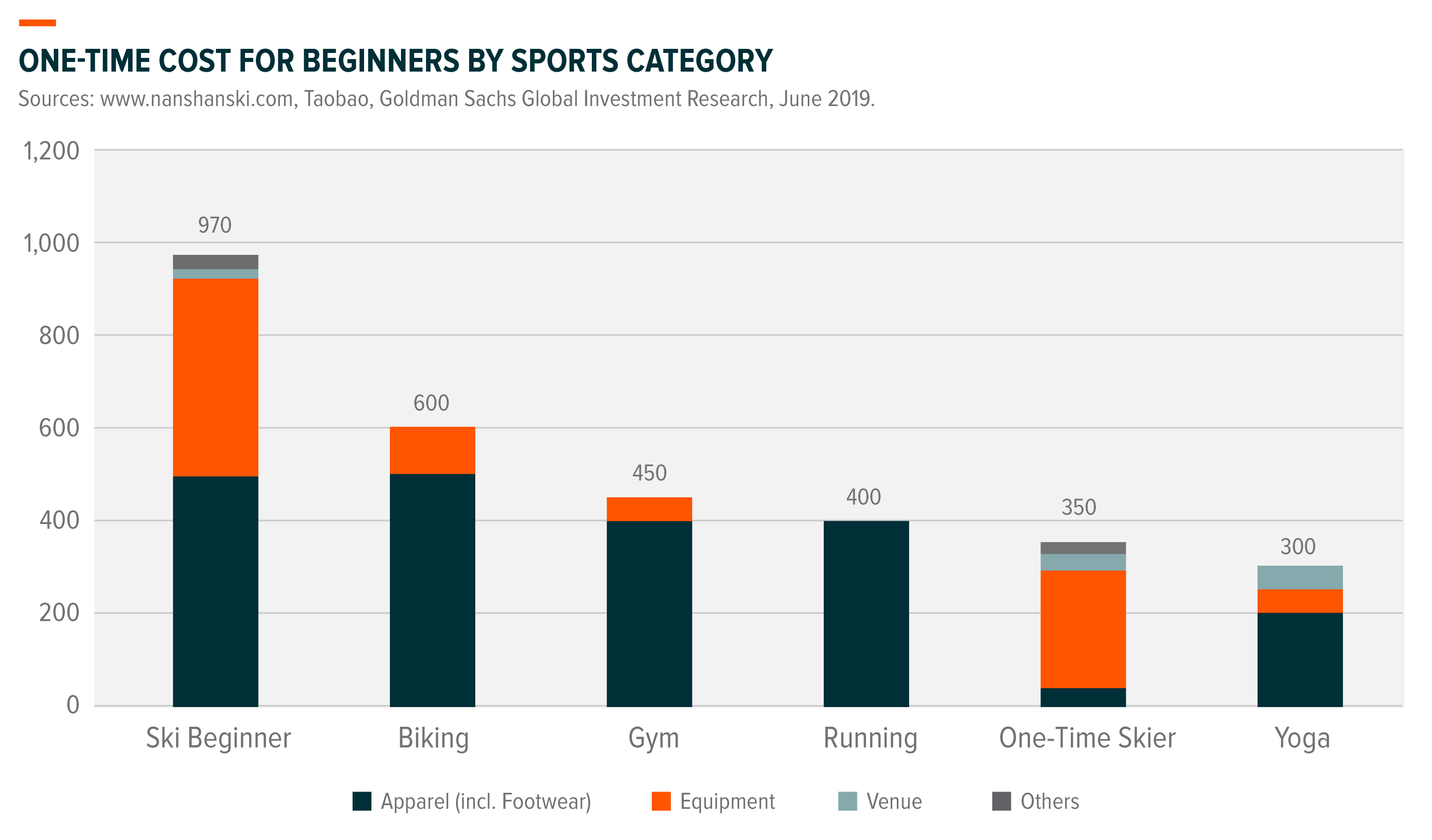 As consumers become more sophisticated, domestic brands such as Anta and Li Ning, which have built a solid Chinese following, are well-positioned to benefit from this long-term trend. Both are strong global players covering the premium segment of the sportswear and outdoor apparel sector: Li Ning capitalizes on national pride and leverages the guochao trend, while Anta has a strong multi-brand strategy that encompasses a wide range of sportswear, from mass-market sports clothing, to specialized climbing or professional winter sports names. It is generally expected these domestic names will likely gain more market share from competitors—local brands on the whole are priced lower than international peers.
A Race at Home
Domestic brands are becoming more competitive for a variety of reasons: i.) research and development (R&D) spending is on the rise, ii.) brands' prominent locations in shopping malls are gaining consumer attention as direct-to-consumer (D2C) strategies are meeting consumer demand at a much faster pace and, iii.) celebrity endorsements are elevating Chinese brands to domestic consumers.
We've observed these domestic brands increasing in popularity on the back of favorable political conditions, and consumers pivoting to home-grown brands after Western brands became embroiled in the Xinjiang cotton controversy. For example, Xiao Zhan's appointment to market Li Ning, and Wang Yibo's promotion for Anta is a clear signal that consumers have pent-up demand for quality Chinese products, creating a virtuous cycle that could lead to domestic names taking more market share from giant sports names such as Nike or Adidas.
On the whole, China's sports blueprint means there is much potential for sports-related businesses to thrive over the next five years, as a combination of increased sports participation and national pride are driving demand for quality domestic brands among consumers.