China is Next Frontier in ERP Market
ERP (Enterprise Resource Planning) is primarily a back-office software that helps manage business operations. For most organizations, ERP is the core system of record, particularly for the financial and operational aspects of an organization. Key sub-categories include Enterprise Asset Management (EAM), Financial Management System (FMS), Human Resource Management (HCM), Payroll, Manufacturing and Operations.
As one of the largest verticals within horizontal software, ERP products can help enterprises 1) synchronize internal operations, and more efficiently manage human resources and other assets, 2) make decision-making more organized and well-documented, and 3) allow for greater standardization in business process, routine tasks, and compliance matters. Choosing to deploy an ERP system in China can be a difficult decision as ERP is deeply integrated with an enterprise's daily operation and more complicated in nature due to various product sub-categories. A poorly-deployed ERP system can become a major liability and even disrupt the workflow it is meant to streamline.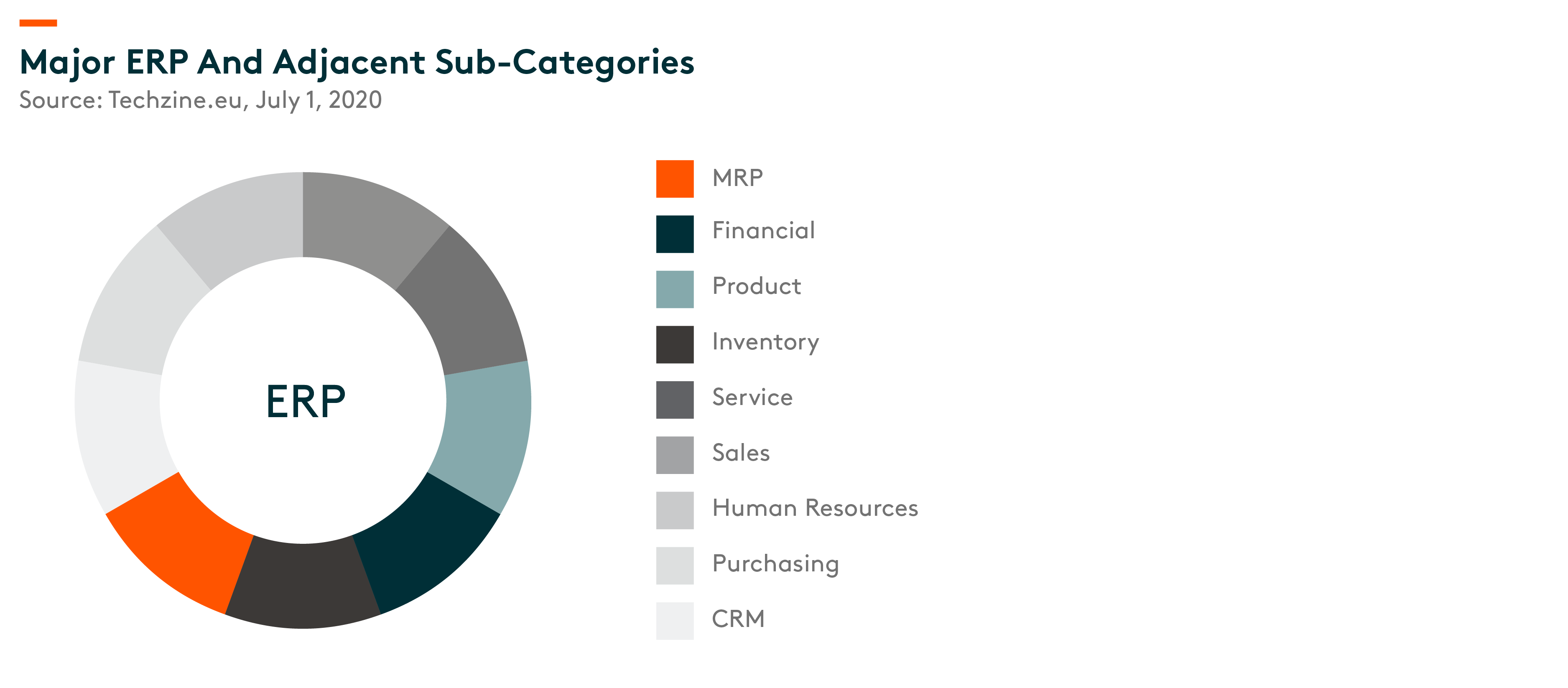 With Chinese enterprises' increasing pursuits for higher operating efficiency and technology upgrades, we believe spending on ERP software will continue to rise. According to Qianzhan[Nov. 2020] and our own estimates, the total market size for China ERP vertical (include both on-premise and cloud-based products) is set to grow at a 14% compound annual growth rate (CAGR) (2018-23E) to Rmb53bn, with cloud penetration reaching 25% by 2023E.
The industry is currently witnessing two trends, namely 1) localization, and 2) cloud migration.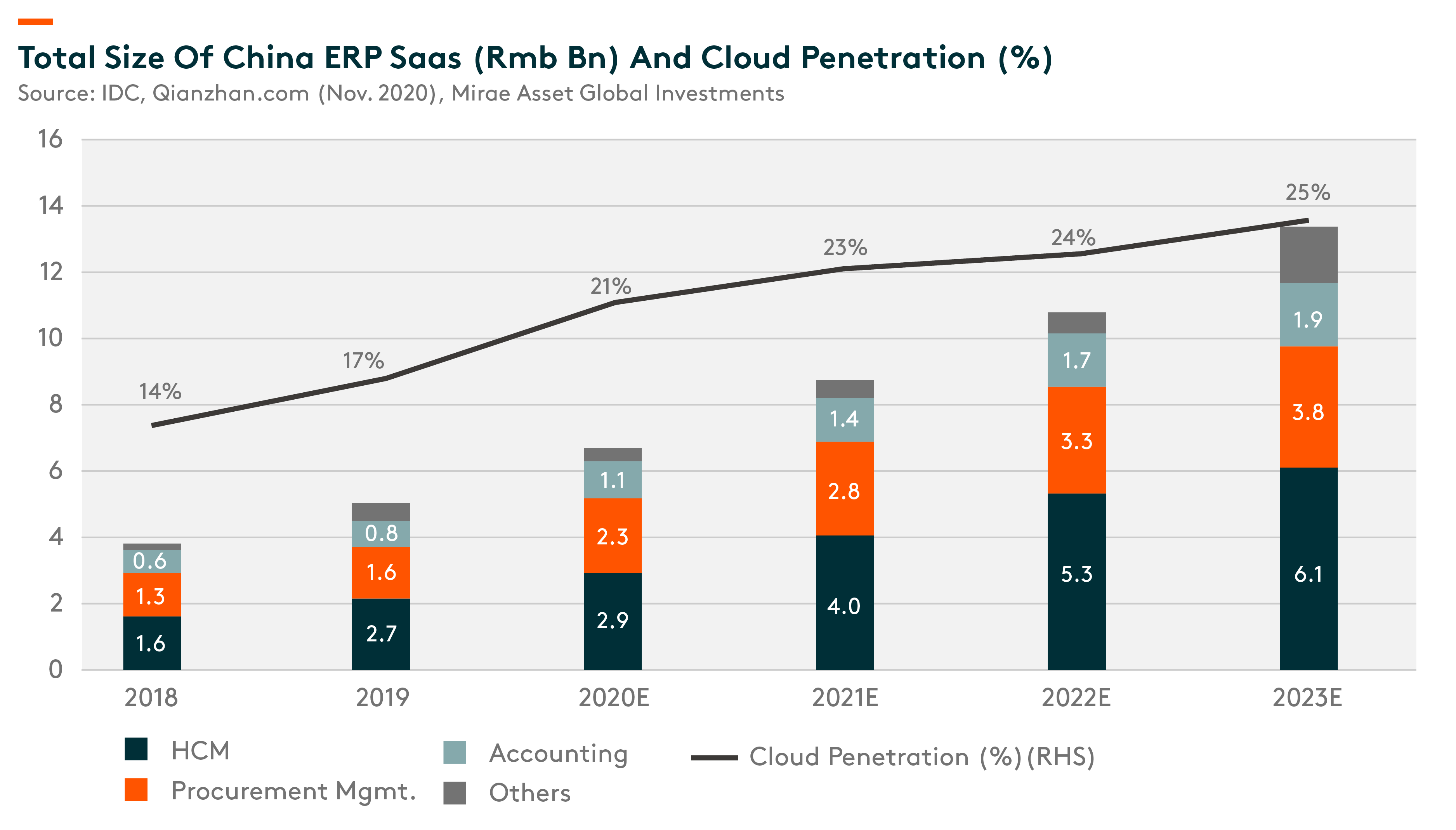 Localization
Historically, the high-end ERP market has been dominated by foreign vendors including SAP and Oracle, while local players focus on government, SOEs (stated-owned enterprises) and SMEs (small and medium-sized enterprises). According to Jefferies (Aug. 2020), Oracle and SAP together account for roughly 40% of China's ERP market revenue (53% customer share at high-end), while Kingdee (9%) and Yonyou (19%) comprise 28%.
Amid rising geopolitical tensions, the Chinese government released guidelines to promote software localization, which aims to support technology development and customer adoption of domestic software providers. Large domestic players such as Kingdee and Yonyou, which have accumulated extensive industry know-hows to develop SaaS-based platform for enterprises and governments, are set to take market share from the incumbents in our view.
Kingdee, a leading ERP software provider with more than 20 years of experience, primarily focuses on serving private enterprises. Kingdee has a well-balanced on-premise ERP software portfolio to meet the demand for all market segments: EAS for large enterprises, K/3 for medium-sized customers while KIS for SMEs.
Yonyou is an ERP vendor headquartered in Beijing. In the on-premise software era, Yonyou's rich experience in serving SOEs and the government has allowed it to rapidly grow revenue and increase market share.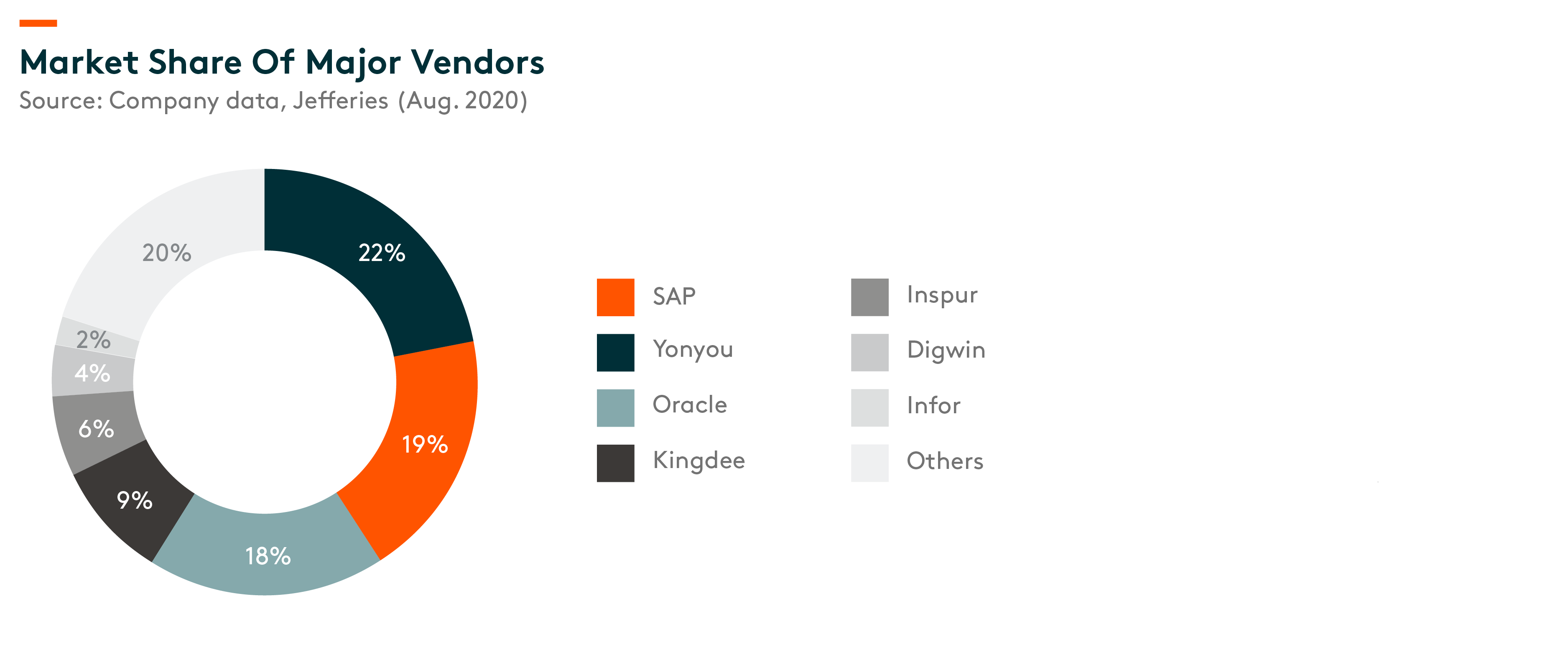 Cloud Migration
Like other software verticals, ERP is rapidly moving onto cloud. Compared with traditional on-premise product, which is procured by enterprises under licensing contacts and generally renewed every 3-5 years, cloud ERP product charges annual subscription fee with pricing meaningfully lower than on-premise products. Compared to licensing model which generates single cash flow stream (upon purchase), we view subscription model as more sustainable with steady cash flow generation and higher customer life-time value.
In addition, the implementation of on-premise ERP system is complex as it is often integrated into many more systems than other enterprise applications and is the repository of record for many organizations' most critical information. Therefore, a switch to cloud deployment makes sense as less effort is required in terms of implementation and no physical hardware procurement is needed either. In our view, this has lowered the adoption costs and made software procurement decision making more organized, especially for SMEs.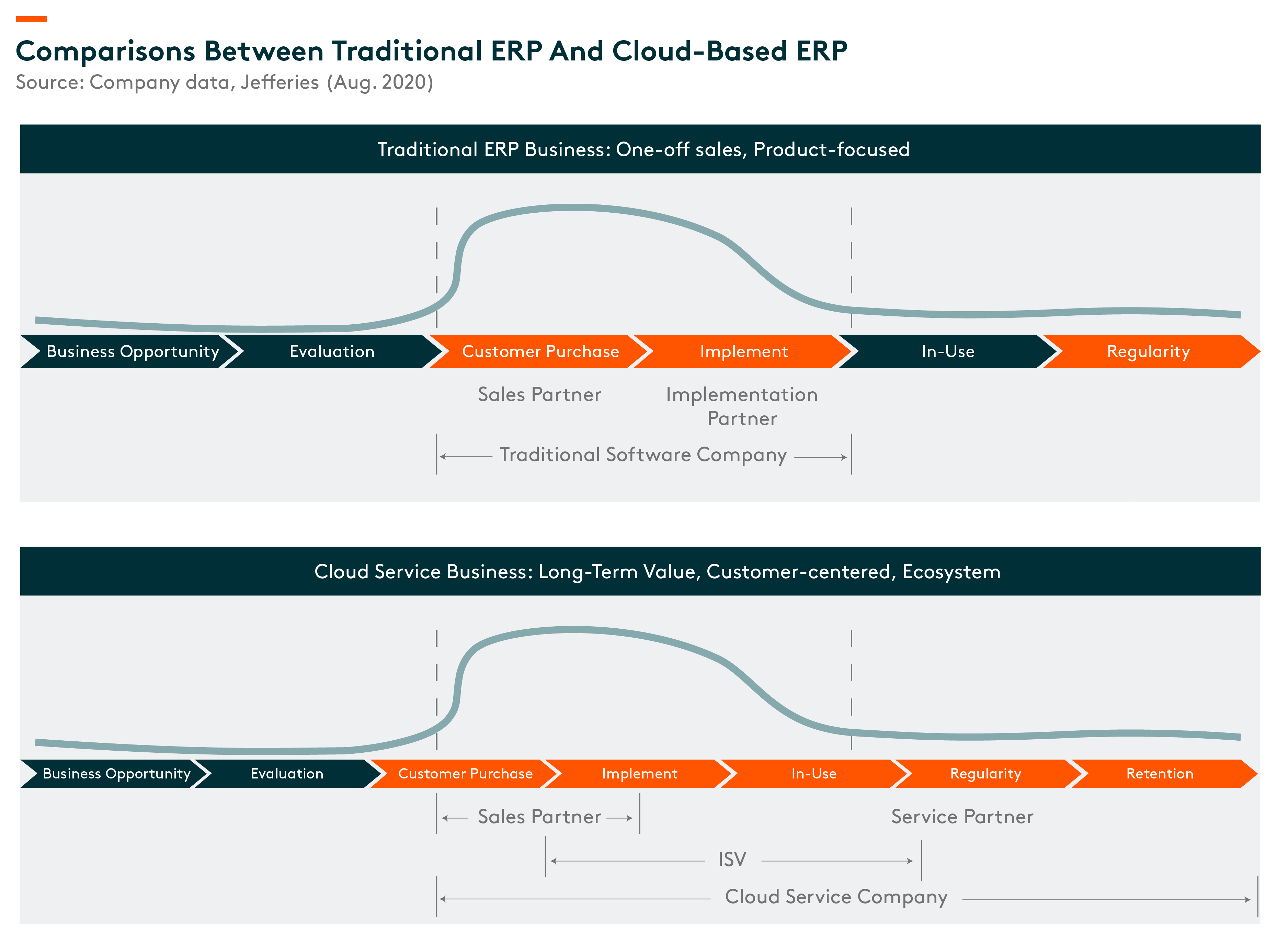 Kingdee established its first-mover advantage and led in China's cloud ERP market. On August 8th 2018, Kingdee launched its high-end cloud platform product Cloud Cosmic. With this product the company aims to expand to the high-end market. As of Dec. 2020, Cloud Cosmic had 367 customers (some flagship customers include Huawei, China Mobile, SF Express, etc.), with an average contract size per customer at Rmb1.3mn, according to the company's 2020 annual result announcement. (March 2021)
In 2020, about 60% of Kingdee's total revenue was from cloud ERP, according to the company. As the company plans to gradually phase out its traditional on-premise ERP products, we expect continuously rising contribution from cloud, and improving profitability as revenue scale of these cloud ERP products scale.
Yonyou launched its 3.0-II Strategic Plan for 2020-2022, aiming to focus on pure PaaS+SaaS (Platform-as-a-Service, Software-as-a-Service) ERP development. In addition, the company announced in March during its 2020 annual result call that it would increase headcount by 2,500 in 2021 (15% YoY), among which >1,500 will be in R&D for development of cloud platform offerings such as YonBIP and YonSuite.
As it is very expensive and time consuming to enter the ERP market with a full ERP solution, it is less likely to see new competitors in this market or for vendors that do not have SaaS ERP solutions to become a viable competitor.