Introduction to China's Logistics
Logistics is the backbone of the fast-growing e-commerce industry in China, improving the connectivity of businesses across the globe. The industry is also an important enabler for more complex supply chains and value-added services in China. For instance, air transportation, pick-up lockers and cold chain capabilities for temperature-sensitive packages are now part and parcel of the fast-growing logistics industry.
As online shopping penetration continues to rise in China, delivery services are critical to online businesses that require timely and cost-effective ways to deliver products. On average over 200 million express parcels are shipped every day across China, with around 70% derived from e-commerce transactions.1 The express delivery industry in China has expanded over the past decade, with a compound annual growth rate (CAGR) of 43% during 2010-2020.2 This is broadly consistent with China's e-commerce gross merchandise value's (GMV's) compound annual growth rate (CAGR) of 37% during the same period.3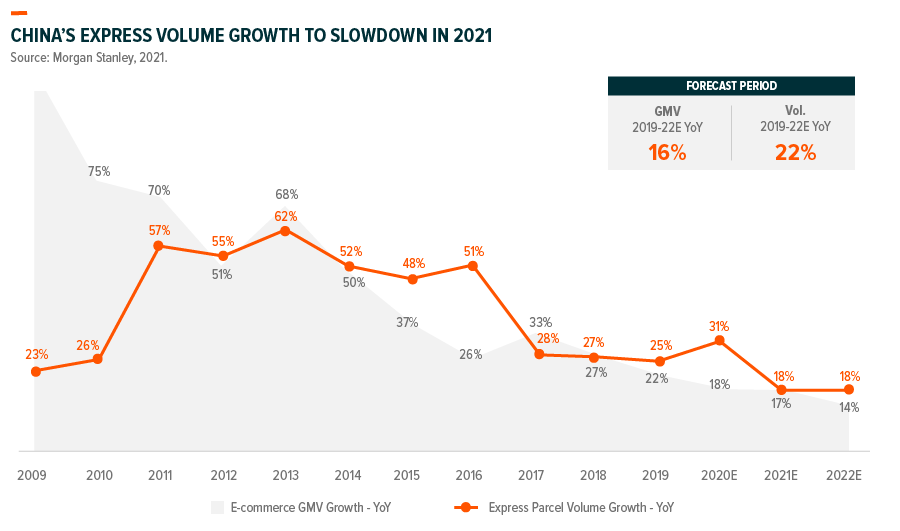 A Tale of Two Business Models
In China, express delivery companies typically operate under one of two business models, direct ownership, or a franchise model. The top industry players that we're following closely and operate under the direct-ownership model include SF Holding, JD logistics, EMS, and China Air Express. These companies often own the logistics infrastructure and can control the delivery process and services. This is particularly suitable for time-sensitive and bulkier deliveries that are often in high demand from businesses. By offering a competitive and premium service, companies under the direct-ownership model often have the flexibility to charge higher premiums and earn a higher profit per parcel.
In comparison, franchise owners including ZTO, Yunda, YTO and STO can often scale operations at a rapid pace and offer a cheaper service for smaller parcels, though the quality of service may vary across a franchise.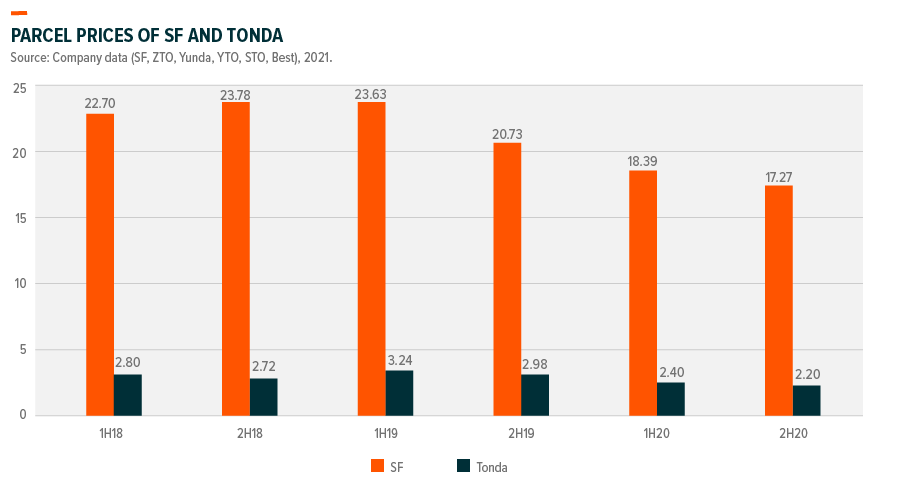 Many express delivery companies across China have expanded aggressively over the last few years, as a result of the aforementioned franchise model and market consolidation. The top five players accounted for 73% of parcel volume in 2020 vs. 57% in 2017.4 These companies were able to benefit from the scale expansion through higher utilisation of logistic capacities, coupled with lower unit fixed costs.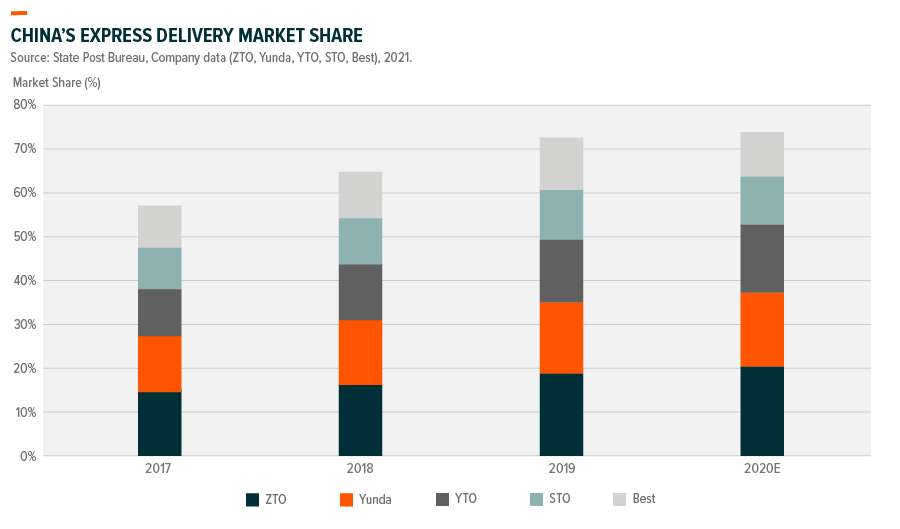 During periods of market consolidation, the environment can often spawn a "race to the bottom" through hyper-competitive pricing targeted towards smaller parcels, where customers are generally more price sensitive. The reach of the growing logistics network in China encompasses those businesses in the major cities, as well as those in the rural areas. As market consolidation continues and competitor dynamics settle, we could see the top market players regain pricing power and improve per-parcel profitability.