China Internet Sector Outlook
China's Internet Sector Expected to Recover with Focus on Prudent Spending
China's internet sector represents the largest weight of the Hang Seng TECH Index at nearly 55%.1,2 With the extensive regulation releases now behind (e.g. anti-monopoly regulation, personal data protection law, minor-protection law, etc.) and the overall internet sector regulatory environment normalizing, we expect revenue and earnings growth of relevant companies to gradually recover into FY23 . Moreover, the 3-year impact on consumer spending and the macro economy due to COVID measures is now at a turning point as China relaxes its COVID control measures.
Although internet platforms might shift back to cash-burning mode in pursuit of new users or consumer wallet share gains, we expect these companies to become incrementally more prudent with their spending. Rather than excessive spending on sales and marketing initiatives , we expect internet companies to focus on quality growth with continuous efficiency improvement through cost controls. As a result, in addition to improving company fundamentals, the sector should also see a valuation multiple repair. For example, major concerns like ADR de-listing risks have taken a material turn as the US PCAOB's positive audit inspection results for ADRs removed any imminent de-listing risks for US-listed China internet names .
Since 2021, Chinese internet companies have increased share buybacks and dividend payouts to improve shareholder return. However, compared to US internet names, China's internet sector still trades at a ~20% discount (as of 9 January 2023, according to Bloomberg) even after a sharp rally since mid-November. This implies further valuation multiple recovery alongside an earnings growth re-acceleration.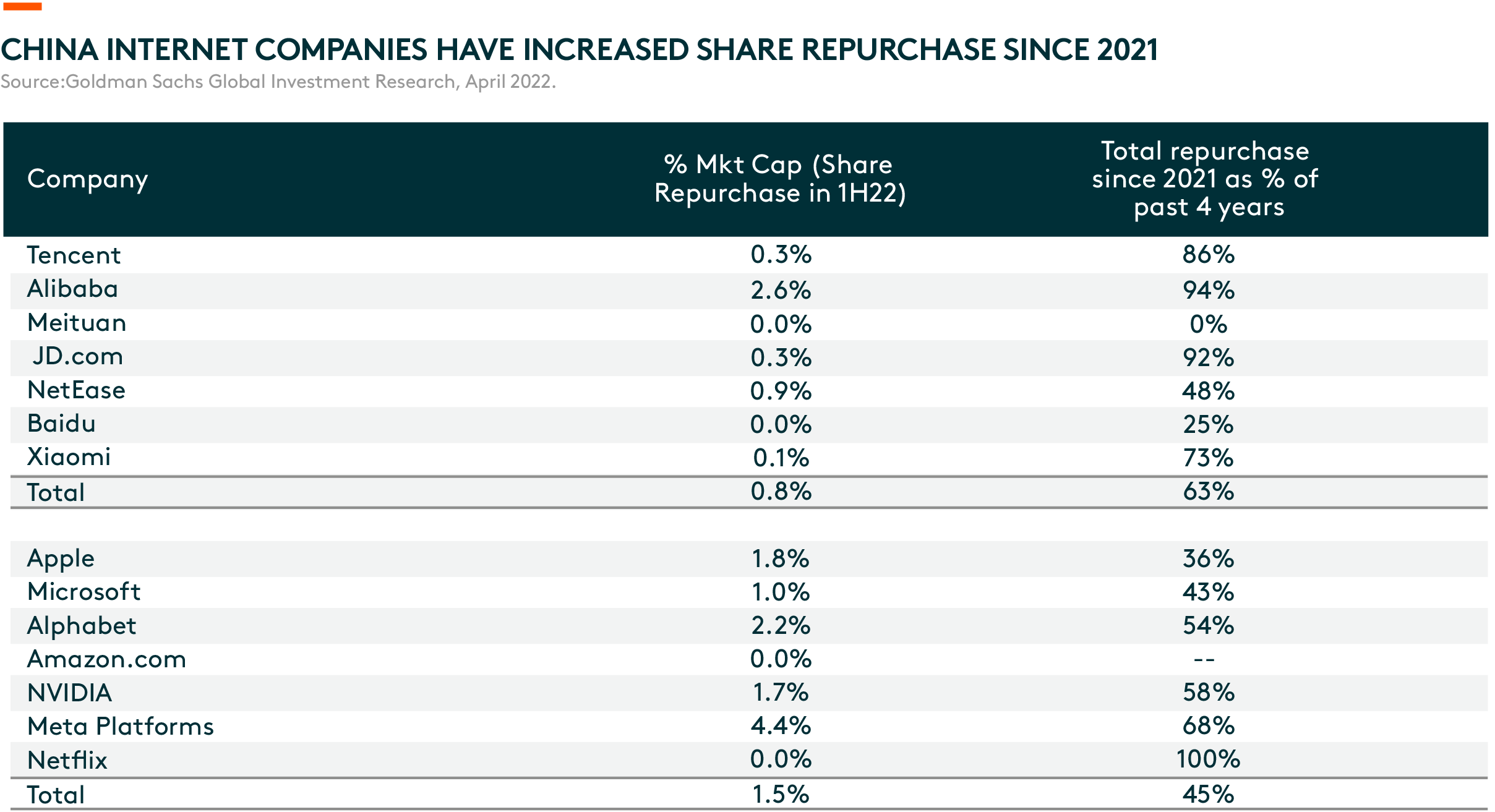 Growth Opportunities in Online Gaming, Advertising and E-Commerce Driving China's Internet Sector Recovery
Now let's take a look at individual sub-sectors. Driven by positive developments with both international game license approval and several blockbuster games approved in December 2022, we expect further approval of blockbuster titles for major online gaming companies in 2023. New title launches in a normalized game license approval regime should help offset the shift in time spent on online games during the reopening. In addition, the impact of the minor protection law on time spent and in-app spending should re-base after 2022 (full-year impact).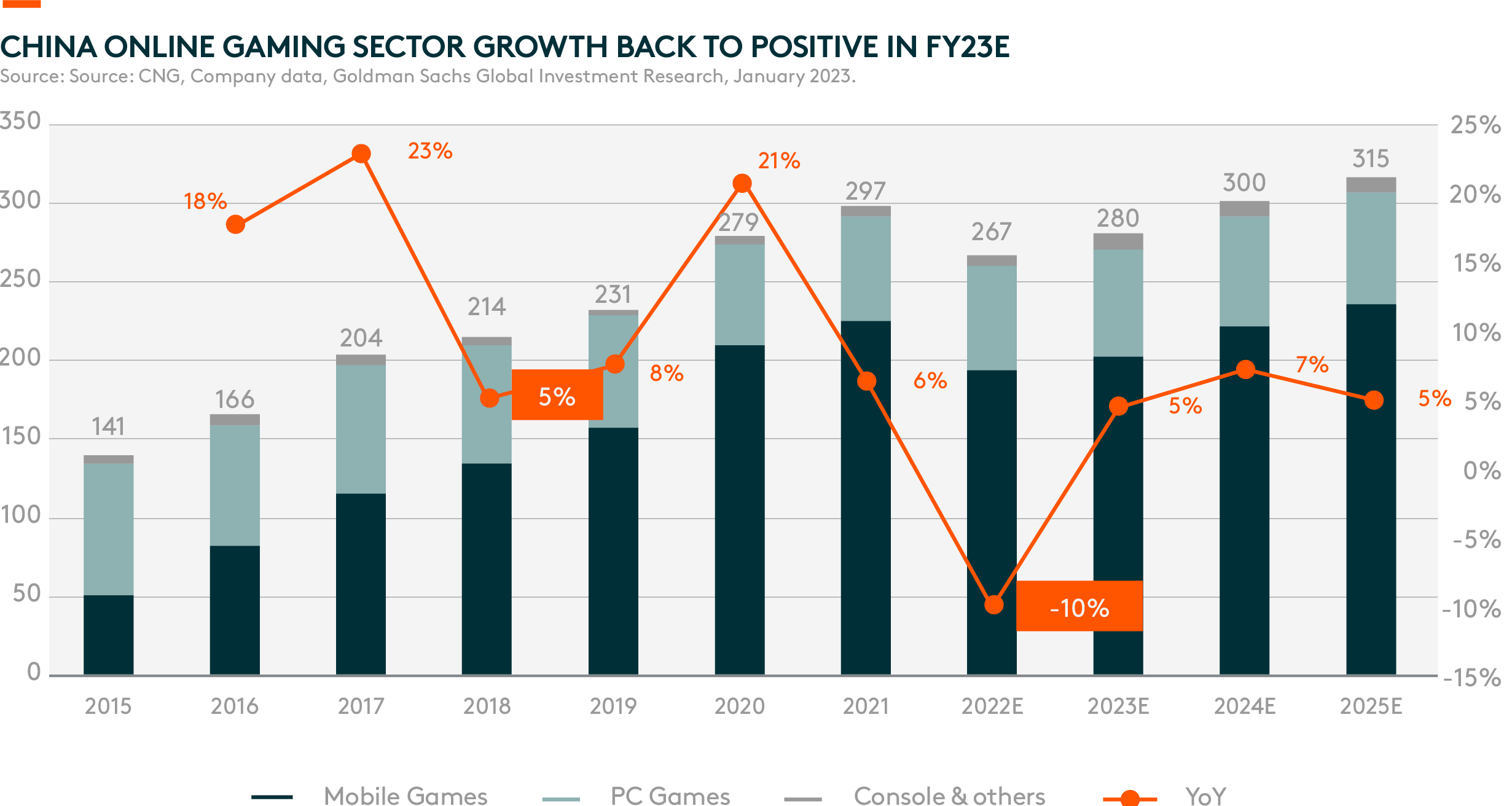 For the advertising sector, the market is forecasting a strong rebound into the second half of 2023 given the late-cycle nature of the industry. In 2022, e-commerce ads were most resilient with positive growth across Pinduoduo online marketing, and Douyin and Kuaishou's internal transacted e-commerce ads. Merchants/brands relied on online direct response channels to drive sales, followed by generic search ads at single-digit year-on-year declines, while brand advertising declined by double digits. This trend should reverse into 2023, with a full reopening, alongside a low base for brand ads in 2022 which will bring a bounce back.
In 2H22, China's e-commerce was affected by macro headwinds and the Covid outbreak after business momentum picked up during the 618 Shopping Festival. As China has announced its reopening, we expect consumer sentiment to improve and e-commerce platforms to experience growth recovery in terms of gross merchandising value (GMV). In the medium to longer term, the Ministry of Commerce laid out a five-year forecast for sector GMV CAGR of 7.5% between 2020 and 2025, which provides better visibility on sector trends.