China Game & Entertainment Industry: H1 2022 Review
With game license approvals gradually resumed since April, sentiment on the online game industry has finally improved. A smaller pool of games is expected to get approved under the new license approval regime, forcing gaming companies to focus on the development of resources for a fewer number of titles, mainly premium ones. For the first two batches approved so far, the Chinese government has prioritized small to medium-sized gaming studios over the large ones. Into H222/2023, the market is expecting several global IP title releases, including Diablo Immortal (China) and DnF Mobile.
For the online entertainment industry, short-form video continues to take more share in terms of user time spent. Livestreaming platforms have seen a new round of regulations that set limits on PK ( player kill) functions and the removal of spending ranks, potentially curtailing users' willingness to tip. However, we expect such a set of regulations to likely mark the end of this round of regulatory tightening for the industry.
Game License Approval Resumption Incrementally Positive
On 11 April, the National Press and Publication Administration (NPPA)'s approval of the monetization license (Banhao) for 45 domestic games marked an official close to the 8-month long game license issuance suspension, vs. the 9 months pause in 2018. The resumption is incrementally positive to the whole industry and could re-vitalize the overall gaming industry sentiment and continued investment/R&D into new games.
Regular game approvals are likely to normalize towards a monthly release schedule in the future, though the total number of approvals per batch may be fewer than the pre-suspension period of an average of 102 per batch from April 2019 to July 2021 (according to NPPA during the corresponding period). The decrease in the number of approvals forced gaming companies to focus on the development of resources for a fewer titles, mainly premium ones, potentially leading to a higher quality of games to be released going forward.
As evidenced by the games approved so far, Chinese authorities have been prioritizing those from small to medium-sized gaming studios over the large ones like Tencent, NetEase, and Bilibili, due to the former's higher reliance on a single game title which makes them more vulnerable to license approval halt. That said, we expect gradual approvals of titles developed by larger gaming companies in the future, driving improved revenue growth trends domestically.
Looking ahead, global IP titles like Diablo Immortal (mobile game jointly developed by Activision Blizzard and NetEase) and DnF Mobile (mobile version of the legend PC game Dungeon & Fighter) are expected to be approved in the second half of the year or early 2023, in our view.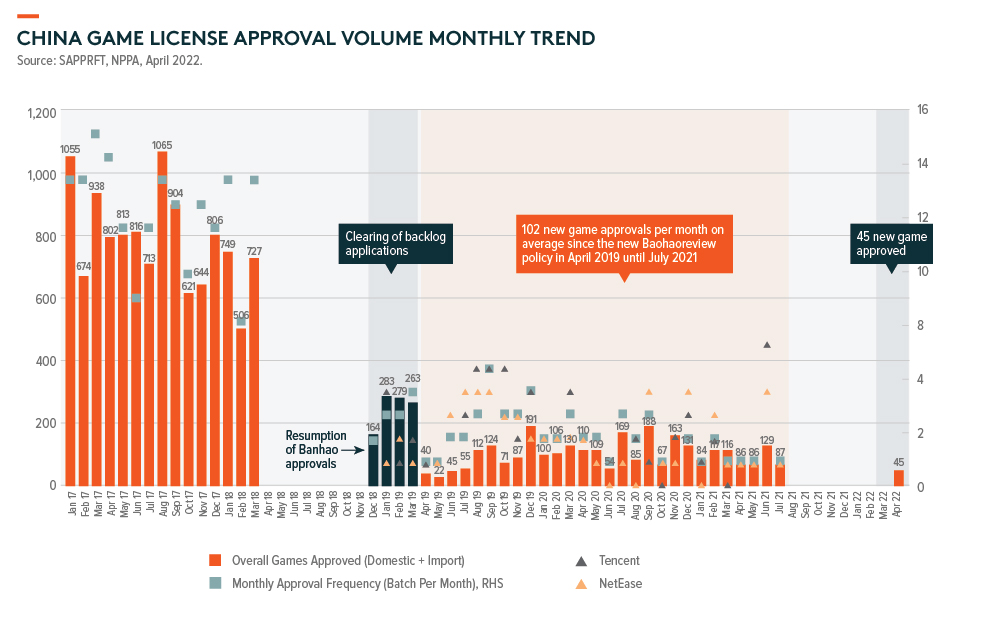 Post-Covid Normalization a Global Concern
The global mobile game industry (ex. China) is in the midst of a transition due to tough comps created by the pandemic benefits for the majority of 2022. In fact, global mobile game grossing saw another YoY decline of 8% in May, according to SensorTower. As a result, we expect lower international game revenue growth for Chinese gaming companies from Q2 2022.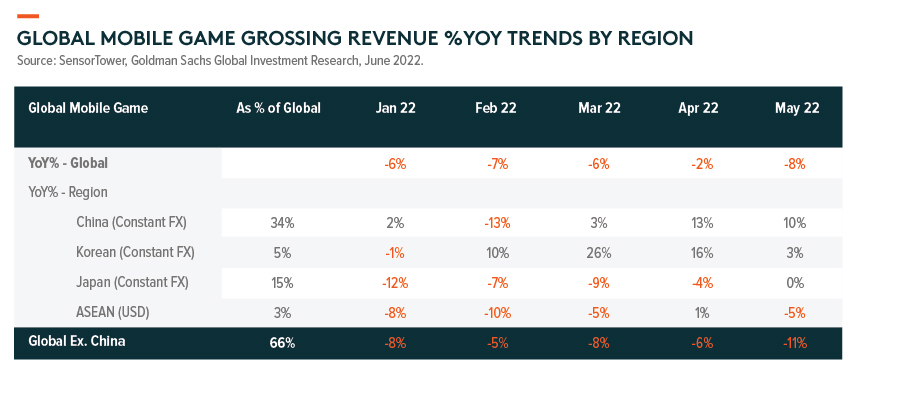 Entertainment: Last Round of regulations Likely on Livestreaming
In May, Chinese authorities jointly issued a note regulating live streaming tipping, which took effect on June 7. The new rules require live streaming platforms to 1) limit the number of cross-channel player knock-out (PK) battles to two per account from 8pm-10 pm each day and prohibit "punishment" for PK losers; 2) remove user tipping ranks, and 3) ban minors from tipping and acting as streamers.
The set of regulations likely marks the end of this round of regulatory tightening (started in 2020) and should help lead to the healthier development of the industry. Some platforms have added daily spending reminders (users can voluntarily activate the function), which should help to reduce impulse spending and address clauses stipulated in the Feb 2021 guidelines.
The limits on PK functions and the removal of spending ranks will curtail users' willingness to tip. The new regulations have been effective since June 7 and, thus, will have a 24-day impact on Q22022 and a full-quarter impact from Q3 2022. Company projections announced thus far on the expected impact of the regulations on daily grossing range from mid-single-digit to teen percentages.
Growing E-Commerce with Livestreaming during 618
The annual 618 shopping festival concluded recently. According to Syntun, live streaming continues to be a fast-growing channel not only among live streaming players but also on traditional e-commerce platforms. More specifically, live streaming e-commerce GMV grew by 124% YoY and contributed more than 21% of the total shopping festival sales (Syntun, June 2022), doubling its contribution from last year's 11% (according to Taobao Livestreaming, Nov. 2021).
Livestreaming, as an interactive and entertaining format, continues to attract major brands and merchants, who are now more inclined to conduct in-house brand live streaming sessions rather than hiring KOLs (key opinion leaders) mainly because of already established brand awareness amid consumers. This should mitigate some negative impact from the absence of key KOL like Austin Li, who contributed Rmb11.5bn GMV (US$1.8bn) during last year's Singles' Day presale live streaming.
Short-Form Video: Continued Momentum
The short-form video remained the structural winner in 2021/2022, further expanding its user time spent market share to 27.7%by Feb. 2022 (according to QM, April 2022), with ByteDance, in particular, taking share from other internet giants.
The proliferation of feed products/features and the ramp-up in user traffic monetization at those platforms have added a large amount of incremental ad inventory to the industry, and thus have further intensified competition and led to higher pricing pressure for Tencent's social ad business.