China's Endeavor to Close the Gap in Chipmaking
China's semiconductor market is the largest in the world. In 2018, China imported US$312.06 billion worth of integrated circuit (I.C.) products, representing 34% of global semiconductor consumption. However, domestic Chinese manufacturers are only capable of covering 5% globally. This indicates a significant mismatch in domestic supply and demand.
Amid the ongoing US-Sino trade tensions and to rebalance China's dependence on foreign semiconductors, the Chinese government has accelerated its efforts to improve its domestic semiconductor manufacturing capabilities, being self-reliant domestic chip makers.
With the goals outlined above, China strives to develop a domestically viable semiconductor industry, focusing on recruiting highly skilled talents and professionals and pursuing defined sectoral goals. We will discuss how China cultivates its expertise and analyze the development of focused sectors.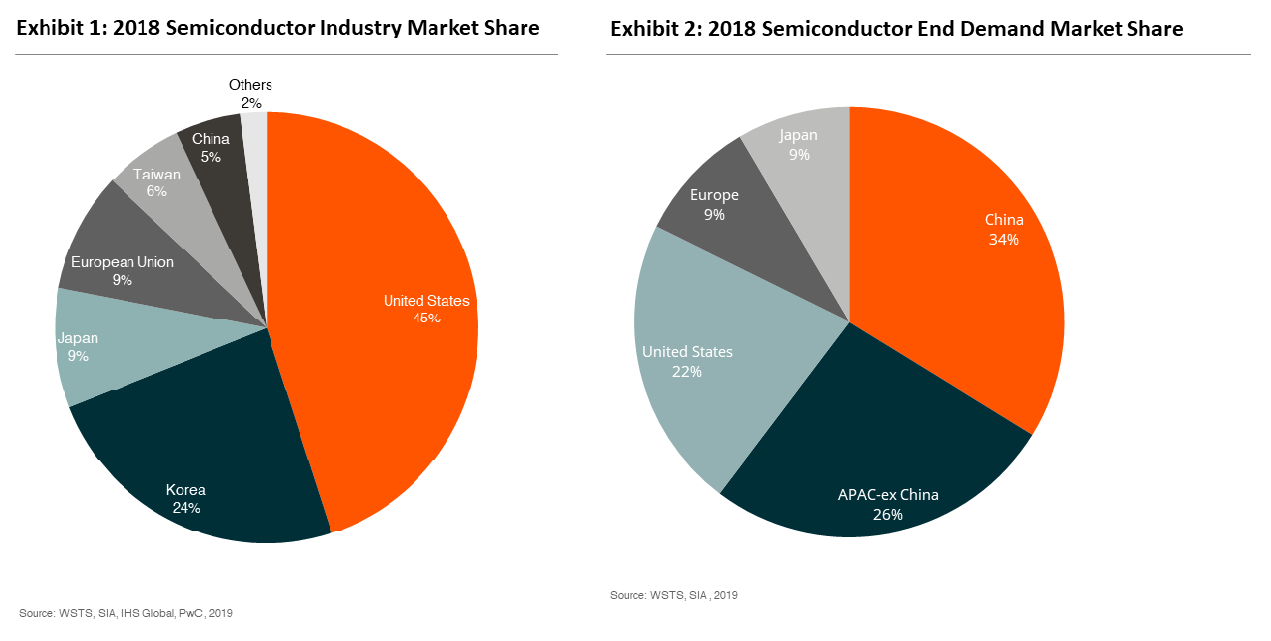 Overcome the Looming Talent Crunch
Talent gap is one of the reasons that hampered the development of the domestic I.C. industry. To ensure its semiconductor industry developing into a world-leading level, recruiting, onshoring, and retaining international talents with Chinese background is an immediate solution for domestic I.C. companies to overcome talent shortage. Taiwan, for example, has developed commercially viable companies with a solid semiconductor industry in the past decade, offering intensive Chinese speaking talent pool in this sector. China is ramping up to attract top executives and engineers of Taiwanese talents, bolstering the Chinese I.C. industry.
Leading companies like Huawei, which have strong R&D capability, continue to hire local graduates, and vigorously develop vocational training locally. In 2018, there were around 200,000 undergraduate students in I.C.-related majors, among whom 38,000 entered the industry. Tsinghua University, Peking University, and Fudan University are some of the top universities in China in this field.
Despite a near-term shortage, leading companies and research institutions will build up the domestic talent pool, by strengthening related education and cultivating interdisciplinary talent in the medium-long term. Therefore, we are positive on the long-term talent competitiveness in China.
Strong Relationship with End-users 
China is the largest end-demand market for semiconductors, and many strong end-user brands have emerged in the past ten years in key areas like smartphones, PC, servers, and telecom equipment. Under strong government support, domestic terminal makers are prioritizing local semiconductor suppliers when possible. Local companies can also build stronger relationships with end-users thanks to the location proximity, facilitating faster adjustment process.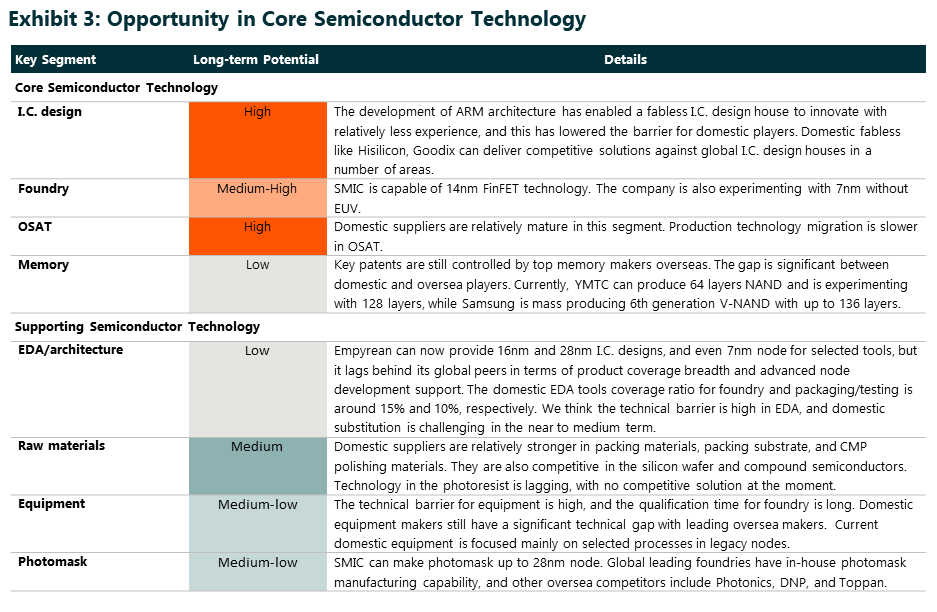 Localization Landscape – Sectoral Focuses
China has a strong initiative to develop and bolster its semiconductor industry as high-quality chip makers, being capable of producing advanced products, ultimately increasing the market share and meeting the domestic demand. In the latter section, we will evaluate its key sectoral focuses.
LED – A Success Story of Localization
In 2005, Japanese, Korean, and Taiwanese companies had dominated the LED industry. Since 2009 when the Chinese government began to provide high subsidies (around 60%) for the purchase of MOCVD (key equipment) by LED chip manufacturers, the market share of Chinese LED has been growing robustly. The market share of Chinese companies in LED chips climbed to 67% in 2018 from less than 5% in 2005. The rapid growth of the domestic industry has put significant pressure on its foreign competitors in terms of price and margin.
LCD Display – Aggressive Capacity Expansion from Local Players
Korea and Taiwan once controlled the LCD display market, and for many years China imported a significant amount of displays. In 2010, the display panel was the fourth largest import by value among all the imported goods in China. However, China has picked up the pace of LED manufacturing. In 4Q18, China's LCD production capacity surpassed South Korea, being the largest in the world. China is estimated to account for around 40% of global LCD capacity in 2020 and is expected to continue to gain more market share. On the other hand, Korean LCD panel makers are exiting the market, as excess capacity and strong competition have impacted their profitability in LCD production. Three main Korean LCD production lines will be closed in 2020, which is around 5.7m sqm/quarter of their capacity or around 30% of the total capacity from Korea. Additionally, China is stepping up its effort to tap into the OLED market, which is dominated by Korean companies. It is expected that China accounts for around 28% of global capacity in 2020, and will further take up 45% of global capacity in 2022.
Foundry – Ambitious Plan for Self-sufficiency
The current localization level of Chinese foundry is low, representing over 6% of the total market share in FY19. However, government support and funding allow domestic companies to invest in R&D for faster node migration. There are seven companies capable of producing 28nm node and only 5 in 12/14nm node. SMIC is one of the five companies capable of 12/14nm node, and TAM up to this node is around US$53bn in 2020. We see significant room for domestic companies to capture market share in the foundry space. The emergence of China fabless companies also supports the growth of local foundries as they are more likely to use domestic suppliers.
Your Gateway 
Global X China Semiconductor ETF enables investors to access high growth potential through companies critical to the development of semiconductors in China.
Other Key Features:  
Targeted Exposure:

 The fund delivers targeted exposure to an emerging theme and industry.

ETF Efficiency: In a single trade, the fund delivers access to dozens of companies with high exposure to the semiconductor theme in China.
Please click here for more information on the Global X China Semiconductor ETF.