Labor Day Holiday Consumption Data is Out, Chinese Consumer Confidence Gradually Rebounded?
Q1: What are the key takeaways from China's Labor Day holiday?
Overall consumption recovery pace has been somewhat slower than anticipated at the beginning of the year. However, largely luxury goods and travel-related consumption have shown stronger than expected growth thus far. That said, the market has been focusing on whether the strong rebound in travel-related consumption during May golden week may become an inflection point for a broader consumption recovery in China in the coming months.
We've seen a strong unleash of pent-up demand during the Labor Day holiday. According to the Ministry of Culture and Tourism, tourism data improved significantly this year from previous holidays. The number of national domestic visitors increased to 274mn, 119% of pre-pandemic level, higher than the 83% and 89% levels during the Qingming Festival and Chinese New Year week, respectively.1 Domestic tourism revenue reached 101% that of 2019,1 exceeding pre-Covid level for the first time since the pandemic. Although both the number of domestic tourists and tourism revenue have already recovered to the 2019 level, the pace of recovery of domestic tourist traffic has been much better than revenue, implying a decline in per-tourist spending, potentially attributable to sluggish consumer confidence during the first few months following the reopening.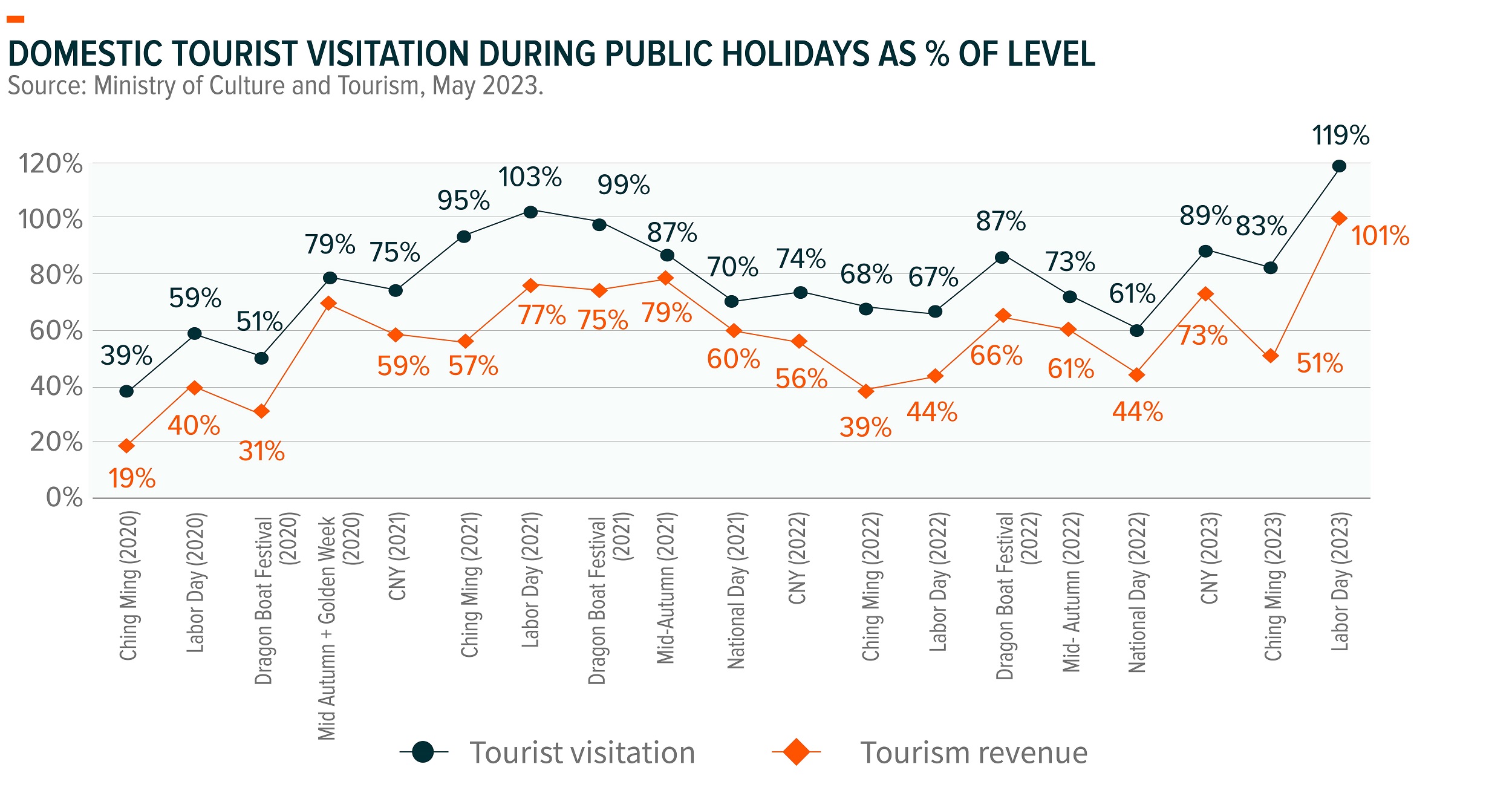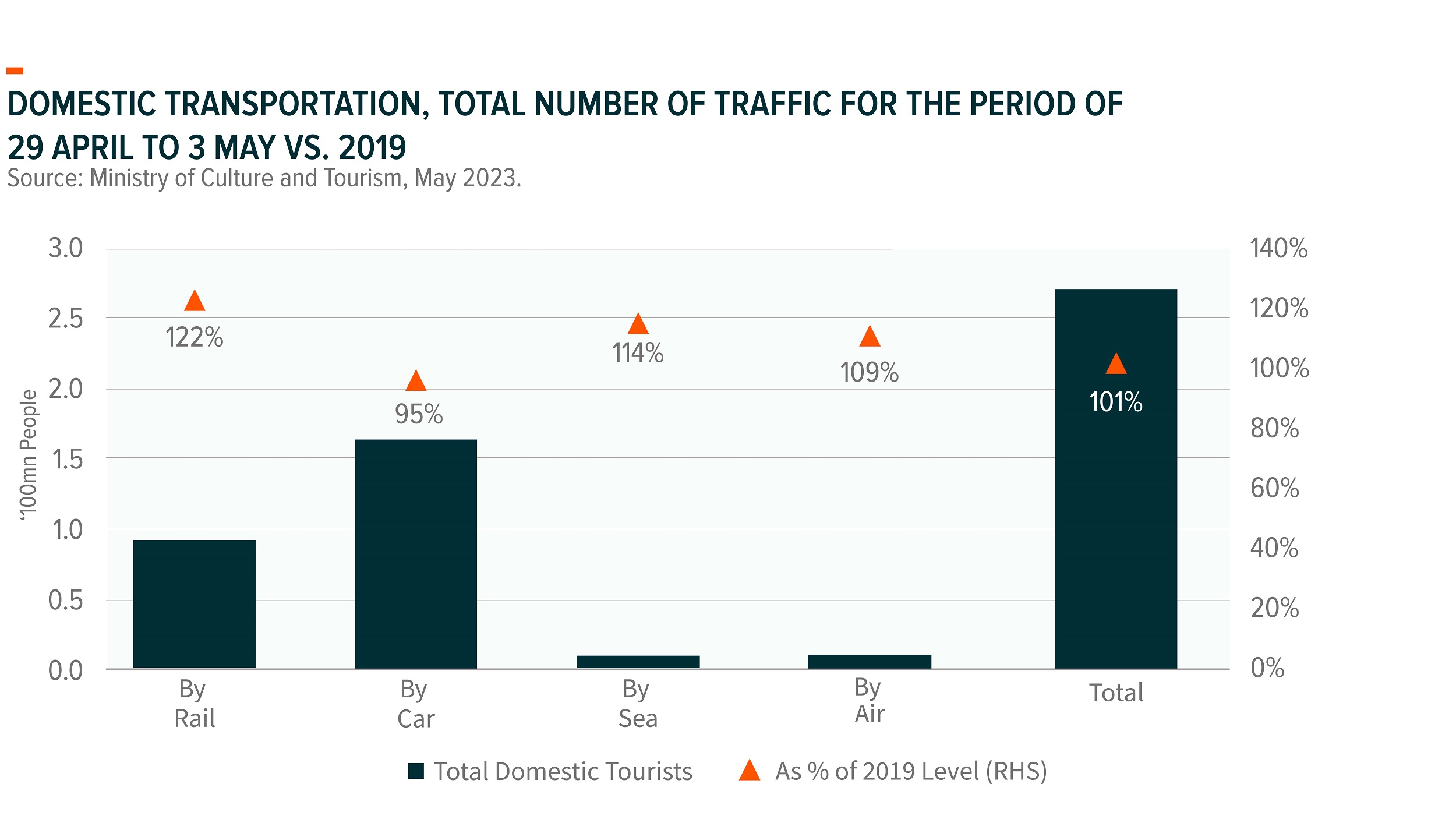 According to Ctrip.com, a leading OTA (online travel agency) platform in China, on 29 April 2023, overall orders placed through the platform increased by more than 10 times compared with the first day of the Labor Day holiday last year, more than double that of 2019, and a surge of 668% compared with the first day of the Lunar New Year holiday this year. Ctrip reported strong demand for attraction tickets, train tickets, and hotel bookings.
Cross-border travel have been gradually recovering from depressed levels. Visitors from mainland China to Hong Kong rebounded sharply after China's reopening, reaching 52.4% of 2018.2
Q2: Any update on the consumption trend in sub-categories?
Restaurant revenue jumped more significantly by 57.9% YoY, according to the Ministry of Commerce . Table turns for leading Chinese restaurants during the Labor Day holiday were 17-35% higher than the Chinese New Year holiday.3
Retail sales value increased 22.8%, 20.9%, 18.4%, 15.1%, and 13.9% YoY, respectively, for jewellery, automobiles, clothing, tobacco/beverages, and home appliances.3
According to Maoyan Pro, the Labor Day Weekend box office reached 100% of 2019 level, -9% vs. 2021's record high, despite some negative impact from strong travel demand (substitution for local entertainment). Compared to 2021, the decline was driven by a ~15% fall in admissions, but ticket prices were up ~7%.4
For Hainan duty-free sales, total sales revenue was Rmb883mn, +120% YoY. Daily passenger traffic at Haikou Meilan Airport was 71.9k, which improved 22%/4% from the same period in 2019/2021.5
Hotel RevPAR came in at 125% of the 2019 Labor Day holiday, slightly better than expected due to a better occupancy rate, according to STR.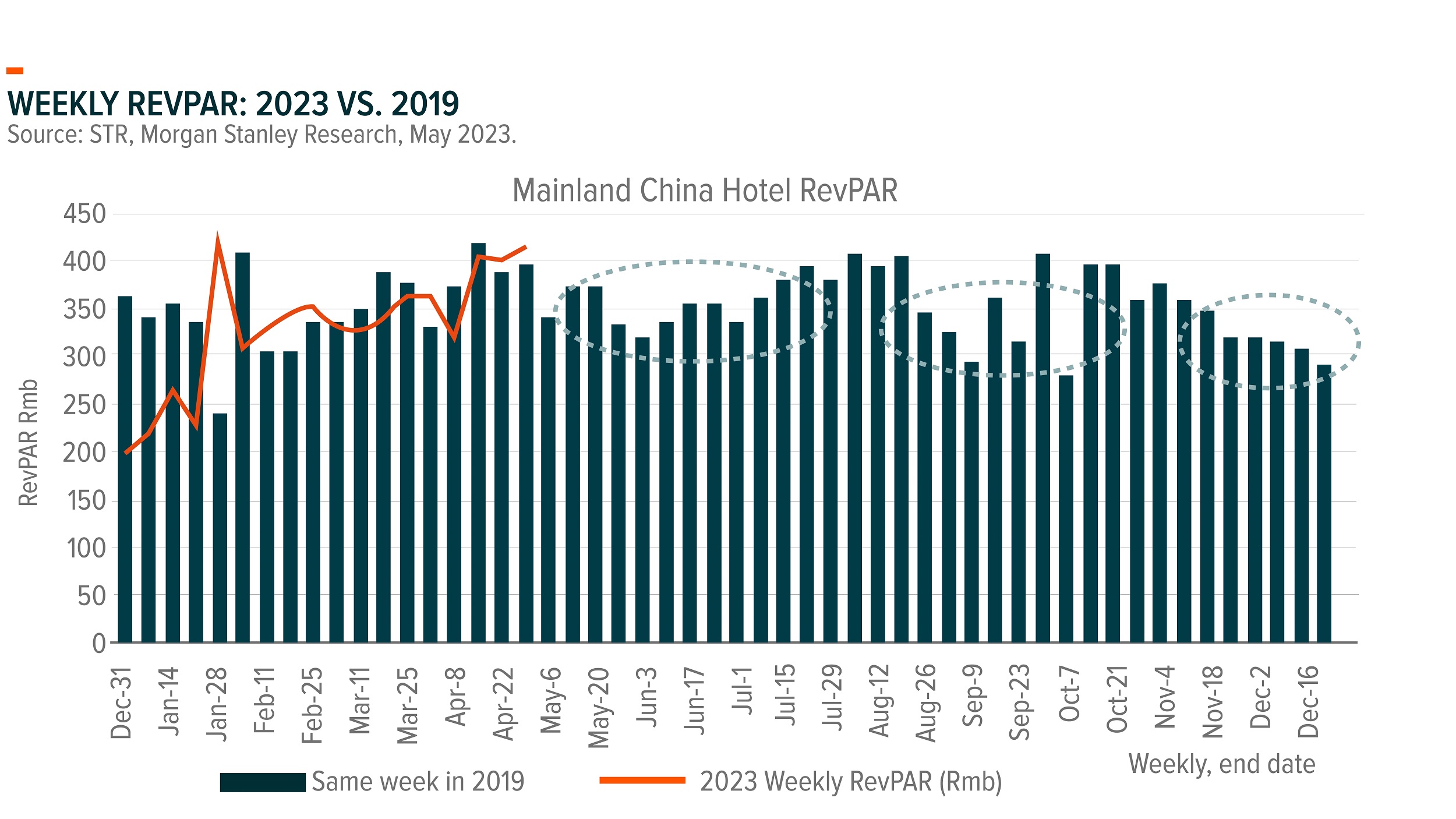 Wholesale prices of baijiu remained stable during the Labor Day holiday, which was largely in line with the market's expectations. Having said that, super premium baijiu companies delivered strong growth in 1Q23 with solid guidance for 2023.6  We expect to see overall Baijiu demand recovery to continue considering the pent-up banquet demand and social gatherings.
Overall, China's tourism and service-related data showed a much stronger rebound during the Labor Day holiday compared to previous national holidays. Yet, overall consumption recovery may take a few more months because we need to see wage growth and labor market improvement, which should improve overall consumer confidence that would lead to stronger consumer spending, i.e. high savings translating into consumption. That said, it will be interesting to see whether a strong rebound in tourism and entertainment spending during the golden week may improve consumer confidence and become an inflection point for a broader consumption recovery.