China Consumer Industry Review and Outlook
As China's middle class continues to expand, consumption has become a key driver of growth for the country. However, 2H21 saw a slowdown in consumption across China due to weak macroeconomic conditions and strict COVID-19 controls. In particular, the consumer discretionary sector has been impacted, along with service industries such as tourism and restaurants. Meanwhile, local brands continue to maintain popularity in China, fueled by the rise in patriotism amid ongoing US-China tensions.
2021 also marked a year of regulatory crackdown, with Chinese regulators introducing a series of legislations on topics such as anti-trust, data security, afterschool education, and other issues. The connecting link between these numerous regulations is China's pivot to common prosperity. After years of pursuing high growth, common prosperity seeks to develop more high-quality growth, with a goal of growing the size of the middle class. In the long run, we believe this will drive more sustainable development and benefit consumer companies in China. Meanwhile, we expect consumption to recover next year as the government shifts to loosening fiscal and monetary policy and gradually relax COVID-19 restrictions after the Beijing Winter Olympics in February 2022.
Common Prosperity
Market participants initially displayed concerns over common prosperity, especially wealthy individuals who feared they'd be targeted with various tax implementations. From a consumption perspective, this would have an impact on high-end and luxury spending in China, including the demand for premium baijiu brands. However, over a series of press releases shared by the government, it became apparent that the focus of common prosperity is to support the lower-income class population to become part of the middle class, rather than targeting wealthy consumers. Thus, this policy is not new but is actually in-line with the government's changing focus from growth-first to striking the balance between growth and sustainability. It also supports their continued efforts to make China a domestic consumption-driven economy, which has been emphasized for many years.
According to Morgan Stanley, China's middle class may double in size from 400million (mn) people in 2020 to 800mn by 2030.1 This should benefit overall consumer brands across various categories and segments – from food and beverages to sportswear, cosmetics, and automobiles, even service industries such as restaurants, are all expected to benefit from an increase in demand.
China to Double Middle-Class Population Within a Decade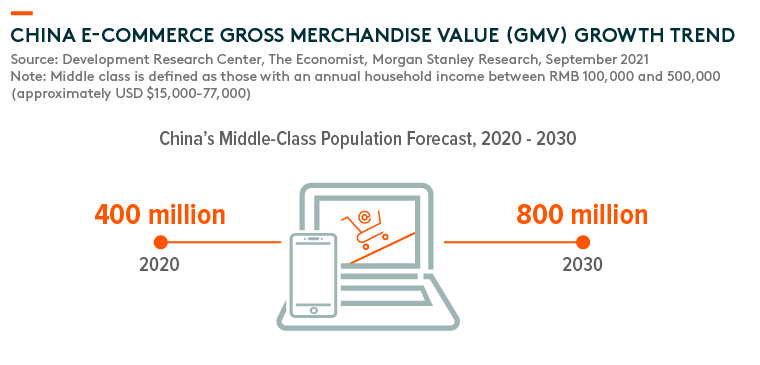 Strong Local Brands
The "guochao" (国潮) trend continued its momentum throughout 2021, particularly for sportswear brands such as Li Ning and Anta. The trend took off following the Xinjiang Cotton issue in March 2021, though initially the companies expected that the hype would gradually fade away. However, the trend continued to persist and led to robust sales growth of local sportswear brands, despite the overall weak consumption environment. Leading companies like Li Ning and Anta have been able to secure better store locations in shopping malls and have expanded direct-to-consumer (DTC) channels by operating their own retail stores alongside their online business. In addition, both companies have launched new brands, such as Li Ning 1990 and Anta Champion, targeting different consumer segments to capitalize on the guochao trend.
Meanwhile, China announced a five-year plan with significant investments for the sports industry. The government intends to transform the industry into a 5 trillion-yuan industry by 2025,2 targeting better access and participation in sports, mass fitness events, and stepping up the war against adolescent obesity. The government's strategy will also require schools to implement an hour of physical activity on a daily basis. We expect leading local sportswear brands to prosper on the back of both the government's support for the sports industry as well also consumers' preference for local brands.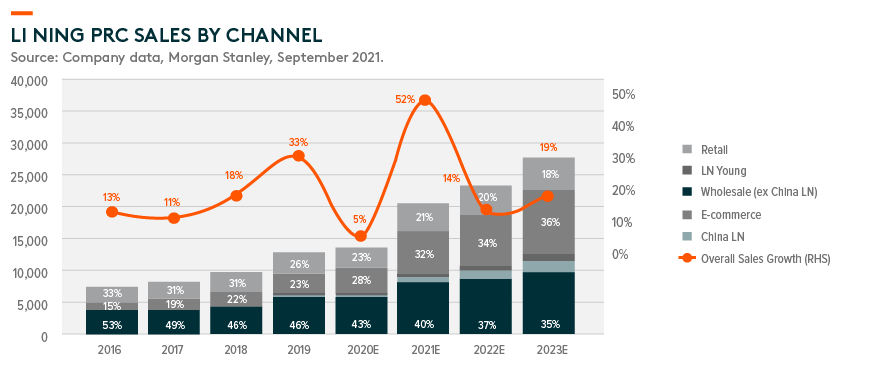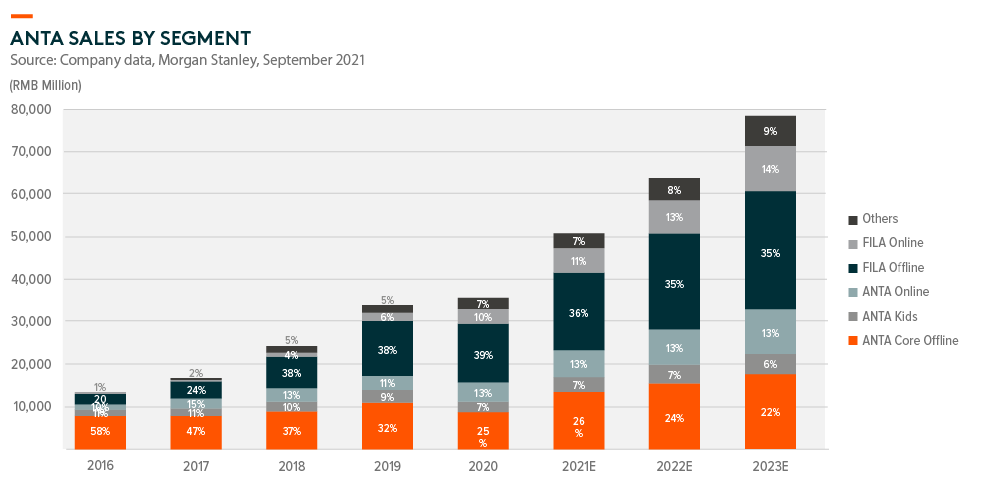 Electric vehicles (EV), or new energy vehicles (NEV), is another key industry with strong government support. Despite the global chip shortage and overall consumption slowdown, China NEV sales recorded 2.3mn units sold year-to-date October 2021 and is expected to reach over 3mn for the full year 2021.3 NEV penetration reached a historical high of 20% in August 20214 and, more importantly, we've seen local brands outperform in this segment. BYD, a Chinese NEV manufacturer, is expected to surpass Tesla in terms of market share in December 2021 and local brands overall accounted for ~80% of NEV sales in China this year.5 Like China's leading sportswear companies, we expect local NEV brands will continue to experience robust growth momentum thanks to strong government and consumer support.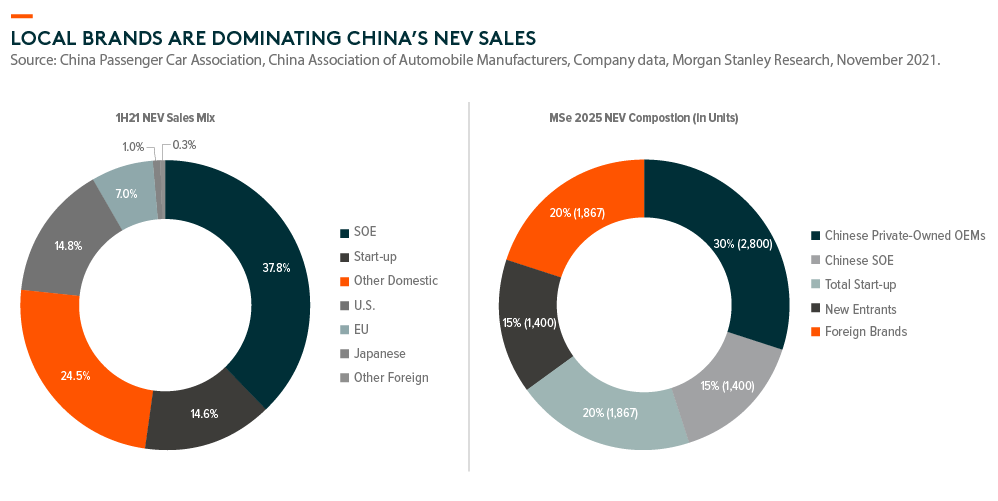 Outlook for 2022
Reflecting on the consumption slowdown in 2H21, the consumer services industry was hit the most with the government's zero-COVID approach. Restaurant industry sales had just recovered to pre-COVID levels in June/July 2021 when the government introduced tighter social distancing measures with the resurgence of COVID-19 around August. Subsequently, industry sales dropped to 70% of normalized levels and is still yet to make a recovery.7 Weak macro landscape and ongoing COVID-19 restrictions led to a soft consumption environment, which we expect may gradually recover in 2022.
The government has now shifted to loosening its policy, cutting the bank reserve requirement ratio (RRR) in December. We expect more supportive measures will be implemented over the coming months which should help stabilize the domestic economy in China. In addition, we expect more relaxation on social distancing measures on the back of rising vaccination rates in the country and, more importantly, after the Beijing Olympics has been held in February 2022. This should lead to an overall recovery in consumption as well as the performance of major consumer brands.