China Consumer Brand Review
China's consumption continued to show a recovery trend in 1H21 though consumer services still have not fully recovered to pre-pandemic levels. We expect the service industry will show a stronger recovery trend in the second half of this year. One of the key consumer trends we have observed this year is strong preference for local brands in China. "Guochao(国潮) " trend has accelerated this year especially since the Xinjiang cotton event and we expect the trend may continue amid ongoing tensions between the US and China. Another strong trend we have witnessed this year is resilient demand for luxury or premium goods. Baijiu brands as well as duty free retailers in China have been benefiting from such a trend. Luxury products including leather goods and cosmetics are still largely dominated by western brands in China and it will be interesting to see whether local brands can gain attraction in luxury segment in the future.
Rising local brands
"Guochao(国潮) " has been an ongoing trend to embrace domestic brands in China. The trend has benefited Chinese consumer brands across various categories, particularly the sportswear sector since the Xinjiang cotton event. In late March, a few big western sportswear and apparel brands such as Nike, H&M and Adidas faced a boycott by Chinese consumers because of the stance they took against the alleged use of forced labor to produce cotton in Xinjiang. Dozens of Chinese celebrities terminated contracts with these international brands and some of them newly signed contracts with domestic brands. Overall sportswear demand in China has been solid this year and such an incident has further accelerated demand for local sportswear brands in China, which has led to positive profit alerts made by leading brands Anta and Li Ning for 1HFY21. (Anta announced on 17th June 2021 and Li Ning announced on 25th June 2021) We think such tailwinds for domestic brands may continue for some time considering continuous tensions between the US and China.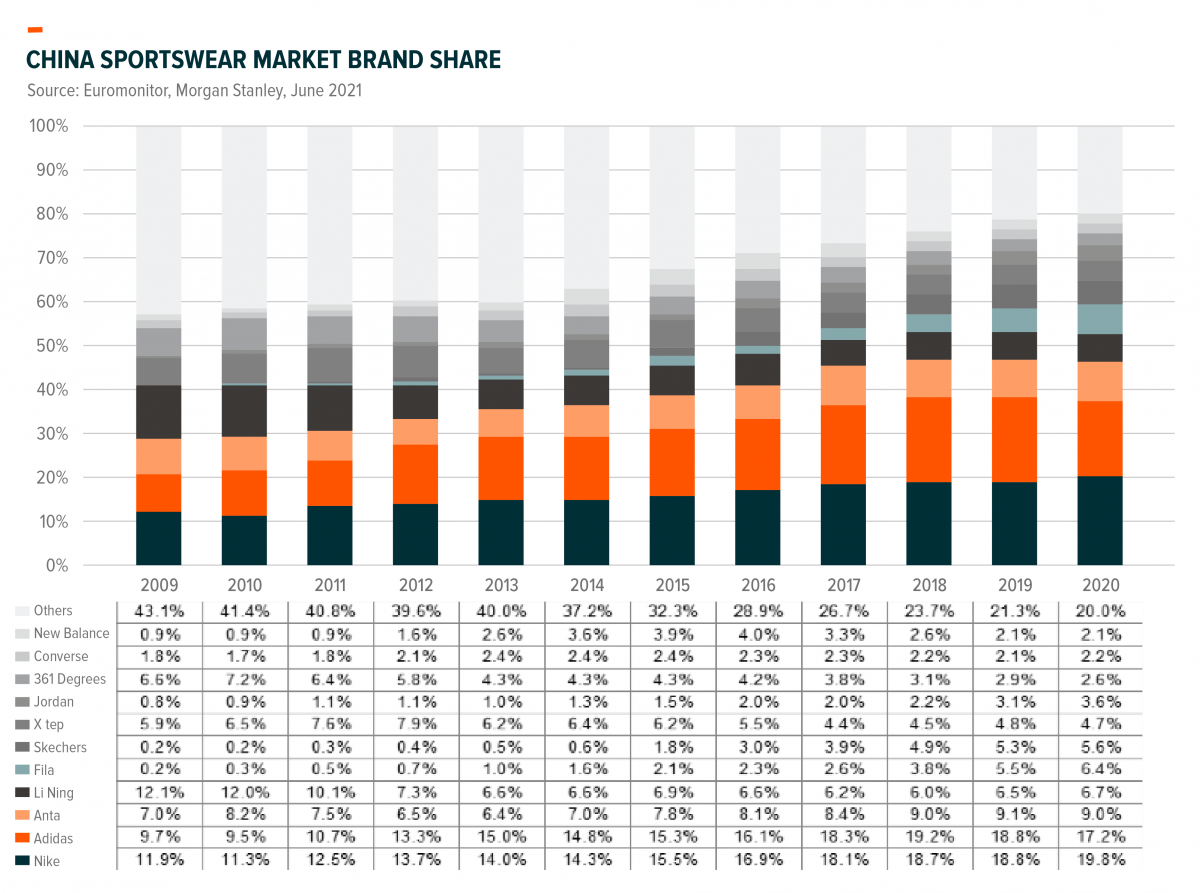 Strong demand for luxury/premium goods
The real inflation today is at the high end. We see strong demand of luxury goods around the world including China. Wealthy consumers did not suffer much during the pandemic and instead many have become even wealthier thanks to rising asset prices. According to a Reuters repot in June 2021, Chanel CFO Philippe Blondiaux viewed the current trend as more than "revenge buying" but a "deep and lasting momentum for the big brands which continued to invest" during the pandemic. Most of European luxury companies such as LVMH and Hermes posted better than expected results in 1QCY21. (LVMH and Hermes reported 1QCY21 earnings in April 2021) Despite rising local brands trend in China, we think luxury including high-end cosmetics will still largely be dominated by western brands for the foreseeable future. While western brands tend to benefit more in luxury leather goods and cosmetics segment, Chinese brands are dominant players and beneficiaries in premium Baijiu segment. We believe demand for premium liquor will be a continuous trend and domestic top tier brands may benefit from such a trend. China Duty Free industry will be one of the key beneficiaries of rising demand on luxury goods by Chinese consumers on the back of strong support from the government. China's duty free market was only USD 8bn, or 9-10% of the USD 85bn global duty free market in 2019, while Chinese spending accounted for about 40% of the market, according to J.P. Morgan (13 April 2021). We expect the industry will continue to receive favorable policies from the government to repatriate overseas consumption back to its domestic market.