Infrastructure-as-a-service (IAAS) in China
According to the Ministry of Industrial and Information Technology (MIIT), the cloud market in China is expected to grow at a Compound Annual Growth Rate (CAGR) of +32% for 2018-2022E, reaching RMB 290bn (US$41bn) in 2022. The public cloud is estimated to reach a 60% share of the total cloud market by 2022 from 40% in 2018.
Within the cloud market ecosystem, Infrastructure-as-a-Service (IaaS) provides the most fundamental basic services, including server/storage, networking, and Information Data Centre (IDC) / Content Delivery Networks (CDN) services for users. IAAS accounts for the majority share of the public cloud market at roughly 62% in 2018 or RMB27bn. This service business model is a pay-as-you-go model that offers users/consumers the benefit to reduce CAPEX and to operate more efficiently and with more flexibility. IAAS service providers can either build as well as self-operated data centers or lease from third party vendors.
As of 2Q19, the public Infrastructure-as-a-Service (IaaS) market was dominated by top internet players such as Alibaba and Tencent, taking 42% and 12% market share, followed by China Telecom, and Huawei with 9% and 7% market share respectively. As of the 3Q19, AliCloud and Tencent cloud was still growing at 64% and 80% year over year (YoY), respectively, showing no sign of a slowdown. In the private cloud sector, traditional network providers such as Huawei, ZTE, H3C, Inspur, Sugon, China Telecom, China Unicom, and Wangsu continue to dominate the market.

Growth drivers of IAAS market
The shift from private cloud to the public cloud, digitization of enterprises, and government entities are key drivers supporting cloud computing market growth in China.
Since a decade ago, Chinese Internet companies have been expanding rapidly in the public cloud market by investing heavily in technology and building out infrastructure. Through economics of scale, service providers could cut prices, creating price elasticity attracting more user adoption and higher consumption per user.
China's IT service spending is a mere 3.9% of global IT spending in 2018, while the country's GDP share in global GDP is as high as 15.7%. In fact, the pace of growth of IT service spending in China has experienced acceleration, particularly over the last three years owing to the faster development of the IaaS industry coupled with rising enterprise user awareness and general acceptance for cloud computing services. Finally, government policy support served as an invisible hand, pushing technology penetration to a higher level.
In the next few years, Infrastructure-as-a-Service market growth is expected to continue to deliver strong growth to normalize to a similar pace as data traffic growth eventually. According to a Cisco VNI report, data traffic is expected to grow +25% CAGR over 2016-2021 to over 20ZB (Zettabyte). Interestingly not captured in this estimate is the development of 5G, which is expected to drive more data traffic. Therefore, it remains challenging to quantify the ceiling of the market potential.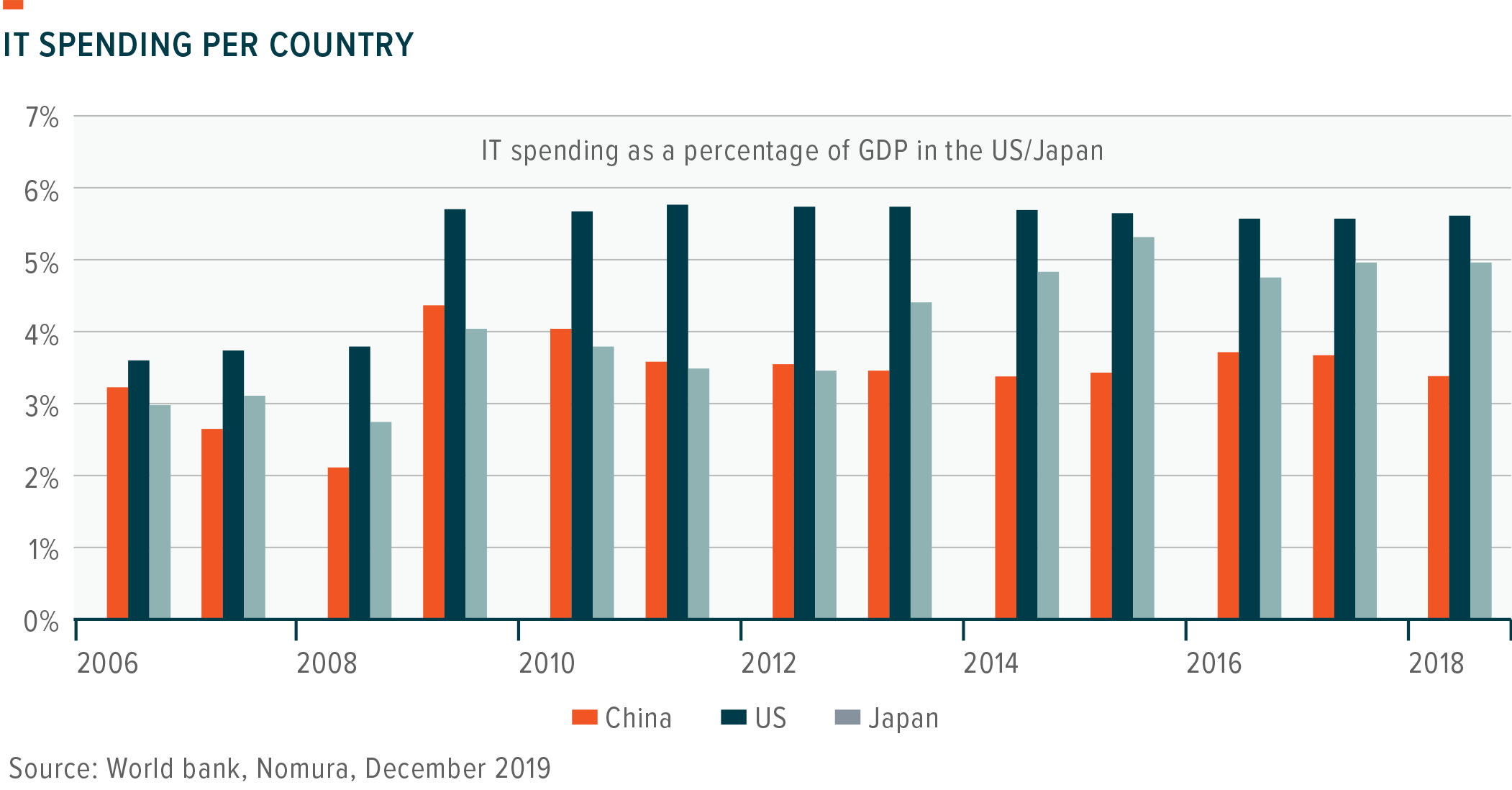 Click here to download the full report.
Related ETFs