The Future of Camera Technology
In this article, we will explore the latest development in camera technology, as well as key players in the industry.
Significance of Camera Technology
Cameras are the eyes of computers. The development of our ability to process and apply vision data has come hand in hand with the advancement in camera technology. The relationship between hardware and software in camera technology is no longer detached. Miniaturisation, high definition and other innovations in camera technology have allowed us to collect vision data in areas and ways that were not possible before. This opens up opportunities for applications in smartphones, autonomous vehicles, healthcare, surveillance and more.
Smartphone has been a key driver of the advancement of camera technology. Its high volume and per-device value provide resources and incentives for innovation. Smartphone camera accounts for 82% of the overall CMOS (Complementary metal-oxide-semiconductor) image sensor market (Techno 2020). Research institution Yole Développement forecast the overall revenue of the global camera module market to grow from US$31.3 billion in 2019 to US$57 billion in 2025, representing a 10.5% CAGR (compound annual growth rate).
Vision is one of the most important data inputs for autonomous driving. Having a reliable, high-performance camera system is crucial to the success of autonomous driving. We see two mainstream combinations of core sensors in developing an autonomous system. The first one is a combination of LiDAR (light detection and ranging), RADAR (radio detection and ranging) and Camera. The second solution is a combination of just RADAR and cameras, with visual data being the primary input to the system adopted by Tesla. Note that the majority of camera components are also used in a LiDAR.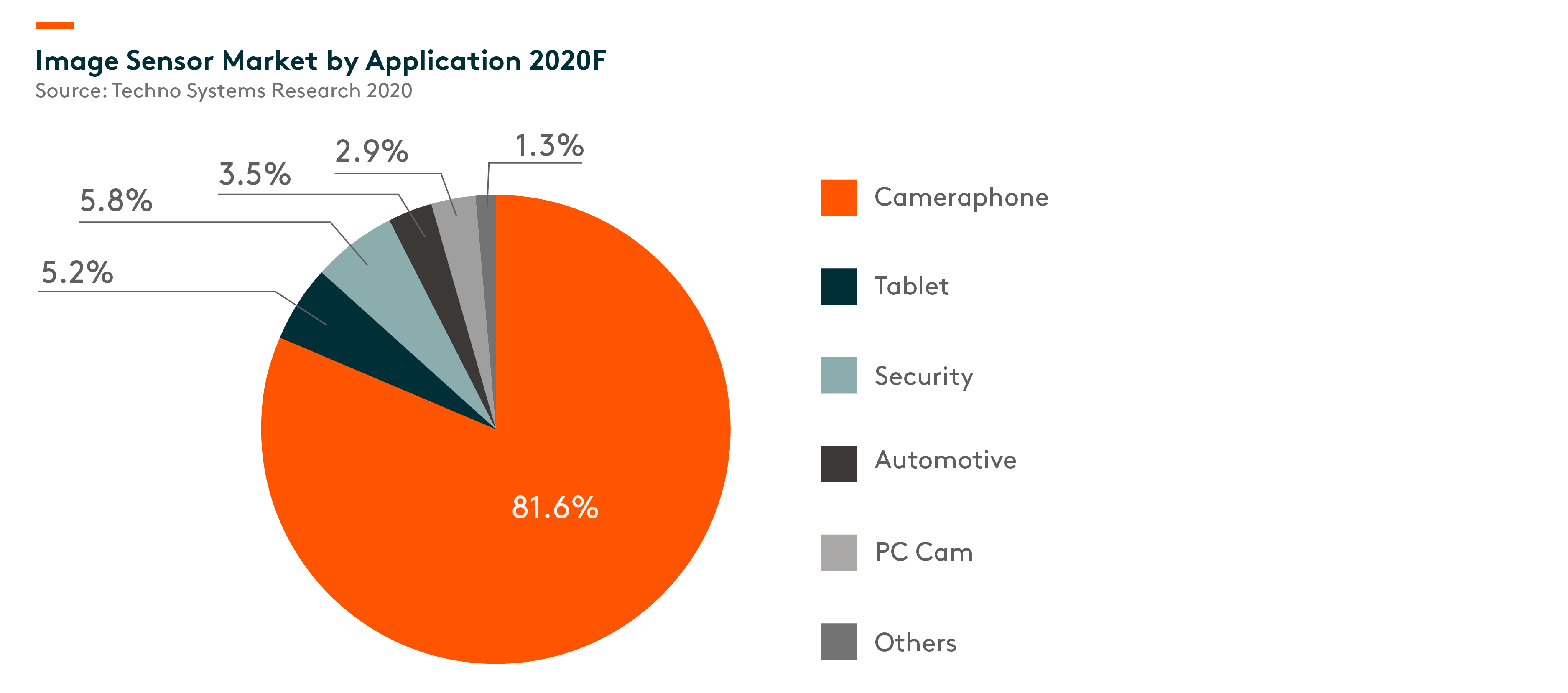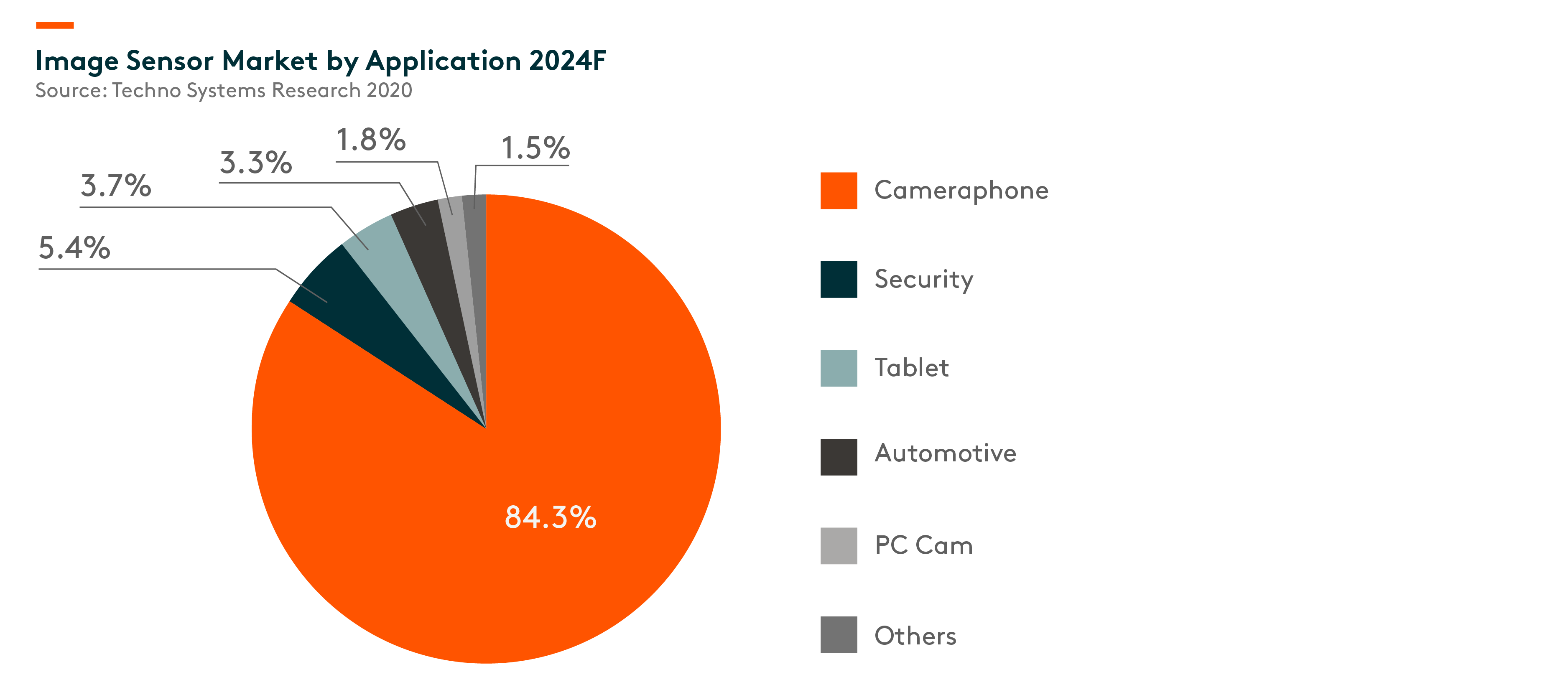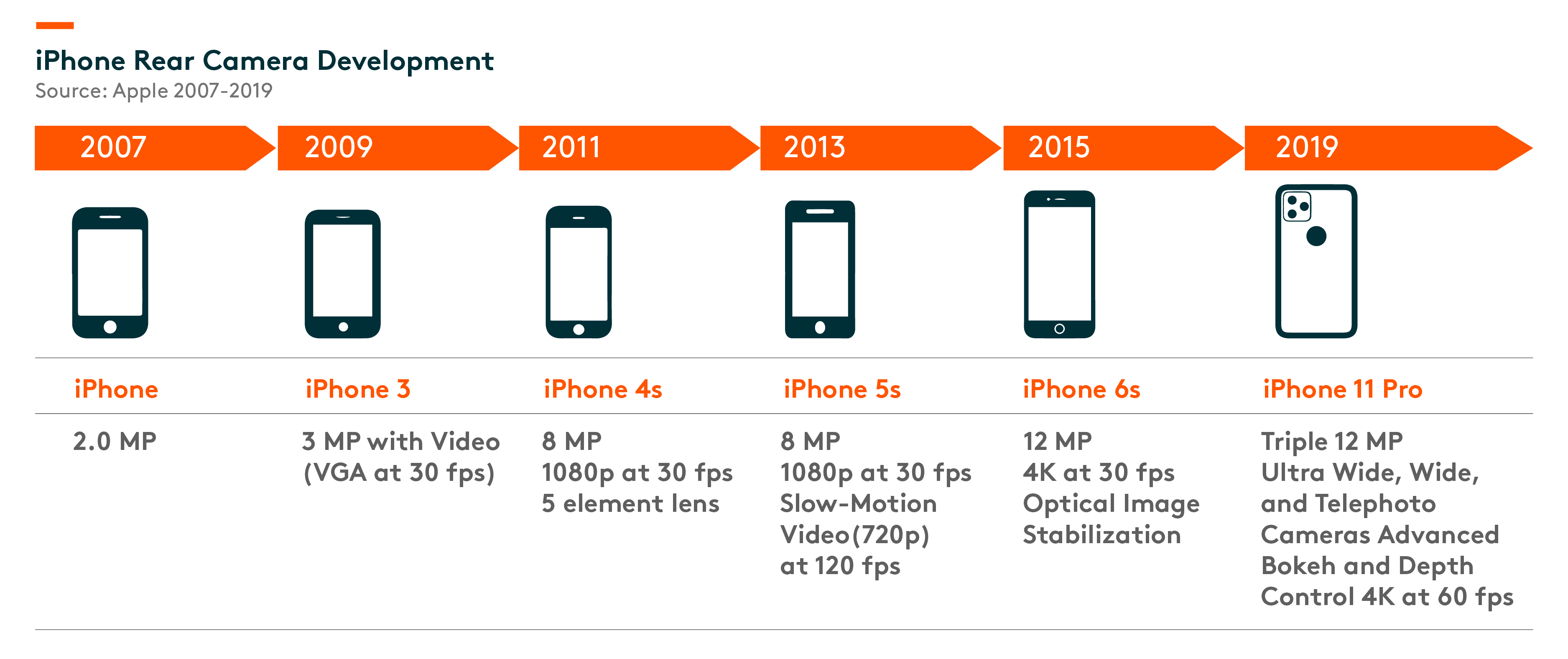 Key Components of the Camera Module 
Image Sensor – The image sensor converts the variable attenuation of light waves into electronic signals. The two main types of digital image sensors are charge-coupled device (CCD) and active-pixel sensor (CMOS sensor).
Lens Set – Camera lens gathers and focuses the light reflected from a scene or subject. As the reflected light rays enter camera lens and pass through the elements, they are directed to the camera's image sensor.
Module – Camera module holds all the components together, protect the lens set and image sensor.
Others – The camera module also has other components like Printed Circuit Board (PCB), Voice Coil Motor (VCM), filter, connector etc.
Source: Mirae Asset 2020, Sony 2020, Oppo 2020

How Far Can Camera Technology Evolve? 
We believe camera technology will continue to innovate, given the importance of vision in machine intelligence. We highlight three key technological developments in the industry below which we think will shape the future of camera technology.
Time of Flight (ToF) Camera – Mid-Long Distance 3D Sensing Capability 
A time-of-flight camera (ToF camera) is a range imaging camera system that employs time-of-flight techniques to resolve distance between a camera and a subject for each point of the image, by measuring the round trip time of an artificial light signal provided by a laser or an LED. Companies are able to adopt structured light technology in the front-facing camera of a smartphone, which enables accurate and secure facial recognition application. Incorporating ToF camera in the rear-facing camera of a phone will allow more precise measurement of mid-long distance 3D imaging for better portrait mode and Augmented Reality (AR) applications.
Multi-Camera Trend – Improving Versatility    
Since smartphone lenses are fixed, the only way to have lenses for a different purpose is to put multiple camera lenses, say telephoto lens (for high optical zoom), ultra-wide lens, and specialized video camera etc., on at the same time. The multi-camera trend has been developing for several years. We expect the functionality of these cameras to improve continuously going forward.
AI Camera-Image Processing Closer to Sensing    
Artificial intelligence enables a wide range of possibilities in applying vision data, such as autonomous driving. Requirement for lower latency and faster image processing brings computation closer to sensing module (camera module). Sony launched the next generation CIS (CMOS image sensor) earlier this year (IMX 500, 501), and the sensor packaged a logic chip under the pixel chip. Signals acquired by the pixel chip are run through an ISP (Image Signal Processor) and AI processing is done in the process stage on the logic chip while the extracted information is outputted, reducing the amount of data handled.
Camera Supply Chain – Key Players 
Sony – Image Sensor
Sony is the largest image sensor producer globally with 48% market share by revenue in 2019 according to techno system research (2020). It is a leader in high-end sensor, as Sony collaborates with top tier smartphone brands to develop high-end customized image sensors.
Samsung Group – Image Sensor, Camera Module, Lens, Actuator
Samsung is the second-largest image sensor provider globally. SEMCO (Samsung Electro-Mechanics) also designs and manufactures key components such as lenses and actuators, and produces camera modules for mobile and auto applications.
Will Semi – Image sensor
On Semi is a key image sensor supplier in the auto industry. It has over 60% market share in auto CIS in 2018 (HIS 2019).
Largan Precision – Lens
Largan is a leading provider in camera lenses for consumer electronics. The company focus on supplying high-end lenses.
Sunny Optical  – Lens, Camera Module
Sunny optical provides both camera lenses and camera module assembly for consumer electronics and autos. The company has also been working with LiDAR suppliers to supply optical components.
Source: Mirae Asset 2020.
Global X China Robotics and AI Brand ETF (2807 HKD / 9807 USD), seeks to deliver the performance of the FactSet China Robotics and artificial Intelligence Index, enabling investors to access to high growth potential through companies critical to the development of robotics and artificial intelligence in China.
Other Key Features of Global X China Robotics and AI ETF:  
Unconstrained Approach: The fund's composition transcends classic sector and industry classifications by tracking an emerging theme.
ETF Efficiency: In a single trade, the fund delivers access to dozens of companies with high exposure to the robotics and artificial intelligence theme in China.
Please click here for more information on the Global X China Robotics and AI ETF.