E-commerce Extension
We published an introduction piece on the e-commerce industry called 'The spending tap – A look at China's booming e-commerce sector' earlier this year, where we focused on Alibaba, which is a dominant industry leader in China. Now, we would like to walk through the business models and competitiveness of second-tier companies, namely JD.com (JD), Pingduoduo (PDD), and VIPShop (VIPS), as these players appear to have been gaining market shares this year.
JD is the second largest e-commerce player in China, with a fairly stable 20% market share in the past few years. The company started its business as Business to Consumer (B2C) or 1P (first-party) model, compared to Alibaba's market place or 3P (third-party) model. JD controls its logistics that have been meaningfully benefited during COVID-19. Most of its competitors relied on third-party logistic companies and faced a supply-side issue as many delivery workers were not able to come back to work after the Chinese New Year holiday due to nationwide lockdown. Brand awareness of JD is lower than Alibaba/Taobao, particularly in lower-tier cities, and JD also has a brand perception of selling products that are more expensive than Taobao. But COVID-19 made many consumers download the JD app and experience its high-quality service. JD has higher sales contributions from consumer electronics and home appliances, which accounted for over 40% of its GMV (Gross merchandise value) in '19, and it is thus skewed towards more male customers than its peers. It will be interesting to see whether it can gain more female users with the fast-growing grocery segment, which has become the key focus of the e-commerce industry since the COVID-19 outbreak.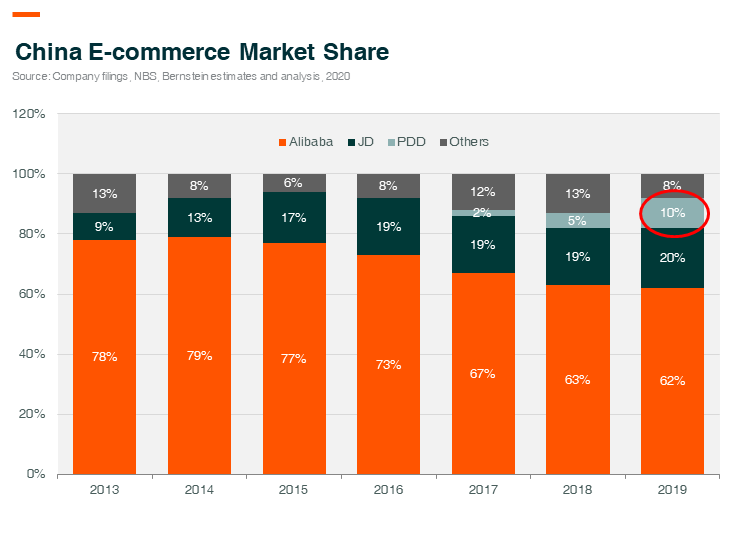 PDD is a dark horse in this industry, reaching $100bn GMV in four years, which JD took 13 years to achieve. PDD currently takes up over 10% of the e-commerce market share by GMV. It has 628mn customer base and is currently the second-largest e-commerce player in terms of annual active customers just after Alibaba. The company operates 3P platform similar to Taobao. PDD's success comes from its unique business model combining bargains and social/entertainment. It pioneered a bulk purchase strategy whereby groups of friends, families, or colleagues get greater discounts by the formation of larger purchasing sizes through Wechat. Tencent is currently the second-largest shareholder of the company, with a 16.5% stake. The company sources products directly from manufacturers to get products at the lowest possible prices, and also it offers massive discounts on a few stock keeping units as traffic drivers to its platform. It is somewhat similar to a discount retailer Costco in the US but with no membership fee. PDD is also the first company to launch "RMB10bn subsidy" marketing campaign in the industry, which has been very successful in attracting new customers.
Having said that, the company is still loss-making due to its high spending on sales and marketing, including subsidies. PDD started with a brand perception of selling cheap and low-quality products but has been trying to transform its brand image by attracting more brand owners to sell on its platform and pushing more customers to buy branded goods on PDD. It will be interesting to see whether customers will buy branded goods without subsidies on the PDD platform and, more importantly, whether the company can become profitable and grow sustainably going forward.

VIPS is a niche e-commerce player compared to JD and PDD with a single-digit market share. Yet, it is currently by far the largest e-commerce discounter in China.  The company mainly focuses on off-season apparel and related categories and is an online version of TJX in the US. VIPS once tried to expand into in-season apparel and also beyond apparel but realized that it did not have enough resources such as scale, traffic, capital, etc. to compete with Alibaba and other bigger players and thus turned their focus back to their key strength two years ago. VIPS is a beneficiary of COVID-19 due to the high levels of inventories of apparel in China. The management shared that off-season inventory tends to be in the range of 20-50%, and the current clearance business is expected to be at the high-end of the 40-50% range of annual apparel consumption in China. We are less concerned about the competition with bigger players as it focuses on its core strength, which is merchandising expertise. More importantly, all major e-commerce players prefer to be a platform for in-season products, and brand owners usually do not want to sell their in-season and off-season products together on the same screen as this may confuse consumers about brand perception and is detrimental to brand value. Thus, VIPS may be one of the preferable options that brand owners can use for inventory clearance and other major e-commerce platforms for their in-season products. The company has turned its focus to top-line growth and lowered the free shipping threshold from Rmb 288 to Rmb 88 with free returns since December '19. It will be interesting to see how the company leverages the current situation to gain growth momentum going forward.
Until PDD emerged, China's e-commerce market seemed to remain as a firm duopoly market because not many could imagine any new entrant that was able to gain scale to compete with Alibaba and JD. Now with PDD gaining more than 10% of market shares in such a short period, we are expecting to see more prominent companies like Bytedance, Tencent, and Kuaishou joining meaningfully into this competition through social commerce in the coming years. This will further accelerate offline to online shift and will likely see fast-changing competitive dynamics in the e-commerce industry.