China: the Road to Autonomous Driving
Autonomous driving is one of the most exciting fields in the next decade. Breakthrough in Artificial Intelligence (AI), build-out of 5G network and advancement in semiconductor technology are leading us closer to full automation.
In this article, we will introduce the value chain in autonomous driving and key Chinese players in this industry.
Industry Overview
To discover investment opportunities around autonomous driving, we must first understand the basic architecture and key players in each segment. A complete system requires intelligence at three locations, namely on the vehicle, at the edge (roadside, proximity to the vehicle) and in the cloud. Most automakers work with industry partners to develop capabilities on the vehicle. Telecom companies and cloud infrastructure companies are working to build the infrastructure at the edge and in the cloud to support the autonomous driving system.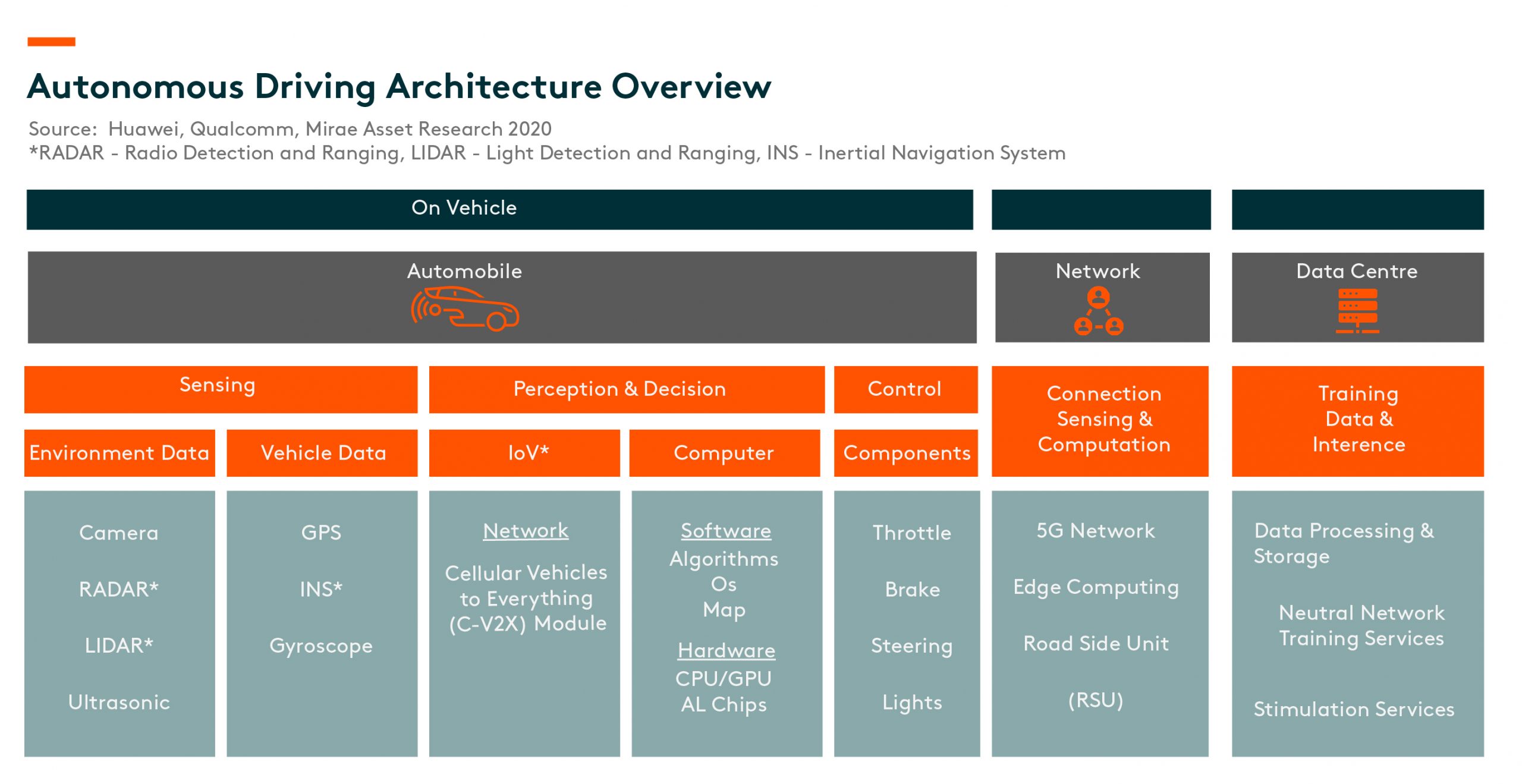 Levels of Automation
The Society of Automotive Engineers (SAE) identified six levels of driving automation from 'no automation' to 'full automation'. Human drivers are considered to monitor the system in level 0-2, while the system is in-charge above level 3. Level 5 represents full automation with no human driver attention required.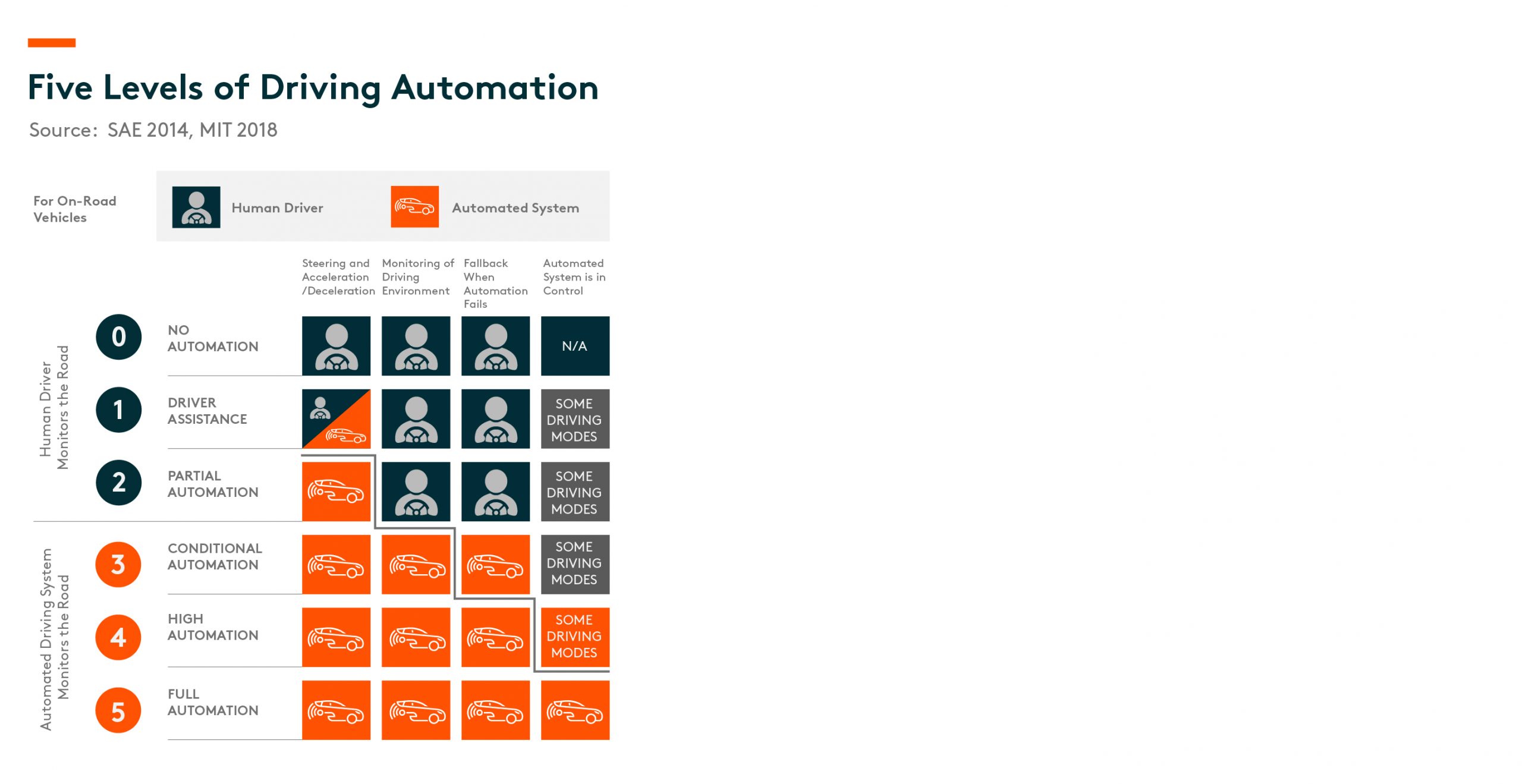 On the Vehicle
Automakers
Domestic automakers work closely with industry partners to launch L3 autonomous driving vehicles in 2020-2021. We see collaboration across the entire system architecture from the vehicle, edge to cloud with multiple partners, which shows the complexity of an autonomous driving system. We think the initial trial will be conducted in closed roads and controlled environment. For example, SAIC motor is working with Shanghai International Port Group, Huawei and China Mobile to launch a 5G smart traffic demo area in Yangshan port in Shanghai. L4 autonomous trucks with 5G connectivity are being tested in this area.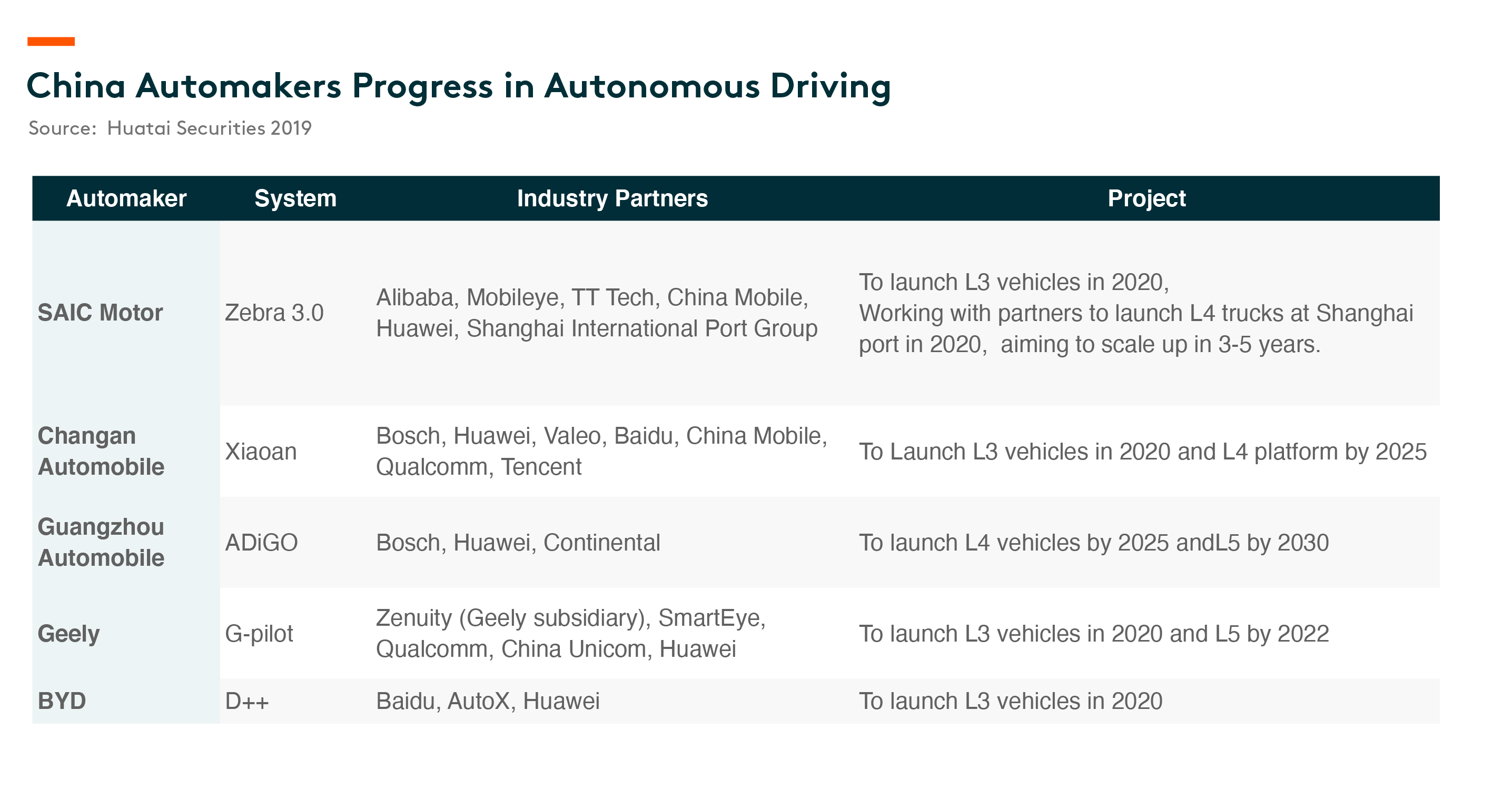 Sensing
Autonomous vehicles require sensing components to collect vital environment data and vehicle data. Core vehicle sensing components are expected to be a US$77Bn market globally by 2032, according to Yole. We see two mainstream combinations of core sensors in developing an autonomous system. The first one is a combination of LiDAR, RADAR and Camera adopted by companies like Waymo, Baidu, AutoX etc. LiDAR generates redundant surrounding information which needs to be analyzed in parallel with visual data from the camera. However, LiDAR can operate in challenging lighting conditions and generates precise 3D measurements. The second solution is a combination of just RADAR and cameras, with visual data being the primary input to the system adopted by Tesla. As computer vision technology improves, companies like Tesla can rely on visual data collected via cameras to complete the system.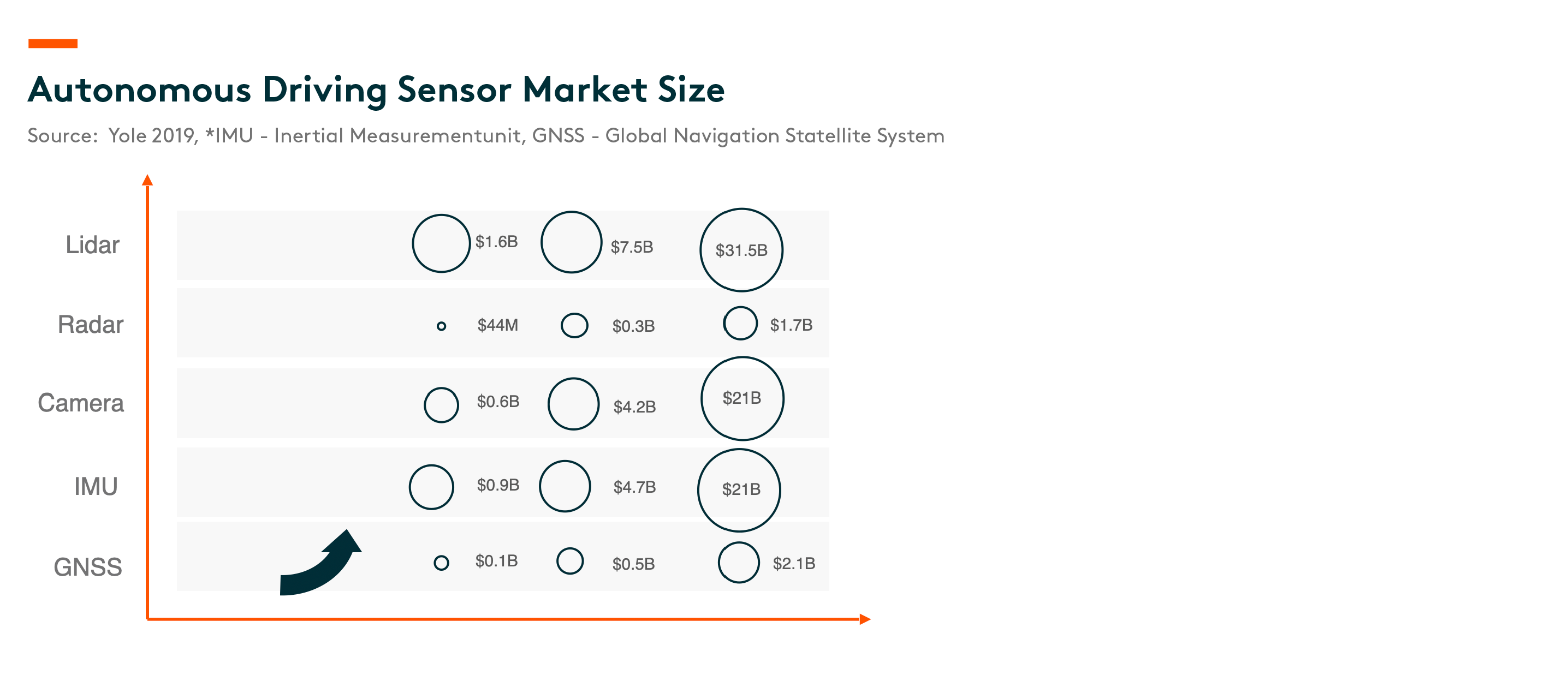 Perception and Decision
The key to autonomous driving is the on-board algorithms. Vehicles need to be able to understand, predict and act based on information from sensing modules, network and on-board computers. AI techniques such as machine learning are used to train different models to achieve those tasks. Baidu, Pony AI, AutoX are some of the Chinese companies, focusing on autonomous driving algorithms. Companies like NavInfo and Autonavi provide high-precision map to support the system. On the hardware side, Horizon robotics is developing chips for autonomous driving.
Edge
Internet of Vehicles – Commercialize Cellular Vehicles to Everything (CV2X)
CV2X is a communication network, leveraging on 4G and 5G technologies to apply to vehicle communication. Vehicle communication with other vehicles, infrastructure and network is crucial to achieving a high level of automation and safety. The roll-out of global 5G standards includes specifications around CV2X network. The Chinese government published Strategy on Innovations Development Intelligent and Connect Cars in February 2020, targeting regional coverage of 4G-V2X and key cities as well as highway coverage of 5G-V2X network by 2025. China Securities expects the total size of C-V2X roadside infrastructure investment to be RMB 62.8Bn between 2022 and 2025. Huawei, Datang Telecom, ZTE, Alibaba, Nebula Link, Neusoft, NavInfo, Wanji Technology and SureKAM are some of the domestic players in this area.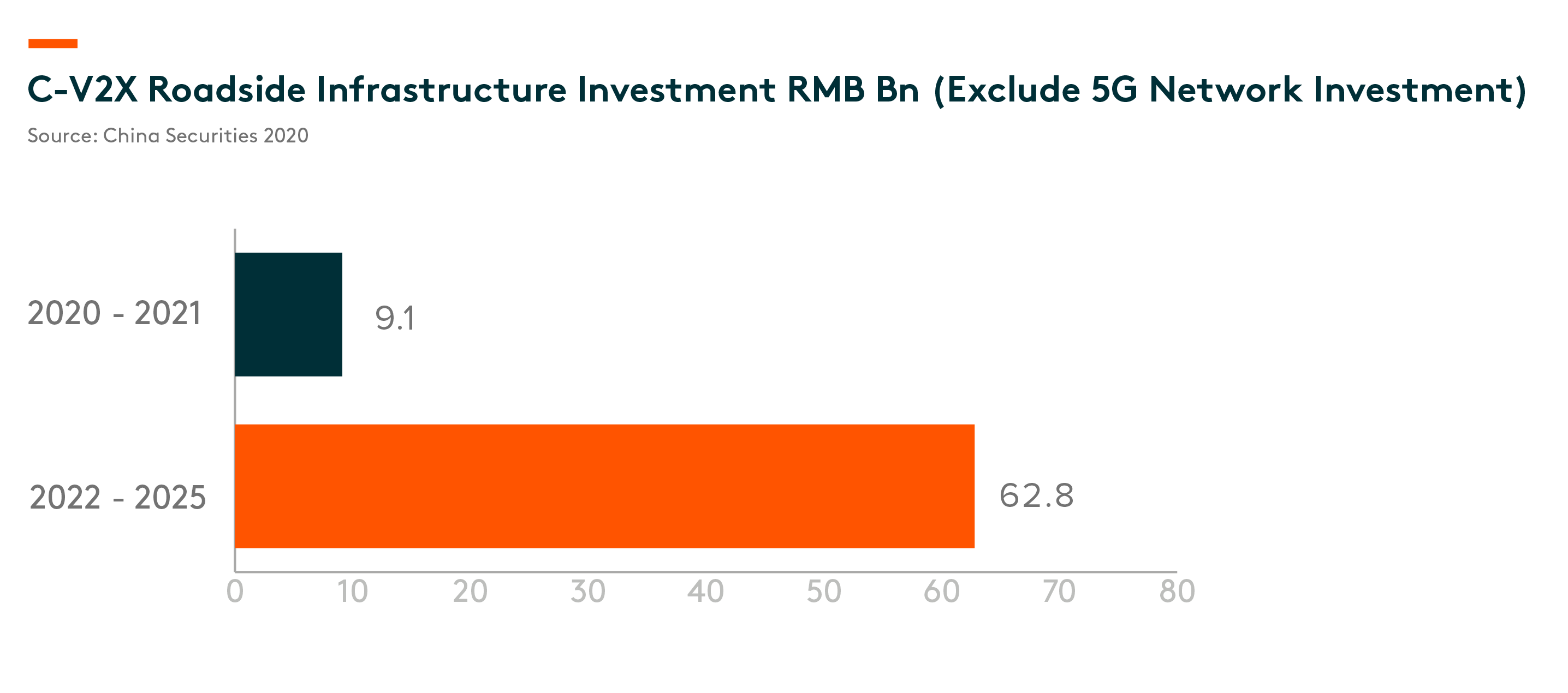 Cloud
Given the large size of data set and significant amount of computational power required to train the autonomous driving system, hyper-scale cloud companies provide driving data, training and simulation services that help companies accelerate the development of autonomous driving products. The main Chinese companies in this area include Huawei, Alibaba, and Tencent. Huawei, for example, launched the Octopus cloud service in 2019, targeting to serve autonomous driving developers.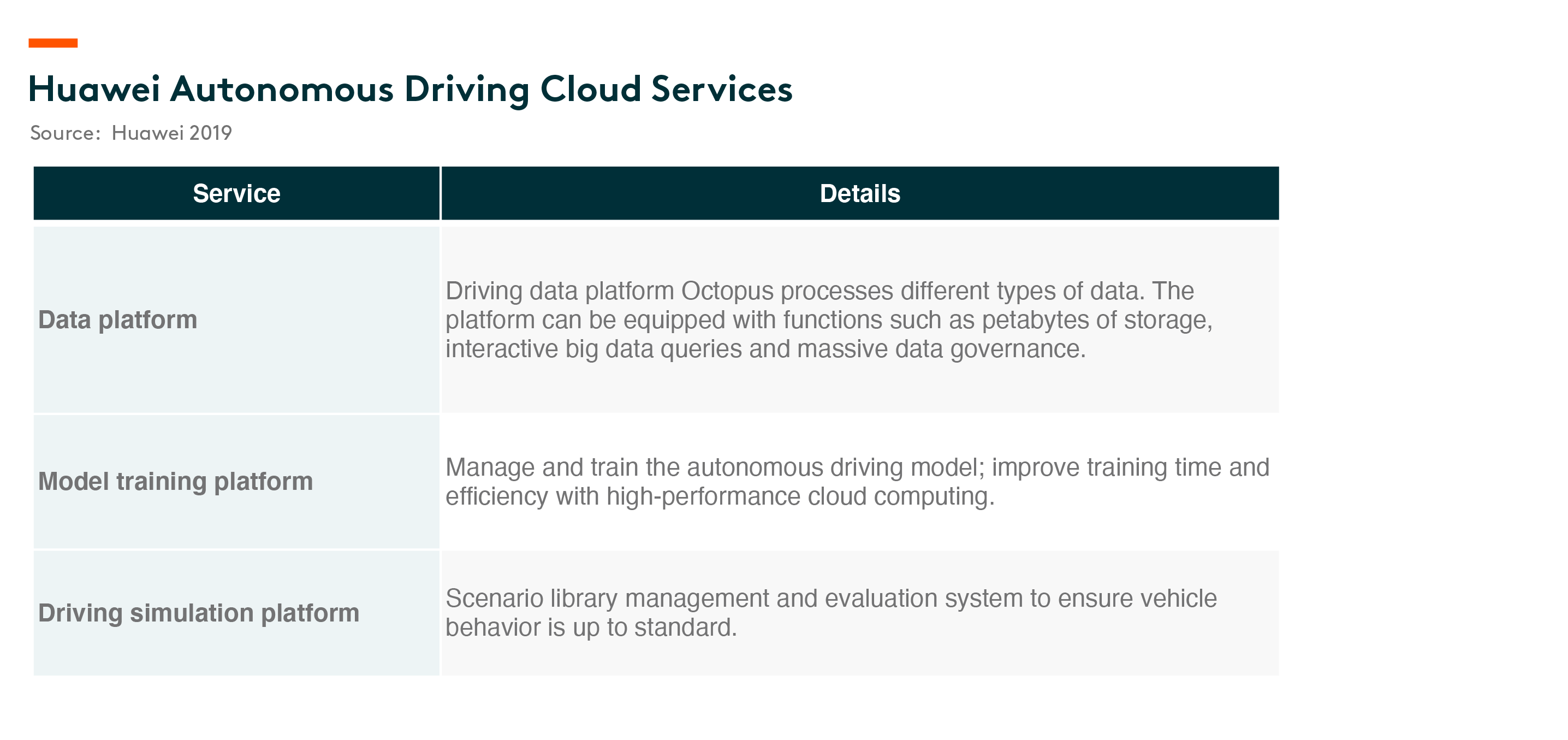 Outlook
The autonomous driving industry is a complex ecosystem, and the road to full automation requires collaboration across industries and countries. Chinese companies are making progress in setting the basic framework for the development of an autonomous driving system, and the Chinese government has also been aggressive and supportive in pushing the technology forward. We think the development in this area will accelerate as the role of each company becomes clearer.
Global X China Robotics and AI Brand ETF (2807 HKD / 9807 USD), seeks to deliver the performance of the FactSet China Robotics and artificial Intelligence Index, enabling investors to access to high growth potential through companies critical to the development of robotics and artificial intelligence in China.
Other Key Features of Global X China Robotics and AI ETF:  
Unconstrained Approach: The fund's composition transcends classic sector and industry classifications by tracking an emerging theme.
ETF Efficiency: In a single trade, the fund delivers access to dozens of companies with high exposure to the robotics and artificial intelligence theme in China.
Please click here for more information on the Global X China Robotics and AI ETF.