Asia's Semiconductor Hubs Power Innovation
Industry clusters are proving crucial to the development of large, one-stop semiconductor hubs quietly cropping up across Asia. By combining a network of research teams, design and manufacturing sites in one location, companies can establish a robust ecosystem that cultivates talent and fertile ground for businesses to develop.
Below are the semiconductor hubs in Asia that have caught our eye.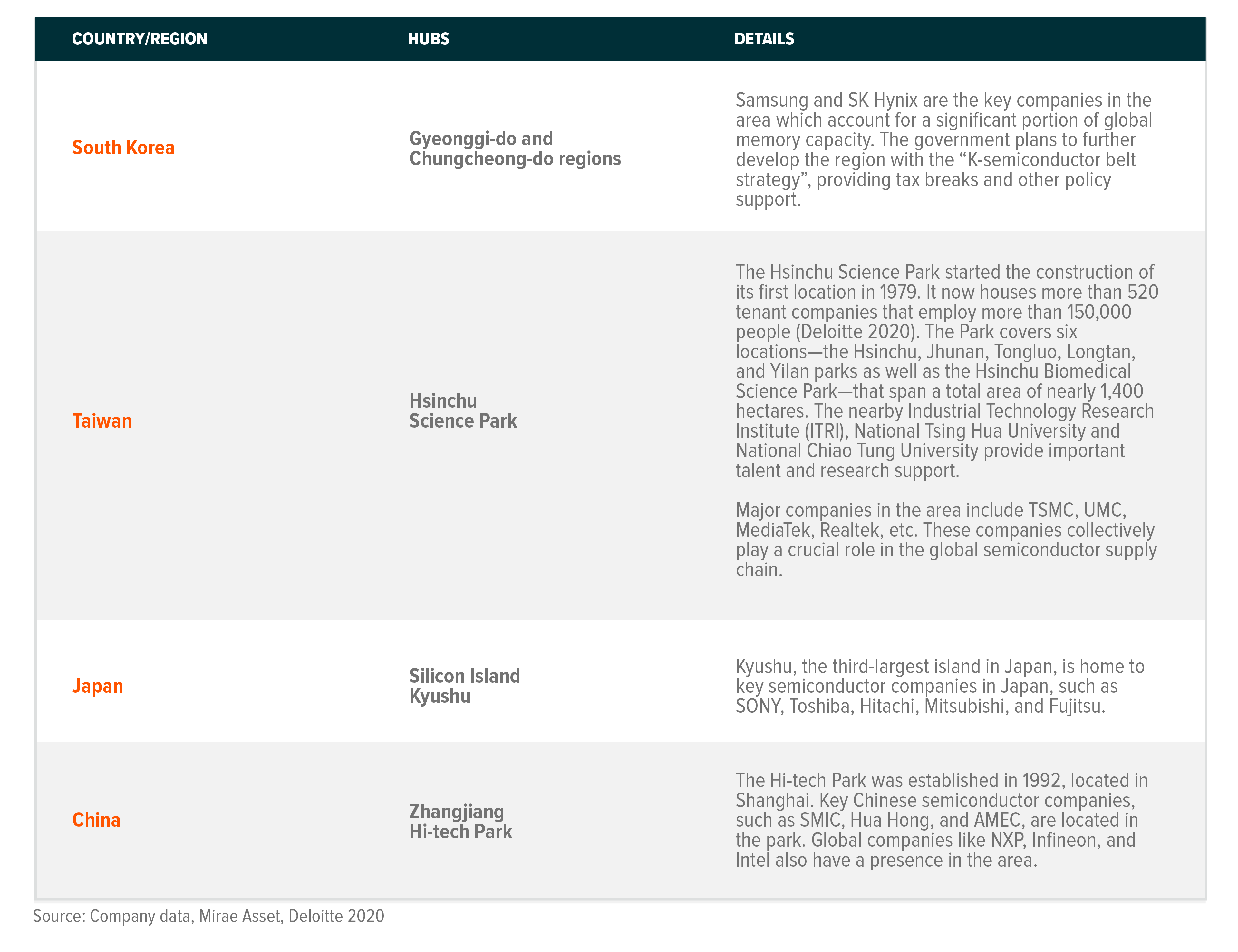 Asia-Based Semiconductor Businesses Continue to Gain Global Market Share
We are positive about our long-term growth outlook of the Asia semiconductor industry, where increasing competitor dynamics have driven innovation in areas such as memory, foundry and integrated circuit (IC) design.
Manufacturing hubs in Asia remain one of the most cost-effective places to build semiconductor capacity, supported by solid infrastructure and a growing talent pool.

Some Asian companies have developed into global leaders in logic chip manufacturing. Two out of the three Asian semiconductor giants now have capability to produce nodes at/below 10nm, with TSMC taking the helm as an industry leader since it unveiled the technology for the 14nm process. It started mass production of 7nm node in 1Q18, almost two years earlier than the closest competitor Samsung, and over four years ahead of Intel's most optimistic 7nm progress projection. (Mirae Asset, 2021)
Samsung, which has fallen behind TSMC with a 19% market share by revenue as of 2Q20 (IC Insights, 2020), started to ramp up its 7nm process in 2020, has followed an aggressive timeline to catch up on 5nm and 3nm nodes, as shown in the chart below.
Elsewhere, Intel continues to push back on its highly-anticipated advanced node migration. The company will likely outsource the production of its most advanced chips to Asia foundries to alleviate delays in a bid to beat its competitors in developing its 4nm and 3nm process technology.